What size backpack and weight sleeping bag do I need for summer mountain climbs?
I'm planning a summer ascent of Mount Shasta and want to know what you recommend for a backpack and sleeping bag. Is a zero-degree bag warm enough? I lean toward being a cold sleeper and prefer synthetic. I was told by the guide service to have a 4,500-cubic-inch pack. But I'm a petite woman, so isn't that a bit large? Julie Aliso Viejo, California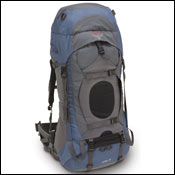 Heading out the door? Read this article on the new Outside+ app available now on iOS devices for members! Download the app.
A 4,500-cubic-inch pack? For Mount Shasta?? In the summer?!? I dunno what to say. If you've signed on with a guide service then you're under some obligation to equip yourself per their instructions. But that seems excessive, even allowing for the fact that needed gear is needed gear, and it doesn't matter if you're 5'1″ or 7'1″. I mean, let's be realistic, ten years ago maybe 4,500 cubic inches would have been mandatory, but for the most part gear today is lighter and packs down more easily than gear back then.
Osprey Ariel 65 Backpack

Ariel 65 Backpack
I think a pack in the 3,500- to 4,000-cubic-inch range is perfectly adequate. Osprey's Ariel 65 ($239; ospreypacks.com) would be ideal. It's a compact 4,000-cubic-inch pack, specifically designed for women. The Ariel is a lightweight (just over four pounds) top-loader that has an excellent suspension for loads up to 40 pounds or so. Particularly appealing is the hip belt, which can be custom-molded at most retail shops that carry Osprey packs. And it has a bottom compartment for sleeping bags and stuff.
I also like Gregory's Deva 60 ($249; gregorypacks.com), another women's-specific pack. It's a bit smaller than the Osprey pack, but with 3,600 cubic inches of space, it still has room for plenty of gear. It's a little heavier than the Osprey (five pounds, six ounces), but that translates into a little tougher construction, such as a rubber-like coating on the pack bottom. You might also like the fact the Deva has a top-loading design, but adds a bottom compartment and the ability to access stuff from the back of the pack.
As for a sleeping bag, a 20-degree bag should be perfectly adequate. If you sleep cold, just be sure to wear some long underwear, hat, and gloves to bed. And why do you prefer synthetic over down? Down is lighter and more compressible. Feathered Friends' Swallow ($344; featheredfriends.com) is the perfect bag for this junket. It weighs two pounds, is rated conservatively to 20 degrees, and is a bag that will last the rest of your life. If you're set on synthetic, Marmot's EcoPro ($165; marmot.com) is rated to 15 degrees, uses (mostly) recycled materials, and isn't too heavy or bulky at two pounds, 13 ounces.
Have fun!
The 2008 Winter Outside Buyer's Guide is now online. From snow sports to trail-running to camping, get reviews of more than 300 new gear must-haves.
Trending on Outside Online