What's the best boot for a Denali summit?
I gearing up to make a Denali summit attempt some time next year and I wondering if my Scarpa Summit GTX boots with a good overboot will be up to the task. I know it is crazy cold up there and I like my toes. What do you think? Kevin Lyndhurst, NJ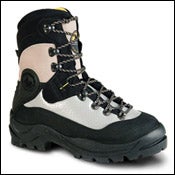 Heading out the door? Read this article on the new Outside+ app available now on iOS devices for members! Download the app.
Time for some basic math, Kevin. You have ten toes. Which is quite a few, actually. Surely you could do without one or two. Still, do some thinking. Assign a dollar value to each toe. Times ten. Surely you'll be in the $500 range yes?

The Nuptse Mountaineer Boots
What I am working up to is this: Yeah, in good conditions, the Scarpa Summit GTX's ($400) combined with full overboots, might be okay. But they're really more of a boot for Rainier, Aconcagua, that sort of thing. Denali? At the 17,000-foot camp? And it's 20 below…or colder? Well, I'm not so sure. You really want to see all your toes turn…black?
So buy some boots made for the climb. La La Sportiva's Nuptse Mountaineer Boots ($550) are just the ticket, with polyurethane outer shell and an insulated, steel shank. Warm and supportive. Or try Scarpa's Omega ($390). They're a great successor to the estimable Scarpa Inverno ($320, and a fine boot for Denali). The Omegas have plastic shells with double boots that make it great for cold weather and high mountains. Lastly, you can try the Asolo AFS 8000s ($450), with full plastic shells, double boots, and Thinsulate insulation. Just the ticket.
To any of the above, add a pair of Outdoor Research Brooks Rangers ($160)—full insulated overboots.
Don't even thank me now. Thank me when you get back and have all your toes.