Why Alex Honnold's Free Solo of El Cap Scared Me
We all know Alex is the greatest climber of our generation. I trust him with my life. I trust him a little less with his own.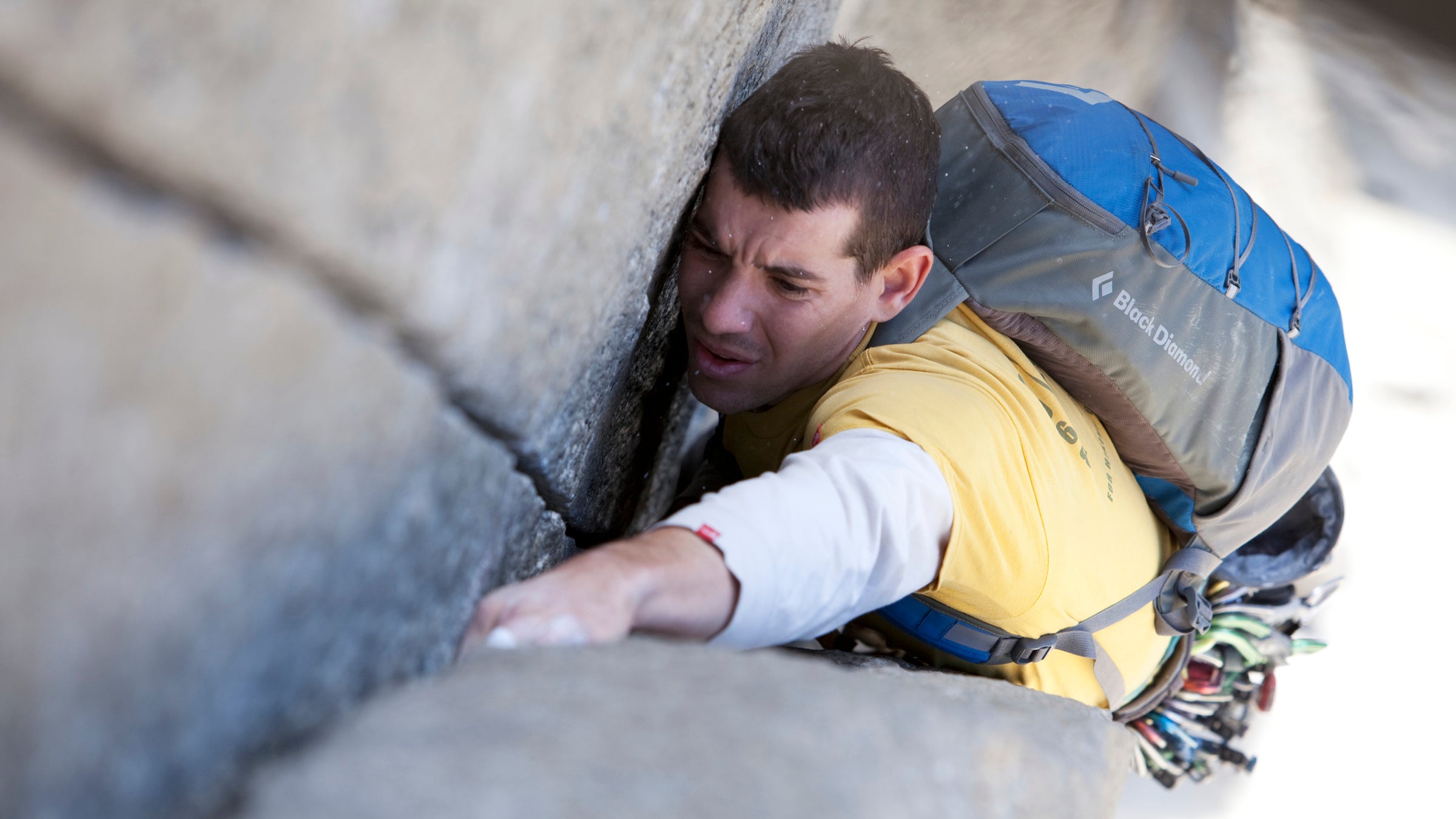 Aurora Photos(Photo)
Heading out the door? Read this article on the new Outside+ app available now on iOS devices for members! Download the app.
Alex Honnold once told me that somewhere in his van, hidden amongst the hundreds of pages of training logs and route journals, he has a list of life goals. On top of that list there are two letters, "FR," meaning the Freerider, the most popular route up the 3,000-foot granite monolith of El Capitan. The route is far below Alex's limit, but his goal was to free solo it—to climb it without ropes—which no one had ever done.
I figured that Alex would one day do it, but didn't know whether I should encourage him to follow through on his plan, or discourage him from taking the risk. Would I be watching my friend perform an act of generation defining mastery or a round of Russian roulette? More than anyone in our climbing community, Alex has brought the conversation of risk into the front of our minds. As one of his closest friends and an El Capitan addict myself, you would think I would have a handle on what it would mean to free solo the Freerider. But I don't. No one does. Except Alex.
On Saturday, June 3, Alex woke in his van at first light. He calmly drove into Yosemite Valley, and with nothing more than sticky rubber shoes and a chalk bag began ascending El Cap. Skies were blue; wind calm. Although I had spent part of the previous week in Yosemite helping Alex with his final preparations for the climb, I was back home in Colorado, playing with my kids, and trying not to think too deeply about what Alex was planning on doing, because it's terrifying to contemplate.
Alex climbs to live, not to cheat death.
It's all too easy for headlines about climbing to lean on clichés about the climbers themselves—that these people are daredevils, thrill seekers, adrenaline junkies. But to most climbers, nothing is quicker to trigger the gag reflex. Climbing is an intimate relationship with our world's most dramatic landscapes, not a self-boasting fight against them. I don't claim to understand the inner workings of Alex's mind, but I know one thing for certain: Alex climbs to live, not to cheat death.
I am sure that Alex has climbed, foot by foot, more technical rock than anyone in history. He's climbed the Freerider at least a dozen times and practiced the most difficult sections to the point where he likely would have been able to do them blindfolded. But free soloing is a feat less physical than mental. Beyond the obvious factors of vertigo inducing exposure and unexpected obstacles (think breaking rock and birds flying out of cracks), hard granite climbing requires such precision that one must be completely lucid.
Alex once told me that he had never fallen completely unexpectedly—meaning without at least some prior inclination that it could happen. When I told him that I had unexpectedly fallen at least ten times, he looked confused, like somehow that didn't compute. Then he would ask why I didn't free solo: "It would be so easy for you—you know you wont fall on 5.12," he said. We occasionally talked about the Freerider; we knew it would be the ultimate goal for him. But he always expressed hesitation about it. The route was a bit too insecure in a few spots, and too many people were expecting Alex to do it. He wanted to do it for himself, not the expectations of others.
The topic lingered for years. Then last summer, on a trip to Morocco, Alex told me he was getting ready to give it a go. I closed my eyes, took a deep breath, and asked him what I could do to help. Alex, as always, was nonchalant. "I'll just see if I can work it down to the point where it feels solid," he said. On that trip, he seemed to be fueled by a deeper desire than I had seen in him before. We climbed so much that my toes were numb for a month.
After Morocco I went home to Colorado, and Alex returned to Yosemite to continue his preparations. I felt at peace about the whole thing. Then one night last October I had a horrible nightmare. Alex showed up at the door of my house with shattered arms and legs. He was bleeding out on my floor telling me he had fallen and was too embarrassed to go to the hospital. I woke up panting. That next day my phone rang. It was Alex calling to tell me me that he had taken a fall on a practice lap of the Freerider and badly sprained his ankle. That's when it all became real.
I had a horrible nightmare: Alex showed up at the door of my house with shattered arms and legs.
My wife and I loaded our two small children into our van and drove 20 hours to Yosemite. Alex's ankle was so swollen it bulged over the top of his shoe. He could barely walk, but still wanted to give the Freerider a go. "I'll just keep fingerboard training and climbing easy stuff until it heals. Maybe I can still do it this season," he said. By that point, I didn't want him to do it. It all seemed too heavy.
A month later, in mid-November, he tried anyway. I left Yosemite before the attempt, knowing that it was not something I wanted to watch. I was relieved to hear that he only made it a few hundred feet up before bailing because it didn't feel right. (He descended a series of fixed ropes to the ground.)
Seven months later, Alex was making plans to go for it again. I went to Yosemite last week over the Memorial Day holiday and we did a practice lap on the Freerider with a rope. High on the wall, panting and sweating, feet smearing on crispy flakes that made crunching noises as I stepped on them, I looked down 3,000 feet to the ground and tried to mentally transport myself into the mind of Alex, what it would be like to not be attached to a rope? Honestly, knowing that Alex would likely soon pull off the biggest moment in free solo history, I could not fathom it.
A few days later, this past Saturday, Alex freed the route in three hours and 56 minutes. The few people that knew about it had kept it quiet, knowing that Alex did not want it to be a spectacle. He topped out to a few friends, then called me while hiking down. I was at a playground with my family back in Colorado. He told me that he was feeling as content as he had ever been, and was grateful to everyone. "You came in and helped me at just the right moment. It was just what I needed," he said. "Tell your wife thanks for loaning you out for a few days." 
Free soloing El Cap has been the most anticipated climbing feat of our generation, but only because of Alex. There have been very few people potentially capable of accomplishing this, and sadly most of these individuals are no longer with us. In the past I've equated the possibility of this climb to the moon landing of free soloing. Today, knowing that it has been done, I think that is a fair assessment of the significance. It's a generation-defining climb.
In terms of mental mastery, I am convinced that it is one of the pinnacle sporting moments of all time. I hope others are inspired by Alex's dedication to excellence and ability to live without fear, and less by his willingness to accept risk. We have lost far too many in our world already. In terms of talent, preparedness, and climbing composure, Alex is a true outlier. He brought an element of sanity to this climb that no one else could, or probably ever will again.
Tommy Caldwell is a longtime Yosemite big-wall climber and author of the 2017 book The Push: A Climber's Journey of Endurance, Risk, and Going Beyond Limits.
Lead Photo: Aurora Photos