Why Am I Here Again?
India's Shark's Fin is a 6,500-foot rock route that's twice as long and just as steep as anything on El Capitan, and once left me defeated. When I took it on for the second time, at 45, a blizzard promptly pinned our team to the wall like insects. Which made me wonder: was the mountain telling me something?
Heading out the door? Read this article on the new Outside+ app available now on iOS devices for members! Download the app.
Three Nepalese porters drop their loads near Nandanvan, a popular meadow in northern India's Gangotri basin. It's a blustery mid-September afternoon, the humid monsoon air snapped cold with a belt of wind. The men decide to continue on to Badrinath, on the far side of Kalindi Pass, to find shelter. They've made the trek in bad weather before, but this storm is different. Visibility drops and they're enveloped in a nighttime blizzard that cloaks the range in three feet of snow. Unable to navigate, they huddle beneath their shawls and blankets, hoping to find the trail with first light. But it never comes. The men die of exposure.
September 18, 2008: Three in a Bed Made for Two
A few miles away and thousands of feet higher, the same storm found me crammed into a two-man portaledge with Renan Ozturk and Jimmy Chin. We were less than halfway up the 4,000-foot east face of Meru Central, a mountain that rises above the Gangotri basin to 20,702 feet, some 400 feet higher than Denali, the highest point in North America. Meru is a hydra-headed massif, with multiple summits; our goal was to climb the most dramatic of these, a blade of pale, steep granite aptly named the Shark's Fin. But on this afternoon the weather had turned nasty, and our portaledge basically an aluminum-framed nylon cot with a tent drawn over it afforded little rest. Hammered by high winds, our entire world bucked wildly against the cams and pitons holding us to the wall. The ice we'd climbed to reach this point wasn't particularly solid, a bad sign for what lay ahead. On this, our third day on the wall, it was still too early to call it quits. Our only option was to hang tough and wait. Renan, who's 28 and lives in Colorado, saw our misery as value added. "I guess I've earned my claustrophobia, festering, and circulation-loss merit badges," he said.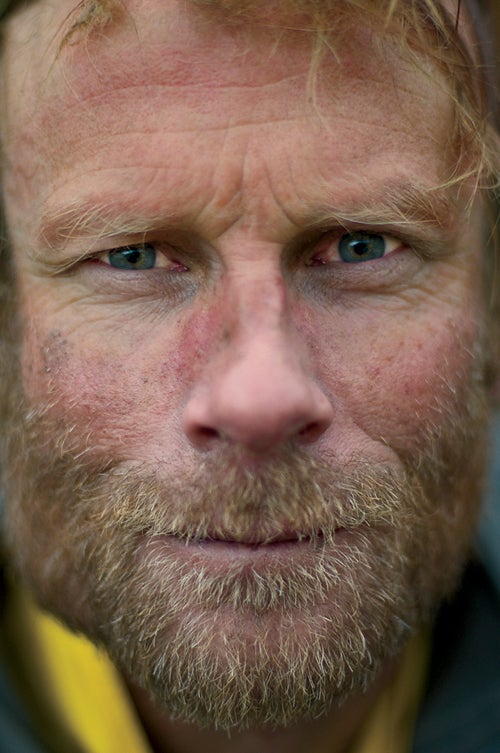 "Yeah, it's a burly storm, but at least we're freezing," Jimmy deadpanned as he melted chunks of wall ice with our stove to make water. "It could be a lot worse."
I chuckled as the flapping tent fly beat against Jimmy's head.
September 20: Seventy-Two hours, No Movement
In the game of high-altitude, big-wall mountaineering, the unclimbed Shark's Fin lies right at the boundary of what's possible. The lower third is classic alpine snow-and-ice climbing; the middle mixes ice and rock; and the final stretch is an overhanging headwall. The Fin has inspired many of the world's best alpinists to attempt it over the past 30 years. None have finished it. My mentor, Terrance "Mugs" Stump, a
native of Pennsylvania who resettled in Alaska, tried the wall in 1988. A storm similar to this one shut his team down. Mugs was 42 when he died, in 1992, on the South Buttress of Denali, leaving his dream to the next generation. This was my second attempt in five years, and I'd brought a still younger generation with me.
Jimmy, who's 35 and based out of Victor, Idaho, is the rare alpinist who's also a world-class photographer (and vice versa). Our friendship and trust had grown over the course of several Himalayan expeditions, which usually involved some degree of starvation. Renan already seemed like an old hand, conversing easily with the porters in Nepali. I knew from an expedition we'd done in Morocco two years ago that he was a talented rock climber, but this was his first extended high-altitude sufferfest.
I'm 45 and married to Jennifer, the widow of my best friend, Alex Lowe, who was killed on Shishapangma in 1999 by an avalanche that I narrowly escaped. When helping raise her three boys at our home in Bozeman, Montana, I strive to be a normal parent, but "normal" has gradually come to include my return to Himalayan wall climbing. We've all reached an understanding about my dangerous profession: that if something happens to me, the family would suffer again. I understand this and climb in control, trying not to expose myself to avalanche-prone slopes. Responsibility to my family is my decision-making prism.
September 21: Did I Mention It's Cozy in Here?
Climbing a peak is a little like hunting. It's all about adjusting the challenge to suit one's taste. Going after a bull elk with bow and arrow is more sporting than using a bazooka. The old siege style of mountaineering humping a yak train's worth of supplies to successively higher camps, each of which is connected by lengths of fixed rope that are bolted into the rock and left behind is at one end of the spectrum. Our chosen method, closer to the other end, is called "capsule style," and in this case it involved packing in our portaledge, food for ten days, and a couple of ropes and racks of aid-climbing ironmongery. The plan was to wait for a weather window and then climb the whole thing, stopping only to sleep and eat.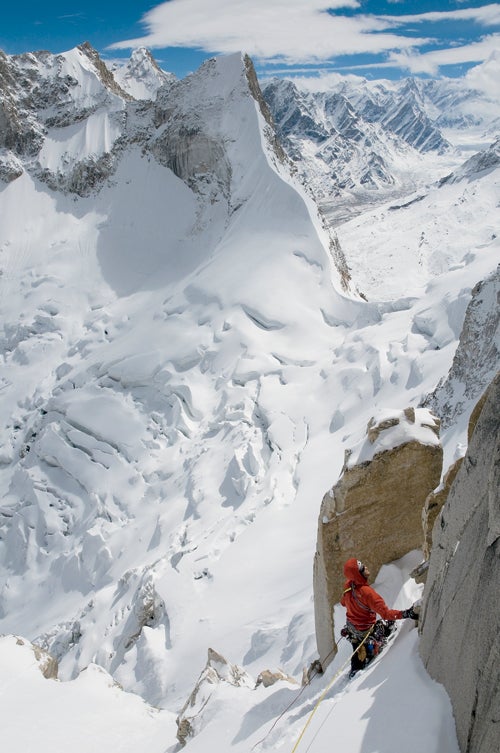 Aid climbing works like so: You place a piece of gear a nut, a cam, a thin pin into a crack running up the rock, then you clip a nylon stepladder called an etrier into the gear, climb to the top rung, place another piece, clip in a second etrier, step into it, and repeat.
Aid climbs are graded by the security of the placements. At the highest levels, when there are no cracks, we latch small hooks and beaks over thin edges in the rock. They'll hold only your body weight. When a hook pops loose, it's going to be a long fall before the rope catches you. On El Capitan, aiding can be enjoyable. At 19,000 feet on Meru, it's frigid, slow, and generally miserable. But we had only one shot at the peak, and this was it.
September 26: Are We Having Fun Yet?
The storm hadn't let up for eight days. On its second night, we began rationing food and meticulously tracking how much fuel was needed to brew every cup of tea. We allotted each person six dry tablespoons of oatmeal for breakfast, two snack bars for lunch, and, for dinner, a tiny chunk of salami, a few bites of cheese, and eight tablespoons of dehydrated beans mixed with olive oil. It wasn't quite enough to sustain us at this altitude in winter conditions, but our loads were right at the limit of what we could carry.
During our many, many hours of hunkering down, Jimmy and I casually compared notes on our previous epics, like the time in 2002 that we hauled rickshaw carts across the Tibetan Plateau in search of the chiru antelope's calving grounds.
"You guys seem to be enjoying this, like the serious suffering is part of the plan," said Renan, whose handful of Himalayan expeditions in Nepal and Pakistan have all involved 24-to-48-hour speed ascents. To be fair, I'd told him we'd be climbing pristine rock in delightful sunshine. I hadn't mentioned festering inside a dank hanging tent with meager portions of food.
"It's cold and wet, but at least we're starving," Jimmy said.
September 28: The Curse of Good Weather
After a week of torment, the storm finally gave way to high pressure and a choice: Go for the summit in our weakened state, or bail out. We decided to go for it. Above the portaledge, there was still 1,700 feet of overhanging granite between us and the top. Jimmy got the first difficult aid pitch, a series of stacked angular blocks that required him to hook his way up with a careful routine: Reach overhead, hang the hook, step into the etrier, and hope like hell the stacked blocks don't come crashing down. After five hours, Jimmy finished the pitch and named it House of Cards. We'd covered only 180 feet.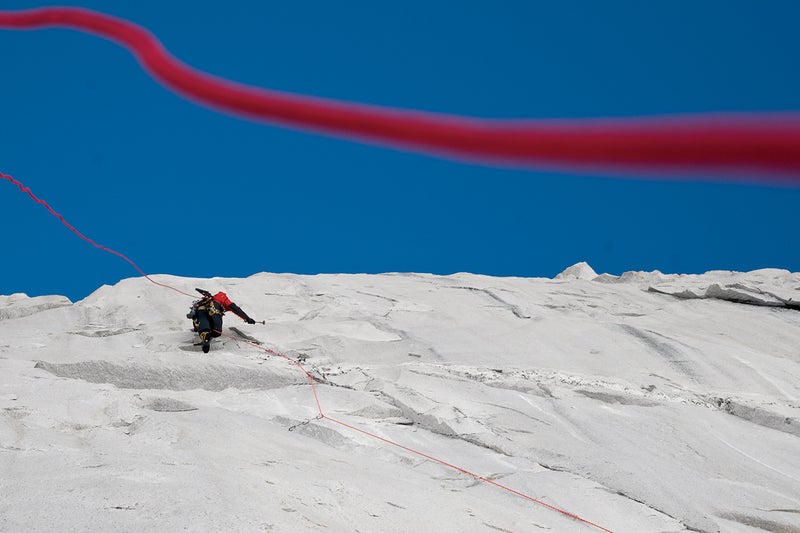 September 30: Paying with Pain
The last few mornings, we woke before dawn, which comes at 5 A.M., just as the temperature bottoms out at six degrees Fahrenheit. Today, when the sun hit the wall at 6:30, I was already toiling up the blank rock that barricades the easier terrain on the summit ridge above. At this altitude, even the weight of my own arms held over my head, fiddling with gear was taxing. But what really turned my mind was a delicate hook placement I made midway up the 26th pitch. Hanging on a few millimeters of rock, with a potentially humbling 60-foot fall below, I cursed under my breath and yelled down to Jimmy, "Watch me."
He looked up, barely nodding. "You got this," he shouted. He didn't sound convincing, but when I stepped into the etrier, it held. My bare hands were cramping, and my harness had worn a raw groove in my hip, but fear and adrenaline numbed everything.
At 11, the sun disappeared behind a ridge and the mercury dropped. Hours later, we stopped, set up the ledge, and divvied rations. Up to this point, Renan had maintained his optimism, but I knew he was struggling. His talent to climb like a Ferrari had been tempered by our slow diesel crawl. At one point he quipped, "We're turning into hunger artists!"
Our feet, though not frostbitten, were numb and wrinkled with trench foot from 15 days jammed into frozen boots. Worse, the consistent pull of gravity and the loss of circulation from hanging in our harnesses had caused them to swell with blood.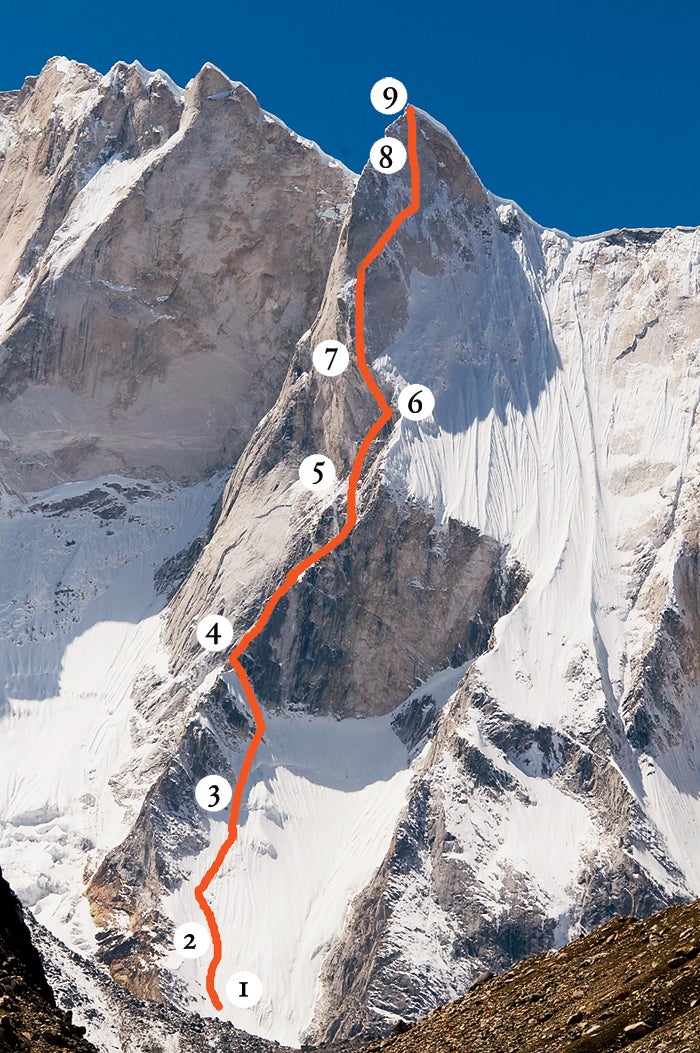 October 2: Summit "Day"
We were 28 pitches up, and our stores were down to a bit of cheese, some beans, six energy bars, and one fuel cartridge. Renan was out of steam, having bailed out mentally a couple of days ago. Jimmy was revved for one last shot, confident we could make it. The summit was still nearly 800 feet above our highest rope, a manageable day in the Rockies or the Alps but not the Himalayas. If that fuel canister ran out, so would our ability to melt drinking water. We decided to go for the top in one all-or-nothing attempt. "This is it!" Jimmy said. "We can push hard and tag the summit!"
I can always count on Jimmy's mood to improve as the situation worsens, but this time his motivation was stronger than I'd ever seen it. The frost on the tent's interior walls shook loose as we moved about, lacing our boots. Each of us ate one whole energy bar, and Jimmy and I shared a cigarette. Neither of us are smokers, except when we're suffering, at which point "Sherpa oxygen" quiets the roar of uncertainty in our minds. Now it was time to find our courage.
October 3: Retreat
We started out yesterday at midnight under headlamps. Renan was the last to leave the ledge, which we planned to return to on the way down. I took the lead, and the world extended no farther than the edge of my headlamp beam, isolating me to muscle upward in a stew of miserable thoughts. After four hours, the slope backed off and I switched from wall climbing to delicate ice climbing on a slick coat that had formed on the rounded granite. Placing gear and building belays in the frozen cracks ate up time and energy.
After five pitches that tested everything I've ever learned in 26 years of climbing frozen waterfalls, I reached the snowy cornice hanging from the ridge. I burrowed into it for two hours like a prairie dog. My tunneling sent basketball-size chunks of ice crashing down on Jimmy and Renan, who cried out in pain.
By three o'clock, I could see the crest of the ridge. I punched through and pulled myself out of my burrow, and my heart sank. We'd made the ridge only 300 feet from the summit, but directly above was a 150-foot granite gendarme that looked as difficult as anything we'd encountered below. I climbed up and looked for a hidden passage but found nothing. Downclimbing, I dropped an ice ax. I had never airmailed something so critical in such a serious situation. This was my sign to retreat.
We didn't speak during the first hour of rappels. By 10 P.M., the warmth we'd generated climbing was gone, and we shivered while taking turns clipping in and descending. At midnight, we tumbled back into the portaledge for our last bivy.
In the morning, we packed the ledge and our gear into the two haul bags and started a routine: I'd rappel first and set up the next belay; Jimmy would go second, guiding the haul bags as Renan lowered them; finally, Renan would slide down. The food was gone, and we were too tired to drink what water was left. It snowed. Day turned back to night. The bags snagged repeatedly until we cut them loose and watched them vanish. Profanity became our only discourse.
After midnight on October 4, we reached the glacier we'd left 19 days earlier. It looked different. Our tent, with a bit of food, was buried, and the snow mounds we probed were just rocks. After an hour of searching, we laid our bags out on the snow. The flakes from the afternoon squall had stopped falling, and we could see the stars. First Jimmy, then Renan, and finally all of us started laughing in the way lunatics laugh in padded rooms. We hadn't made the top, but it was the most difficult climb any of us had ever done. The next day we hobbled out to base camp, the following day all the way to Gangotri. The ordeal left Jimmy on crutches for the flight home and Renan with numb feet for a month. I was left with the satisfaction that we'd climbed higher than any other team, but I still want more from this mountain.