Yangshuo Climbing Festival: Day Three
Heading out the door? Read this article on the new Outside+ app available now on iOS devices for members! Download the app.
Yangshuo Climbing Festival Day 3: Steady Drizzle.
The morning's scheduled outdoor climbing workshopswere moved to the Yangshuo Kungfu Training Centre. I biked over around 9:30 a.m. to watch Alex Honnold give a lesson on "knee-bar-ing" — using one's knees,rather than feet or hands, to stabilize — for a dozen reverenttwentysomethings.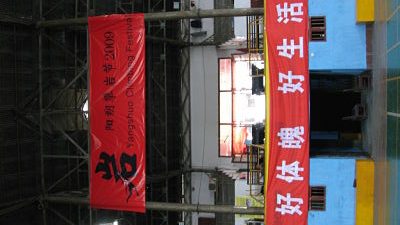 One was Pyry Tuominen Tampere, a twenty-six-year old Finnishclimber with a scruffy blond beard. Tampere, who is traveling aroundthe world with his girlfriend, explained why he wasgrinning like a kid on Christmas morning: "It's not every day you get alesson from one of the best climbers in the world!"
A few minutes later, Tampere and co. ceded the bouldering wall to a bunch ofChinese dudes with electric drills. The latter were designing new "problems" forthe second and final round of the Yangshuo bouldering comp. According to "Xitang"(aka Alex), a local climbing guide who oversaw the wall's construction, wall materials were sourced from as far as Guangzhou, Shenzhen and Shanghai.
The remainder of our Sunday morning felt sleepy in a good way. A Seattle-like mist was shrouding downtown shops. I spotted several climber-typeshuddled over lattes and late breakfasts at Cafe China,a foggy-windowed local haunt. Tom, mynew Australian buddy, went for a massage. I slurped noodles at a market.
But by 1:30 p.m., Kungfu HQ was rocking: Chinese guitarists were kicking out the jams; the Kungfu court wasmobbed with about three hundred spectators; and climbers were scaling — and falling off –the on-stage bouldering wall. ("It's so dangerous!" a young woman from AnhuiProvince observed. "They don't have ropes!")All climbers wore numbers, suggesting a kind of verticalmarathon. Every so often, one would "dyno" — aka leapacrobatically toward a "hold" — to raucous applause.
More free beer. Morerain pelting the roof. There was a raffle drawing. Passing pedestrians began to peer in through the windows.
Before long it was 4 p.m., and a closing ceremony of sorts was underway. (Read: Alex Honnold, sporting a tattered grey bubble jacket, ceremoniously distributed climbing schwag.) Then thecrowd dispersed as quickly as it had formed.
As spectators filed out into the Yangshuo mist, I spotted "Abond," a local climber who won last year'sroute-climbing competition. The BlackDiamond-sponsored 21-year-old was wearing green stretch pants and a yellowT-shirt. He hadn't won this year's bouldering comp, but he was beaming.
"This year's festival was better organized and had a better atmosphere," Abond said. "Everyone's happy."
Well said, man. So ends the second-annual Yangshuo Climbing Festival in Yangshuo, China. If you're itching to see festival results, check the festival site in, uh, a few days? And for notes from my reporting in Southeast Asia, follow me on Twitter.
— Mike Ives
(Photos courtesy of Tom Eckersley)
Trending on Outside Online