Hans Florine on His Terrifying El Cap Fall
Last week, the legendary speed climber broke bones in both legs when he fell and hit a ledge after a piece of protection popped 2,200 feet up the rock face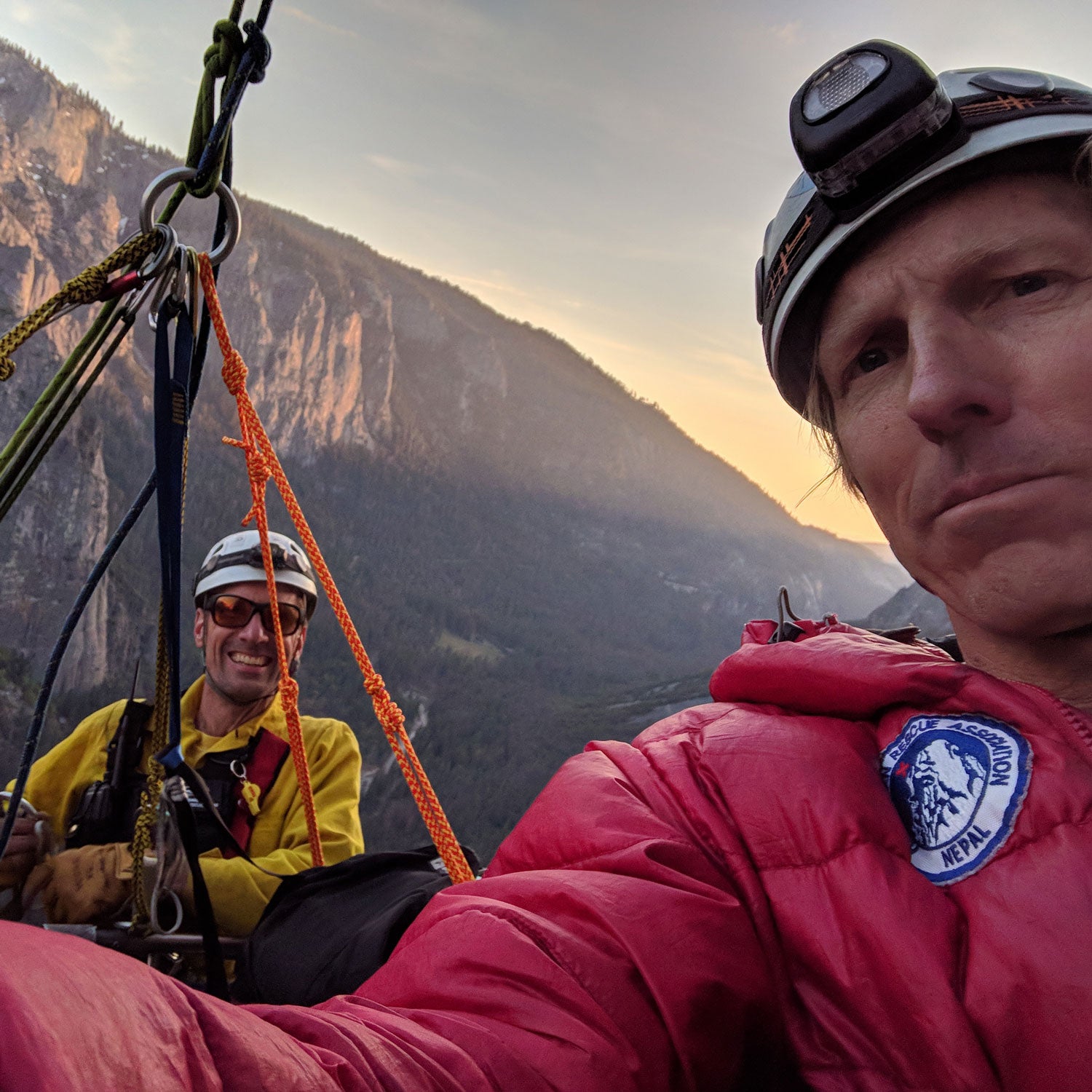 Hans Florine(Photo)
Heading out the door? Read this article on the new Outside+ app available now on iOS devices for members! Download the app.
Last Thursday, pro climber Hans Florine broke bones in both legs in a fall on the Nose route of Yosemite's El Capitan. Florine dropped about 25 feet and hit a ledge with his heels after a piece of protection popped out of a crack known as the Pancake Flake, about 2,200 feet up the 3,000-foot wall.
Florine has climbed the Nose more than 100 times. Until recently, the 53-year-old held the speed record for the route, with a time of 2 hours and 23 minutes, which he set with Alex Honnold in 2012. (Most climbers take three to five days.) In October 2017, Brad Gobright and Jim Reynolds brought it down to 2 hours, 19 minutes, and 44 seconds.
On the day of the accident, Florine and his partner Abraham Shreve were running a lap up the route for training and planned to complete it in ten hours.
So how does one of the most experienced El Cap climbers of all time take a fall like that? We asked him.
---
I had fixed the rope and was self-belaying at the Pancake Flake, which is on the 22nd pitch, while Abe was below me cleaning the Great Roof. Once you do the fun part of the Flake, there's a thin 5.11d section. I had a bomber number one Camalot at my ankles. I placed a nut; I usually use cams, but we dropped a small rack of cams earlier on the route and decided to keep going because, heck, they didn't have small cams in the '70s and '80s.
I tested the nut; it felt okay. Then I stood up on it, and it just popped. I hit the triangle ledge that's in the middle of the pitch and smashed my right heel and left ankle. Then I toppled backwards and hung upside down. I pulled myself onto the ledge, looked at my feet, and realized my left foot was torqued to the side.
As good as I think I am at placing gear, a piece popped, and it happened to be the rope was a little bit long. I had a good piece in; I wasn't running it out. The nut just popped too quickly for me to react to. If I'd jumped out even a foot, I probably would have missed the ledge.
Abe lowered me down to the anchor, and then we opted to lower down another two pitches because the ledge we were standing on was small and the winds were strong. We thought, "Why not just lower all the way to the ground another 18 pitches?" But if we did that, Yosemite Search and Rescue wouldn't have been able to help us, because their only options are a helicopter pluck-off or coming from the top. So we just stuck it out and waited. It was really tough—I was in a lot of pain.
The accident happened a little before 2 p.m., and the rangers arrived at 7 p.m. They lowered from the top and hauled me up by about 10 p.m. I had to sleep on top of El Cap with two medics and two nurses, because the winds were not perfectly calm, and flying a helicopter at night in the wilderness is a recipe for accidents. They checked in with me every two hours that night to make sure I wasn't running out of pain meds.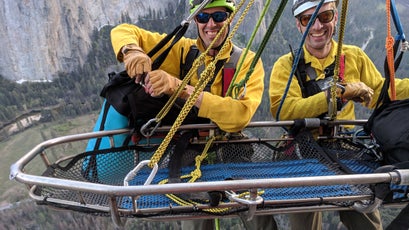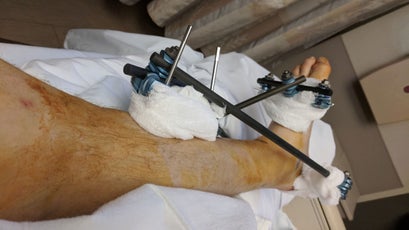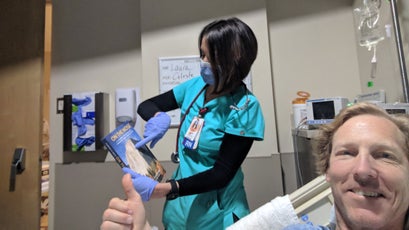 The next morning, they helicoptered me out, threw me in an ambulance, and took me [about 90 miles] to Fresno. At the trauma center, they found that the bottom of my left tib/fib had broken into a couple pieces, and both the tib and fib were broken where they connected. On my right side, the calcaneus—the heel—was broken into at least six pieces. They put this crazy skeleton bar system on the outside of my left leg to lock my bones solidly in place. On the right side, they just put an external splint.
Now I have to wait for the swelling to go down enough for surgery, which will be probably ten days from now. I may be in a wheelchair for six months. It'll likely be a year before I'm fully healed up.
Despite whatever image there is out there of me as a speed climber with flowing blond hair, people who have actually climbed with me know that I'm very safe. I'm placing a piece of gear every five feet. It's always more fun to come back and climb the next day than it is to get a record or accomplish some goal.
I've been up El Cap 178 times—more than anyone. I've gotten injured three other times where I had to back off, but I've never been rescued before. That's a lot better odds than mountaineering or swimming the English Channel. I think the way I do multipitch climbing in Yosemite is very safe—it's just not as safe as playing golf.
This interview has been condensed and edited for clarity.
Lead Photo: Hans Florine