Alex Honnold: Yosemite Roulette
Climbing El Capitan without rope, gear, or safety net.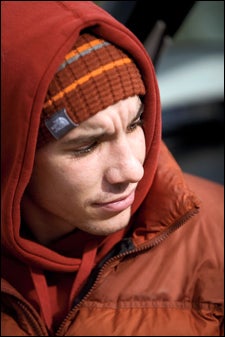 Heading out the door? Read this article on the new Outside+ app available now on iOS devices for members! Download the app.
ONE COOL MORNING last September, 23-year-old Alex Honnold tightened his shoes at the base of Half Dome, dipped both hands into his chalk bag, and began climbing with no rope and no belayer. The practice, known as free soloing, is the sport's most dangerous discipline, with falls usually being fatal. When Honnold finished the route's 2,000 feet of glacier-polished granite with a delicate 5.12 crux move, the climbing blogosphere went into frenzied speculation about what might come next.
Alex Honnold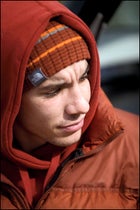 Honnold in the UK, 2008
"El Cap is only a matter of time, but that time is looking shorter,"wrote Yosemite gadfly Karl Bralich on the popular climbers' forum SuperTopo. In fact, the fuss over El Capitan wasn't entirely of Honnold's making. The previous month, another well-known American climber, Dean Potter, 37, had soloed an overhanging, 600-foot 5.12+ route on the north column of Switzerland's Eiger, wearing only an ultralight parachute in case he fell. Although harder climbs have been free-soloed up to 5.14a nobody had ever risked the combined length and insecurity of these ascents. And though Honnold and Potter are reticent about revealing any specific plans for a ropeless ascent of Yosemite's 3,000-foot monolith, both say it's on their minds. If one of them tries it, he'll either succeed and become immortal in the climbing world or fall and most likely die.
Honnold started climbing at age 11 and later dropped out of Berkeley to climb full-time. He's free-climbed (meaning he used a rope and belayer but no climbing aids) routes as hard as 5.14b. But what impresses peers is his surefooted composure.
"He's the calmest climber I've ever seen," says veteran big-waller Conrad Anker, 46, who roped up with Honnold for a free ascent of El Cap's 5.13c El Niño in December. In all, Honnold has completed four roped free routes on El Cap, including the 5.12+Free Rider, the easiest and most likely target= for a free-solo attempt. "If I consider it, it's hopefully not going to be an attempt," Honnold says of El Cap. "Of course I've thought about it, but I'm not anywhere close [to being ready]."
For one thing, El Cap is a thousand feet higher than Half Dome. But Tommy Caldwell, 30, who doesn't free-solo big walls but has free-climbed more routes on El Cap than anyone, thinks route length won't be a problem. "It's not going to be a huge stamina issue," says Caldwell. A free soloist wouldn't be slowed by a belayer or burdened by the 15 pounds' worth of equipment a roped climber carries.
The main hurdle, obviously, is the insecure nature of the climb. Last spring, when Honnold romped ropeless up the 5.12+ Moonlight Buttress, in Utah's Zion National Park, completing the 1,200-foot route before he'd even run through the 25-song playlist on his iPod, he felt certain he wouldn't fall from the finger-width cracks and he didn't. But the crux pitches on Free Rider rely on rounded nubbins of glassy granite for footholds and slippery handholds thinner than pencil width. Until recently, most people did the crux pitch the 24th by swinging onto a wobbly block, but last year that hold snapped off, forcing climbers to negotiate the Teflon Corner instead.
"I've never even looked at the Teflon Corner, but it doesn't sound like something you'd want to solo," says Honnold. Because the route is so dicey, Honnold thinks the 5.13b Golden Gate, an even harder climb that he did last October, might be a better option. Route choice is critical, of course, because soloists never get a second chance.
Or do they?
"When you tell someone you're a climber, they often say, 'Wow, have you got a parachute?'" laughs Potter. After two decades of free soloing and six years of BASE jumping, Potter decided to put that idea to the test, creating a hybrid sport he called freeBASE. "It's the most beautiful thing I can imagine," he says, "changing the worst-case scenario into human flight."
To make the idea practical, Potter ordered a custom-made 6.5-pound BASE rig (they usually weigh 15) and rehearsed spinning away from overhanging climbs and popping his chute. After he successfully freeBASE'd the Eiger, he started considering bigger projects like El Capitan.
"I obviously think about it, as does everybody else," says Potter. "And if I start obsessing on something, I'm kind of helpless but to go for it." However, he adds, "right now it's this puzzle that I can't quite figure out, so I don't have a definite plan."
It's a puzzle because freeBASEing is hardly safe, as evidenced by its following of exactly one: Potter. El Cap's lower pitches are only 80 degrees, and a falling climber might hit the wall before deploying a parachute. Even while wearing a parachute, Potter would effectively be free-soloing much of the route.
For both Potter and Honnold, the buzz about an impending El Cap solo has a damping effect. "For sure the hot question of the last few years is 'When are you going to free-solo the Captain?'" says Potter. "It brings my energy down hearing those questions." Although the National Park Service does not restrict free soloing, Yosemite regulations forbid BASE jumping, so Potter couldn't legally practice falling from El Capitan. Honnold, who considers free soloing only a minor aspect of his climbing life "a hobby, something I dabble in on the side" says friends have urged him to give it up. Many of the most famous free soloists Derek Hersey, Dan Osman, Michael Reardon died performing one climbing stunt or another. Brian Kimball, who climbed with Honnold during a one-day ascent of Free Rider in 2007, echoed many climbers' views when he posted a message on SuperTopo calling any attempt "a tragedy waiting to happen" and asking, "How would everyone feel about coaxing someone into soloing El Cap and watching him fall to his death?"
Even if things went smoothly, the event would create a spectacle. During peak season, climbers occupy many routes on the great wall, and crowds gather to study them through telescopes. Yet outside the tiny climbing world, an El Cap free solo would quickly be forgotten. Any rewards for the soloist would be mostly intangible and difficult to explain to a risk-averse public. "With free soloing, the people that I admire are those who do it without anybody knowing ahead of time," says Caldwell. "It should be a personal thing."
When that day comes, the psychological crux won't be two-thirds of the way up El Cap, on the Teflon Corner. "The hardest part,"says Honnold, "would be getting off the ground."