Earth Shakers: The Counter-Enviro Power List
With "the death of environmentalism" being debated across the land—and with the mainstream movement under siege from without and within—it's time to meet the winning side in America's new green wars. Here they come, ready or not: the 20 most powerful voices leading the environmental counterrevolution.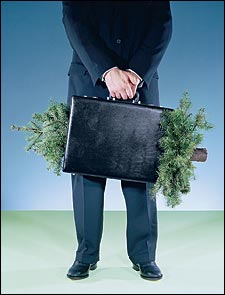 Heading out the door? Read this article on the new Outside+ app available now on iOS devices for members! Download the app.
WILD RIVERS and clean water, wilderness and wildlife—these are our national treasures, the resources that have defined our spirit of adventure and shaped the American character. Nobody would deny that they have to be protected and preserved.
The Counter-Enviro Power List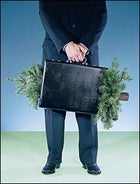 But how, and by whom?


In a few short years, the answer to that question has changed with stunning and dramatic speed, in a seismic shift without parallel in the history of green politics. Unable to put the environment at the top of the nation's agenda, the modern green movement has come to a point of reckoning. And as a conservative counterrevolution makes sweeping policy changes, traditional environmentalists are wondering what went wrong.


America has a passion for arguing about environmental politics. In the 1960s and '70s, a coherent and energized environmental movement produced legislative landmarks, from the Wilderness Act to the Clean Water Act; it kept dams out of the Grand Canyon, and, with the creation of the Environmental Protection Agency, in 1970, gave enforcement a strong institutional base. It is perhaps too easy now to forget the ferocity of the opposition to these achievements. But among environmentalism's greatest accomplishments was the forging of a broad bipartisan consensus about the proper role of law and policy in the stewardship of our resources.


Today, that consensus is under attack and in retreat. When George W. Bush, that oft misunderestimated president, announced the dawn of "a new environmentalism for the 21st century," in Sequoia National Park on May 30, 2001, it was not yet clear how relentless and successful his counterrevolution would be. But the transformation has not been simply a matter of White House clout and the mandate of reelection; Bush's new environmentalism is part of a brilliantly effective rebranding of the basic terms of conservation politics.


The critique goes like this: Mainstream environmentalism is a deluded ideology hostile to private property and common sense. It puts animals and trees before people and jobs. At best, it is a reflexive ally of a discredited liberalism; at worst, it is a cultlike alliance of nature-worshiping pagans. The green movement, its critics say, supports intrusive government regulation, and its actions impede the engines of economic prosperity and security.


Whatever your politics, if you care about the future of America's natural resources and wild places, you need to know the power brokers driving the counter-enviro juggernaut. In the pages that follow, we examine the 20 men and women who have seized the initiative, confronted mainstream environmentalism, and left it reeling, demoralized, in disarray.


And they say their work has only begun.
Dick Cheney: Vice President of the United States
Why is Cheney on this list instead of the man he works for? Because the 64-year-old veep has brought unprecedented clout to his position, taking the lead on everything from national security to energy policy. After stints as a Wyoming congressman (he grew up in Casper), as secretary of defense for President George H. W. Bush, and as CEO of Halliburton, the world's largest oil-services company, Cheney emerged as the ideal candidate to head the administration's National Energy Policy Development Group when Bush took power in 2001. As the leader of this 15-member task force, he masterminded a ground-up restructuring of America's energy policy, convening behind closed doors with oil, gas, coal, and nuclear executives and lobbyists.


On May 17, 2001, when the task-force findings were made public, Big Energy emerged as the clear victor. The very next day, the president issued an executive order that urged federal agencies to begin expediting gas- and oil-drilling-permit requests on public lands.


The report also became the foundation for Bush's as yet unpassed energy bill, which would offer hefty subsidies to energy companies and step up oil, gas, and mining activities on federal lands.


Finally, the report led to the formation of another team of policy strategists, the Energy Streamlining Task Force, which has been compiling a list of backlogged drilling-permit requests for areas within the Bureau of Land Management's jurisdiction. The new approach definitely seems to be working: Drilling permits were up 62 percent in 2004.


SOUND BITE: "I see this… as one giant giveaway to special interests," Senator John McCain (R-Ariz.) has said about the Cheney-stamped energy bill. "With a half-trillion-dollar deficit, we're giving tax credits for—guess who?—the oil industry, which, last time I checked, was doing really well."


NEXT UP: Bush's national energy plan jumped every legislative hurdle in 2003 except the Senate, where it died in a filibuster over exemptions for corporate polluters. A major Bush-Cheney goal—opening the Arctic National Wildlife Refuge to petroleum exploration—moved one step closer to reality in mid-March, when the Senate voted 51-49 to approve drilling as part of its budget deliberations.
Michael Crichton: Writer
The 62-year-old author of stunningly successful novels like Jurassic Park, Crichton is a master at using science as a springboard for blockbusters, which is one of the reasons environmentalists have been so distressed by his latest bestseller, State of Fear. Weighing in at 603 pages, the novel is a relentless diatribe against the environmental movement, featuring nefarious, grant-hungry greenies who conspire to create deadly natural disasters just to fool the world into believing that global warming is a threat. To reinforce his view that climate-change theories are hokum, Crichton laced the book with graphs, appendixes, and footnotes from scientific journals.


A number of scientists have charged that Crichton often misinterprets data, cites questionable studies, and overlooks the consensus of the overwhelming majority of climatologists: that global warming is a serious threat. Several leading authorities—including NASA climatologist James Hansen and NYU physics professor Martin Hoffert—have said Crichton distorted their research in his work. "Crichton is not a scientist, who would examine evidence evenhandedly to get at the truth," Hansen says. "He is a scientific fraud and a charlatan."


The flak didn't stop more than 570,000 Americans from buying State of Fear—and perhaps buying its message as well—in its first three months. As one Amazon.com online reviewer notes, "You can laboriously read tomes on the science or you can give yourself a break and read Crichton to get enough to fortify or enlighten the non-scientific mind."


SOUND BITE: In a 2003 speech in San Francisco, Crichton called environmentalism "the religion of choice for urban atheists."


NEXT UP: Though the Chicago-born Crichton is not a scientist—he graduated from Harvard Medical School but never practiced—he now lectures about "Science Policy in the 21st Century" before influential outfits like the National Press Club. His thrust: decrying the poor quality of research on which environmental policy is based.
Gale Norton: Secretary of the Interior
Norton doesn't breathe fire in the style of onetime mentor James Watt—the Reagan-era Interior secretary who tu- tored her in the late seventies at Colorado's Mountain States Legal Foundation, an important center of antiregulatory lawsuits. But no one should underestimate Norton's impact. Since her 2001 appointment as Interior secretary, a post that gives her command over 507 million acres of public land, the Denver-raised 51-year-old has aggressively campaigned to open up large swaths of territory for oil exploration. Norton argued in favor of lifting a moratorium on offshore drilling in California, advocated for drilling in ANWR, and, in September 2004 alone, auctioned off nearly 360,000 acres of Bureau of Land Management country in southern Utah and made 8.8 million acres of Alaska's National Petroleum Reserve available to oil and gas developers.


Norton is also pushing to allow off-road vehicles into wilderness study areas and national forests. As with most issues on Norton's agenda, the ORV changes stem from her belief that public lands should not be restricted to activities like hiking, hunting, and fishing but instead governed by policies that afford equal access to everyone.


SOUND BITE: "Norton has been a success because she's kept her head down," says Sharon Buccino, a senior attorney with the Natural Resources Defense Council. "From her Washington power base she is methodically and strategically changing the landscape of the West forever."


NEXT UP: Norton commissioned Water 2025, a sweeping proposal designed to mitigate the West's water-rights issues and worsening drought. So far, enviros have had a hard time finding flaws in the proposal, which offers grants to companies that are developing new technology to improve the efficiency of water usage, includes financial incentives to farmers who buy water-saving irrigation equipment, and provides a system for property owners to buy and sell surplus water. Some, like Thomas Graff, a regional director for Environmental Defense, have touted it as a "real achievement" and say it's a long-needed revamping of the West's water policies.
Richard Pombo: Congressman (R-Calif.), Chairman, House Resources Committee
A former Central Valley cattleman from Tracy, California, the 44-year-old Pombo has made rewriting the Endangered Species Act a top priority since he was elected in 1992. And this year—his third as chairman of the House committee that oversees natural resources and environmental legislation—he's teamed up with three colleagues (two Republicans and a Democrat) to take what may be his best shot yet. The group announced in February that it will develop ESA-reform legislation this year, with goals that include increasing requirements for scientific review before a species can be added to the endangered list and using incentives, rather than regulations, to encourage landowner participation in endangered-species recovery.


Pombo's ten-gallon hat and winsome mustache belie a fiercely honed instinct to rule. In 2005, he redesigned House Resources Committee protocol so that all bills were funneled directly to him, rather than to subcommittee chairs, and he alone decides how—and whether—to parcel them out. No fan of wilderness designation, he also sent his committee members a stern memo suggesting that wilderness bills would not get past his desk unless they allowed for "mechanized access," which includes vehicles like logging trucks.


SOUND BITE: "Pombo's agenda is to dismantle 100 years of conservation efforts by the American people," says Bart Semcer, the Sierra Club's Washington representative for endangered-species and wildlife issues. "He's one of the worst people I could imagine chairing that committee."


NEXT UP: Pombo remains determined to open ANWR to oil drilling—and with Republican majorities in both the House and Senate, this could be the year.
Lee Raymond: Chairman and CEO, ExxonMobil
Raymond, 66, oversees the most profitable corporation in America—ExxonMobil, which operates oil refineries in 25 countries and explores for oil and gas on six continents, racking up $25 billion in profits in 2004. A native of South Dakota and a 42-year company veteran, Raymond is unapologetic about his disdain for the Kyoto Protocol, the international agreement to reduce global greenhouse-gas emissions, which went into effect on February 16, 2005—without the United States' participation. In speeches and ads placed during 2001, Raymond pressed the message that the cost of complying with Kyoto far outweighs the benefits, a view echoed by President Bush when he rejected the treaty in 2001.


Meanwhile, ExxonMobil shows no sign of changing the way it does business. To shore up support in Washington, the company has donated heavily to President Bush and to oil-friendly Republicans and Democrats in Congress, as have others in the industry. Unlike fellow global energy giants BP and Shell, however, ExxonMobil has not publicly declared any voluntary targets for reducing greenhouse-gas emissions from its refineries and other operations. Emissions currently total 128 million metric tons per year, more than twice those produced by Norway.


SOUND BITE: "ExxonMobil stands alone in denying the reality of global warming and refusing to invest in renewable energy," says Sister Patricia Daly, executive director of the New Jersey—based Tri-State Coalition for Responsible Investment. "By doing this, they're putting long-term profitability at risk."


NEXT UP: In 2005, look for ExxonMobil to push hard to extract oil from ANWR. Of all the major companies with oil and gas interests on Alaska's North Slope, including BP, ChevronTexaco, and ConocoPhillips, ExxonMobil is the only one that still funds Arctic Power, an Anchorage-based advocacy group devoted to ANWR drilling.
Mark Rey: Undersecretary for Natural Resources and Environment, Dept. of Agriculture
A former timber-industry lobbyist from Ohio, Rey is head caretaker for America's 193 million acres of national forest. Throughout his career, he's been a forceful opponent of what he considers the red tape surrounding wildlife-preservation measures and environmental-assessment reviews, and he has advocated giving state and local agencies real input into the management of federal lands. His critics claim this is just a cover for hardball rollbacks that will open protected lands to more road building and logging. "Rey is the architect of an across-the-board attack on national forests," says Niel Lawrence, director of the forestry program at the Natural Resources Defense Council.


As forest chief since 2001, Rey, 52, has been instrumental in creating new "categorical exclusions" to environmental-impact reviews required by the 35-year-old National Environmental Policy Act. Typically, these exclusions have allowed forest managers to relax the reviews when they want to fix a trail or structure. The new exclusions, part of the Bush administration's Healthy Forests Initiative (first introduced in August 2002), allow the removal of "hazardous fuels"—like trees—in forests where wildfires pose an increased threat. The change has already led to fire-prevention logging on more than 11 million acres.


SOUND BITE: Rey once described forest-conservation laws as "bedtime reading for insomniacs as an alternative to War and Peace."


NEXT UP: Rey plans to revamp the Roadless Area Conservation Rule, a Clinton-era regulation that halted new road building and logging in designated areas in national forests. The rule, which was already repealed in Alaska's Tongass National Forest, is expected to be replaced in May with a far less stringent one, potentially giving the timber, oil, gas, and mining industries access to 58.5 million acres of currently protected areas.
James Inhofe: Senator (R-Okla.) Chairman, Committee on Environment and Public Works
A three-term senator and the former mayor of Tulsa, Oklahoma, Inhofe has always been an impassioned defender of oil and gas interests, but as chairman of the Senate Committee on Environment and Public Works—which oversees environmental, wildlife, and federal highway legislation—his power to act on their behalf has grown considerably. Inhofe, 70, vigorously challenges the scientific consensus on climate change in his committee hearing room, where he frequently invites skeptics to testify, and during wider debate on the Senate floor.


Inhofe was instrumental in defeating last year's bipartisan McCain-Lieberman Climate Stewardship bill, which proposed minor curbs on greenhouse gases. He was also the lead sponsor of the Clear Skies bill, an attempt to amend the 1970 Clean Air Act. (The bill died in committee in March.) The legislation would have given power plants more time to reduce emissions of sulfur dioxide, nitrogen oxides, and mercury—with higher allowable limits than in the existing act—and did not include limits for carbon dioxide.


Not surprisingly, Inhofe's leadership draws plenty of industry support. In 2002, he took in $427,000 in campaign contributions from the energy and extraction industries, more money than all but two other U.S. senators.


SOUND BITE: In 2003, Inhofe described global warming as "the greatest hoax ever perpetrated on the American people."


NEXT UP: This year, Inhofe will try to resurrect his Clear Skies bill and will continue to monitor the Environmental Protection Agency's grant program, which he believes favors environmental groups and what he calls the "snake-oil salesmen" that they send out to mislead the public.
Rush Limbaugh: Radio Host
The most popular radio talker in history, Limbaugh, 54, has transformed the sound of public discourse in America, giving powerful voice to the nation's conservative movement while immeasurably shaping and strengthening it. In Limbaugh's opinion—which reaches 20 million listeners on nearly 600 radio stations every week—"unfettered free enterprise" can solve global problems, many of which are caused by liberals, Democrats, "the Birkenstock crowd," and "environmental wackos."


The Missouri native describes human-induced ozone-destruction theories as drivel perpetrated by "dunderheaded alarmists and prophets of doom." On the air, in speeches, and in two best-selling books, he also argues that secondhand cigarette smoke is not a big health risk, insists that volcanoes do more harm to the ozone layer than mankind does, and says that nature is not fragile—and humans are incapable of destroying it. "I don't believe it, because I believe in God, and I don't believe we have this kind of power," he explained in a January broadcast. Echoing those sentiments, presumably, are the legions of "dittoheads" who embrace Limbaugh's views.


SOUND BITE: "Science may end up proving George W. Bush to be one of the greatest environmental heroes in world history," Limbaugh said in a 2005 broadcast. "We are not destroying the earth, my friends… The United States is saving it."


NEXT UP: Limbaugh's contract with Premiere Radio Networks runs through 2009. After the past four years, a period in which he survived an addiction to prescription painkillers and a third divorce, Limbaugh appears unsinkable. "I've always said I'm never going to retire," he once declared, "until every American agrees with me."
Elizabeth Whelan: President, American Council on Science and Health
Since she cofounded the nonprofit ACSH in 1978, Whelan, a 61-year-old New Yorker with graduate degrees from Yale and Harvard, has wielded the authority of the organization's 350 affiliated scientists, doctors, and policy advisers to claim that PCBs don't cause cancer, that mercury levels in seafood are safe, and that lead poisoning in children is at tolerable levels. To sway public policy, the group spreads its message in thousands of articles and editorials in major newspapers and other media.


Whelan isn't always so predictable, though: She's consistently criticized the tobacco industry, publicizing the links between smoking and cancer through books, editorials, and a Web site aimed at teenagers (www.thescooponsmoking.org). Still, her group remains much favored by industry. The ACSH stopped publishing lists of its funders in 1991, but according to ACSH associate director Jeff Stier, the bulk of its money comes from foundations and corporations.


SOUND BITE: "Whelan testifies on the Hill a lot," says David Helvarg, author of The War Against the Greens, a 1994 book about the counter-enviro movement. "When Republicans use the term 'sound science,' they're looking for 'industry science,' and she provides that."


NEXT UP: America's War on 'Carcinogens,' edited by Whelan and published by ACSH earlier this year, highlights the organization's big fight for 2005: debunking the use of animal tests as the sole way to establish a link between synthetic chemicals and cancer in humans. Mice are not "little men," Whelan says, and giving them large doses of toxins does not predict what those chemicals will do to people.
James Connaughton: Chairman, White House Council on Environmental Quality
Connaughton, 44, President Bush's senior White House adviser on the environment, has a broader scope of influence on green policies than any other Bush appointee—and has used it with notable success. He is among the most powerful advocates of the administration's "new environmentalism"—a sweeping shift away from federal regulations in favor of voluntary and incentive-based initiatives. And he coordinates environmental efforts between every federal office and agency, a job that includes weighing in on regulatory decisions at the EPA and the departments of Interior, Agriculture, and Energy.


Connaughton played a key role in developing the administration's Clear Skies bill, criticized as being blatantly pro-industry because it weakens Clean Air Act pollution-control regulations and does not address carbon dioxide emissions. He also helped the president promote the Healthy Forests Initiative, a management plan hotly contested by environmentalists for easing logging restrictions on federal lands.


Before he joined the White House team in 2001, Connaughton was a partner in the Washington, D.C., office of Sidley Austin Brown & Wood, specializing in environmental law and lobbying to reduce government regulations on behalf of clients such as the Chemical Manufacturers Association of America.


SOUND BITE: In April 2004, President Bush met with gun and hunting lobbyists at his ranch in Crawford, Texas; according to the Chicago Tribune, he told the audience to contact Connaughton if they had any complaints about White House policy. "Hopefully, part of this relationship is to get Connaughton on the phone and tell him… you expect something different to take place."


NEXT UP: After the March defeat of Clear Skies, Connaughton will continue to promote the administration's controversial air-pollution agenda, which will likely be reintroduced on the Hill.
Jerry Falwell: Founder, the Liberty Alliance
A Lynchburg, Virginia–based Baptist minister and televangelist who in 1979 helped found the Moral Majority, a group that dramatically infused fundamentalist religious values into American politics, Falwell, 71, remains one of the most influential leaders on the Christian right. Through regular appearances on Fox, CNN, and MSNBC, as well as on his own Liberty Channel, Falwell is a tireless political spokesman who downplays environmental ills, dismisses man-made global warming as "a myth," and promotes the literal application of biblical precepts to the use of natural resources. In this, he's representative of a huge number of conservative Christians who take their cue from the Book of Genesis and believe—as codified in a 2000 manifesto called "A Faith Community Commitment to the Environment and our Children's Future," which Falwell signed—that God created plants, oceans, and the beasts of the earth "all for the use of man."


Falwell's long view may not lend itself to careful stewardship, either. Like many fundamentalists, he believes the planet is heading toward a violent apocalypse that will precede a last judgment by God—a view that also drives the hugely popular Left Behind novels written by Jerry B. Jenkins and one of Falwell's fellow Moral Majority principals, Tim LaHaye. Environmentalists worry that such thinking fosters lax attitudes about earthly issues like global warming and resource conservation.


SOUND BITE: Falwell has dismissed global warming forecasts as propaganda "created to destroy America's free enterprise system and our economic stability… I urge everyone to go out and buy an SUV today."


NEXT UP: Not all Christians march to the same drummer. In March, the powerful National Association of Evangelicals—a group with 30 million members from 52 denominations—began a push to convince Washington policymakers that global warming is a threat, setting up a clash between Falwell's view and this emerging faith-based consensus.
John Stossel: Co-Anchor of ABC's 20/20
Stossel, 58, was once a crusading consumer advocate, but he found real fame after doing an about-face in the 1990s and becoming a foe of government regulations that affect business, both big and small. Today he's the de facto king of regulatory debunking, commanding some of the highest ratings of any ABC correspondent while regularly using his Give Me a Break segments and prime-time specials to ask questions like "Are We Scaring Ourselves to Death?"


Usually his answer is yes, even as he profiles dioxin and asbestos (the dangers of which are overblown, he says). Though Stossel goes after a broad range of targets—in one show he exposed American "freeloaders," including wealthy business owners who enjoy government subsidies—he reserves much of his vitriol for safety laws, fear-mongering greens, and institutions like the EPA.


Critics charge that Stossel oversimplifies reality and makes sizable reporting gaffes, pointing to a 2000 exposeé on organic food in which he suggested that "buying organic could kill you" and cited a test that "proved" that conventional produce is as pesticide-residue-free as organic. (No such test existed, and he later apologized on the air.) But his fans keep the faith. The Competitive Enterprise Institute, a conservative think tank in Washington, sponsors a "Support John Stossel" online petition to counter what it says are "ongoing environmentalist" attacks against him.


SOUND BITE: "Stossel starts with a conclusion he wants to arrive at and looks for the facts to support it," says Peter Hart, a media analyst at the New York City-based group Fairness and Accuracy in Reporting. "You end up with a very compelling and very incomplete version of reality—not journalism."


NEXT UP: ABC is busy marketing Stossel's videos and DVDs (his 2005 TV special Myths, Lies, and Nasty Behavior went on sale in January). He'll also be speaking for organizations like Young America's Foundation, an outreach group for conservatives.
Collin Peterson: Congressman (D-Minn.)
A former accountant who's represented northwestern Minnesota's rural Seventh District since 1990, Peterson, 60, was the sole Democrat listed in the League of Conservation Voters' 2004 "Dirty Dozen" roundup. The House Agriculture Committee's ranking Dem, Peterson earned this distinction for supporting ANWR drilling and endorsing the Bush administration's industry-friendly national energy plan. Peterson is representative of several Democrats who come from industry- or agriculture-based constituencies: Though he is conservative—"I vote right," he has said—he claims to act on behalf of the little guy, including his snowmobiling constituents.


Case in point is Peterson's high-profile environmental break with his party: leading the charge against a ban on snowmobiles in Yellowstone and Grand Teton national parks. Although the proposed ban involved only 250 miles of closures—representing less than 2 percent of the 17,000-plus miles of designated trails throughout the states of Wyoming, Montana, and Idaho—it became a flash point for the snowmobiling industry, which emerged as a major political force. As the battle extended into 2004, Peterson took to the House floor to praise Polaris and Arctic Cat—two manufacturers in his district that employ 3,500 people. He argued that the companies have spent millions on cleaner and quieter four-stroke engines and that their impact in Yellowstone paled next to the summertime cavalcade of cars and RVs. Last June, the proposed ban died in the House.


SOUND BITE: "The environmentalist view is that the only people who are going to protect the environment are bureaucrats," Peterson says in response to his critics. "The people who care most about the land are the people who live on it."


NEXT UP: Peterson recently introduced the Renewable Energy Production Incentive Reform and Reauthorization bill, which gives direct payments to nontaxable entities like rural electric utilities for generating renewable energy.
Jim Magagna: Executive Vice President, Wyoming Stock Growers Association
Magagna, a third-generation sheep rancher from Rock Springs, Wyoming, is the man to watch in the fight to roll back wolf recovery in the American West. Working closely with the Wyoming Farm Bureau Federation, the 62-year-old Magagna and his Cheyenne-based ranchers' group have been leaders in the campaign to stop the U.S. Fish and Wildlife Service's landmark 1995 wolf-reintroduction program in Yellowstone National Park. Today, with some 835 gray wolves roaming the northern Rockies, the feds are ready to remove them from the endangered species list—if and when they feel they can safely hand control back to the states of Montana, Idaho, and Wyoming.


The Interior Department has approved wolf-management plans submitted by Montana and Idaho, but in 2004 it rejected Wyoming's plan—drafted in large measure by Magagna—because it included an unregulated, kill-at-will provision for wolves found outside of national parks and designated wilderness areas. Now Wyoming and the Wyoming Wolf Coalition, a group headed in part by Magagna, have sued the U.S. Department of Interior, saying it didn't have adequate grounds to reject the state's wolf plan. U.S. District Judge Alan Johnson is expected to rule on the case sometime later this year.


SOUND BITE: "Some of our members would like wolves to go away," says Magagna. "In reality, we don't expect that, so we must maintain management flexibility. Under our plan, if you see a wolf [outside a designated area], you can kill it."


NEXT UP: Magagna's 2005 goals include lobbying Congress to revise the Endangered Species Act, which he feels infringes on private-property rights, and working with the Bush administration to reform policies so that ranchers have more say over federal land decisions.
John D. Graham: Administrator, Office of Information and Regulatory Affairs
Graham, 48, runs a powerful department within the Office of Management and Budget that acts as a gatekeeper for the Bush administration. Its goal: to ensure that regulations and scientific analyses proposed by federal agencies—from the EPA to the Department of Transportation—are in tune with the president's agenda. A strict believer in weighing the costs of regulations against their benefits to society, Graham can demand changes to any proposed rule. If the changes aren't made, chances are, it won't go into effect.


Graham has used his clout to weaken such rules as a 2002 EPA proposal that would have toughened emission standards for snowmobiles and other off-road vehicles. And after meeting with steel-industry representatives in 2001, his office convinced the EPA to remove manganese—a steel-production ingredient that's toxic at high levels—from its list of hazardous substances. Every fall, Graham also publishes what critics call "the hit list": a report focusing on regulations—hundreds of which concern the environment—that industries and other parties want to see reformed or eliminated.


Graham's prowess in these matters is long-standing. From 1989 to 2001, the Pittsburgh native was the founding director of the Harvard Center for Risk Analysis, an academic research center that has received support from some of the nation's largest corporations, including Dow Chemical and Monsanto.


SOUND BITE: "Graham's work has . . . demonstrated a remarkable congruency with the interests of regulated industries," read a statement by 53 academics who opposed Graham's 2001 nomination to head the OIRA. His research, the signers added, shows a "willingness to override health, safety, environmental, civil rights, and other social goals in applying crude cost-benefit tools far past the point at which they can be justified."


NEXT UP: Graham plans to impose a uniform "peer review" analysis on all major federal scientific studies. Critics claim this could gum up the system and increase the sway of industry-funded scientists over regulations.
Frank Luntz: Pollster
A longtime public-opinion specialist who helped frame the GOP's "Contract with America" in 1994, Luntz doesn't make policy, but he's a master at packaging it. The 43-year-old founder of the Virginia-based Luntz Research Companies was the author of "Straight Talk," a confidential memo—leaked to the media in 2003—that coached Bush administration officials and GOP supporters on marketing a wide range of policies. "The environment is probably the single issue on which Republicans in general—and President Bush in particular—are most vulnerable," Luntz warned. "Any discussion . . . has to be grounded in an effort to reassure a skeptical public that you care about the environment for its own sake—that your intentions are strictly honorable."


To that end, Luntz suggested new White House phrasing on subjects like global warming (though "the scientific debate is closing against us," he wrote, minds could be eased by making "the lack of scientific certainty a primary issue"). He also laid out specific language designed to soothe voters. Some of it, such as the phrase "Safer, cleaner, and healthier," soon showed up verbatim in speeches by GOP policymakers.


SOUND BITE: "Climate change is less frightening than 'global warming,'" Luntz wrote in "Straight Talk." "Global warming has catastrophic connotations attached to it, climate change suggests a more controllable and less emotional challenge."


NEXT UP: In February, Luntz released a 160-page strategy memo, titled "The New American Lexicon," to help the GOP open up ANWR for oil drilling, emerge victorious in the 2006 midterm elections, and pursue other key goals. "Never say: 'drilling for oil,'" the document advises. "Instead say: 'exploring for energy.' . . . When you talk about energy," it adds, "use words like 'responsible' and 'balanced,' and always address your concern for the environment."
J. Steven Griles: Lobbyist
The former number two at the Interior Department under Gale Norton, Griles, a 57-year-old from Halifax County, Virginia, has moved in and out of government for more than 20 years, becoming a prime example of Washington's revolving-door syndrome. On February 1, just days after leaving his post as deputy secretary of Interior, Griles took a job as a principal at Lundquist, Nethercutt and Griles, a powerful Washington, D.C.-based lobbying firm that represents major energy corporations such as BP and Exelon.


Griles first came to the department in 1981 under Interior Secretary James Watt, during the Reagan administration, serving as deputy director for the Office of Surface Mining. In the 1990s, he worked for the D.C.-based energy lobbying firm National Environmental Strategies. In 2001, as deputy secretary, Griles became instrumental in streamlining regulations to speed the approval process for mountaintop-removal coal mining. The practice, which environmentalists and Appalachia residents refer to as "an environmental apocalypse," involves blasting away mountaintops, leaving behind tons of potentially toxic rubble and sludge. Griles also supported a new rule allowing mining companies to dump the debris in nearby waterways; some 1,200 miles of Appalachian streambeds have already been buried by the procedure.


SOUND BITE: "Griles allowed the coal industry to rape the people and the environment of Appalachia," says Judy Bonds, director of the Whitesville, West Virginia-based environmental group Coal River Mountain Watch. "He either thinks we're second-class citizens or he doesn't even know we exist."


NEXT UP: Expect this regulator-turned-industry-power-broker to continue lobbying for the energy business.
Clark Collins: Founder, Blueribbon Coalition
Collins, 63, is the force behind an increasingly savvy no-new-wilderness movement fueled by grassroots enthusiasm for off-road vehicles (ORVs). His Pocatello, Idaho-based group represents an assertive constituency composed mostly of dirt bikers, ATVers, and snowmobilers who use lawsuits and lobbying to fight for the same access to wilderness-study areas and other protected public lands that hikers and backpackers have.


Though the BRC claims only 11,100 members and an annual budget of roughly $1 million, it's become a loud and credible voice. Collins has achieved this, in part, by borrowing a litigation-heavy strategy from the environmental groups he opposes. Boise-based attorney Paul Turcke has represented the BRC in some three dozen lawsuits, many of which challenge ORV restrictions in wilderness study areas across the West. The BRC has enjoyed notable successes, including a January 2003 decision in which the Ninth Circuit Court of Appeals reversed a lower-court order that threatened ORV access on trails in Montana's national forests.


SOUND BITE: "If wilderness-advocacy groups would stop trying to kick us off backcountry areas and work with us to address the 1 percent of irresponsible ORV users," Collins says, "they would find a very willing partner in the BRC."


NEXT UP: Court cases will keep the BRC busy in 2005, opposing more restrictions on snowmobile access to Yellowstone National Park and fighting to keep the central coast of California's Clear Creek Management Area open to ORVs. The group is also lobbying the Forest Service as it reforms the process to designate access rights in national forests.
Thomas R. Kuhn: President, Edison Electric Institute
Kuhn heads the electric-utility industry's most influential trade group, the Edison Electric Institute, whose roughly 200 member companies generate more than 70 percent of the nation's electricity—and who spent more than $72 million on lobbying between 1999 and 2004.


A 58-year-old Beltway denizen originally from Massachusetts, Kuhn has known George W. Bush since they were classmates at Yale, and he raised more than $100,000 in contributions for the Bush campaign in 2000 and 2004. As a member of the president's Department of Energy transition team, Kuhn helped devise the administration's energy policy, designed to boost supply and remove regulatory barriers that inhibit fossil-fuel production.


SOUND BITE: In a 1999 memo leaked to the media, Kuhn assured energy executives that their contributions to the 2000 Bush campaign would be rewarded—as long as donors made sure to use tracking numbers on their checks. "It does ensure that our industry is credited," he wrote.


NEXT UP: Though the Clear Skies bill died in committee this year, it will likely be Kuhn's top priority to revive as much of it as possible for future reintroduction on the Hill.

Joseph Luter: Chairman and CEO, Smithfield Foods
If there's one corporate boss who qualifies as a poster child for receiving mysteriously gentle treatment from government regulators, it's Luter. Under this Virginia businessman's 30-year reign, Smithfield has become the world's top pork processor and hog producer, with an annual slaughter of 27 million animals and sales of almost $10 billion in 2004. Smithfield is a highly profitable leader in the world of "concentrated animal feeding operations" (CAFOs), the huge hog, dairy, and poultry operations that dominate U.S. livestock farming and are major contributors to air and water pollution, generating massive amounts of untreated manure, ammonia gas, and toxic runoff.


In 1997, the U.S. District Court in Norfolk fined the company $12.6 million for dumping excessive amounts of hog waste into Virginia's Pagan River. In 2005, the Natural Resources Defense Council and other groups won a lawsuit to force the EPA to revise CAFO regulations that violated the Clean Water Act. But the 65-year-old Luter—and CAFOs in general—have still managed to come out ahead. In January, the EPA launched a new program that gives immunity to CAFOs for any past and near-future pollution violations, as long as they allow air monitoring on their farms and pay a "civil penalty" ranging from $200 to $100,000—a fraction of the fines they'd face if prosecuted for pollution crimes.


SOUND BITE: "Factory farms like Smithfield are wreaking havoc by polluting our air and water and endangering the health of rural communities," says Navis Bermudez, a Sierra Club policy analyst. "But the EPA continues to let them off the hook."


NEXT UP: Smithfield is busily globalizing, moving into laxly regulated countries like Poland and Romania.