Sponsor Content
4 Ways to Help Reduce Ocean Pollution
Bringing a reusable water bottle or coffee mug is just the start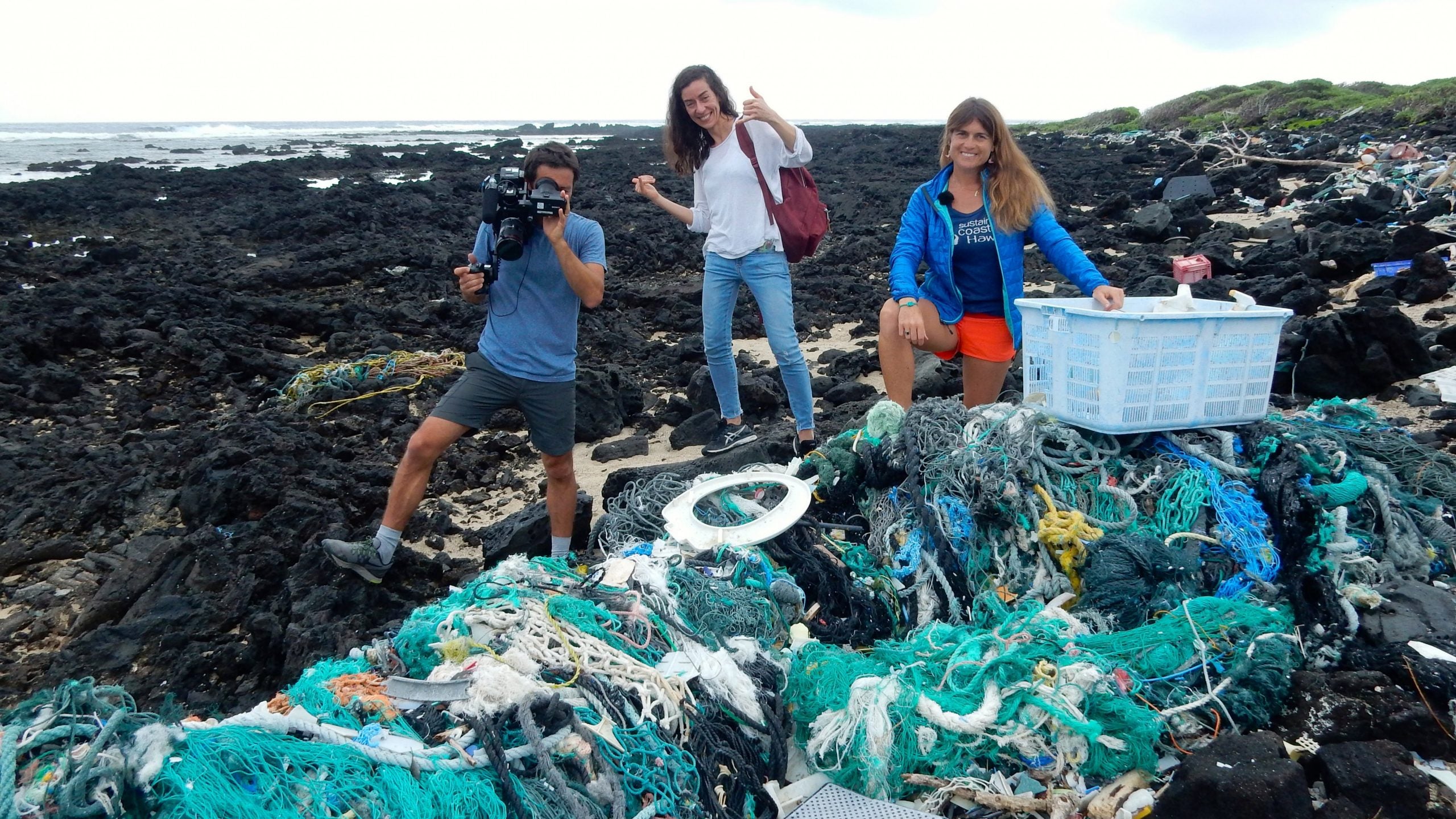 Everyone knows we need to curb single-use plastic and work harder to reverse global warming. But what habits and actions make the most sense to adopt? We asked four of Hydro Flask's Refill For Good advocates—scientists, activists, and artists working to curb the ocean plastics crisis—about how you can make a bigger impact in your own life and beyond.
Dr. Sarah-Jeanne Royer | Oceanographer 
Royer, an expert in the degradation of plastic and microfibers in the environment in Hawaii, recently worked on a study that found that plastic degradation in the environment, when exposed to the air, is a significant contributor to global warming—making those single-use products even dirtier than previously thought. Royer's stance is firm on cutting out not just single-use plastics but all new items that aren't strictly essential: if a restaurant won't accept her reusable mug, she'll just say no, and she says she doesn't think she's purchased any brand-new clothing in 15 years. "We are in such a consumption society these days," she says. "It feels pretty much impossible to go somewhere and not buy something, and this is wrong—we used to go out and enjoy nature instead."
Royer's Tip: Lend or Share Before You Buy New
When you need something you don't already have, try to find it from someone within your community before ordering it or rushing out to buy a new one. Buy Nothing, for example, is a network of community groups where people ask for and give away all kinds of things to others in their neighborhood, preventing unnecessary consumption and creation of new products. "You get to meet your neighbor, socialize, and share what you have with other people without even exchanging money," she says. She didn't buy anything at all when she had her baby daughter—she was able to find everything for free.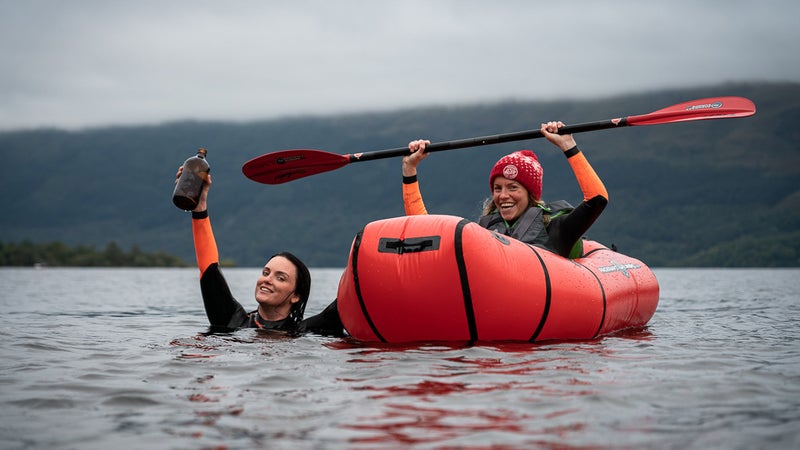 Laura Owen Sanderson | Founder of We Swim Wild
Sanderson started swimming the wild waters near her home in Wales after doctors suggested she seek the therapeutic benefits of cold water. Since then, she's swum mind-boggling distances to collect water samples to test for microplastic pollution, which is so widespread that it's been found even in a high-alpine lake of Wales's Mount Snowdon, likely carried there by precipitation. "It's a silent contaminant," Sanderson says. "You wouldn't necessarily see it with the naked eye." Recently, she organized 250 British swimmers to contribute samples from their own favorite swimming sites around the United Kingdom, and this year she'll be exploring the depths of the country's caves to collect still more samples.
Sanderson's Tips: Curb Your Microfibers and Advocate Locally
Sanderson recommends getting a washing bag, like those made by Guppyfriend, to wash your clothes in. "It will collect those microfibers before they reach the water system," she says, and preventing more damage is the best chance we've got to get our waterways cleaner. "You can't just keep cleaning up the problem," she says. Second, get comfortable asking local business owners and your legislators to make top-down changes like accepting reusable cups at coffee shops (many in the U.S. stopped doing so during COVID) and banning single-use plastics at the local level. "I have gone into shops and spoken with business owners and worked with them to reduce the amount of plastic they're selling," she says, adding that she's done so as just a "normal person," which you can do, too.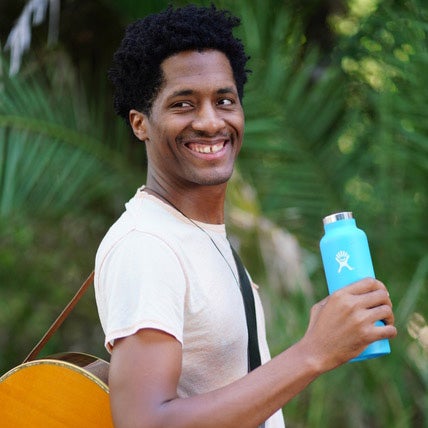 Ron Artis II | Musician
A musician and father of four kids ages 9 months to 6 years, Artis is a multi-instrumentalist who grew up in Hawaii and has performed and collaborated with everyone from Mick Fleetwood to G Love. And when he goes on tour he usually has his whole family accompany him, so he and his wife have created a system for avoiding single-use plastic and teaching the kids early on how to take ownership of their own impact. "It's pretty simple to explain something to kids, but how our kids learn is by watching us," he says.
Artis's Tip: Flow with the Chaos
Especially if you're traveling with a family or a big group, it can be tricky to stay hydrated on the road without packing lots of bottles. But Artis's secret weapon is simple: just your average grocery store. Many have water refill stations intended for those huge five-gallon drums, but which also work with any small container. He and his wife pack Hydro Flask backpacks and large 128-ounce bottles in addition to the kids' own mugs when they travel, so they always have enough to refill. Don't stress about not being perfect all the time, either, he says—it's hard, especially with a large family, to make big changes quickly. "Flow with the chaos," he says. "Anyone who's got a lot of kids or a big family, you start accepting that there's always going to be a level of chaos, and everything doesn't have to flow perfectly."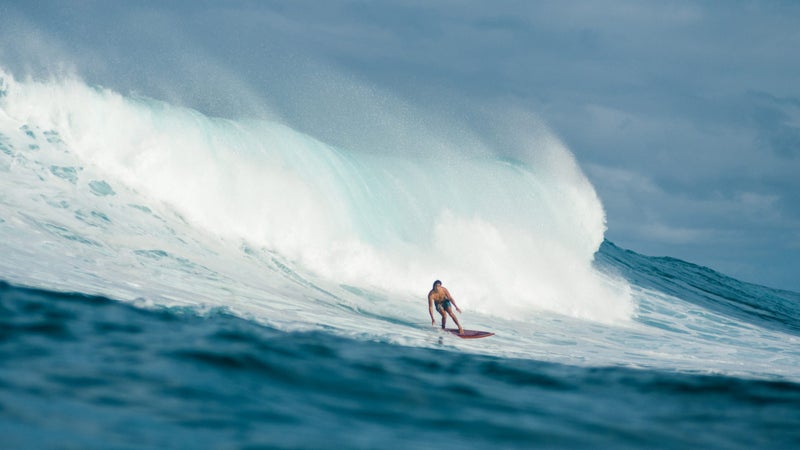 Dr. Cliff Kapono | Surfer, Chemist, and Journalist
A native Hawaiian, Kapono has spent his career focused on studying and protecting the oceans he so loves to explore. Right now, he's working with the MEGA Lab, a global network of artists, scientists and athletes, to study coral reefs around Hilo, Hawai'i, where he grew up. "We're trying to break the stigmas and the stereotypes that scientists are nerds," he says. "We are nerds, but we're nerds that like to go out and skate and surf and dive."
Kapono's Tips: Develop Deeper Connections
Find ways to fall in love with the world around you, and then share that love with others to help inspire an organic desire to protect these beautiful places. When you travel, seek out resources from Indigenous communities to learn more about the land and the ways it has adapted to climate change over thousands of years, he says. And when possible, join in on volunteer opportunities, such as with organizations like Surfrider, which operates a national network of volunteers working on cleanup and awareness campaigns. "Connection is the biggest action we can take to be a better steward," he says. He recalls seeing a red-algae bloom in California, and taking everyone he could out on a night surf to experience its amazingness. Chase that wonder and, soon, taking little steps to clean up your everyday choices might just start to feel exciting.
---
Since 2009, Hydro Flask has designed gear that happily goes where you do and stays the perfect temp til the outdoor adventure is over. Today is wide open. And we're up for anything. #HeyLetsgo
#RefillForGood is our rally cry to raise awareness and encourage everyone to make the switch from single-use plastics.
Trending on Outside Online