Climate Neutral-ish
5 Brilliant Sustainability Hacks from Our Favorite TikTok Star
From growing plants from seeds, to repurposing food scraps, to turning trash into all-natural cleaners and beauty products, TikTok phenom Creative_explained will inspire you to waste less and save money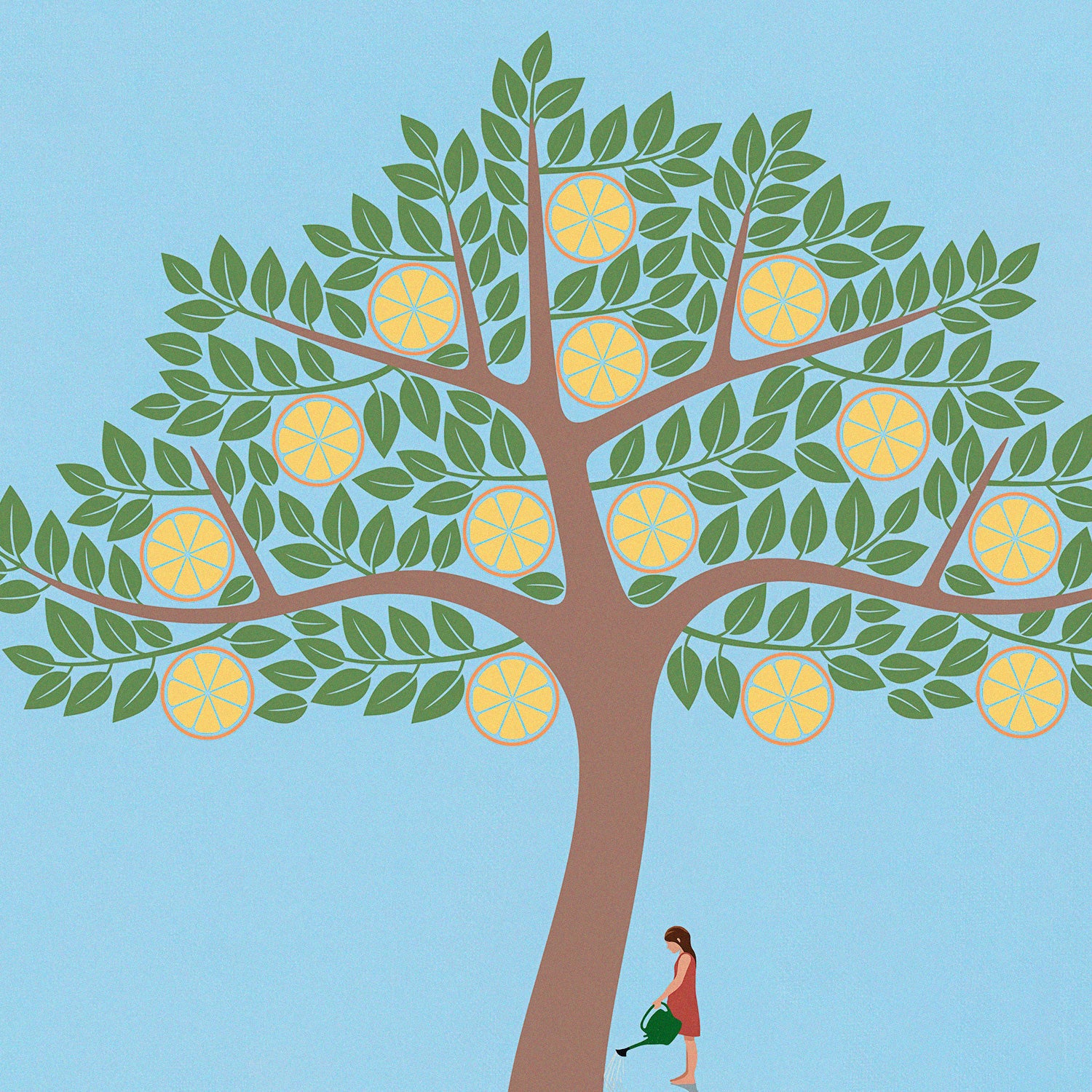 Malte Mueller/fStop/Getty (person); oleg7799/iStock/Getty (tree)
Heading out the door? Read this article on the new Outside+ app available now on iOS devices for members! Download the app.
Doing right by the planet can make you happier, healthier, and—yes—wealthier. Outside's Head of Sustainability, Kristin Hostetter, explores small lifestyle tweaks that can make a big impact. Write to her at climateneutral-ish@outsideinc.com.
It all started with the butt end of a scallion. In March 2020, 33-year old filmmaker Armen Adamjan, was stranded at his parents' house in Providence, Rhode Island, for two months during a Covid lockdown. Like many people, Adamjan was going stir crazy with little to do. "I hadn't made any videos in months, and as I was chopping some green onions for lunch," he says. "I wondered if people knew that you could regrow them. I made a 15-second video, posted it on TikTok, then forgot about it and went about my day." The next day, the video had been viewed more than 100,00 times. Adamjan was dumbfounded. He decided to pursue his love of plants and gardening hacks. to see if he could make a living by sharing them with the world.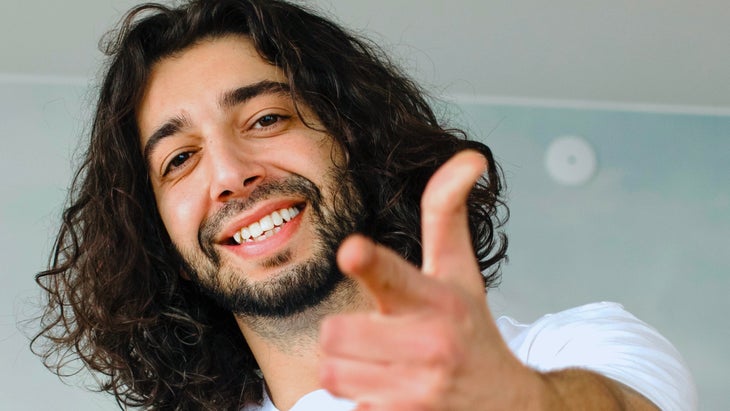 In the three years since he uploaded the scallion video, Adamjan, known on socials as creative_explained, has amassed more than 15 million followers across Instagram, TikTok, and YouTube. The videos Adamjan produces focus on repurposing, regrowing, recycling, and upcycling things in your house in non-toxic, organic, healthy ways.
Adamjan, who recently took home the 2022 Sustainability Influencer of the Year Award, is sometimes surprised by the career path he is following. "I noticed I was preaching about not throwing stuff out," says Adamjan. "I never set out to be a sustainability expert, I just wanted to make cool videos about stuff I was into."
As a lover of gardening, food, and all things sustainability, Adamjan's mantra of "don't throw it out" is right in my wheelhouse. I find the energy he brings to his short-format videos to be utterly charming and addictive, but Adamjan knows they are not for everyone. "Some people find them a bit overwhelming," he says with a chuckle. That's why he has also published two books about his hacks. Don't Throw It Out and Don't Throw It Out 2  pull all his ingenious hacks onto the printed page with more details than he can provide in a 60-second video. Each project comes with a QR code that readers can scan to take them straight to the video in case they need a burst of energy for inspiration. (Volume #3 of Don't Throw It Out comes out this month.)
"When you're passionate about something, it shows,"Adamjan says. "You get excited about something, then people get excited along with you. And when people get excited, they get inspired to make a change. All I want to do is  find ways to simplify everyday life, help people, have fun, and do cool things."
5 Must-Watch Sustainability Hacks
Make Natural Fertilizers From Food Scraps
Gardeners spend a lot of money on chemical fertilizers. 'Why do we do this when we have so many magical ingredients in our garbage bins?" says Adamjan. "So much of the food we discard has untapped potential."
Organic material like cucumber skin, pineapple rinds, banana and citrus peels, and even used tea bags are packed with nutrients that plants crave like potassium, phosphorus, nitrogen, calcium, and magnesium. Many of Adamjan's hacks are about rescuing these materials from the garbage bin, and then boiling, soaking, grinding and combining them into fertilizers and plant food. Worth noting: Adamjan starts each hack by using organic produce that contains no chemicals.
He spends hours researching the nutrients hiding inside all these things we typically throw out. Then, he experiments and experiments more with how to process the material and extract these nutrients. His apartment is filled with seedlings and houseplants. Sometimes it takes weeks to discover solutions, but he doesn't stop until he figures it out. "I purposely live in a place with no garden because it forces me to learn how to grow things in apartments, so I can learn from the experience and share that," he says.
One fertilizer Adamjan swears by is banana water.
Grow Food From Scraps
If it has seeds, you can generate plants –and food–from it, says Adamjan. Many of his videos explain how to regrow peppers, tomatoes, cucumbers, lemons, oranges, avocados, pineapples, dragon fruit, and other edible plants from discarded seeds.
"Everyone knows that food comes from seeds," he says, "but we throw away so many of them."
Adamjan's apartment is a veritable jungle of plants at all stages of life. "I give away a lot of seedlings," he says. "I do sometimes kill plants with my experiments, because some stuff doesn't work and I over-stress the plants. But I never stop trying and I only make a video when I'm confident something works and have proven it multiple times."
Adamjan says that his viewers are often frustrated by the wait required for plans to grow. He has a pro tip for anyone wanting to speed up the process. "For spouting, one of my favorite hacks is to use a hydrogen peroxide (make sure it says 3 percent on the label) soak, which loosens up the outer layer of the seed and jumpstarts the sprouting process" he says.
Make Natural, Non-Toxic Cleaners
My mom gets credit for putting me on this path, says Adamjan. "Ever since I was little, she's been against toxic chemical cleaning sprays. She taught me that there's almost nothing that you can't clean with three magic ingredients: lemon, baking soda, and white vinegar. And she was right." Stubborn pots and pans, cutting boards, makeup brushes, stainless steel appliances, crusty shower heads, wine glasses–Adamjan makes them all like new.
What about the ubiquitous red wine stain? For that one, he turns to the fridge for different secret ingredients: milk.
Prevent Food Waste
Adamjan is no fan of taking out the trash. And rarely needs to because he's obsessed with figuring out how to minimize food waste, which he knows is a massive environmental problem.
"When I started growing so many different fruits and vegetables from seeds, I started to really appreciate all the resources that go into the food we buy," he says. "That, in turn, makes me think twice before throwing a scrap of food away." You'll be shocked at all the ways you can optimize the stuff we all throw out, like onion skins and watermelon rind.
Case in point: when most people see a bag of wilting spinach, they assume the leaves are trash, and that they've just wasted money. Adamjan sees nutrients, and the opportunity to morph all that green into something that's still edible and beneficial and won't go bad for up to six months. He recommends drying and grinding it into a fine powder that you can add to any dish or smoothie.
Hair and Skin Care
Much of his advice helps people save money and avoid chemicals found in beauty products. Who knew a pulse of radish, olive oil, and honey works wonders for tired, dry skin, that mashed kiwi and oatmeal can help with acne, that you can make an incredible facial mask with just one egg, or that rice water can detangle and nourish damaged hair. "All those natural nutrients that make plants lush and healthy, also do the same for our skin and hair," says Adamjan, who, it must be said, has pretty damn nice hair and skin.
After a day on the ocean, my skin was salty, dry, sun- and wind-burned. This radish, olive oil, and honey mask worked wonders.
Get in on the action and follow creative_explained on Instagram, TikTok, and YouTube.
Kristin Hostetter is the Head of Sustainability at Outside Interactive, Inc. and the resident sustainability columnist on Outside Online.
Lead Photo: Malte Mueller/fStop/Getty (person); oleg7799/iStock/Getty (tree)
Trending on Outside Online