The Fight to Save the Country's Most Scenic Acre
One acre inside Grand Teton National Park is for sale for $5 million. Its future says a lot about our national parks, Jackson Hole, and the tension between preserving history and budding tourism.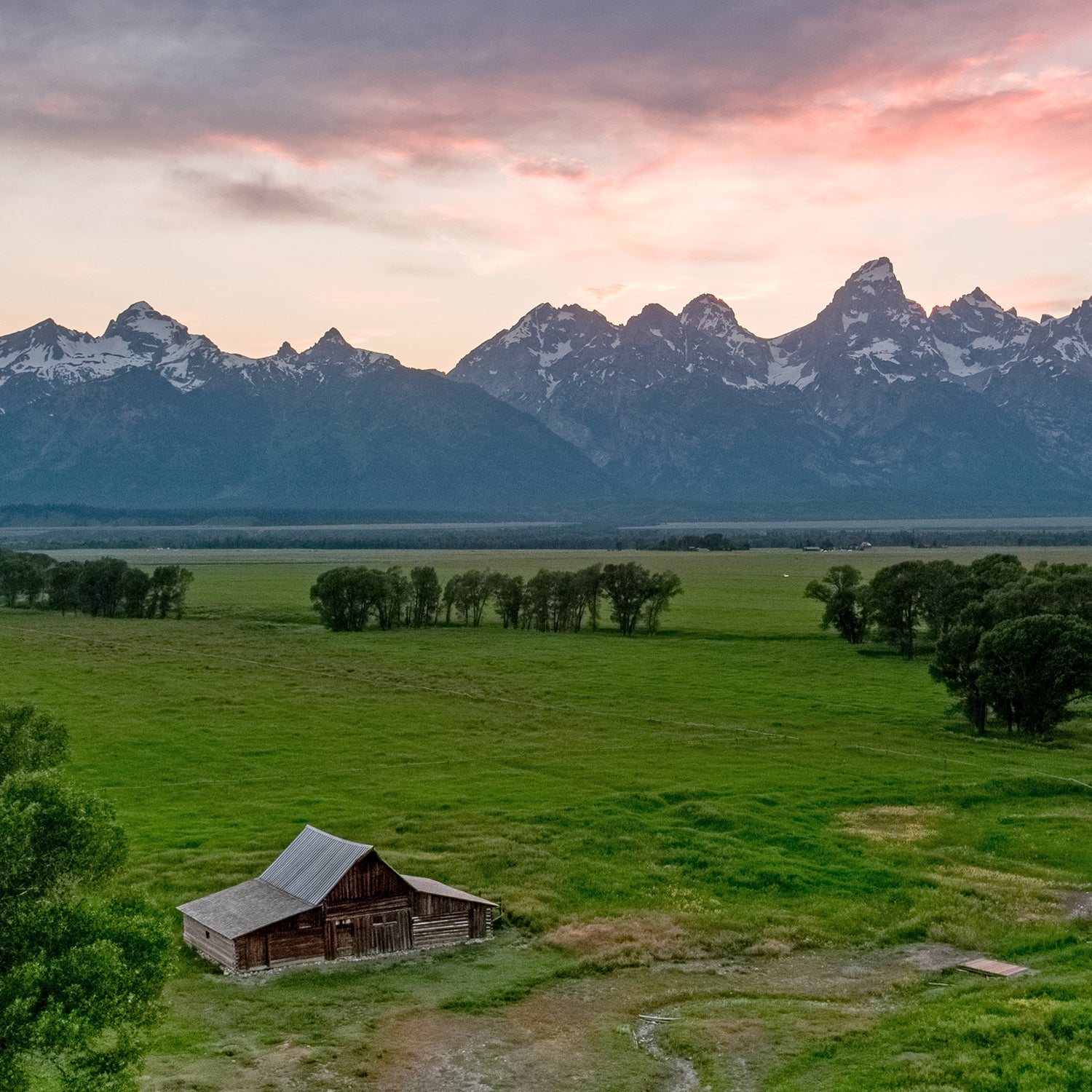 Jackson Hole Real Estate Associa(Photo)
Heading out the door? Read this article on the new Outside+ app available now on iOS devices for members! Download the app.
When would-be buyers ask Jackson Hole real estate agent Chad Budge about the property lines for a new listing—one acre just a few miles southeast of the iconic Grand Teton peak—he answers with a rehearsed rhetorical flourish. "I joke that it's the most expensive acre in the country, but also the biggest acre in the country," Budge says with a chuckle. "It goes and goes and goes, clear to the Tetons."
Those seemingly nonexistent property lines belong to a one-acre lot inside Grand Teton National Park's photogenic Mormon Row. The row's collection of century-old barns and ranches relate the hardships and perseverance of the ranchers and religious homesteaders who settled the valley floor. Held by the same family for more than a century and used for the past two decades as a quaint collection of summer rental cottages, the acre is surrounded on all sides by an interconnected bulwark of protected federal lands, from Grand Teton and Yellowstone national parks to a half-dozen national forests and wilderness areas. The acre indeed seems endless. And at last, the final stretch of Mormon Row—this single acre with five guest cabins, a barn, a home, several sheds, and a postcard-worthy vista of the Grand Teton's meringue-like summit—is for sale for $5 million, or nearly $115 per square foot.
"We've really had mixed emotions about putting our property on the market. We are emotionally invested in it, so it's been a hard thing," says Hal Blake, a sixth-generation descendant of Mormon immigrants who left England and slowly spread from Utah to Idaho and then Wyoming. "But both my wife, Iola, and I are turning 60 in December and looking to retire. In my heart of hearts, I know it's the more responsible thing for us to do."
The sale of the home raises a problem that's become common in the region. Much of the community, especially the old-timers, want to preserve the rich history represented by the parcel. But because the area is so expensive, it'll be very hard to find the money to save it. Jackson has one of the country's toughest housing markets, and Teton County sports by far the country's highest concentration of ultra-rich residents. There's worry, then, that a wealthy investor unconcerned with the lot's pedigree could buy the lot, raze its structures, and build a 6,000-square foot home that would forever destroy the strip's narrative.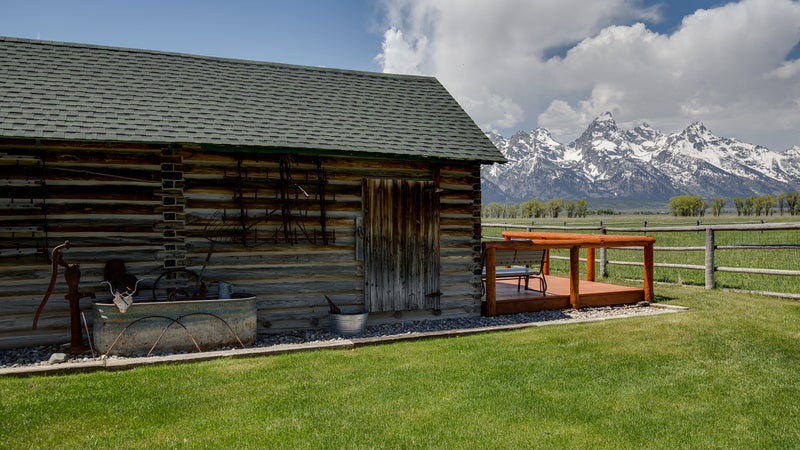 "In the last 20 or 30 years, we've lost an amazing amount of historic structures in Jackson. Now there are so few, you have to look for the threads," explains Katherine Wonson, president of the Teton County Historic Preservation Board. "Everyone recognizes that we have an amazing history, but we're losing all the buildings that tell that story. [Mormon Row] could go from one of the most intact historic districts to this bizarre place with an obvious intrusion. I picture a Log Mahal: It goes from something pristine to something awful."
Jackson's history with Grand Teton National Park is an acrimonious, often-tortured tale of lawsuits, congressional battles, presidential decrees, and even armed marches of defiant ranchers. In the mid-1920s, John D. Rockefeller Jr. visited the Tetons and began campaigning not only for the establishment of the controversial national park, but also for the inclusion of nearby ranch lands and homesteads to curb the valley's development. He even launched a clandestine real estate company to buy the homesteads of those who hadn't yet sold to the federal government, eventually donating it all to the park.
But Clark Moulton, Hal's grandfather, held out with a solitary acre—the one he'd been given as a wedding gift in 1936. Decades later, he began converting some of its ranch buildings into guest cabins, a fledgling business idea he unexpectedly handed over to Hal and Iola in 1999. For the past 20 years, they've left their home in nearby Idaho Falls for six months a year to manage five small quarters on the acre—booking, promoting, and cleaning it themselves on a daily basis.
"When we first got there, we did that mostly to make it work financially. At the time, we wondered how we'd ever get anybody to find us and stay," says Iola. "But now, I can't even tell you how many people we turn away each year because we don't have room."
The Blakes are comfortably middle class, and they insist that selling isn't their personal get-rich-quick scheme. They hope that by jettisoning the land now, their eventual estate is less quarrelsome for their four children and 12 grandchildren; they don't want their family arguing over inheritance. Iola insists they'll use the cash to start college funds for their dozen grandchildren and, hopefully, to pursue a two-year Mormon mission.
"My grandfather held that property privately for the benefit of our family, and our family has benefited from it greatly," Hal says. "But at this point, I think it's time to turn the chapter and cash out, if you will, so that it can benefit our family further."
Budge, the Jackson Hole real estate agent, admits that before he listed the property, he and the Blakes were apprehensive about how locals might respond to the price of "cashing out." Would potential buyers see the number as an act of greed, flying in the face both of a park with little financial acquisition power and an area in the midst of an affordable housing crisis? Teton County, after all, appraises the land only at about $290,000. Or would they even see it as an enduring insult to Jackson's hardscrabble, pioneering origins that could disrupt a cohesive district with incongruous, unsightly construction?
Wonson says she hasn't encountered any local resistance to the price or anyone who begrudges the Blakes. "They're doing what anyone would do in that position," she says. "Most people recognize that if the Blakes were wealthier and had money flowing out of their ears, they could afford to give it away. But they are not that exceptional class of people."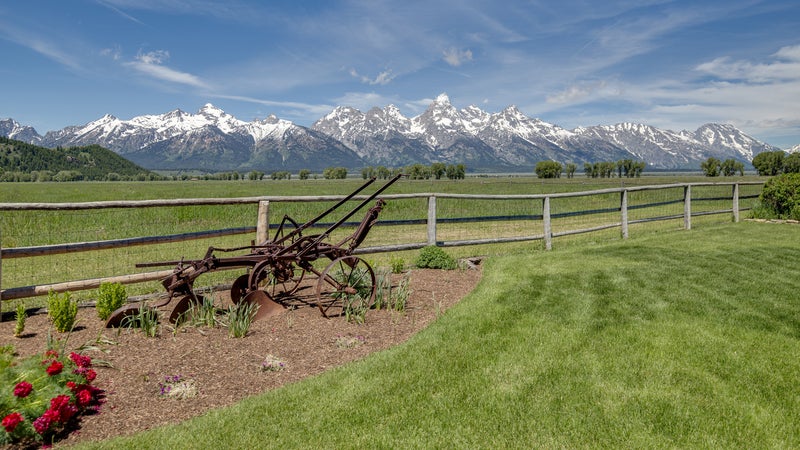 Grand Teton National Park can't pay the $5 million sticker price itself. According to its 2018 budget requests, the National Park Service has an $11 billion–plus maintenance backlog, a problem that has hamstrung the system and its facilities for years. The Trump administration has proposed a 13 percent cut to the National Park Service's already tight budget, amid plans to double and triple entrance fees to 17 of the country's most popular parks, including Grand Teton. Spending $5 million on one of approximately 115 private parcels inside the park's boundaries just isn't an option, says spokesperson Andrew White.
"On Mormon Row, you really have the sense that it has a lot of integrity. Modern development really detracts from that open experience," White says. "We are hopeful for a solution for the cabins and the park, but we don't know of any funding available to purchase the property."
Still, there are other, more circuitous options for adding acreage. A park benefactor or coterie of boosters, for instance, could spring for the land and cede it to the federal government, much like Rockefeller did in 1943 with his collected 35,000 acres. The Blakes seem enthusiastic about the idea, a relatively direct route for preserving the property, and, as Hal puts it, "telling my family's story on Mormon Row, which is really important to us."
While that requires a few especially deep, generous pockets, another possible strategy involves an almost crowdfunded approach. Late last year, the nonprofit Grand Teton National Park Foundation signed over 640 acres in a crucial wildlife corridor known as Antelope Flats to the park. Racing against a tight deadline, the organization purchased the tract from the state of Wyoming following a short, spectacular fundraising campaign that matched $23 million of federal funding with a hodgepodge of private contributions from a variety of foundations and individuals. The Park Foundation calculated that each acre cost about $36,000 on its end, an ingenious strategy that allowed donors a sense of ownership in their contribution to the park's growth.
Without those efforts, foundation director Leslie Mattson says, the state likely would have auctioned off 18 separate parcels of 35 acres apiece from the courthouse steps. The same mechanism of public-private partnership isn't possible for buying the Blakes' Mormon Row property. That was a one-time opportunity.
But Wonson and the Teton County Historic Preservation Board hope to keep the pressure on and the possibilities open. They've staged meetings between the park, its foundation, and the Blakes and continue to ask for updates on potential buyers or benefactors.
"We don't blame the park, because we know they can't just up and buy it. We're trying to find someone who can. It's so unimaginable that we would let this go and let something awful happen," Wonson says. "We don't have the means to buy it ourselves. We're trying to incite some kind of action."
Lead Photo: Jackson Hole Real Estate Associa
Trending on Outside Online