Blood Brothers
A bear expert's risky research ends in disaster. Should anybody get so close to grizzlies?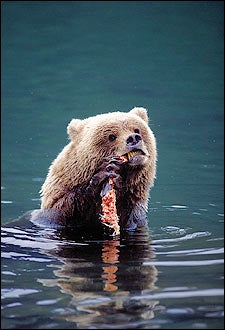 Heading out the door? Read this article on the new Outside+ app available now on iOS devices for members! Download the app.
ON OCTOBER 6, Willy Fulton eased his Beaver floatplane down into Alaska's Katmai National Park and remote Kaflia Bay, a broad mosaic of ocean beach, braided waterways, dense thickets of alder, and sedge fields yellowing in the autumn chill. His plan was to pick up his friends Timothy Treadwell, 46, and Amie Huguenard, 37, both of Malibu, California, who spent each summer living among the many brown bears—as coastal Alaska's large grizzlies are known—that congregate in this salmon-heavy wilderness at the base of the Alaska Peninsula.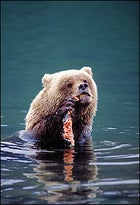 A "Maze" grizzly gnaws a salmon.

But something was very wrong. Descending into camp, the bush pilot spotted a flattened tent, and a large grizzly on top of what looked like a human body. Fulton buzzed the bear with his plane, but it refused to budge. He landed on an adjacent lake and immediately called state troopers on Kodiak Island, across the bay, and Katmai National Park headquarters, in King Salmon, 100 miles to the north.


Katmai rangers touched down first. They hiked to a small knob above the camp, but before they could get closer, a large male grizzly approached out of the bushes. Ranger Joel Ellis, flanked by two others standing by with shotguns, fired his pistol 11 times at the lanky brown bear, which fell dead 12 feet away. At the camp, the team found Treadwell's and Huguenard's shoes lined up neatly outside the tent; Treadwell's glasses were still in their case. Then they discovered the couple's partially buried remains nearby, the bodies mostly consumed. As the rangers loaded their plane with the victims' cameras, gear, and remains, a smaller bear approached—too persistently, they thought—and they killed it, too. The Cessna 206 lifted off, leaving Kaflia Bay looking as pristine as it had for thousands of years.


After two days of bad weather, authorities returned. The smaller grizzly, a three-year-old, had been eaten by other bears; only its head remained. There was no way to determine if it had fed on the couple's bodies. A necropsy described the larger bear as a thousand-pound, 28-year-old male, reasonably healthy despite the fact that, like many older grizzlies, it had broken teeth. Its stomach contained human flesh and clothing.


The chilling facts disseminated to the international media were at once vague and disturbingly graphic. The state medical examiner could establish only that the cause of death was "multiple blunt-force injuries due to bear mauling." But Treadwell's video camera (its lens cap still on) yielded a six-minute audio recording, illuminating all too vividly the last moments of two people trying to save each other's life. It starts with Treadwell investigating a bear that has come into camp. Something goes wrong, and the bear attacks him. "I'm getting killed!" he screams. Huguenard, still in the tent, tells him to play dead, and for a minute the bear backs off, suggesting that the initial attack was not predatory. But the grizzly returns, and Huguenard comes to Treadwell's aid. In his last words, he yells to her to save herself.


Still unknown is which bear attacked, and why. It could have been a third grizzly, or a bear wandering down from the interior. Was it a predator hunting for a human meal—a rare but not unknown possibility—or a chance mauling followed by opportunistic feeding by other bears at the lean end of the salmon season? Anything dead is food for a grizzly.


Treadwell and Huguenard knew that well. They were not ordinary bear watchers; in fact, they were widely known bear activists. Huguenard was a physician's assistant with a degree in molecular biology; she'd written to Treadwell after meeting him at a presentation in Boulder, Colorado, in 1996, and had spent parts of the past three summers with him in Katmai. Treadwell, meanwhile, had photographed the Katmai grizzlies for the past 13 years, and his 1997 book Among Grizzlies had brought him to the edge of fame: He'd appeared on David Letterman's Late Show, the Discovery Channel's Discovery Sunday, and other television programs. Eight months of the year, he traveled America giving slide shows about Alaskan wildlife to schoolchildren.


Treadwell's methods of chumming up to grizzlies, however, were considered unsound by much of the bear-research community. He gave the bears names like Mr. Chocolate and Booble. He filmed himself chanting, "I love you, I love you," as he inched up to a grizzly. Scientists belittled him for his anthropomorphizing. Mainstream researchers either cautioned Treadwell that his behavior would put bears and humans at risk or dismissed him as a loon. Even his friends worried—they thought he should carry bear spray. But after blasting one charging bear, Cupcake, with pepper spray in 1995, Treadwell refused.
TIMOTHY TREADWELL came to visit me in the early 1990s, after his first summers among Alaskan bears. He'd read my book, Grizzly Years, about the 14 seasons I spent camping in Montana and Wyoming's grizzly country after my return from the Vietnam War, and we talked about his decision—after nearly killing himself with an overdose of opiates in California—to go live with bears in 1990. Treadwell possessed a fragile sincerity that shouldn't be confused with naiveté;. He was fearless, yet, as he wrote in Among Grizzlies, "keenly aware it takes only a single misinterpretation [of bear behavior] to get myself killed." I issued the usual admonitions, among them that he should be careful about conditioning bears to humans: Legal bear hunting is big business outside the 4.7-million-acre park, and though no poaching episodes have been recorded in Katmai, Treadwell would later claim to have repeatedly driven poachers away.


But if people had taken exception to Treadwell's methods during his lifetime, after his death the gloves came off. Former Katmai National Park superintendent Deb Liggett told the Anchorage Daily News how park officials had repeatedly warned Treadwell not to camp among bears—and even threatened to expel him from Katmai. She'd told Treadwell her staff would never forgive him if they had to kill a bear because of him.


Chuck Bartlebaugh, director of the national safety campaign Be Bear Aware, in Missoula, Montana, told the Anchorage paper that he worried about Treadwell's example: "We have a trail of dead people and dead bears because of this trend that says, 'Let's show it's not dangerous.'"


Treadwell's supporters disputed that implication, stressing that he had always cautioned people to avoid bears. But even his friends were at a loss to put the deaths into perspective. Dave Mattson, a wildlife biologist based in Arizona, told me that he was "struggling, really conflicted. Tim was a friend whose courage and dedication I admire above all. I fear ego was a factor, as it sometimes is for all of us. I know that adrenaline rush of wanting to get close to grizzlies. Respect means, for me, giving them their space."


Home in Montana, I went to see my friend Lance Craighead, one of the preeminent grizzly biologists working today. We lamented the loss—of Treadwell, of Huguenard, of the bears. We couldn't help but like this guy who punched out as he'd wanted to, who'd told people he would be honored to "end up in bear scat," though we agreed that he'd camped in terrible places and gotten way too close to bears. Still, Treadwell may have contributed a significant chapter to the study of grizzly behavior. "His legacy," Craighead said, "may well prove that he did a lot more good for bears than any short-term harm."
PUBLIC POLICY CAN turn on a single case of grizzly predation. During the summer of 1967, in Glacier National Park, two young women were killed by two different grizzlies on the same night, an incident memorialized in the 1969 book Night of the Grizzlies. Both bears had fed on garbage and associated humans with food. The National Park Service had been a bit cavalier about bears eating rubbish; in Yellowstone, virtually all grizzlies fed at open-pit dumps. Accused of near-criminal negligence by the press, the Park Service did an about-face. Against the advice of biologists who urged that bears be weaned slowly, Yellowstone abruptly closed the dumps, and bears began foraging for garbage in campgrounds and towns. Wildlife managers killed more than 200 grizzlies in a five-year period.


Post-Treadwell, policies may change again. A shared view among bear observers is that bad press following a fatal mauling leads not only to dead bears, but also to new restrictions. Already, the growing trend is to keep people and bears separated. That's good in some ways, but I worry that we'll take it too far.


At Alaska's McNeill River Falls, for example, observers are confined to a discrete space and led by an armed ranger from the Alaska Department of Fish and Wildlife—a practice that has kept people and bears safe for 28 years, but can't qualify as a real wilderness experience. In Yellowstone, seasonal closures rightly keep humans out of critical grizzly feeding grounds. But though people can't walk in, bears can walk out: Increasingly, young bears and mothers with cubs seek food near the park's roads, where they are hit by cars and fed by idiots. Keeping people and grizzlies distant is partly legitimate management strategy and partly, to my mind, chickenshit. In Glacier, the din of Park Service-recommended shouting and whistle blowing drifts down every trail. The message is that photography is fine, but please don't interact with nature. The spectrum of backcountry adventure is truncated at the wild extreme.


What is the value, then, of face-to-face encounters with carnivores, who on rare occasions size up Homo sapiens as chow? The beasts that used to sweep down on a village and carry off a person are gone—so rare that maulings like this one make headlines in a way head-ons along the Alcan Highway never will. But here's an animal essential to us all, useful to distant corners of the soul: the grizzly roaring out an enforced humility, reminding us of our place in the food chain.


In our charge to domesticate this continent, we missed a few pockets of wildness where risk still dwells. We could live without these beasts, though something in the imagination would stray aimlessly. That anchor of wild risk keeps us tethered.


That risk also delivers the salient lesson of bear encounters. Timothy Treadwell was not in control: He had a great run of luck that lasted more than a decade, and it ran out. In the grizzly business, it happens.