Buzzed
This is the American West--when you're hanging out of a tiny plane with the doors pulled off, holding a 20-pound camera and looking for the truth.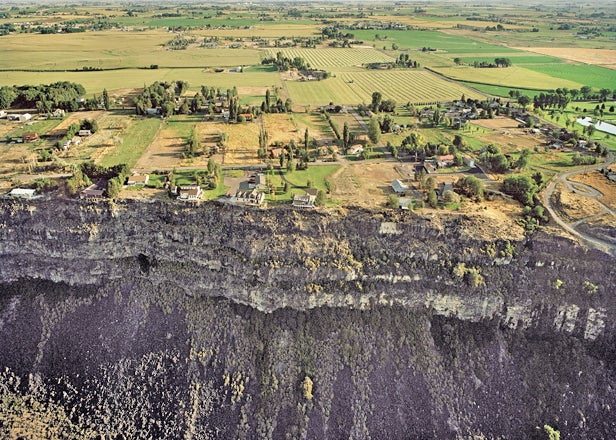 Photo by Michael Light
Heading out the door? Read this article on the new Outside+ app available now on iOS devices for members! Download the app.
WE WERE SOMEWHERE over the desert when the Ponte Vecchio appeared.
Lake Las Vegas

The Lake Las Vegas development, with bankrupt casino and faux Ponte Vecchio at back right, September 2010
Coors Brewery

Coors Brewery, Golden, Colorado, 2009
Long Beach

The Los Angeles River and Highway 91, North Long Beach, California, 2006
Lake Mead

Lake Mead, Nevada, 2010
Michael Light

Light with
Zoe
in Idaho's Sawtooth Range
Well, it looked like the Ponte Vecchio, the fabled bridge in Florence, Italy. Except that there weren't any people on it, or even near it, and the greenish-brownish, algae-clotted "river" below wasn't moving. Plus, we were thousands of miles from Italy.
But no, we weren't hallucinating. The venerable Tuscan tourist trap was just sitting there, as if abandoned, in an otherwise barren-looking patch of Nevada desert. We were a few hundred feet above it, darting around in a two-passenger plane named Zoe.
"Pretty freaky," Zoe's pilot said. The man at the controls was one of the most talked-about artists on the American landscape, and that landscape itself, the one underneath us, happened to be his specialty.
Part Walt Whitman, part Werner Herzog, part Waldo Pepper, Michael Light is an aerial photographer whose work—vast, panoramic, vertigo-inducing—celebrates the sweep of the American West while wordlessly lacerating what human beings are doing to it. His pictures show us cities, freeways, mines, mansions, and what's left of the wilderness in ways that manage to reveal a whole lot of blunt and barely hidden truths about the American appetite for land. His signature piece of equipment is Zoe, a Flight Design CTSW light-sport aircraft that weighs only 660 pounds. He likes to fly it with the doors removed for a clear view of the ground.
Light and I were riding along in Zoe (with the doors on) one day in early December—a sensation that felt a bit like being sequestered in the belly of a dragonfly—as he scouted the land around Las Vegas for potential images. My primary job, especially during takeoff and landing at Nevada's Boulder City Airport, was to keep my mouth shut. "When I'm talking," Light told me, "don't talk." My other job was to keep an eye out for helicopters. "Scan the skies," he said. "When you see other traffic, don't scream."
Light, the 47-year-old great-nephew of a dashing aerial adventurer named Richard Light, likes to say that he started flying before he started driving. He can be prickly on the ground, restless, persnickety, easily bored, but in the sky he morphs into what he calls an "aerial flaneur," floating and watching and waxing philosophical.
Lately, what has intrigued him—obsessed him—is a strange recent chapter in the history of American expansionism. Here on the outskirts of Las Vegas, the boom years of the past decade saw communities materializing in the desert overnight. But in the backwash of the economic crisis, everything stopped with an abrupt, apocalyptic thud, as if an army of terraforming construction workers had climbed out of their bulldozers one afternoon and just walked away.
"You've got a lot of dead golf courses," Light said as Zoe passed over an expanse of yellowed grass that felt uncomfortably close. He'd explained before takeoff that to gather the images he's after, he has to fly "slow and low, and that's dangerous." At the moment, though, he didn't seem the faintest bit worried. If anything he was jaunty, tallyhoing along like some heroic Gilded Age explorer.
I was not like that. I was feeling nauseous, and my left knee was involuntarily shaking. When a wafting roll of turbulence hit, Zoe bobbed as if we were being tossed by a swell in high surf, and my breakfast began oil-spilling up the interior of my rib cage. "You feel every last little air bump because we're light," he said, bright and undaunted. "It's a rowboat."
Light took us over the receded gums of Lake Mead and later made a couple of spins above the two trenches of Double Negative, a famous earthwork that artist Michael Heizer carved into the desert in the late 1960s. After we wigged out a little troop of ATV riders by whisking low enough to wave at them, Light decided he wanted to snap a few pictures. Normally, he would pick up his Linhof Aero Technika 45EL, a vintage large-format camera that weighs about 20 pounds, and shift control of the plane to Ben Turner, his longtime assistant. But since I was sitting queasily in Turner's seat, Light turned to me.
I can't remember exactly what he said, but I know my first lesson in aviation involved where to put my hand on the joystick and how to move it very, very delicately so that Zoe would maintain a nice, even 135-mile-per-hour drift.
As I thought about how my last name would be misspelled toward the end of Light's obituary ("Also killed in the flight was a journalist…"), he clicked away at the "brown on brown on brown" landscape and talked about how the wan afternoon light was bound to lead to "zero lyricism" in his pictures. I tried to listen closely, but I was growing increasingly concerned about a mountain range we seemed to be heading straight toward. I kept lightly tapping the joystick to the left, but nothing was happening. The mountains were getting closer. I raised my concern with my flight instructor. He was staring through the Linhof's view-finder, so I couldn't see his face, but I got the impression that he smiled.
"Don't you worry about those mountains, big daddy!" he said.
WITH HIS NEATLY TRIMMED beard, his chesty bravado, his witty pronouncements, and his East Coast pedigree, Michael Light comes off like a 19th-century robber baron. He lives in San Francisco, but he and his partner, architect John Lum, spend as much time as they can in a cabin in the stark and luminous area surrounding California's Mono Lake. You might say that Light represents a classic American archetype: the polished easterner in love with the rugged West.
By his own admission, Light had an unusual upbringing. He was an only child raised primarily on the eastern end of Long Island in a "dynastic family that was wealthy, eccentric, often stylish, and occasionally highly accomplished." Many of the men were pilots. His father was a bombardier navigator in World War II; his A-20 was shot down over France, but he managed to survive after bailing out in a parachute. Light's parents separated when he was an infant, but his stepfather was a private pilot, and the man his mother left that stepfather for was a flight instructor. His mother's uncle, Richard Light, circled the planet in a private seaplane in 1934–35 and spent much of his life surveying vast swaths of the globe from the air. With Light's father absent, Richard, who was also a noted brain surgeon, "had an outsize influence on my life," says Light.
Light was solo-piloting gliders by the age of 14. He taught himself photography in high school and began studying Alfred Stieglitz, Edward Weston, and Ansel Adams. (Many years later, he would refer to pioneering aerial photographer Bradford Washburn as his "inspiration and soul mate.") As a freshman at Amherst College, he nearly dropped out to become a photographer but decided to stick it out, earning a degree in American studies. After graduating in 1986, he moved to San Francisco. In the West, Light says, he felt like he "could breathe, in multiple ways." He did lobbying work for a couple of years at the Sierra Club, but the impulse to take pictures never went away, and in 1990 he enrolled at the San Francisco Art Institute. His thesis consisted of aerial shots he took through the windows of commercial jets.
At points during that project, Light felt like he was making images of Mars—"plan­etary landscapes, not just terrestrial." When he graduated, in 1993, he began picking through's NASA's film archives, "where the really serious aerials were." Six years later, he published Full Moon, a bewitching 244-page coffee-table thumper consisting of images Light had culled from some 32,000 photos of the Apollo missions. It sold several hundred thousand copies, and in March 2000 the American Museum of Natural History in New York City unveiled a permanent exhibition with more than 75 of those photos.
"It was a hit song, and it gave me a global name," says Light. "More importantly, it gave me confidence to trust those inner hunches." Flush with cash and confidence, he started winging around the American Southwest in rented planes with hired pilots and soon purchased his Linhof—the same camera astronauts used in the early years of the space shuttle. "There would be moments when the landscape would be so spectacular, I would literally just yell out the windows, 'This is amazing!'" he says. "But I couldn't get the pilots to take the doors off."
To capture the pictures he sought, Light needed his own aircraft. He also wanted a cantilever wing so there wouldn't be a strut blocking the camera's view. He'd heard about the German-designed Flight Design CTSW, and on a photo-related trip to Cologne in 2003, he sprang for a test flight. "It flew beautifully with the doors off," he says. Still, even after the success of his next book, 100 Suns, composed of previously classified photographs of nuclear explosion tests conducted by the U.S. government, plopping down the cash for a plane seemed unreasonable. Then Tom Hanks called. A zealous fan of Full Moon, Hanks hired Light as a consultant on Magnificent Desolation, a 2005 Imax movie about what it's like to plant your boots in lunar dust. The job paid for Zoe.
Over the years, Light has learned to be mindful of the plane's limitations. Zoe has only a single 100-horsepower engine, so pulling the doors off makes the craft vulner­able to powerful downcurrents that occur without warning in the mountains. "It's like paddling the Colorado in a small raft," he says. Light approaches big peaks only on calm days, and he sticks to the front edge of a range so he can retreat to the flats if a downcurrent strikes. One summer, while photographing the Sawtooth Range in Idaho, things got so hairy that he had to keep taking his hand off the joystick to wipe away the sweat.
As a last resort in an emergency, Light can yank on a handle, causing a small rocket to shoot from the top of the plane and, theoretically, blossom into a parachute that carries Zoe back to earth at 10 to 15 miles per hour. "The plane's totaled when it hits," Light explains. "But I survive."
"BRANDING IRON," says Light in a plummy infomercial accent. He's lying back on his hotel bed at the Vegas MGM Grand, reading from his laptop screen. "Casa Blanca Villas. Chaparral Estates. Chardonnay. Copper Bluffs. Copper Springs. I mean, there are people who dream this shit up. Desert Rose. Desert Winds. Eagle Point. And then somebody had a sense of humor: Gonzo Mesa."
Saying that Michael Light likes to talk is like saying that Charlie Sheen likes to party. Seconds after he has achieved head-from-pillow liftoff in the morning, he begins emitting rocket gusts of scintillating verbiage. At the moment, he's reading aloud the names of neighborhoods in Mesquite, a planned community near the Nevada-Arizona state line. "I stumbled across Mesquite by chance," he tells me. One day Light was piloting Zoe over the Nevada desert when he spotted a partially built town that seemed to be floating out in the middle of nowhere. "And I thought, Oh, hallelujah! This is what I've come to shoot," he says. "It's the perfect leitmotif for the issues I'm trying to work with. Insta-towns. What is Mesquite? Why is it there? Why do our communities look the way they look? Why are they named what they're named?"
Since purchasing Zoe, Light has focused on a series of books called Some Dry Space: An Inhabited West. The first, Bingham Mine/Garfield Stack, published in 2009, featured images of the largest man-made excavation on earth, a copper mine outside Salt Lake City, and the nearby 1,215-foot-tall Garfield Smelter Stack. LA Day/LA Night, released in April, channels the mystery of Los Angeles's monotonous sprawl. With his work outside Las Vegas, Light seems determined to capture that weird threshold where development and wilderness mingle. As William L. Fox, director of the Center for Art and Environment at the Nevada Museum of Art, puts it in his 2009 book Aereality, "If the photos from Full Moon help make the strange familiar, then Mike's ongoing series of aerial work makes the familiar once again strange."
"The content is always so riveting," says Victoria Steele, director of collections strategy at the New York Public Library and one of Light's advocates. "Maybe it's the elevation that he goes for, which helps you see things in this way that you haven't before. Now I always notice it when I'm in airplanes:Ah, this is Mike Light's level."
Though Light's photographs carry powerful messages about our relationship to the planet, they aren't intended to dictate a conservation agenda. "I'm not knocking environmental advocacy by any means, but that's not what I'm after," he says. "I'm after a more ambiguous and more metaphorically layered type of experience and image."
Nor are his photos supposed to end up as decorations. "The worst insult would be to accuse him of merely making pretty pictures," says Turner, his assistant. In fact, Light disdains nature kitsch. One day in Las Vegas, during a break between flights, we go to a mall where a gallery owner is interested in displaying some of Light's work. But the unbridled consumerism of the place, the empty glitz, gets to him. Peaking into some store windows full of sun-dappled paintings of mountains and pastures, Light makes a face as if he's been served a fried rat on Limoges porcelain. "Let's go," he says, and dashes away.
"JUST LEAVE 'EM open to the crotch if it's too hot," Light tells me.
We're zipping into snowmobile suits on a chilly Saturday morning outside the headquarters of 702 Helicopters in North Las Vegas. Light has chartered a helicopter for a couple of hours. Copters offer several advantages over Zoe—for one thing, they can fly below 1,000 feet in densely settled areas.
Light paces around the parking lot. Checks his gear. Squints at shafts of sunlight hitting the mountains. Checks his gear again. Mumbles under his breath. Gives me a brotherly punch to the chest. Helicopter days for him are like game days for athletes. "I get really jumpy," he says, "'Cause the clock is ticking and it's big bucks." He might spend several hundred dollars an hour and get nothing but haze.
We watch as an R-44 is wheeled out of the hangar by a golf cart. Light is working with two cameras today: a rented Hasselblad digital, which sells for around $30,000, and his beloved Linhof, which he admits is "a fucking ornery beast." But it's also "the only one that gives me the clarity and scale I require."
Light hands the Linhof to me. "Feel that," he says. I grab the two handles of the camera, and my forearms clench. It's like holding a small anvil.
"That's a badass camera, man," says our pilot, Brian.
"I'm a badass guy," says Light.
Brian fuels up the copter. "Let me know where you want to go," he tells us.
That's the perpetual question. "I'm flying blind," Light later explains. "There's terror leading up to every shoot, because I don't know what I'm going to do." Whenever he works with a new pilot, he somehow has to convey his principle of mindful drift: let's go where we go and see what we see.
A few moments before we lift off, something goes haywire with the Linhof. Light is looking at the camera, fussing with it, like a man trying to start a fire with tinder and flint in the rain. "Don't fuck with me," he says. "Don't fuck with me. You're fuckin' with me. God damn it. Bear with me while I have a temper tantrum."
"What's the problem?" I ask.
"You don't want to know," he says. He tinkers with the camera some more and finally gives Brian the signal to take off.
At Light's impulsive suggestion, we head back out to the Lake Las Vegas area. Inside the thrumming bubble of the R-44, Light and Brian are like a conductor and his one-man orchestra. With his right hand, Light gives Brian a series of signals, guiding the copter left and right and higher and lower and then even lower, as if we're part of some subdivision symphony.
"Uh," says Brian, keeping a watchful eye on power lines and terraformed slopes, "this is really low."
"Yeah, this is excellent," Light says, leaning out of the copter and blithely snapping away.
"We've gotta keep an eye on those towers," Brian says.
"Yessir," says Light.
We see mansions. We see palatial fountains gone dry. We see the Ponte Vecchio again. "I've been out here," Brian muses at one point, "but I never really noticed this." (I can sense Light's pride: this noticing is the purpose of his work.) We see bighorn sheep clambering around. We pass over some rock formations that loom radiantly in the desert light. "Go nice and slow through this, 'cause this is beautiful here," Light says.
Back over the developments, we occasionally see people below looking up, pointing, shielding their eyes from the sun. "I wouldn't be surprised if we get a call," Brian says.
"I know," Light says, unfazed. "I'm always waiting for the guys in the black suits to show up when I land: 'Hello, Mr. Light.'"
Later today, back at the MGM Grand, Light will literally climb into bed and be snoring within ten minutes. His flights subject him to a sine wave of exhilaration and exhaustion. When he's done, the guy is utterly spent. "It's like I just had six orgasms in a row," he'll tell me. But for now, here in the air, as the copter curves back toward the Strip, the rush is still racing through his veins.
"It's all good. We can head home now," he says, excited to look at the images he's captured. "There's nothing like hanging out of a helicopter to wake you up."