Could This Ecology-Obsessed Skier Be the Next Bill Nye?
Ross Reid, under the name Nerdy About Nature, has been steadily gaining traction for his fast-paced, good-natured ecology lessons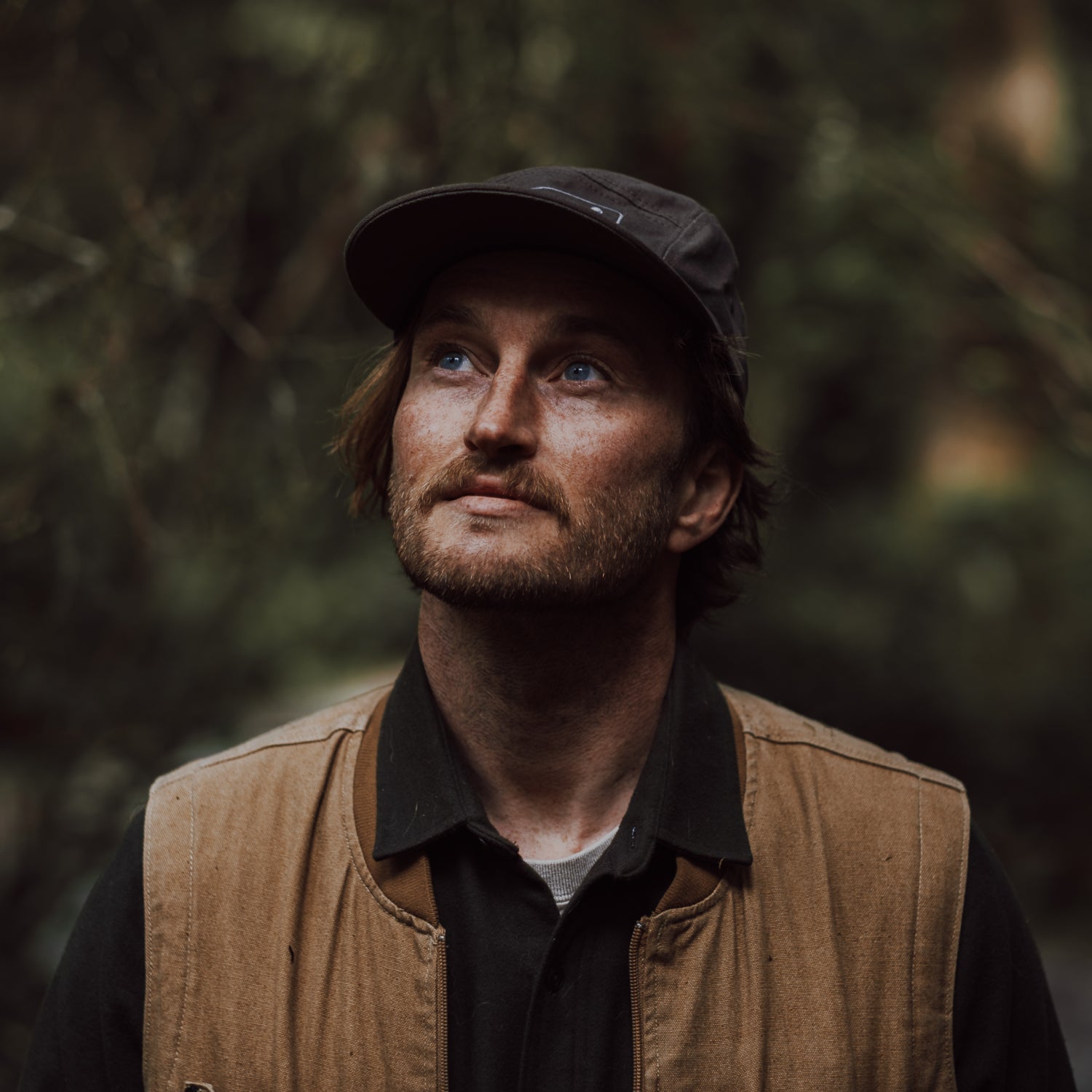 Lena Andrian
Heading out the door? Read this article on the new Outside+ app available now on iOS devices for members! Download the app.
On the evening of February 24th, there were a few centimeters of snow on the ground and temperatures were in the low 20s Fahrenheit, but Ross Reid still opted to camp out in my backyard. The 37-year-old behind the viral online platform Nerdy About Nature and I had been invited to attend a gathering of environmental organizers near my home on southern Vancouver Island.
Hereditary Chief David Mungo Knox from the Kwakwakaw'wakw First Nation, of northeastern Vancouver Island, hosted the event at the Mungo Martin Big House, a gathering place for Indigenous governance, protocols, and ceremonies. A small group of forest defenders, activists, and community members circled around a large, crackling fire in the center of the Big House and shared stories about the multi-generational struggle to protect ancient forests. "Friendship is the modality of this movement," an organizer said. Several attendees had spent the last eight months organizing a march and rally for the protection of old-growth forests that would be held the following day in the city of Victoria.
The gathering was an antidote to the isolation Ross sometimes feels in his online work to bring millennials and Gen Z into the movement to protect ancient forests. Reid, who lives in Ucululet on Vancouver Island, founded Nerdy about Nature in 2019. It started as a personal outlet to share his love for ecology but quickly grew into something more. His audience is now over 240,000 people strong on Instagram and nearly 180,000 on Tiktok. In one- to two-minute videos, Reid describes complex natural phenomena with high-speed, precise narration. He films his videos in environments like clear-cut forests and at-risk salmon-bearing streams, and explains—in his signature friendly, information-packed style—what viewers are seeing. He helps his audience understand topics like ocean stratification, the proliferation of moss or fungi, and reforestation, and give them tools to identify different species and other details about their environments. Reid also tackles the politics of climate change and deforestation, addressing inadequate forestry policies and greenwashing campaigns. It has been a fulfilling creative leap for Ross, who just a few years ago was living in Squamish and working as a snow sports cinematographer.
Over coffee, the two of us delved into the challenges facing the environmental movement, and the ways in which Reid uses social media as an educational tool.
Maia Wikler: What is the driving philosophy behind Nerdy About Nature?
Ross Reid: I think that lack of connection to the outdoors creates a lot of the problems we face today, and I'm trying to create a connection for myself and for other people. Especially coming from an outdoor sports background, a lot of my experiences in the outdoors have been shallow and self-centered. But skiing amongst the trees made me want to understand the environments I was recreating in. I wanted to know the ecology of those places. As I learned more, it gave me a deeper sense of companionship for those spaces because I was no longer just looking at them as expendable things for me to jump off of or ski around. And with greater connection comes responsibility. So that's the deeper philosophical drive behind Nerdy About Nature, to get people thinking beyond themselves and their role within the anthropocentric society that we've created. I want to help people think in a more holistic way. We are part of these living, breathing ecosystems.
MW: Where do you find a sense of wonder in your every day?
RR: I like the micro world because it is reflective of the larger world that's just too big for us to see. It's kind of like a little terrarium. When you're in a big forest, it's relatively easy to pick out the big dominant mother trees and the second-growth trees. But when you're looking at a tree stump covered in moss with saplings growing out of it, you can pick up on the complexity of how things work. You can see how succession happens, and how things grow and thrive. This little hemlock sapling is germinating in the mosses and it's probably going to grow a little bit faster than this little cedar next to it, so it's going to probably shade out the cedar. Once you're familiar with all these concepts, you see how interdependent everything really is, and it is easier to comprehend the bigger system.
MW: Honestly I feel like you're the next Bill Nye.
RR: I aspire to be like Bill Nye! I love the Bill Nye story because he was an engineer who was working on a TV show and the whole way 'Bill Nye the Science Guy' started was very similar to Nerdy About Nature, in that it was a total joke. He put on this goofy lab coat and did a skit for Mad TV or something, but he was a fabulous science communicator even without a formal scientific background.
MW: Communicating science is such an important skill. All the research in the world could happen but if it's not reaching anyone, what's the point?
RR: Totally. A big goal of mine is to bring different voices into these conversations, voices that have historically been deliberately excluded. I am trying to equip people to continue the conversation with elected officials or other stakeholders in communities that might be at risk. I would love for younger folks, kids, and people from all different backgrounds to feel like they can reach this level of understanding of the world around them too. And maybe that brings greater joy, because they know what they're seeing, and that opens worlds upon worlds.
MW: Your videos make environmental education accessible. What do you think are common barriers for your audience and ecological literacy?
RR: The thing I battle with the most is witnessing how willfully ignorant we have become. I have a lot of great interactions with people who are already interested in ecology, and with people who didn't go to school for science but want to find a way to get involved. But many people don't want to know the truth about these at-risk environments. I think that's partly because this information can be perceived as a moral judgment. It makes those in extractive industries think critically about the life they've lived and how they've had to survive in this world. It's certainly not their fault, it's the systems in which we live that are at fault more than anything. That's why we need to learn to work together and galvanize systemic change. We really need to find ways to embrace paradigm shifts in our society, to fundamentally rethink the way that we relate to the world around us.
MW: When you're trying to effect change through social media, you inherently have to navigate the dark side of those platforms. The algorithm is designed to be addictive and to divide people, and it can encourage disengagement with the non-digital world.
RR: It's a serious challenge. I've noticed the videos where I'm pessimistic tend to do well. The algorithm rewards that because it makes people indignant. Recently, I created a video about the issues with tree replanting and people said, 'Oh well how do you do it better? You're only looking at the problem.' And I'm like actually, I did a video two months ago where I gave all the solutions but nobody saw it because the algorithm doesn't favor it.
MW: That is truly wild—how the algorithm can influence our perception of what is possible for positive change. Your platform doesn't use typical environmentalist messaging that might be pessimistic and dry. There is a gap in the movement for environmental justice that Nerdy About Nature fills, a niche for science that is digestible, engaging, and joyous.
RR: Totally, it's also a niche of nuance. Righteousness can be reductionist. When we are only conveying some ethical or moral judgment, like that everybody who works for oil and gas is evil, or anyone who has ever cut down a tree is wrong, you lose the human element. It's so important to hold on to a sense of humanity. Otherwise, we're doing a disservice to these ideas and movements because we aren't taking aim at the true root of the problem which is the systems in which we live, like capitalism, which promotes extraction and exploitation of the land and communities to maximize profit.
MW: Perhaps a radical return to nuance can be connected to a deeper sense of humanity and compassion. Without context, it is more difficult to understand where someone is coming from or the reason behind certain decisions. In this age of partial attention, it seems we have the capacity only for seeing things as black and white.
RR: Exactly, that's why I've been trying to cram that nuance into a minute where I talk like a fucking maniac as fast as I can. For some videos, I do like a hundred takes. It gets brutal sometimes, especially because it's all about delivery. I'm always trying to find ways to make content engaging. Honestly, I'm trying to put myself out of work. Ideally, there will be a time when I don't need to explain why a forest is valuable–to reach a point when ecological understanding becomes the norm.
Lead Photo: Lena Andrian
Trending on Outside Online