Dude Over Troubled Water
The strangest stuff litters the flood-sloshed banks of the Mississippi River and her tributaries: tires by the hundred, refrigerators, automobiles, messages in a bottle, urine in a bottle, and (yikes!) the occasional ice chest containing a severed horse head. When the going gets gross, the man to call is Chad Pregracke, a crusading voyager in the war against trash.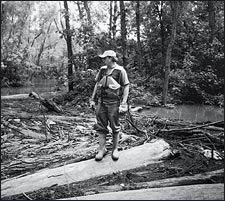 Heading out the door? Read this article on the new Outside+ app available now on iOS devices for members! Download the app.
It's early morning on the Kentucky side of the Ohio River, 20 miles downstream from Evansville, Indiana, and the walls of a rickety white houseboat called
The Miracle
are pulsating to the sound of the Beastie Boys song "Girls." Tied up across from Dead Man's Island, a narrow, sandy stretch thick with skeletal cottonwoods, the boat is stocked with Little Debbie P.B. & J. Oatmeal Pies—
Girls, all I really want is girls
—a half-eaten package of Oscar Mayer salami—
and in the morning it's girls
—and a jar of Folgers instant coffee. Inside, wearing a blue baseball cap that he will take off only once, briefly, during seven straight working days is Chad Pregracke, the wiry, five-foot-six, 27-year-old trash zealot of the mighty Mississippi and her major tributaries—'
cause in the evening it's girls
.

Up a messy river (from left to right) Eric "Yam" Louck, Mike Havlis, and Living Lands and Waters founder Chad Pregacke

Chad

Left to right: Dave Sparks, Chad, Mike, Larry Williams, Yams, Jonas (the dog)

Yam in the houseboat

Weld-Master Dave

Yam & Larry on the Ohio

Mikes Mitts

The bike crane: power by Yam

Chad reeling in a big 'un
Brent Pregracke (left) & Mike

The Haul Journal


Chad on a log jam

Then, as if to remind himself that today is the first day of his nine-month trash-picking season—something that makes him sooo happy after a winter going stir-crazy on land—Pregracke strikes an Incredible Hulk pose and lets loose: "Arrrrrrgh!"
"Big day today, dudes!" he hollers at his four-man crew as he steps outside into a crisp blue-sky morning. "Big day! Huge! We're going to get four boatloads of trash, OK? At least four boatloads! Arrrgh! Arrrrrgh!"
Lashed to the boat, which Pregracke (say "pruh-GRAK-ee") salvaged from the bottom of the Illinois River three summers ago, are a pair of large river barges soon to be piled high with junk, and a small tug with sponsors' logos plastered on the side.
On the back barge, Pregracke's childhood friend Dave Sparks, 28, is busy modifying a manually operated crane, rigging it so that two mountain bikes can power its shaft—Pregracke having decided that cranking the thing by hand takes too long. While Sparks works away, Pregracke and the rest of the crew—Mike Havlis, 34, Eric "Yam" Louck, 24, and David Maasberg, 30—pile into a pair of 30-foot flat- bottomed boats, aiming the bows for nearby Henderson Island and all the trash that adorns it.
Pregracke and the boys are the heart and soul of Living Lands and Waters, a nonprofit operation that Chad founded in 1997 to pursue a straightforward goal: to collect any and all of the visible crapola that litters the Mississippi River and major tributaries like the Ohio and Illinois. There's a lot to choose from on waterways that are both terribly littered and seriously polluted. Though it's impossible to tally exactly how much trash finds its way to the rivers, Pregracke and his crews remove more than 200,000 pounds a year—recycling what they can, taking the rest to a landfill. A lot of it comes from illegal dumping, but the main source is the huge floods that scour the Mississippi every two or three years and pick up anything on the floodplain that isn't chained down, plopping it on islands and muddy riverbanks.
Pregracke's trash-picking season begins on the Ohio. He has a multiyear plan to work upstream from Cairo, Illinois, to Pittsburgh, where the river is formed by the merger of the Monongahela and Allegheny. So far, he's covered 180 miles of that waterway, making it almost to Evansville.
In June the group switches to the main event: the Mississippi, where Pregracke's teams have policed 900 miles of shoreline up and back between St. Louis and Gutenberg, Iowa. In October the guys return to the Ohio to pick up where they left off. In the winter they all go do something else. Chad holes up at his parents' house on the banks of the Mississippi in Hampton, Illinois, where he raises money and does repairs for the next season.
On this bright spring morning, with the trees not yet leafing out, the riverscape is drab. French explorers called the Ohio "La Belle Riviere," but it's not very belle today. The water is a murky brown, and the banks are cluttered with cement plants, freight terminals, and tons and tons of trash.
But trash is what these boys came for, so they happily descend on Henderson Island and scurry off in all directions, returning with armfuls of refuse, piling it on the bank, and going back for more. After a few hours their impressive bounty includes 36 tires, a yellow plastic Little Tykes truck with blue wheels, 20 antifreeze jugs, five 55-gallon oil and chemical drums, two propane tanks, and at least one sniff-certified bottle of captain's piss. "They're named for the tug captains who urinate in them and then toss them overboard because they can't leave the deck," says Maasberg, suspiciously eyeing one of the half-full bottles of foamy yellow liquid.
Havlis, whose right work glove reads LOVE and whose left glove reads HATE, returns with a basketball and a plastic goose decoy. Pregracke pops into view dragging two tires and a coppery race-car helmet, number 44, balanced on top of his cap. "That's tight, dawg," Pregracke says, admiring the goose. He and Havlis start wrestling a refrigerator onto one of the boats. "Mike," he suggests, "you pull from inside the boat."
"Yes, sir."
"Dude, don't call me sir."
"Oh, sorry. Yes, dude."
"That's tight, dawg," Pregracke says, nodding and smiling.
WHEN YOU ADD IT UP, Pregracke's teams have pulled more than a million pounds of trash out of riverbank muck, including 5,000 truck, tractor, and car tires, 1,133 steel drums, 527 plastic drums, one sunken barge, one houseboat, 128 pesticide containers, 287 refrigerators, enough Styrofoam to cover a football field two feet deep, a sex doll named Lulu, a message in a bottle that said "Whoever opens this bottle sucks," and a cooler with a horse's head stuffed inside. ("Dude," Pregracke says, "that smelled horrible.") There's been much more, including an entire 1970 Ford Econoline Van, 348 antifreeze bottles, 350 propane tanks, 49 barbecue grills, and yes, 49 kitchen sinks.
Despite its unglamorous preoccupation with trash, Living Lands and Waters is a well-run, well-funded outfit. In certain circles Pregracke is even rather famous. In 1997 the Davenport, IowaÐbased Quad-City Times ran a local-boy-makes-good story on his trash-picking crusade. It was picked up by the wires, got some national play, and generated a brief segment on CNN.
This year, five summers after that splash of fame, Pregracke is on course to raise $420,000 for the project, out of which he pays himself $25,000 a year. His crew members—usually young people on their way to other things, who tend to come and go fast owing to the work's rigors, messiness, and poison ivy—earn $1,500 to $1,800 a month, with a $1,000 bonus if they stay through the season. (Soon after my visit, Maasberg leaves and a guy named Larry Williams comes aboard.) They get health benefits, a boat floor to sleep on, and all the junk food they can eat.
How does a 27-year-old who says "dude" all the time raise that kind of money? Tom Harper, a 52-year-old Moline, Illinois, lawyer who once hired a teenage Chad Pregracke to help remodel his home—and who now sits on the project's ten-member board of directors—puts it this way: "He just asks. He doesn't know that he shouldn't ask, and it turns out people want to help. He's got so much energy it's hard to turn him down."
Pregracke's seemingly infinite zeal grew out of his love of the Mississippi, a love spawned, oddly enough, on a summer day 12 years ago when he almost killed his older brother, Brent. Then 15, Chad was spending his first day helping 20-year-old Brent catch freshwater clams on the Big Muddy. Chad's job was to sort clams on the skiff while Brent dove and worked the river bottom. Chad was supposed to watch Brent's air hose and bubbles, but Chad claims Brent never told him that part.
While Chad sorted, strong currents knocked Brent around until the hose knotted and cut off his air. Another diver who was working with the boys popped out of the water and yelled at Chad to bring Brent up. Laid out in the boat like a stunned fish, Brent was ash white, his lips blue, and he remained immobile for a full ten minutes. Then he lamely motioned Chad over and whispered in his ear, "I'm going to kill you."
Things got better. Over the next three summers, Chad and Brent lived out of sleeping bags on the Mississippi's many islands and clammed professionally. It was during the second summer that Pregracke became obsessed with how trashy the river was, and particularly with a huge pile of plastic barrels about 15 miles from his parents' house. That winter he called the Illinois Department of Natural Resources several times, bugging them to clean up the mess.
"I got nowhere," Pregracke recalls. "They were really defensive. They kept saying things like, 'Where's the garbage?' 'That's not our responsibility.' 'There's no money for that.' And then they'd ask, 'Who are you, anyway?'
"So I started thinking about that," he says. "Who am I? Well, I've been on every island on the Mississippi from Fort Madison, Iowa, to Dubuque, and I've clammed on the bottom of most of it, or my brother has. Then I realized that's who I am, and these people on the phone are in some office in Springfield, and what do they know about the river?".
One weekend in the spring of 1997, while watching NASCAR on TV, Pregracke experienced an epiphany. "I started noticing all those logos on the cars," he says. He grabbed the yellow pages and looked up the aluminum company Alcoa, an outfit that, he sort of knew, employs a couple thousand people in the Quad Cities area of Moline and Rock Island, Illinois, and Davenport and Bettendorf, Iowa.
"Dude! I didn't even know what Alcoa did," he says. "But I called and got this man on the phone, and I told him that I want to go pick up the trash on the Mississippi River, and would they sponsor me? He started asking me all sorts of things, like, Did I have a budget? Was I a 501c? I didn't even know what a budget was, but I told him I'd get one. I just wanted to clean the river."
A week later, after Pregracke's mom taught him how to create a budget, he showed up at the office of Alcoa vice-president Tim Wilkinson, asking for $77,000 to clean 440 miles of the Mississippi and pay for boat insurance and five employees. Wilkinson gave Pregracke $8,400 for a more modest effort: picking up Mississippi River trash, by himself, in the Quad Cities area.
Which is exactly what Pregracke did. "I worked from the start of the summer until the ice froze me off the river," he says. Then 21, he single-handedly dug 45,000 pounds of trash out of the riverbanks, dumping the load in his parents' yard until he could sort it, recycle it, or haul it off to a landfill. In the fall he started taking courses at Heartland Community College in Normal, Illinois, and returned home on weekends to finish the job.
The next summer Alcoa kicked in $20,000 and Pregracke raised $100,000 piecemeal from other companies. Suddenly, picking up garbage was a full-time thing. He left school, though he did finish his associate's degree in 2001. Today, the logos on his various boats testify to the success of his original NASCAR inspiration. Among his current sponsors are Alcoa, agribusiness giant Cargill, Honda Marine, Caterpillar, and the makers of O'Doul's, the nonalcoholic brew.
"Dude!" says Pregracke. "My middle name is O'Doul's. They gave me $50,000 this year!"
 
IT'S FRIDAY NIGHT AT THE DUEY'S CORENR TAP, a busy workingman's bar on the riverfront in Port Byron, Illinois, a few towns upriver from Moline. Pregracke has come home to pick up an extra boat and attend a Saturday-morning meeting at which Alcoa will present its annual self-graded green report card to local enviros and citizens.
Tonight Chad is joining his parents, Gary, 60, and KeeKee, 57, for their end-of-the-week ritual of feasting on fried catfish and cheese fries. Tom Harper is also on hand. Rounding out the group, dressed head to toe in urban-wear black, is Lisa Eno, Chad's 27-year-old girlfriend.
Gary is a retired high school teacher who spends his days and insomniac nights rehabbing a small ranch house that Chad recently purchased across the street from his parents' place. KeeKee runs the early childhood development program at nearby Black Hawk College, but she's also in charge of keeping Chad's operation running smoothly. She sits on his board, answers his e-mail, and schedules school visits. Chad says he phones her every day, but insists, "I am not a mama's boy!"
"You won't believe this, Chad," Gary says, debriefing his son on local news and gossip. "You know this lady who's running for governor of Illinois? Well, I just saw that one of her campaign promises is that she's going to clean the Illinois River!"
"Clean the Illinois River?" KeeKee says, exasperated. "Chad already cleaned the Illinois!"
"Yeah," says Chad. "We really cleaned the Illinois. It was totally trashed."
Harper changes the subject to operations on the Ohio. "Are the guys showering regularly?" he asks.
No, they're not: Yam hasn't showered in three weeks. "That's one of the things we wanted to put in the budget this year," Harper says. "We wanted to pay for one night at a motel a week, so these guys could take showers and sleep on a decent bed."
After dinner Chad heads off somewhere with Lisa, while I check out the headquarters of Living Lands and Waters: a bedroom turned office on the second floor of Gary and KeeKee's house. One wall of the office is covered with awards, including appreciations from the Rock Island Rotary Club and the Daughters of the American Revolution. There's also a signed photo from rock star Lenny Kravitz: "Chad, thanks for the inspiration." Kravitz phoned Pregracke after seeing him on CNN, invited him to a concert in Bloomington, Illinois, and then wrote a song inspired by his trash-picking work called, "Can We Find a Reason?"
"He was cool," says Pregracke. "But he's just a guy, you know what I mean?"
The next morning, when I meet up with Pregracke for the Alcoa meeting, he's looking sharp in pressed khakis, a button-down shirt, and, yes, the baseball cap. The Quad Cities environmental community—including fishermen, Ducks Unlimited guys, and Sierra Clubbers—has gathered at Alcoa's Davenport Works to hear about the company's record.
As they all probably know, Alcoa has black marks in its not-too-distant past. In 2000, as a result of pollution originating at its Warrick operations plant on the Ohio River, the company settled a lawsuit brought by the United States Justice Department and the Environmental Protection Agency, agreeing to pay an $8.8 million penalty for violating the Clean Water Act. But according to Jen Hensley, 27, the Chicago-based grassroots coordinator for the Illinois chapter of the Sierra Club, the company is trying to do better. "They used to be one of the river's biggest polluters," she says, "but they've really cleaned up." Alcoa's Davenport plant, for example, has reduced toxic air emissions from 4.5 million pounds to 250,000 pounds in the last 13 years. Using a $13 million closed water system, it has reduced its intake from and release into the Mississippi by 90 percent.
Tim Wilkinson, Chad's Alcoa patron, is running today's meeting, and he starts off by reminding everyone that it's been a rough business year, which makes it harder to think green. "We're hoping that's going to turn around soon," he says. "We're committed to the environment, but it has to make economic sense. We're working on everything from reducing air emissions to using soy diesel in our factory vehicles, reducing our vehicle emissions by 30 to 60 percent."
Pregracke raises a hand.
"Yes, Chad?" Wilkinson says. br.
"Can I pull our tug up to the factory and fill it up with some soy diesel?"
"That's a discussion we better have later," Wilkinson says, while the audience laughs. He continues with his slide show, clicking to a photo of Pregracke driving a trash-filled boat and looking a lot like Washington crossing the Delaware. Wilkinson suggests a round of applause. As it washes over the trash man, he hides under the brim of his cap, embarrassed just ever so slightly.
 
"YOU FEEL AND HEAR WEIRD THINGS when you're underwater clamming," Pregracke says during our drive back to the Ohio from his parents' place. "It's pitch-black down there, and it can get really creepy, like when you're feeling around for clams and you grab a doll's head, and then you start screaming through your dive mask. You know you have to feel your way back to it and make sure it's not a dead baby, or you'll never be able to forget it. Couches feel really weird when you bump into them. The catfish sound like bullfrogs, barge props sound like helicopters. I used to sing that song 'Night Shift' so I wouldn't get creeped out."
Despite his underwater beginnings, Pregracke limits his trash operation to what he can see on the riverbanks and in shallow pools. "There's trash way underwater, but most of it is on the banks," he says, arriving back at the trash flotilla.
After dumping his bags in the houseboat, Pregracke joins Mike Havlis in a boat heading upstream, while David Maasberg and Yam Louck go downstream. Later, when Pregracke and Havlis find them again, Louck and Maasberg are looking glum. Before them are more half-sunken tires than you could count, a baby-blue bowling ball, two refrigerators, a half-dozen 55-gallon drums, a Wilson Sharp Shooter basketball, a depleted 20-ounce bottle of Budweiser, and a can of Liquid Chisel Bilge Cleaner.
There's so much trash that it sometimes makes the whole trash-cleaning endeavor seem overwhelming. And of course, the Mississippi's problems go way beyond garbage.
"The biggest problem on the river is runoff and sewage," says the Sierra Club's Jen Hensley. "Several cities dump raw sewage right into it. There are also industrial hog farms, whose pools of waste flow into the river during floods." That runoff threatens the 18 million people who rely on the river for their drinking water, not to mention the 278 species of fish and mussels that live there. Add to that increased siltation from the lock-and-dam system on the Mississippi, which causes river mud to pile up. This makes it hard for plants to root and reduces habitat for everything from piping plovers to threatened species like the Higgins eye mussel. All of which raises the question: Does Pregracke's litter-removal program really help that much?
Hensley thinks so. "It makes a big difference," she says. "For one thing, it's not great for wildlife habitat to have a bunch of trash around—it's hard for mussels to live on refrigerators. And they pull a lot of things out that leak into the river, like vans and chemical barrels. But Chad also draws a whole different group of people to these river issues than what we bring. I speak every year at the Quad Cities River Relief community cleanup, which Chad organizes. There are a lot of boaters, fishermen, and hunters who would normally see the Sierra Club and say, 'Whoa, I don't know about this.' But we share the same goals when it comes to the river, and those people have a lot of respect for Chad, so it really helps."
 
BACK ON THE OHIO, Pregracke continues his manic pace, digging up junk, tossing it on the boats. Just now he has stopped in his tracks. Twenty feet in front of him, a rusted-out pickup has been driven off the bank. On top of it is a pile of washers, dryers, and more junk.
"Damn, dude," he says. "Look at that—a hillbilly dump. There's no way we can pick all this up." For the first time in a week Pregracke seems deflated.
We return to the barges. The sun is beginning to set, but Chad wants to make one more run. He steers his boat back toward Henderson Island, where he remembers seeing a fridge. He beaches the boat. Just to the left of him, floating in the water, is a fully unrolled bleach-white condom. "We call that an Ohio River tapeworm," he says.
Isn't he going to pick it up?
"Dude, I'm not touching any condom. My brother almost quit commercial fishing because of an incident with a condom on the Mississippi, but I'm not even going to talk about it, because he'd kill me."
After searching the island for ten minutes, Pregracke finds the fridge he was looking for. He liberates it from the dirt, then starts rolling it end over end in a sprint all the way to the boat.
It's a stirring picture of the trash zealot in his element. But what about two years from now? Or five? "Coming to a river near you," he says. "That's my motto. I might clean the Hudson next. I've got a lot of ideas about restoring these rivers to their natural state. I can't tell you about them, because I don't like talking about things before I do them—let's just see the results, you know what I'm saying?" With that he stands up in the back of the boat, sets the throttle wide open, and—looking like Washington crossing the Delaware—says, "I'm going to do some big shit before I die. I am."