The Volunteers Cleaning Our Parks During the Shutdown
Hundreds of people from the Everglades to Yosemite have mobilized as part of a grassroots effort to rid national parks of refuse while federal employees remain furloughed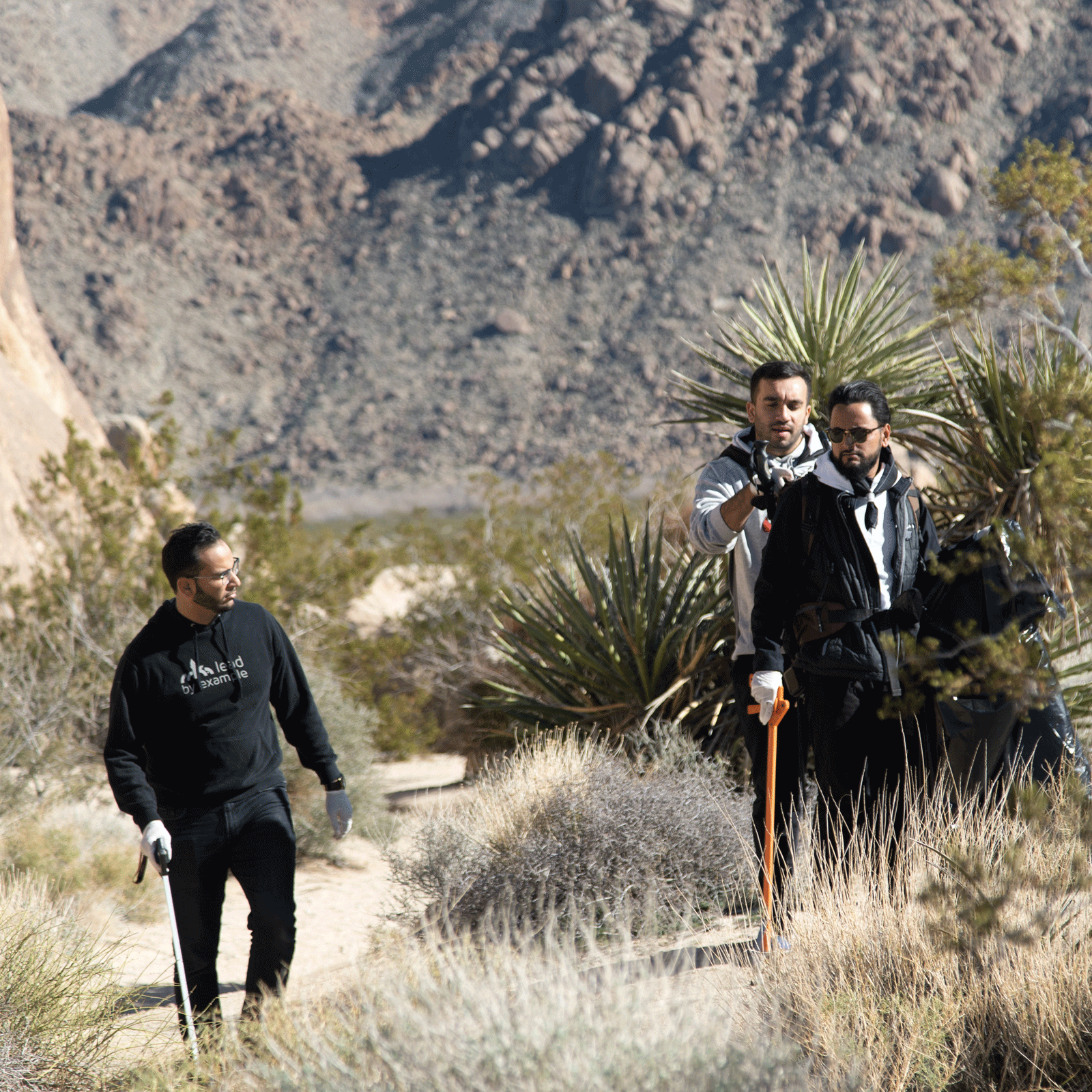 Heading out the door? Read this article on the new Outside+ app available now on iOS devices for members! Download the app.
When the partial government shutdown took effect 22 days ago, Seth Zaharias walked into a Walmart and bought $100 worth of toilet paper to stock the bathrooms at Joshua Tree National Park, in anticipation of the flood of holiday tourists who would descend with only a skeleton staff left to manage them. That first purchase quickly grew into a grassroots effort to keep the beloved desertscape pristine in the face of the National Park Service furloughs. "It was the best hundred dollars I'll ever spend on toilet paper," Zaharias says.
Zaharias and his wife, Sabra Purdy, who together own the Joshua Tree climbing company Cliffhanger Guides, teamed up with nonprofit Friends of Joshua Tree National Park to spearhead a campaign to prevent destruction. Soon, they had recruited enough volunteers to clean all of the park's 80-odd accessible toilets almost every day of the shutdown and haul out thousands of pounds of trash. The volunteers come from all over the state and country—one of Cliffhanger's clients from New York spent his extra days of vacation taking in the scenery while sweeping out pit toilets and emptying dumpsters.
"I feel pretty good about what's going on in the park and the state of it now," Zaharias says. "They only have between five to seven regular maintenance staff. On a big day, we had just shy of a hundred people come out. Our park was ours again."
What's happening at Joshua Tree isn't an anomaly. Across the country, a rag-tag group of volunteers have banded together to take the reins from furloughed NPS employees. Since the shutdown, there have been dozens of headlines (including ones on Outside) about damaged parks overflowing with human waste and trash, though some local volunteers insist the more apocalyptic stories are overblown. "There has been some resource damage, but nowhere near to the level that the media is reporting," Zaharias says. "The ratio of good people to bad has been incredibly low." (He notes that the overwhelming majority of the trash they cleared out was in dumpsters or bins.) Still, Zaharias and others saw the need to spring into action. "I'm not going to let D.C. wreck my spiritual connection to this place and my economic backbone," he says.
While Zaharias rallied the Joshua Tree community, a group of local workers in Yosemite National Park, distressed by the overflowing trash bins and human waste left behind by holiday revelers, contacted the Yosemite Climbing Association (which organizes its own clean-up each September) to ask for supplies. Soon after publicizing their efforts on social media, the YCA was flooded with requests from other concerned visitors who wanted to help, so the group drove a red pickup and covered white trailer stocked with supplies to a pullout off Highway 140, near Yosemite's entrance. Allyson Gunsallus, a YCA event coordinator, estimates that around 100 people have volunteered—a number that includes not only people who already had plans to visit the park, but also ones who came specifically to engage in the effort.
"It's been amazing how many people have reached out," Gunsallus says. "It's been a silver lining on the dark cloud of the shutdown." Thanks to the volunteers, Gunsallus says they were able to clear up all of the park's excess litter that had accumulated over the holidays. She now says they plan to speak to NPS employees to find out where the most need is, and direct eager hands accordingly.
On January 5, the Department of the Interior released a plan to keep the parks open by diverting funds meant for long-term projects to everyday maintenance, meaning that all-volunteer forces like those with the YCA and at Joshua Tree can theoretically hand their duties back over. But with staffing at a minimum and visitors still pouring in, some organizations feel the need to continue with their efforts.   
On January 2, the same day the Yellowstone effort began, the Ahmadiyya Muslim Youth Association was alarmed by media reports about the state of the national parks. Within 48 hours, their local chapters had organized a weekend cleanup at five parks throughout the country. "Cleanliness and service to our country is a part of Islam," says spokesperson Salaam Bhatti. "So we enmeshed those two teachings to clean up our nation as part of our service."
Some 70 volunteers—Muslim and non-Muslim—hauled away truckloads of trash from the Everglades to the National Mall. They plan to hold more events this weekend, including one at Olympic National Park in Washington State.
"It's been a silver lining on the dark cloud of the shutdown."
Beyond organized groups, countless unnamed individuals have also gone out on their own clean ups, often posting their intentions under the hashtag #leavenotrace. In at least one case, in the temperate wilds of the Great Smoky Mountains, that effort led to an even larger one. Marc Newland was heading out for a day of hiking with his young daughter, Erica. When he mentioned how the shutdown was affecting the parks, the 10-year-old suggested that they spend their day cleaning up the area instead—unsurprising, given that Newland and his wife Wendy have spent the past 15 years involved in trail clean-ups and almost always carry garbage bags and grabbers with them. On a popular short hike to Laurel Falls, the pair hardly got past the parking lot. They spent hours filling bags with diapers, broken pieces of strollers, and beer bottles.
Newland posted photos of the pair on the Hike the Smokies Facebook group, hoping a few likes would encourage his daughter's positive behavior. Instead, the post blew up. Spurred on by the media attention, he worked with the environmental group Keep Sevier Beautiful to organize a larger cleanup along the Spur—a major thruway—on Thursday. "To see 100 people show up at 8 a.m. in 20 degree weather and haul out 160 bags of trash was just incredible," he says.
Since the school year started back up again this week, Erica was not among them—but plans to be out cleaning again with her parents this weekend. For his daughter, Newland says, the lesson learned from the experience boils down to a mantra that has defined the shutdown volunteer efforts: "If we all do a little bit now, we won't have to do so much later."