The Haida Life
Learning the old ways from southeast Alaska's native people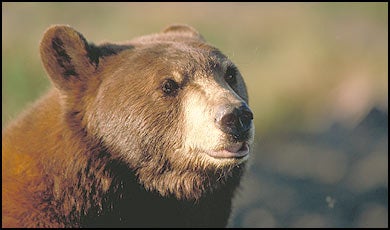 Corel
Heading out the door? Read this article on the new Outside+ app available now on iOS devices for members! Download the app.
Even before the skiff left the harbor, I had one of those gnawing moments of self-doubt that eternally plague suburban parents.

My daughter, Allie, who's nine, pulled on the adult-size life jacket she'd been thrown and then settled into the bow with the loops of the vest riding up near her ears. "It's kind of weird to sit in," she said, "but it should be OK for swimming."

The water in Cordova Bay, off southeast Alaska's 135-mile-long Prince of Wales Island, was about 55 degrees. And on this warm afternoon last July, midway through our five-day tour of Haida Indian country, the wind was kicking up swells that, for me, sang one simple word: Dramamine. To our Alaskan hosts, though, getting pitched around in a 16-foot aluminum boat was nothing. Terry Peele, 49, and his son Tony, 28, both Haida, were letting us tag along on a deep-sea fishing trip. They're stalwart proponents of Haida Pride, a collective movement to reinvigorate their cultural roots. They make drums, carve totem poles, sing, and dance in homage to their warrior ancestors, who raided enemy nations in giant cedar canoes. And now they were staring over at me as I fidgeted with Allie's vest.

"Um," I said, "this doesn't really fit."

We went back to the dock to get a smaller life jacket. When we finally gunned out of the harbor, Terry and Tony stood side by side in the skiff, brows to the wind, ready to catch fish to feed their families. Terry is a recovering alcoholic who's found solid ground by embracing old Haida ways, like carving canoe paddles and beading traditional designs onto rawhide. He sang tribal fishing songs, chant-like, under his breath as we paused to haul in some halibut lines, and once, when he found a pesky octopus in one of his shrimp pots, he bit off its beak, raw, and spit it into the water. "There," he said. "That'll put him out of business."

Allie's eyes bulged, and for a second I thought she might cry. She didn't. Instead, she tried to summon the shrimp and halibut to our nets. "C'mon, fish!" she shouted.

"C'mon, fish!" shouted Terry. We whipped along the forested Prince of Wales coast, where the Peeles live in Hydaburg, population 350, a three-hour boat ride from Ketchikan, and a bald eagle soared over our boat. Shadows grew in the valleys beneath the green interior mountains, and now and then we came upon a small island without roads or people: just a rise of almost impenetrable woods ringed by a rocky shoreline. We paused at one, Blanket Island, and Allie and I spent ten minutes scrambling over the bleached-gray dead trees piled all over the shore. Up close, everything was colossal: the rocks and the curling, upended roots of the fallen trees, so sturdy that Allie grabbed one root and safely hung there, monkey-bars style.

"Are you having fun?" I asked her.

"Definitely."
I had seen this before. Allie, who lives with me two nights a week, is a lean rope of a kid who prides herself on having some grit. Consider her recent fourth-grade camping trip in the woods near our Portland, Oregon, home. When Henry C. dazzled everyone present by jumping off a junior-size cliff into the Clackamas River 42 times, Allie merely waited for him to leave and then seized top honors by making 45 jumps. Over the years, she and I have cross-country skied in blizzards, gone summer sledding on glaciers, and sneaked into cow pastures to step gingerly past snorting bulls.

But those were day trips, mostly, or weekend getaways, and last year Allie began to dream of a grander, more far-flung expedition. At the time, she was absorbed in a series of six books in the American Girls Collection about a fictional Nez Percé; Indian child, Kaya, a Pocahantas lookalike who rode horses and slept in tepees in the 1760s. Allie was intrigued to learn that there is a present tense to the story—that the Nez Percé; are, with many other nations, reviving their almost extinct tribal language, and that the Sioux are starting to ranch great herds of buffalo on their reservations. The Native American renaissance is, of course, shadowed by the darker, longer story of reservations—alcoholism and poverty. Still, Allie wanted to see what life was like in Indian country, and the word Alaska, with that aah sound at the end, suggestive of great northern adventure, had a certain tug on us. We flew up to Ketchikan, along with a host of others intent on kayaking and fly-fishing in southeast Alaska, and then rode a ferry west to the sparsely developed Prince of Wales Island, where a taxi took us 25 miles down island to Hydaburg.

The larger of two Alaska towns with a nearly all-Haida populace, Hydaburg was established by the federal government in 1912, when 350 Haida (about the same number as today) lived in cedar longhouses, harvesting salmon and seaweed and carving the deities of their two primary clans, eagles and ravens, onto the totem poles they placed by their homes to announce their bloodlines. Today, the 20 poles in Hydaburg's totem park are surrounded by prefab houses, satellite dishes, and all-terrain vehicles rusting in the salt air. We found an ad hoc B&B in town, a detached trailer rented by a woman named Pansy who makes splendid pancakes. That's where we stayed, for $20 a night.

On our first morning in Hydaburg we visited a retired fisherman, Claude Morrison, who at 93 is one of a handful of Hydaburg elders who still speak fluent Haida. (His grandmother taught him secretly, in defiance of his Presbyterian schoolteachers.) Allie and I entered his living room performing a sort of skit, a snippet of Haida dialogue we'd learned on the Internet, as he sat in his aqua easy chair, hale and white-haired and straining to hear.

"Sá;nuu dang gí;idang?" I asked with all the aplomb of a Texas oilman parlez-ing francais. How are you?

Allie paused, hand on hip, sifting through, it seemed, a vast library of possible responses. "Dí;i 'lá;agang," she shrugged finally. I'm fine.

Morrison laughed. "Good," he said. "It's good to hear young people speak Haida, but it's more like"—his mouth yawed open now and he accessed a muscle very deep in his throat, so the word gí;idang came out with a low guttural dip in the middle. It was a sound that seemed somehow underwater—a sound from a different world, really. Haida language classes started up last summer at Hydaburg's city hall, but no one will ever speak Haida as a first language again, and the old traditions that Morrison grew up with—gathering cedar bark to make baskets, say, and hunting deer—are diluted by popular culture. Haida kids are now wont to bead the image of Bart Simpson onto handbags and bracelets.

Morrison asked us to try again, to go for that deep, guttural sound. We did, both Allie and I, and then Morrison just shook his head, smiling, as if to say, "Oh, well, forget it." He chatted with us a moment, and then sent us away with a can of sockeye salmon he'd put up himself.
We went for a hike on a logging road, and, rounding a corner, we came upon a black bear, stone still, 50 yards away. The bear's eyes locked with mine. "Allie," I said, "sing the 'Happy Birthday' song." We both did, with gusto, until the bear scampered away, back into the woods.

We met another nine-year-old, Anthony Edenshaw, and he sang a Haida spirit song for us—shirtless, in orange gym shorts—as he pounded a deerhide drum. Then he looked over at Allie, askance, and asked, "Why do you have polka dots all over your face?"

"I have freckles," Allie said, "because my ancestors were from Ireland."

She and Anthony played together happily for two hours after that, gathering shells on the beach, and then I took her to visit a shed where Claude Morrison's 23-year-old grandson, T. J. Young, was busy carving a 15-foot totem pole. The black painted fin of a humpback whale shimmered above a still-pungent pile of cedar shavings. Allie rubbed her hands over the wood, and then she began clacking two rocks together. "I'm trying," she explained, "to sharpen this rock, so I can use it to carve."

She got her chance, sort of, the next day, when along with our fishing guides, Tony and Terry, we crossed the island to Alaska's other Haida town, Kasaan, population 50, for the annual Prince of Wales culture camp. The two-day camp is jointly hosted by the island's native villages and is designed to teach native crafts to Indians and visitors. We arrived to find about 70 local kids, a stack of roughly hewn mini canoe paddles, and a carving class just starting up. Allie got a bit snitty when the teacher didn't let her loose with a Buck knife ("I've carved pumpkins before, Dad!"), but then she sanded her paddle with rapt devotion. She brought the cedar to a velvety sheen and then magic-markered it with a bold black- and-red design of an eagle. "I'm proud of my paddle," she told me.

All around her there were kids drawing and kids beading ravens and eagles onto squares of felt. Even I joined a class, in cedar-basket making. The teacher—Tony's mother, Chris Tolson—was a hard driver. "Everybody needs to finish their basket today," she declaimed through a rolled-up newspaper. "I said today." I finished, and I felt pretty buoyant.

When I saw Tony a few hours later in Kasaan's longhouse, he and Terry were singing raven and eagle songs. "You guys," Tony said between songs to the campers, "have taken your skills to another level, and you've helped to recapture the culture we're trying to save. That's why we do things like this: so that our kids can come together and continue their culture." He began pounding his drum and then his father danced, on a bad ankle. Terry spread his arms wide, emulating an eagle, and he crouched low and ranged about, mostly on his heels, pounding the floor as his arms whirled. Earlier, in the cafeteria of the Kasaan community center, he'd been almost despairing, asking me, "Why did the state of Alaska send me away to one of their boarding schools when I was 13? Why was I torn away from my village, my culture?" But now, as he swept past us, he seemed transfixed, squinting and grimacing as he gave himself to the dance.

Do such moments register on kids, I've always wondered, or do they just fly over their heads? If you take your six-month-old into the woods in a backpack, will her infant brain record the smell of the leaves? Did Allie get that this was more than a dance?

The answer is, of course, oblique. On the way home, savoring the airline peanuts, Allie told me, "My favorite part was when we were out on that fishing boat, and helping that guy take the shells off the shrimp. I liked how he was singing and how the sun was setting and how we had all those fish on the boat and we knew we were going back to the harbor. It was so peaceful."

I think she got it.
Access and Resources
To learn more about Haida culture, visit the Totem Heritage Center (907-225-5900, www.city.ketchikan.ak.us) in Ketchikan (where you catch the ferry to Prince of Wales Island), home to the world's largest collection of 19th-century totem poles. The poles are from the Haida and Tlingit nations. Exhibits of beadwork, moccasins, baskets, and blankets are housed in the Tongass Historical Museum, a ten-minute walk away. The center runs craft workshops September through April. Also consider these family-friendly activities on Prince of Wales Island, which has some of North America's most rugged terrain:

Canoe the Sarkar Lake Canoe Route. This moderate 15-mile route winds through six lakes secluded in an old-growth spruce-hemlock-cedar forest that shelters wolves, black bears, and Sitka blacktail deer. The fly-fishing is excellent. There is a Forest Service cabin at the beginning of the route ($35 per night; reservations, 877-444-6777 or www.reserveusa.com) and boardwalks to ease the six portages. Southeast Paddle Sports (907-826-2720) in the island town of Craig rents canoes for $25 per day.

Tour El Capitan Cave. The Forest Service (907-828-3304) offers tours of this three-level limestone cavern, with 12,512 feet of passageways, Thursdays through Sundays in summer. Evidence of ancient civilizations, like two obsidian arrowheads dating to 1,400 B.C., have been found in the 40-degree fissure. Tours are free and helmets are provided; bring your own flashlight.

Go deep-sea fishing. Charter companies dock three- to five-passenger boats in Craig and take clients in search of salmon and halibut swimming among humpback whales. Tours start at $230 per person per day, gear included. Contact the Prince of Wales Chamber of Commerce (907-755-2626, www.princeofwalescoc.org).

Several Hydaburg residents run impromptu B&Bs. Call the tribal office in Hydaburg (907-285-3666) for details.
Trending on Outside Online