How Global Warming Lit America's Forest Fires
Michael Kodas is chasing the ever-growing forest inferno all throughout Colorado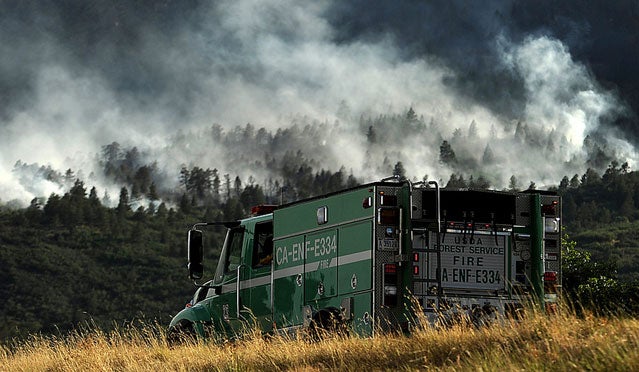 Heading out the door? Read this article on the new Outside+ app available now on iOS devices for members! Download the app.
This story originally appeared on OnEarth.
The last time I chased wildfires across Colorado was in 2003, while serving as a seasonal wildland firefighter for the U.S. Forest Service. I was part of a crew of 20, bouncing through the Rocky Mountains in a battered school bus to put out fires with names like Crazy Woman and the Bluebird. It was a war fought with rakes, spades, axes, and chainsaws, in which I extinguished more flames with shovelfuls of dirt than I did with water. The year before, Colorado had lost 133 homes and more than 138,000 acres to the Hayman fire, at the time the most destructive in state history.
Climate change wasn't even on the radar of most firefighters I worked with back then, and when the topic did come up, there was a healthy amount of skepticism. This year, it's hard to find a wildland firefighter who isn't convinced the warming of the West is making his job more difficult and dangerous.
This year has already surpassed the record breakers of 2002 and 2003, in part because it had a head start—the worst parts of Colorado's fire season usually hit in early or late summer, but this year a wildfire overran firefighters before spring even arrived, and another early blaze killed three people and destroyed 23 homes.
So now I'm chasing fires across the state again, this time as part of my research for a book on the rise of megafires worldwide, due to a combination of factors that include climate change, overdevelopment, and misguided fire and forest management policies. All of those factors are at work in my home state right now as all-time temperature records are smashed, and the hot, dry conditions fuel blaze after blaze, threatening some of Colorado's fastest-growing cities. Even among skeptical firefighters and usually cautious scientists, there's little doubt anymore: forest management and development issues have been priming the West for epic fires, but it was this year's climate-driven drought and heat that lit the fuse.
A quick rundown of my recent tour of destruction: it started on June 23rd as I was rock climbing in Estes Park, the gateway to Rocky Mountain National Park. A wind-blown electrical wire frayed against a pine tree three miles south of where I was roped up on Lumpy Ridge and ignited it, touching off a fire that would go on to destroy 22 homes and burn 27 acres—making it relatively small for this fire season. While at the cliff, I struck up a conversation with two rangers, one of whom happened to be friends with a "hotshot" that I know—the name for a specially trained firefighter who is basically the firefighting equivalent of a Navy SEAL. As we wondered which of the dozens of wildfires burning across the West our friend was assigned to, the ranger's radio squawked.
"It's crowning! There are homes nearby!"
As the rangers packed up their gear, one of their wives called. A friend had just shown up at their house with her arms full of whatever she could grab as the fire spread toward her home. I watched the smoke turn from white to black as the homes went up in flames, then saw an air tanker diverted from the nearby High Park fire paint the hills red with fire retardant. By the time we had hiked out, the blaze had run its course.
Three days later, I went back, first checking on the High Park fire, a lightning-sparked blaze that now ranks as the most destructive in Colorado history. It destroyed 259 homes in the foothills above Fort Collins. A few of the thousands of evacuees were returning to their homes as I arrived, driving up the mountain canyons past blackened fields and forests, while thousands of other residents who had been out of their homes for two weeks or more were still waiting to return. Then I headed back to Estes Park. As I was stood amid the burned houses, my wife called. Our own neighborhood in Boulder had just been notified to start packing for a possible evacuation.
I sighed. "Just find the cat," I said.
That same day, 100 miles to the south, Colorado Springs faced Armageddon. The Waldo Canyon fire had already been burning for three days. Its proximity to Colorado's second-largest city immediately made it the top firefighting priority in the nation. Some 32,000 residents, including much of the Air Force Academy, evacuated.
The following Tuesday Denver recorded its fifth day of 100-degree temperatures and tied its all-time daily record of 105 degrees. That afternoon a dry thunderstorm—one of dozens that have plagued Colorado this year, bringing lightning without rainfall—descended on Colorado Springs. Winds gusting 65 mph drove the Waldo Canyon fire east across two lines of containment and onto the city. Embers and firebrands rained onto dense subdivisions. As the sun set, churning black plumes of smoke surged down from the mountains and waves of flame bounced from house to house. By the time I arrived, shortly before midnight, entire blocks were burning.
"It was like looking at a military invasion," Colorado Governor John Hickenlooper told reporters after watching the blowup from a helicopter. When the smoke cleared, it revealed 346 homes reduced to ash and cinders. In the days that followed, two residents were found dead in their home.
For much of the year, the governor's description has seemed apt—at times, the nation has seemed to be losing a war with wildfires. On June 3, one heavy air tanker contracted to the U.S. Forest Service cartwheeled into a burning Utah mountain. Both crewmembers perished. That same day, a second airtanker crash landed in Nevada, leaving the crew uninjured but the aircraft crippled.
Even before those crashes, the nation's fleet of firefighting air tankers was down to a quarter of the size it was a decade earlier, due to crashes in the mid-2000s that led the Forest Service to cancel contracts for planes it deemed unsafe or too old. After the crashes last month, the military stepped in, loaning eight Lockheed C-130 Hercules cargo planes to the firefighting effort. But then one crashed while fighting a blaze in South Dakota. Four of the six crewmembers perished.
Meanwhile, fires across the American West are getting bigger. During 2002 and 2003, wildfires burned nearly 11 million acres and killed more than 50 firefighters. Four states—Colorado, Arizona, Oregon, and California—experienced the largest fires to date during those years. Those massive fire seasons were the culmination of a trend: between 1986 and 2003, western forests saw a nearly fourfold increase in the number of wildfires, and those fires burned six times the amount of land and lasted five times as long when compared with the previous 16 years. In response, states and the federal government adopted policies and legislation, such as the Bush administration's Healthy Forest Restoration Act, which were designed to head off increasingly catastrophic wildfires by thinning forests and reintroducing fire to areas that were overgrown with fuel from a century of fire suppression. Some wildfires would be allowed to burn in hopes of improving overall forest health.
The fires, however, have continued to grow in size, frequency, and intensity, while the policies meant to tame them have sputtered and stalled. Air quality issues increasingly limit the number of days when prescribed burns can be lit, and the public is often resistant to them, particularly after rare incidents in which forest managers lose control, as they did with the prescribed burn that turned into Colorado's deadly Lower North Fork fire in March. Residents of fire-prone landscapes are often unwilling to cut down the trees they love, even when removing a few trees increases their safety. And building with fire-resistant materials is often more expensive and doesn't fit with mountain traditions.
In the 1960s, an average of 460 fires each year in Colorado burned about 8,000 acres annually, according to state forest service records. In the past decade that average jumped to about 2,500 fires a year, burning nearly 100,000 acres. Those trends are reflected nationwide. Wildfires burned an average seven million acres a year across the nation during the 2000s—twice the average of the 1990s. In the coming decade, scientists anticipate, 10 to 12 million acres of U.S. forests will burn each year.
The flames also consume budgets. Wildfires nationwide cost the federal government up to $3 billion annually—twice what they cost a decade ago. Today wildfires take up nearly half of the U.S. Forest Service's budget, up from 13 percent in 1991.
The root of America's wildfire crisis goes back a century, to the "Big Blowup" of 1910, which burned three million acres in the Bitterroot Mountains of Montana and Idaho. After the Big Blowup, American philosopher William James wrote of extinguishing wildfires as "the moral equivalent of war," suggesting that American youth be conscripted into an "army enlisted against nature." The U.S. Forest Service complied, eventually implementing an "out by 10 a.m." policy toward all wildland fires. But in snuffing out every wildfire, managers interrupted one of the forest's most important processes for maintaining its own health—the regular, small fires that clear out dead timber and fire-prone vegetation from woodlands. In some forests, this suppression of the natural fire cycle effectively stockpiled a century's worth of fuel, creating explosive forests prone to burn big, fast, and hot. We're seeing the results right now in Colorado and across the West.
Homebuilding at the edge of the forest has also exploded in recent decades, providing wildfires with new and volatile ignition sources. Census data I analyzed with the I-News Network showed that between 2000 and 2010, more than 100,000 people moved into Colorado's most flammable forests, as marked on the state's "red zone" map.
But the greatest impact on the most recent wildfires may well be the changing climate. "What we're seeing really is a window into what global warming really looks like," said Princeton University geosciences professor Michael Oppenheimer during a conference call with reporters in the days after the Colorado firestorms. "It looks like heat. It looks like fires."
And it looks like drought. By June, Colorado's mountains had just two percent of their normal snowpack for that time of year; with snow, streams, and forests drying up early, fires ignite weeks or months earlier.
"Looking back historically, spring was not considered part of fire season in Colorado until the very recent past," said Elk Creek Fire Chief Bill McLaughlin, one of the chiefs who led the fight against the Lower North Fork fire that killed three people in March. "It's been largely the last decade that they've seen those spring fires occurring." McLaughlin told me he saw fire behavior he had never witnessed before during the Lower North Fork fire: flames that burned intensely through the night or traveled downhill, rather than up. In one instance, McLaughlin watched flames that were predicted to take two hours to climb a slope cover that distance in less than 14 minutes. Virtually every commander I encountered during this year's fire plague in Colorado echoed McLaughlin's comment about unusual fire behavior.
Part of the reason for the change, says University of Montana professor Steve Running, is that climate change has disrupted the daily temperature cycle. When nighttime temperatures don't drop, neither do the flames. "Night temperatures above 60 or even 70 degrees gives the fire energy through the night," he said.
Higher temperatures also enable pests, like the mountain pine beetle, to kill more trees. Even at high altitudes, the freezing temperatures required to kill the insects are increasingly rare, while warmer temperatures may increase the beetles' rate of reproduction. The current infestation, stretching from the Yukon Territory south to New Mexico, and from the Front Range of Colorado west to the Pacific, has killed an area of forest the size of Washington State and is 10 times larger than the biggest previous outbreak.
The buildup of fuel, reduced precipitation, increased temperatures, and volatile weather patterns—all predicted results of global warming—set the stage for a perfect firestorm.
"These wildfires, especially when they become wind driven, are like a nuclear bomb going off," Running said. "Humans aren't going to stop them any more than they stop the hurricanes on the Gulf Coast."
Fortunately for me, the fire that threatened my Boulder neighborhood proved little more than a nuisance. No homes burned. But this year, hundreds of Colorado residents have not been so lucky, and hundreds of thousands of more across the West face a future in which fire will be an ever-increasing threat—one we've yet to accept or adequately prepare for. All the rakes, spades, axes, and chainsaws in the West can't stop it.
Lead Photo: USDAgov/Flickr