I Love My Job!
Those people who say that? They're annoying. But, as our man eventually discovers, that doesn't mean they're not on to something.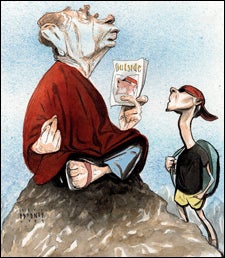 Heading out the door? Read this article on the new Outside+ app available now on iOS devices for members! Download the app.
THE SUMMER OF my sophomore year in college, I came across a job-board announcement for an opening as the Granite Mountain fire lookout, in Washington State. Having been turned down for positions as a ranger in Glacier National Park and a bird-study volunteer in Northern California, I couldn't believe my luck when I was basically hired over the phone.
Dream Job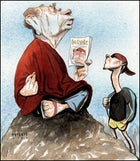 A couple of weeks later, there I was, caretaker of one of the most stunning pieces of real estate in Washington's central Cascades. The glass-walled lookout tower stood on tall stilts, four steep miles from the trailhead. To the west, the sun faded away beneath a pink and blueberry sky. To the east and north were layers of razorback ridges and toothy spires and mysterious evergreen valleys. Icy Mount Rainier towered to the south. I stood like a sea captain on the bridge, tossed back my head, and howled with delight.
And then there were the 64 other days.
I'd assumed this would be a season of profound reflection. But as was true for Jack Kerouac, who spent a summer at nearby Desolation Peak lookout,it was really just a season of vegetative boredom.
At first, I kept myself occupied by reading thick books (500 pages in a day!), studying the nearby flora (lichen, ho!), and filtering already pure lake water …and then filtering it again. I made friends with the pikas and tried not to spit toothpaste on their favorite boulders.
By the time a blaze finally erupted, torching thousands of acres of federal land to the east, I had become so dumbly entranced by the whiz and squirt of my MSR WaterWorks that it took me a full half-hour to recognize the mushroom cloud of Armageddon. I adjusted the squelch knob on my radio and called in the blaze with all the formal, painstaking details.
"Thanks, Eric," the dispatcher said. "Someone radioed that in an hour ago."
The next summer, thinking that something more active might suit me better, I signed up for part-time work on a meadow-restoration project in North Cascades National Park. But by mid-July I'd concluded that there were just too few people in the wilderness. It was not the right place for my dream job.
AAAH, THE DREAM JOB. Wildlife veterinar-ian, creator of eco-friendly outerwear, private scuba instructor to Heidi Klum—there are so many! And everyone can imagine such a vocation, even someone as successful as Vladimir Nabokov, who, though already famous, still dreamed of curating butterflies for a living. The question, of course, is how to get it.
This is difficult to answer. Throughout history, whether you were fated to be a coal miner or a castrato, you expected work to hurt. Today, with the job market as crappy as it is, it can be especially enticing to picture employment so rewarding that you'd do it without pay. As best I can tell, there are two approaches to making your dream come true.
First, the professional plan: Decide at an early age what your goal is and take the necessary steps. Study chemistry at MIT, intern at Stay Puft, and then win a Nobel Prize for inventing the perfect chocolate-chip marshmallow.
The other approach is bohemian, a more exploratory route popularized by Joseph Campbell's catchphrase "Follow your bliss." If you stay true to your heart, Campbell promised in the 1988 PBS series about his ideas, "doors will open where you didn't know they were going to be."
My mother, whose bliss was apparently business consulting, watched that series. Upon hearing this, she slapped the arm of the sofa, bought the Campbell videos, and subjected my younger sister and me to repeated viewings. This would be our path.
After high school, it was. I eschewed job training at Maine's Colby College for a create-your-own-adventure-type major. "Self and society" was unique in many ways, not least because it was the only degree more unemployable than philosophy, my second major.
Senior year, following my bliss even further, I formed a rebel group called the Ideal College Project, which crusaded against capitalism, apathy, and the college's brochure, among other things. The ICP's bullhorn rallies and direct-action campaigns lasted a couple of glorious weeks before its members quit to study for finals. Except me. I sent our 2,000-word manifesto to everyone from lunch ladies to trustees. My grandiose critique of academics and campus life ("A wash of maundering minds and uncommitted spirits bleach the campus …") promptly crashed hundreds of e-mail accounts. Undeterred, I decided that we of the ICP (meaning I) needed to dramatize the cause with a hunger strike.
Fasting in a tent on the main quad, I gathered petition signatures. The deans responded by tempting me with a bag of glazed doughnuts.
By day five, time was running out (a woman I loved was about to visit), so I pressed the issue by sitting Indian style outside the president's office. Soon, he kindly agreed to respond and I was free to fail the last of my exams.
All of which is to say that, by graduation day 1997, I was excited for Campbell's hidden doors to open—and as prepared as any man can be to live with his parents.
AS FAR AS MY BLISS WENT, all I really knew was that I agreed with Lloyd Dobler in the movie Say Anything: "I don't want to sell anything bought or processed, or buy anything sold or processed, or process anything sold, bought, or processed, or repair anything sold, bought, or processed. You know, as a career. I don't want to do that."
I quickly concluded that being a reporter might be my true bliss. A few "informational interviews" later, I scored a meeting at The Port Townsend & Jefferson County Leader, a 9,000-circulation broadsheet published in a tiny town on the northeast tip of Washington's soggy Olympic Peninsula.
The day I arrived, the front page showed a large photo of the local grocery store with some caption about there being too many seagulls on the roof. In my interview, the editor said that my qualifications—three English classes—suggested that maybe I should start at a smaller paper. Like in a town without a grocery store? I wanted to ask.
A month later, I turned to photography. I didn't go so far as to pull my darkroom equipment out of the attic, but I did admire my most recent photos, 12 rolls taken while studying in Nepal two years earlier.
As I had done before, I wrote nature photographer Art Wolfe, again offering to be his assistant. He declined—for the third time. After no reply from a couple of other pros, I launched my freelance career by giving slide shows at retirement homes.
The shows began when I clicked to the opening slide of Nepal, a gorgeous overhead shot of the Kathmandu Valley in full spring bloom, and ended roughly half an hour later, when the first of the retirees fell asleep. Normally, I'd then collect my $50-to-$150 fee and leave, but one fateful afternoon a youthful retiree heard about my dream. Her son knew the photo editor of The Seattle Times, and she offered to arrange a portfolio review.
A magic door was swinging open! A few days later, clutching my single page of slides, I stood in the middle of the hurricane that was the Times newsroom.
"You must be Eric," the photo editor said, striding toward me. As I remember, he had wavy gray hair and wore a multi-pocketed khaki vest; he looked like he'd just been hunting big game in Africa.
He threw my slide sheet on the light table and dropped to inspect the center photo. Without removing the loupe from his eye, he jumped to an image in the upper left, then hopscotched all over. I smiled proudly during the nanosecond that he inspected my best image, a tight shot of four Newar women clutching an overexposed white blob that might or might not have been a baby. After no more than 30 seconds, he tilted upright, handed me my Kodachrome, and said, "I'm sorry, you have no future in photojournalism."
Well, slam.
DRIVING BACK TO MY PARENTS' apartment in my powder-blue Ford Taurus, I felt oddly elated. Backcountry ranger—too lonely. Reporter—dismal. Photographer—the oracle says no. Having failed at every quasi-practical dream, there was nothing left to do but save the world.
Working 75 hours a week as a Starbucks barista and a framing carpenter, I managed to squirrel away $6,000 in six months.
I headed back to Kathmandu and was promptly turned away by one NGO after another—Red Cross, Office of the UN High Commissioner for Refugees—before heading to a place where I knew I could do some good: Mother Teresa's missions.
I arrived in Calcutta in April of 1998. Mother Teresa had died seven months earlier, but her spirit was very much alive, with posters reading WE'LL MISS YOU, MOTHER covering the city. Some three dozen volunteers and I signed in to the logbook at the central "Motherhouse" on a cool 90-degree morning and then selected our posts.
I opted for the oldest and most famous of the five missions, Kalighat, which is devoted to helping the homeless pass away with dignity. It's housed, I discovered that first day, in a horseshoe-shaped barracks hidden behind noisy roadside stalls selling sweets and plastic toys. Inside the right wing were some 30 women lying on low cots. Left, 30 men. The central foyer housed a concrete kitchen and washroom and a bunch of Norwegians, Australians, Spaniards, Canadians, Japanese, and me—all shuffling around looking for something to do.
Stern nuns in coarse white saris directed us to don aprons and begin the daily routine: bringing the men bananas and cereal for breakfast, helping nurses change bandages, and scrubbing patients' frail bodies in the showers at the back.
After the second day, an 18-year-old volunteer from New Zealand didn't return. I found him lying in his hotel room in the dark, emotionally fried, listening to Ben Harper on headphones, having booked a return flight home.
For me, intimate as it was, the work was almost tediously impersonal. The patients didn't speak English or Nepali; I didn't speak Bengali. Mostly we sat together, not always comfortably. After one of the men appeared to scowl at me, I began to question the sincerity of my motives.
Then, roughly three weeks on, two volunteers stretchered in an emaciated man who was found lying in the ditch in a nearby slum. I shampooed his oily salt-and-pepper hair three times, but the water still ran brown. His hips protruded like whale bones. As I brushed his leathery feet, a yellow toenail simply fell off.
He died later that night. Learning this, I broke down, realized I couldn't hack it—whatever "it" was—and escaped with my shame.
ADRIFT AND DISENCHANTED, I ended up in New York a couple of months later, evaluating my influences. Joseph Campbell? Clearly, some of those unseen portals are trapdoors. Lloyd Dobler? Whatever. Mother Teresa? I tried. Instead of saving the world, I thought, perhaps it might be easier to sell it things.
I took up residence on the wood floor of a friend's apartment, got an interview at an ad agency, and was told that I was probably better suited to magazines. The ad guy handed me off to a colleague at Runner's World, who in turn lateraled me to a friend at Outside.
I'd read the magazine only once, but I remembered liking it. My mood began to brighten. I crafted a cover letter (one that misspelled the editor's name), dived into the copyediting test (using the wrong symbols), and wove an account (unbelievably sappy) of my summer as a fire lookout.
The timing was right. An editor called to inform me that an intern had quit mid-tenure. If I could make it halfway across the country in a week, his job was mine.
"Thank you so much," I gushed. "I know I don't have a lot of experience, but I'm a hard worker and a quick learner and I think—"
"Listen," she interrupted. "You're not qualified. Just keep your mouth shut and your head down and you'll do fine."
I followed the editor's instructions—what I lacked in talent, I tried to make up for with hustle. Because at that point, it was a dream job, the profoundest bliss.