Survival Stories from the Maui Wildfires
After wildfires devastated the town of Lahaina, mutual aid and community support have proven to be more robust than governmental aid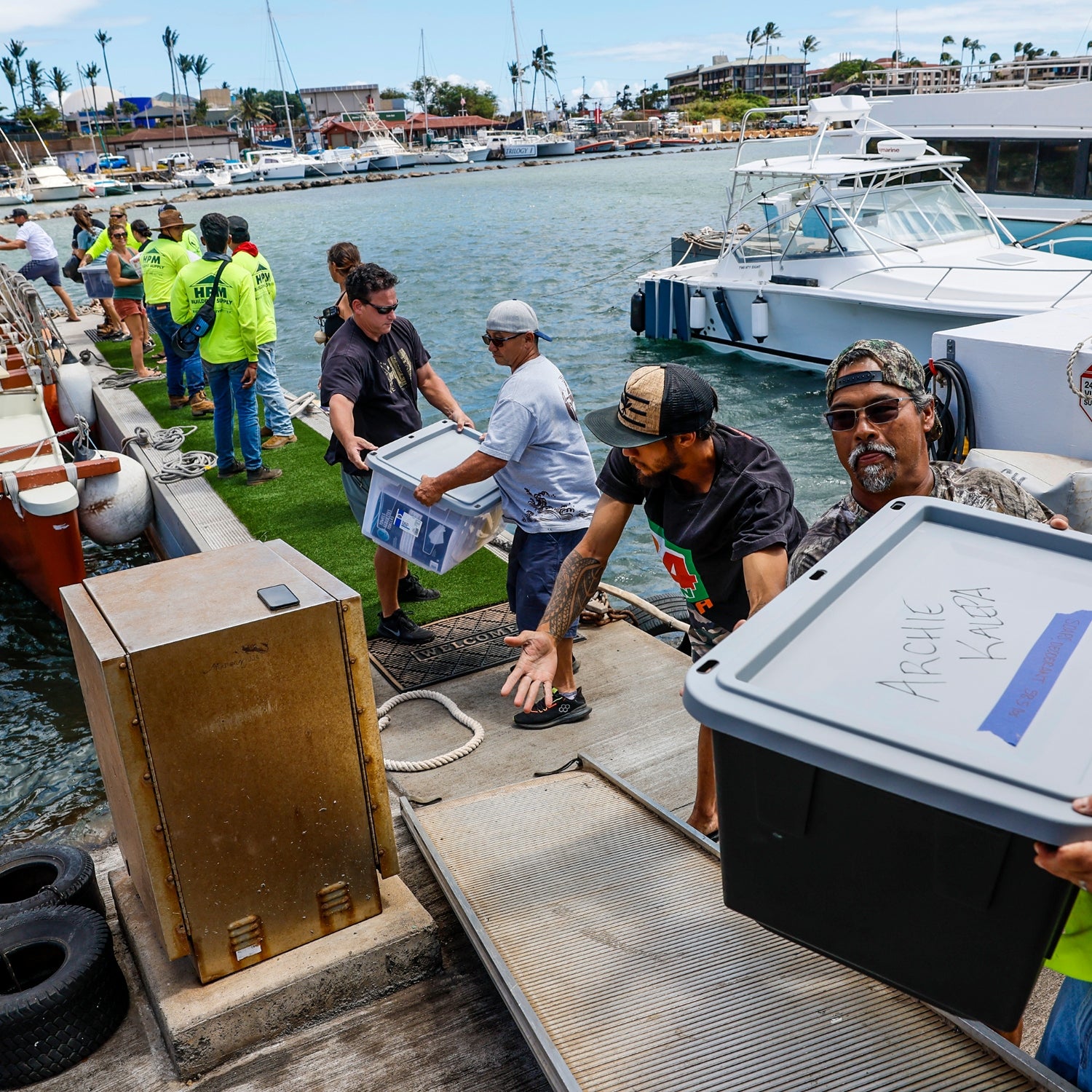 Robert Gauthier/Los Angeles Times/Getty Images
Heading out the door? Read this article on the new Outside+ app available now on iOS devices for members! Download the app.
Cole Millington was already racing away from a fast-moving wall of flames in his pickup truck when his phone buzzed with an evacuation notice on the afternoon of August 8. The warning, which never made it to most Maui residents, came far too late. "If I hadn't used my instincts and kicked into survival mode, I wouldn't be here," says the 26-year-old Lahaina resident and owner of Honolua Hot Sauce Co.
At around 4 P.M., Millington had noticed a giant plume of black smoke outside of his apartment window. Given the island's flash drought conditions and that day's hurricane-fueled wind gusts, he knew he was sitting in a tinderbox. "Within 10 minutes of seeing the smoke I grabbed my laptop, passport, and dog and was in my truck as my street started to catch fire," he says.
Millington navigated through thick smoke and downed power lines attempting to drive south out of Lahaina only to be snarled in gridlock traffic with just one eighth of a tank of gas. He watched in his rearview mirror as flames hopped the street and began rushing toward his 1994 Toyota Tacoma. "My truck is so old I worried it would explode," he says. "At one point I considered getting out to run." After three terrifying hours, he made it to a friend's house in the nearby town of Kihei—the drive typically takes 25 minutes—only to receive an alert one hour later saying it was also ablaze. "It felt like the whole island was on fire," Millington says.
Millington lost his home and business but is safe and staying at a one-bedroom home in Waihee-Waiehu with 14 other Lahaina residents who lost everything. "People are sleeping on the floor or in tents on a gravel driveway and sharing one bathroom but we're more fortunate than many others," he says.
Last week, multiple wildfires raged on the island of Maui, decimating communities, displacing thousands, and leaving more than 100 dead. The blaze that decimated the historic town of Lahaina is now the deadliest U.S. wildfire in over a century, with the most recent death toll at 106 and approximately 1,300 people still missing. Hawaii governor Josh Green has warned that the number of fatalities is expected to rise. Around 2,200 structures—86 percent of them residential—were destroyed. Survivors are still reeling from the trauma and questioning why evacuation efforts weren't better coordinated.
When Rachael Zimmerman, 34, woke to window-rattling winds at 4:45 A.M. on August 8, she saw flames on the hillside above her condo on Front Street, Lahaina's main strip, and immediately called 911. The fire department called her back 15 minutes later to say they'd put the fire out. Zimmerman went back to bed. By 8 A.M. she and her partner realized that their home, which they had purchased in 2022, was without electricity. At 3 P.M. they noticed a blanket of dark smoke moving in and within minutes were in their car.
"Smoke was everywhere and no one knew where the fire was," Zimmerman says. She and her partner drove with masks and sunglasses on to protect themselves from the smoke. After driving in circles they hugged the coast, in case they needed to seek shelter from flames in the ocean. "Then we saw the ocean was on fire and people were still jumping in the burning water because they had nowhere to go," she says. Like Millington, Zimmerman and her partner traveled to a friend's home in Kihei, only to be alerted of another possible evacuation. "We didn't sleep that night, we were so afraid," she says. Zimmerman lost everything and has applied for financial aid from the Federal Emergency Management Agency (FEMA).
Lahaina resident Kekoa Lansford, 37, couldn't bring himself to leave people behind in the burning town. He loaded distraught residents into the back of his pickup truck, drove them to a safe area where another vehicle was waiting to transport them to safety. Lansford drove back into the burning town to rescue more people at least five times before the flames became too dangerous.
"It's hard to even talk about what I saw," he says. "People were dying in the streets. People were burning because they were trapped in cars. The last people I helped before it got too crazy ended up being the parents of a childhood friend."
Lansford, a native Hawaiian, was born and raised in Lahaina and lost the family home his grandmother left to him. His uncle Joe is still among the missing. "People think of Lahaina as a tourist town but this is our spiritual home," he says. "It was the capital of the Hawaiian kingdom. Our ancestors are all here and now this place has been lost."
Federal officials estimate the cost of rebuilding Lahaina to be approximately $5.5 billion. The fires impacted other parts of the island as well. A blaze burned 19 homes and 675 acres in a region called Upcountry, which sits on the western slopes of Mount Haleakala. Fires across the island are still not contained, and Upcountry residents don't have access to safe water.
Daniel Sullivan, a local photographer and resident of the Upcountry community Kula, had his car packed and was ready to evacuate with his two sons the night of August 8. "I sat on my roof hearing trees crack and gas tanks explode," he says. "It was surreal." Sullivan is lucky—his home survived. But after driving the island to photograph the fires, he's been left without words to describe the destruction he saw. "Lahaina was the symbol of our island and it's been wiped off the map," he says.
Residents have been appalled by the sluggish speed at which aid and assistance have come in. For nearly three days after the fires, residents were largely left to fend for themselves. Renowned Maui-based surfer Kai Lenny went on daily news show CBS Mornings to express his anger. "Everyone was waiting for the government to show up," Lenny said, telling the news outlet that the local communities have taken recovery efforts into their own hands.
Kaili Scheer, 37, who owns a restaurant in upcountry Maui with her husband Jeff, was also critical of the government response. She posted to Instagram: "72 hours later. Where is the Navy. The hospital ship. Helicopters. The military. We are crowd sourcing our own relief and we are damn good at it but people are starving and stranded and large scale support is needed now."
Scheer says the community has come together to help everyone in need. "Not a single person has been idle," she says. "Every nurse I know is volunteering. All of the chefs on the island have created a kitchen to feed people. No matter where you go, everyone hugs each other."
Samantha Campbell, the owner of Deep Relief Peak Performance Athletic Training Center in Haiku, a town on Maui's north coast, is offering free injury evaluations for first responders and complimentary children's classes to those affected by the fires. Jennifer Yi, owner of a Lahaina surf shop that burned down, raffled the store's one remaining board to raise funds. Local kids have been holding bake sales on the streets in unaffected neighborhoods.
Caitlin Carroll, 27, an employee at Pacific Whale Foundation, has been unloading crates of insulin, diapers, water, and gas at Maalaea Harbor on Maui's southern coast. Carroll, who lost her home in the blaze, says the community effort has been incredible. "Everyone is coming together to help," she says. "It's going to be a long road to recovery, but when you know your community has your back and you see everyone helping, it makes it easier to stay positive."
The future is uncertain for Maui residents. Maui relies heavily on tourism, with 51 percent of its jobs related to the sector, and high season is fast approaching. In his latest emergency proclamation, Governor Green has urged travelers to postpone all non-essential travel to West Maui, which includes the popular resort areas of Napili, Kaanapali, Kapalua, and Lahaina. Hotels in this area have temporarily stopped accepting bookings on future reservations so they can house employees, evacuees, and first responders. Vacation rental owners have also been encouraged to make these accommodations available to those who have been displaced.
The fires have exacerbated Maui's housing shortage, which was so severe that Governor Green declared a housing emergency just three weeks before the blaze. Home prices on Maui are around three times the national average. The median sales price for a home in June was $999,000, up nearly 55 percent from the same month in 2019, according to Redfin Corp. data. Some residents say they've already received calls from developers and investors inquiring about buying their fire-ravaged land. Governor Green says he's asked the attorney general to explore a moratorium on sales of damaged properties. Reconstruction of homes and businesses will also have to take into account fire risk that it hasn't in the past, adding to the already inflated construction market.
As the island creates a road map for the future, there's concern that native voices will be left out of decision making. "Native Hawaiians lost hundreds of years of culture and generational homes," says Carroll. "They are the ones who should be making decisions for Lahaina." Kainoa Horcajo, a cultural consultant and volunteer at Maui Rapid Response, echoed the sentiment. He says that many in the Lahaina community believe that native Hawaiians should lead rebuilding efforts.
Horcajo has been a voice of calm and order for Maui, posting frequent updates on his personal Instagram page as well as on Maui Rapid Respone's page. As the island moves forward, he's encouraging both residents and future visitors to embrace compassion, understanding, and aloha. "We've always told visitors, if they come to Maui they have a kuleana [responsibility] to be respectful of the land and our people," he says. "That message hasn't changed.'
Ways to Help Those Affected by the Maui Wildfires
Get involved in-person:
If you're based in Hawaii, you can sign up to volunteer with Maui Rapid Response by completing this form. Their work spans sectors including housing and shelter, food distribution and donation, transportation, shipping, and more. MRR team members will review and vet your application and assign you to the appropriate sector based on your skill set. All funding disbursement and actions are being led by the native Hawaiian group MRR Kanaka Hui.
You can volunteer to produce, cook, and distribute food with Chef Hui. Sign up here.
You can peruse the Maui Mutual Aid Resource Directory
Donate to a Maui Rapid Response–verified fund:
Maui Mutual Aid: Grassroots monetary fund being distributed quickly to vulnerable residents in need
Maui United Way: Maui fire relief fund to directly support those impacted by the fires
Maui Strong Fund: Hawaiʻi Community Foundation's fund for disaster response and recovery
Lead Photo: Robert Gauthier/Los Angeles Times/Getty Images