Sponsor Content: American Lamb Board
Meet the Shepherds Helping the Planet
Some unlikely new heroes are fighting climate change: American sheep and the people who care for them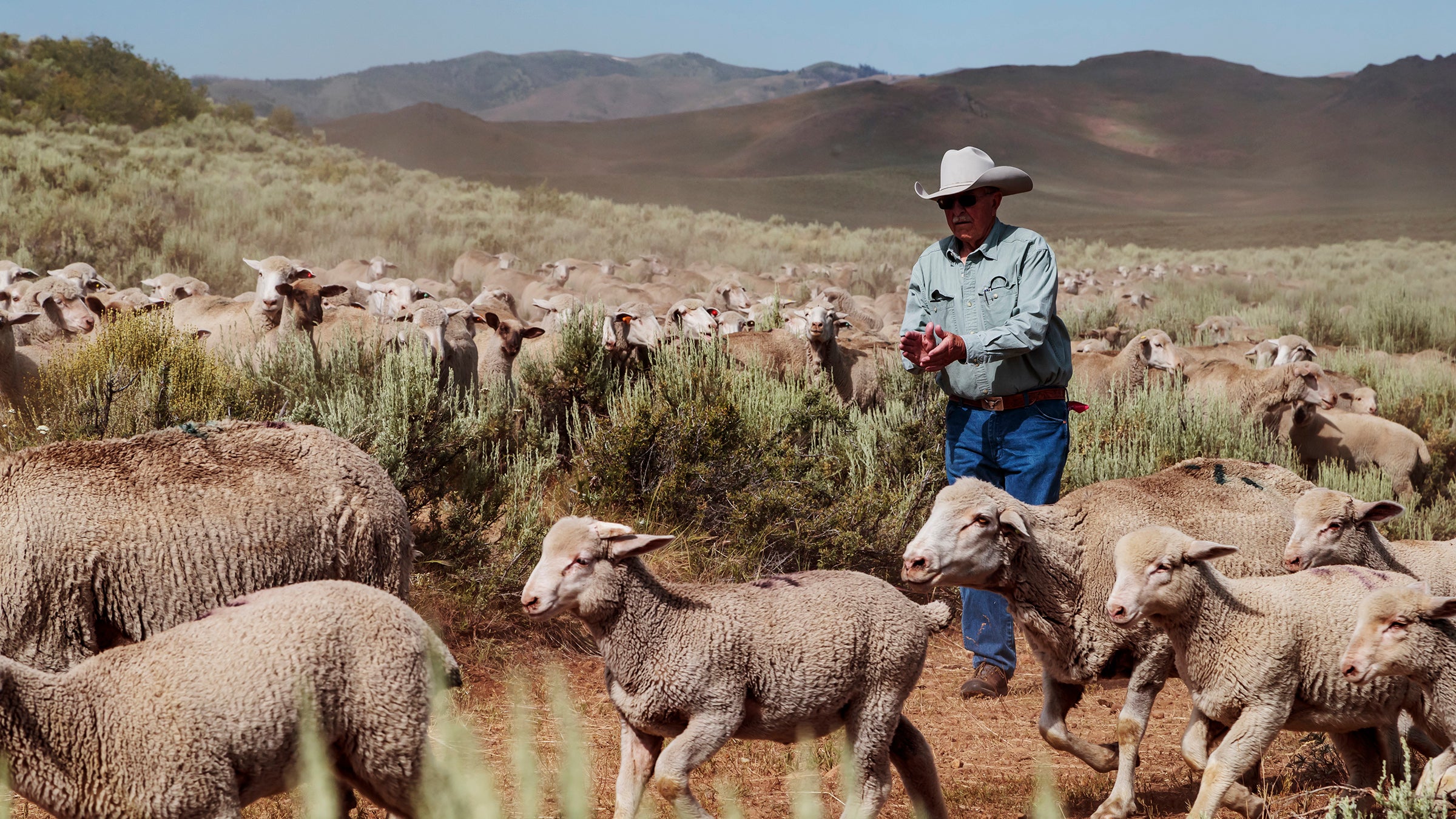 American Lamb Board
It's noon on a Friday, and Jared Lloyd is tromping around the grounds of an Oregon vineyard, hunting down a rogue ram. The grass is wet from recent rains, and moss hangs thick in the trees. It's impossibly lush—not the kind of place Lloyd expected to work when he started raising sheep on a dry Colorado ranch more than a decade ago. But over the past few years, he's realized that in the vineyards, he can use his flock to effect real, systemic change—for local farmers, his animals, and the land alike. 
Lloyd is among a growing cadre of American lamb farmers who have chosen to use their sheep not just to make money but to protect and regenerate some of America's most treasured landscapes. Across the United States, sheep are being used to remove invasive species, increase biodiversity, support wildfire prevention, and make other industries more sustainable. And according to Lloyd, this is just the beginning of an environmental movement he's been waiting decades to see.
Better Wine, Stronger Sheep
Take the vineyards, for example. When a vineyard hires Lloyd's sheep, it's able to replace mowers, fertilizers, and herbicides all at once. Unlike machinery, sheep require zero diesel fuel to operate. And unlike herbicides, they're certified toxin-free.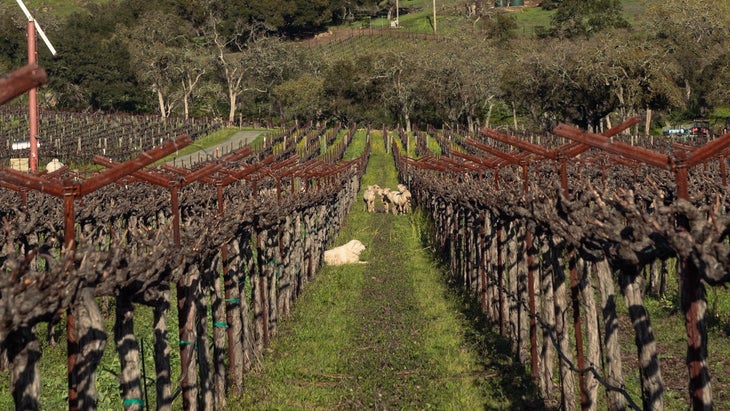 Using sheep doesn't just spare the soil from unnecessary wear and tear. It also helps save the vintner a ton of money (at least $100 per acre, by some estimates). It's a symbiotic relationship that yields more naturally grown grapes, stronger sheep, and a healthier landscape—win, win, win.
Research backs up what Lloyd has seen on the ground. According to a grazing report conducted by the University of Idaho, soil health, water capacity, and biodiversity all increase when sheep graze on agricultural land. Another recent study shows grazing can also be good for carbon capture. According to the research, soil is better able to capture and hold carbon after sheep grazing (and, presumably, the liberal distribution of their droppings).
Soil Rehab
Shepherd Alan McAnelly has seen these changes in his own fields. A few years ago, the longtime veterinarian decided to retire on a patch of land near Hamilton, Texas—only to find that the soil had been sucked bare of nutrients by decades of irresponsible cotton farming. So he got a few sheep to combat the invasive weeds, which was about all that would grow there. Over the last few years, McAnelly has seen the impossible happen: the ground is becoming rich and soft again, and he's able to farm cover crops to further nurture the soil. 
The U.S. is covered in land that's been overgrazed, overworked, or otherwise depleted. Sheep are a proven method of naturally restoring soil to a level that can support healthy vegetation. That's because they're portable and nimble—they're easy to transport and have no trouble scooting around on steep or rocky slopes. They'll also eat just about anything, including thorny plants, thistles, and invasives that are a pain to remove by hand. And unlike other ag methods, there are few bad side effects, explains Judy St. Leger, a Cornell professor, trained veterinarian, and sheep farmer in upstate New York. 
"Spreading manure increases the nitrogen content in the soil without adding too much nitrogen," she explains. St. Leger's land has been an active farm since the 1700s, but when she and her husband took it over 13 years ago, it needed some rehab. "The soil had eroded down to the bedrock," she says. Now, after targeted grazing, native plants are coming back. 
Solar Grazing
Sheep are also small enough to fit under solar panels. That's a feature St. Leger has found especially handy. A few years ago, she started sending her flock out to graze beneath solar arrays in New England. The practice, called solar grazing, is a particularly ingenious way of doubling the economic value of land used in renewable-energy production. 
"There are always concerns about losing American farmland to solar arrays, but with solar grazing, that doesn't have to be the case," she explains. "From my perspective, the preservation of American agriculture is important, and supporting small farms is important, and solar grazing is a really neat way to do both."
Using Flocks to Fight Fire
The California operation Shepherdess Land and Livestock is one of the groups dedicated to battling the West's growing fire problem. The outfit is helmed by Brittany Cole Bush, a SoCal-raised leader in regenerative agriculture. Decked out with long dark hair, dirt-streaked arms, and a leather hat, Bush has pretty much single-handedly made shepherding cool again, especially among the urban California crowd. 
But the cooler thing is that she's literally using sheep to save her state from disaster.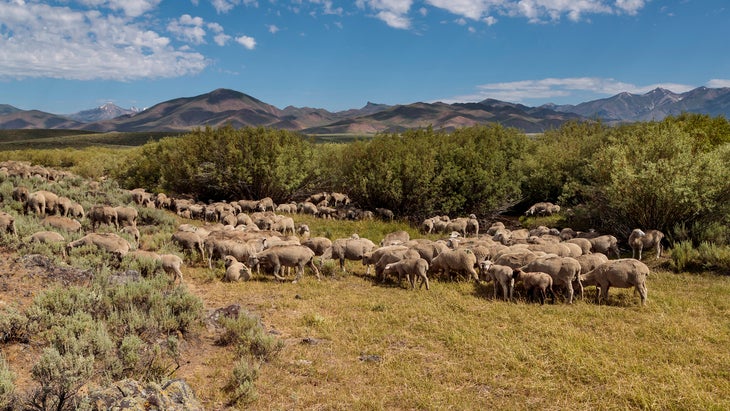 Shepherdess Land and Livestock specializes in prescribed grazing for fire prevention. SLL's herds thin the vegetation from rugged hillsides, balancing out native plant mixes and making the landscape more fire resistant. It's a solution Bush says couldn't be more timely.
"Right now in California, we're seeing the impacts of climate change, and nature-based solutions are absolutely required to meet what we are facing as a society," she says. Better yet, she says, shepherding is a community solution. It not only fights fires but localizes food and fiber production, making communities stronger and more self-sustaining in the process.
How Sheep Benefit Too
The other cool thing about prescribed grazing is that it's not just good for the land; it's also good for the sheep. Since he started grazing instead of feeding out hay, Lloyd has seen dramatic improvements in the health of his animals. The sheep require less medication, and they have fewer mineral deficiencies. All that translates to higher-quality wool and higher-quality meat. 
That's the magic of the whole thing, Lloyd says: regenerative grazing basically turns thorny, noxious vegetation into nutrient-dense, locally raised food. And because Lloyd's lambs are grass-fed and pasture-raised, they have an extremely high quality of life from birth until harvest. 
The only problem: there aren't enough shepherds to meet the growing demand for regenerative grazing, Bush says.
To help close that gap, she recently launched a new trade program called Grazing School of the West, which aims to train the next generation of regenerative shepherds. With the recent tech layoffs across California, she says, you never know who might turn up looking for a career change.
"And it's such a rewarding career," she says. "There are so many magical moments that only a shepherd gets to see, whether that's wildlife, the changing colors of the sky, or the way the landscape shifts from season to season. What I want, more than anything, is for other people to find that spark of light and purpose—and those moments that shepherding has provided me."
---
Grounded in history and tradition—rather than trend—the American Lamb story comes from a rich heritage of animal stewardship, conservation, and an enduring commitment to help shape a food culture based on flavor, quality, humanity, and sustainability. Americanlamb.com
Lead Photo: American Lamb Board
Trending on Outside Online