Montana's Wildfires Are Raging and Barely Contained
Wildfires have burned more than a million acres in the northern Rockies—and it could get even worse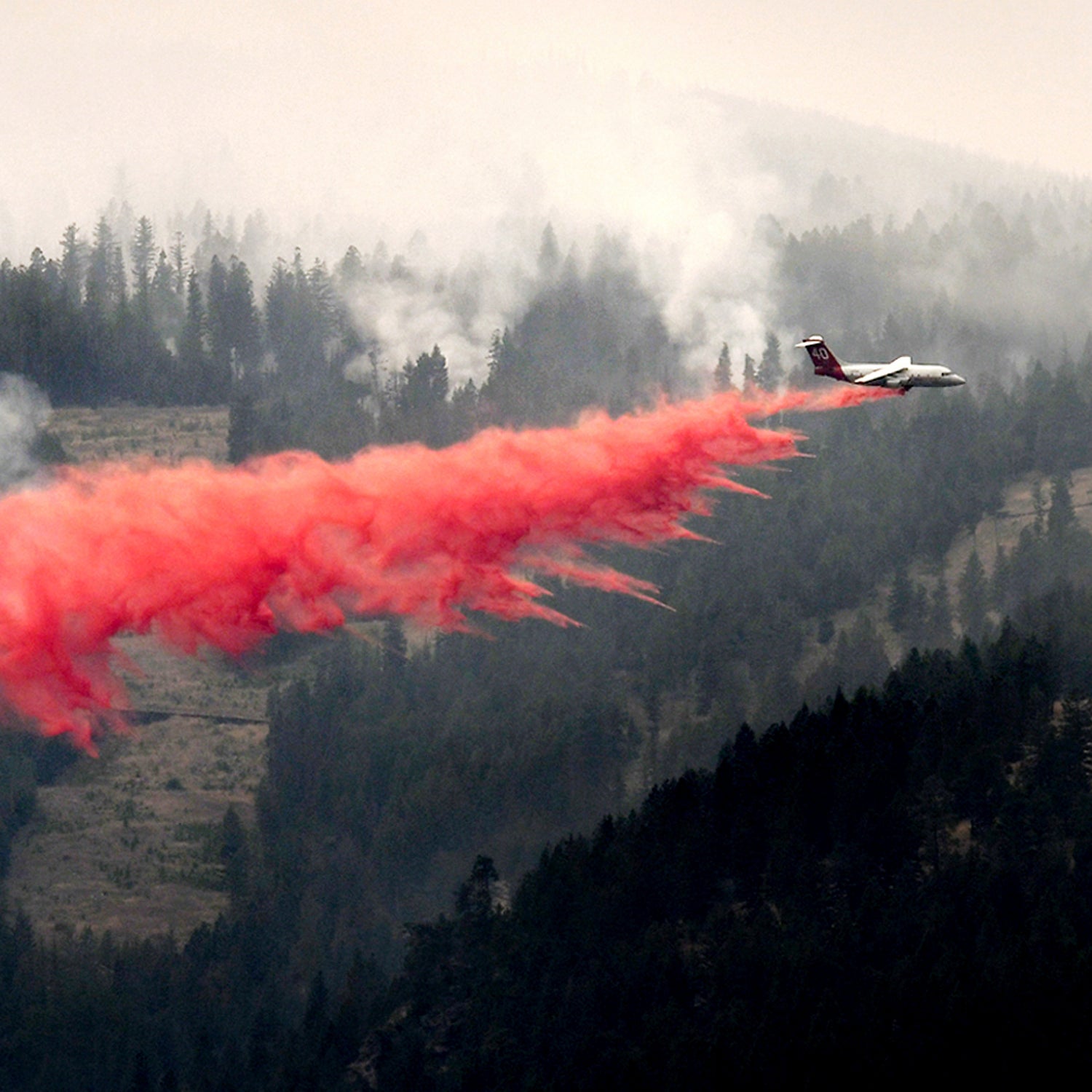 Kurt Wilson/The Missoulian via A(Photo)
Heading out the door? Read this article on the new Outside+ app available now on iOS devices for members! Download the app.
This weekend, the community of Seeley Lake, Montana, was supposed to be hosting the Norman Maclean festival, in honor of the author of A River Runs Through It and Young Men and Fire. Maclean wrote the book that made Missoula's rivers famous in a cabin here; his son, John, has used the cabin as a base while writing about deadly wildfire. But the festivities have been moved to Missoula, where the smoke is a little less thick.
Much of Seeley Lake has been evacuated due to the Rice Ridge Fire, a 120,759-acre fire that's been burning since July 24, has so far cost $32.6 million, and is just 5 percent contained. Its western edge is just a couple miles from the high school. Just about 15 miles to the west is another blaze, the Liberty Fire—current size and price tag: 23,053 acres and $16.6 million. Seeley Lake has become a makeshift operating base for an interagency team of 725 Forest Service firefighters, water tenders, and excavator operators, as well as private contractors, all working long hours through one of the most devastating fire seasons in recent memory.
Women and men from the National Guard zip around in fatigues, while in Cory's Valley Market firefighters with smudged faces and cargo pants buy soda. The air has a thick and pale yellowish sheen. An air quality specialist recently dubbed it "a hideous brown spiral of misery and despair."
"If the fires weren't going we'd probably be in a hurricane," a public information officer for the Forest Service named Mike Cole told me, with something like a sigh.
With the Gulf recovering from a deadly hurricane, Florida preparing for one, and Mexico rattling from a magnitude 8.2 earthquake, it's easy to forget that the West is on fire. Large swaths of Oregon, California, Washington, Idaho, and Montana are burning. In Montana, more than one million acres have burned, and some residents have complained about a lack of attention from national media. Yesterday on the radio, an expert cheerily noted that it's so dry in Glacier National Park that rocks are catching fire. The moon is the color of a plum, the sun a bit lighter.
This summer, two firefighters have lost their lives in Montana, one of them a 19-year-old hit by a tree near Seeley Lake in July. So far, further tragedy has been avoided, but only just: last Saturday, three firefighters (including two hot shots) on the Liberty Fire temporarily deployed their shelters before winds shifted, allowing them to escape to a safe zone. They've since left Montana, replaced by the next round of cavalry. The flights in here are full of firefighters—from West Virginia, Vermont, New Hampshire, all coming to do their 14-day stint on the line.
The weather forecast suggests that they'll keep arriving for the foreseeable future. The smoky inversion hovering over the area has made for grim breathing, but it's scheduled to lift this afternoon, bringing new worries: the forecast calls for potential thunderstorms, followed by winds that could fuel the flames. "Stay tuned," Cole said, "when the weather changes."  
Lead Photo: Kurt Wilson/The Missoulian via A