The Mystery Behind a Photo of a Logged Old-Growth Tree
You might think that British Columbia's oldest forests are protected from commercial interests. You're wrong.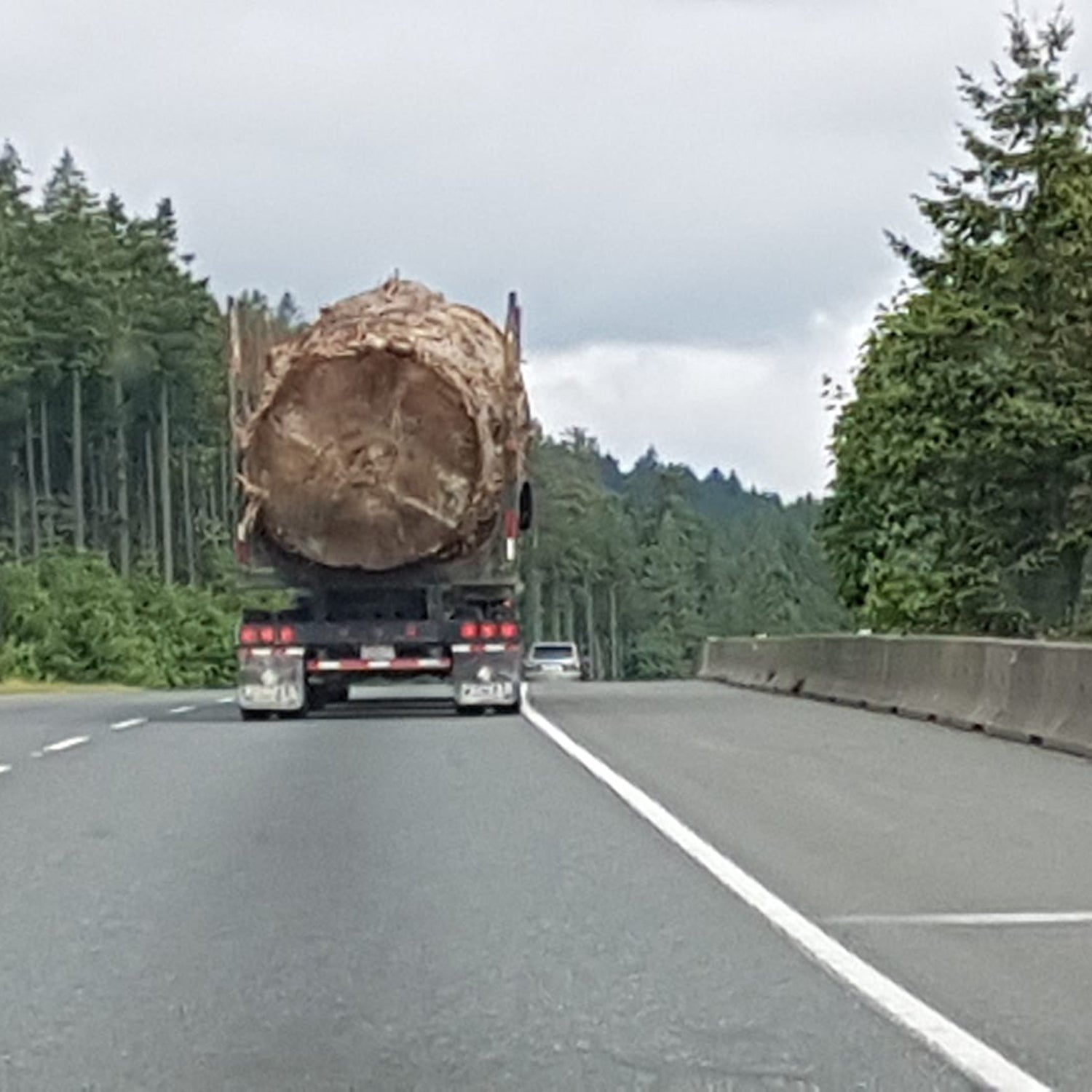 Heading out the door? Read this article on the new Outside+ app available now on iOS devices for members! Download the app.
In May, a photo of a massive tree trunk in the back of a logging truck on a Vancouver Island highway went viral, sparking outrage and disbelief from as far away as Japan. Canadian news outlets raced to confirm whether the photo was real and to report the tree's backstory—which remains a mystery.
Lorna Beecroft, a resident of Nanaimo, a city on Vancouver Island, British Columbia, took the photo on May 25. She was stunned by the tree's size and snapped the picture to show friends on Facebook. "I have never seen a tree that big on a truck," she told CBC News. In the U.S., most remaining old growth—defined as having developed over long periods of time without catastrophic disturbances—is protected in parks and reserves, such as Olympic National Park in Washington and Redwood National Park in California. In some countries, like New Zealand, it's illegal to log old-growth trees. Canada doesn't technically prohibit old-growth logging, but the British Columbia government has restrictions in place, including a Special Tree Protection Regulation, which went into effect September 11, 2020, to prevent logging the province's largest remaining trees.
The log Beecroft photographed was a Sitka spruce. The species, together with Douglas fir and western red cedar, form Vancouver Island's triumvirate of ancient giants. Given the right conditions—in this case a valley bottom on the coast—these trees can live for thousands of years and grow to the size of grain silos. With 12,000 square miles of terrain, much of it largely undeveloped and rugged, Vancouver Island is home to the world's largest Douglas fir, at 242 feet tall and 14.3 feet wide, and the second-largest Sitka spruce, which is 205 feet tall and nearly 12.5 feet wide. Both are believed to be at least 1,000 years old. Trees of this size are not just awe-inspiring, but they also serve as carbon sinks, biodiversity wellsprings, and climate-change buffers.
Chek News, a local station, reported that the log turned internet sensation was destined to become guitar components. On the day Beecroft photographed it, the log was on its way to a specialty mill owned by Acoustic Woods Ltd., a manufacturer of acoustic guitar soundboards and other musical-instrument parts. Ed Dicks, the company's president, told Chek News that the log was the trunk of a tree that measured about seven feet in diameter. It would produce about 3,000 guitar soundboards. Dicks said he purchased the log unseen, as part of a package, in the fall of 2020, but he didn't know where exactly the tree had been felled, other than somewhere on the north side of Vancouver Island.
B.C.'s Ministry of Forests, Lands, Natural Resource Operations and Rural Development confirmed that the log came from a cut block on north Vancouver Island. In an emailed statement to several news outlets, including Outside, a ministry spokesperson said the tree was cut by Canadian lumber company Western Forest Products sometime between March and mid-August of 2020—before B.C.'s Special Tree Protection Regulation went into effect. "Government brought in this regulation to protect exceptionally large trees of all species throughout the province," the ministry statement said. "Today, a tree of this size might well be illegal to harvest under the regulation, and fines of up to $100,000 could be imposed if it was."
But environmentalists disagree, saying this tree wouldn't be protected under the new law. A representative for Sierra Club BC told reporters that the tree wouldn't have been considered large enough to save, according to the new rule. The regulation prohibits the logging of Sitka spruce that have a breast-height diameter of 9.3 feet or more. As large as the photographed log that went viral appeared—it took up the entire bed of the logging truck—it wouldn't have been spared. And per the regulation, a western red cedar would need a diameter of more than 12.6 feet to gain protection, a width that would require it to be cut in half lengthwise to fit a logging truck bed. "The thresholds were intentionally set so high that they only protect the very, very biggest trees that are out there," says TJ Watt, cofounder of the Vancouver Island–based Ancient Forest Alliance. "It was designed to have as minimal impact on industry as possible."
At the same time, Western Forest Products, the company whose timber mark, according to the Forest Ministry, was on the Sitka spruce log, claims it had nothing to do with it. "Western has completed a review of the specific circumstances of the big tree pictured and shared on social media," spokesperson Babita Khunkhun said in an emailed statement to the Tyee on May 29. "The tree was not harvested from Western-managed tenures. Western remains deeply committed to protecting big trees and has a comprehensive policy and operational procedures in place to actively identify and protect big trees on our tenures."
The Forest Ministry, in response, has launched an investigation. "We will be working with Western Forest products on their claim that they do not have records showing that they were involved in the harvest or transport of this tree," a ministry spokesperson told Outside via email.
The viral photo and its mounting mystery have added fuel to an already white-hot standoff on southern Vancouver Island, where more than 170 forest defenders have been arrested since May 17. An organization that calls itself the Rainforest Flying Squad is managing blockades on logging roads into Fairy Creek and Caycuse, two adjacent old-growth watersheds near the town of Port Renfrew. Fairy Creek is said to be the last unprotected, intact old-growth watershed on southern Vancouver Island. Both valleys are home to trees that rival the world's largest. "No matter what government or industry tells you, they're still logging old-growth forests on huge scale across Vancouver Island and B.C.," says Watt. "Trees that would shock people just as much as that image are still being cut down."
Lead Photo: Courtesy Lorna Beecroft/Facebook