Up Next
A High-Desert Stunner Gets Fast-Tracked as the Next National Park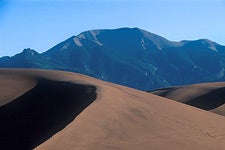 Abrahm Lustgarten
Heading out the door? Read this article on the new Outside+ app available now on iOS devices for members! Download the app.
WHAT'S THE MOST likely place for the next national park? Sites in northern Maine, Hawaii, and coastal southern California have strong backing, but the best bet is the mountainous desert of south-central Colorado, home to Great Sand Dunes National Monument and Preserve, an 84,000-acre enclave of high-altitude dunes nestled against the Sangre de Cristo mountains. When the ribbon is cut—perhaps as early as 2005—a remarkable coalition of conservatives, liberals, ranchers, and environmental lobbyists will join hands to take credit.
Your Official National Parks Pass
From Acadia to Zion, 70 surefire ways to climb, kayak, trek, dive, sail, fly-cast, and generally bliss out in the backcountry heaven of
America's great parks
.

Great Sand Dunes National Monument and Preserve, Colorado

Park building can be a Herculean struggle, with conflicts over state sovereignty, land rights, and resource extraction, but this time a distant enemy inspired local cooperation. In the mid-1990s, a consortium of Rocky Mountain stockmen and California financiers revived the 17-year-old idea of tapping the waters of Baca Ranch—a 151-square-mile Spanish land grant that abuts Great Sand Dunes—and piping it to California, Arizona, and urban Colorado. The water grab inspired Colorado's congressional delegation to push through the Great Sand Dunes National Park Act of 2000, which locked down the dunes as a new national monument. The act also stipulated that if the Baca Ranch should ever fall into federal hands, the whole shebang would be combined to create the Great Sand Dunes National Park and Preserve and the Baca National Wildlife Refuge.
That's about to happen. Last January, The Nature Conservancy signed a purchase agreement to buy Baca for $31 million; Congress is expected to buy it from The Nature Conservancy within three years and establish the park. What the public will get, says Nature Conservancy spokeswoman Jordan Peavey, is the highest sand dunes in North America—some reach 750 feet—and 14,165-foot Kit Carson Peak. Motivated visitors will be able to climb from desert floor to snowcapped summits in a single day.