A 71-Year-Old Man Is Accused of Sparking a Catastrophic Wildfire Near Yosemite
Investigators say Edward Frederick Wackerman intentionally started the 2022 Oak Fire. The blaze burned more than 100 homes just outside the national park.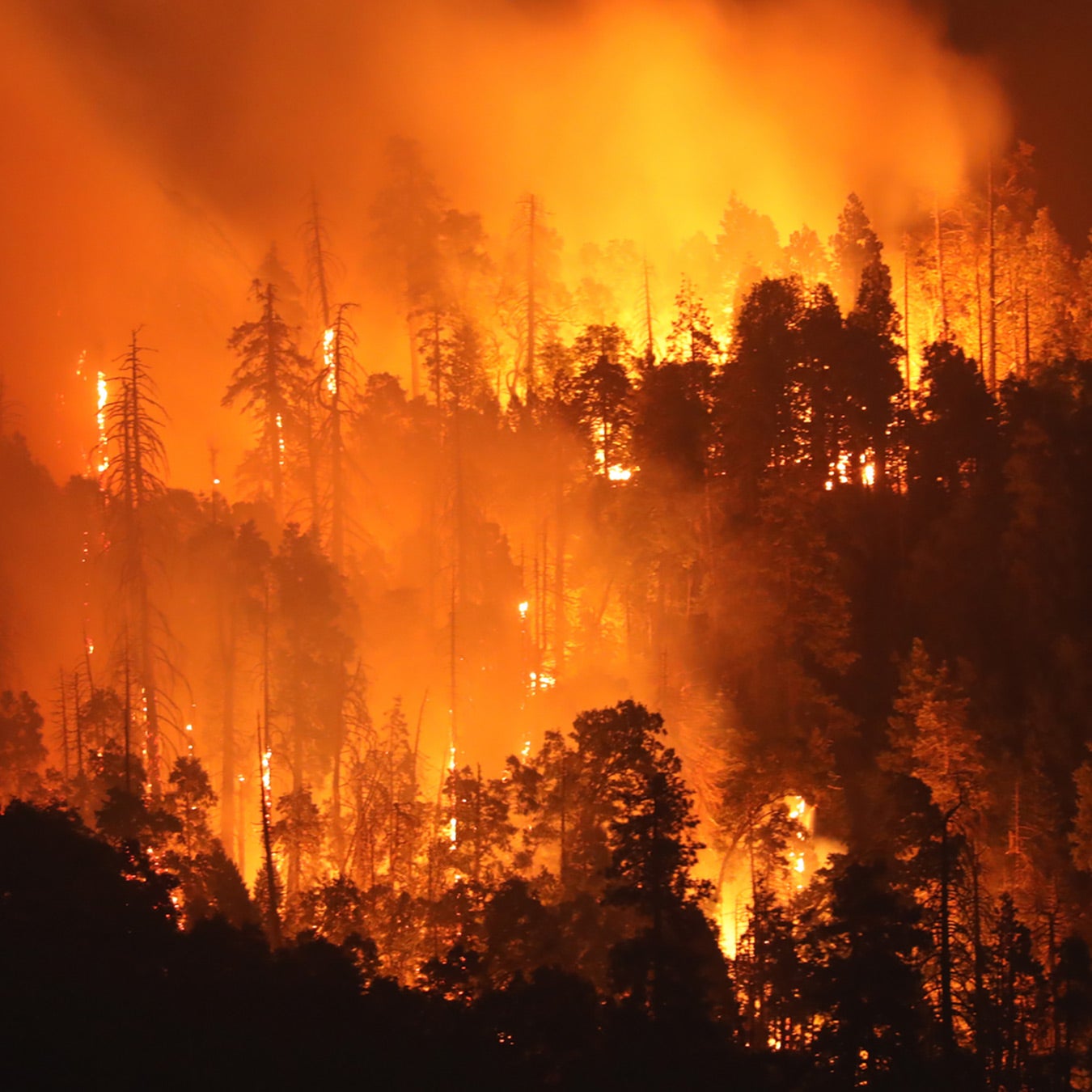 Bloomberg Creative/Getty Images
Heading out the door? Read this article on the new Outside+ app available now on iOS devices for members! Download the app.
Residents in California's Mariposa County will remember the summer wildfires of 2022 for years. Five major blazes swept across the county last summer, ravaging the western slope of the Sierra Nevada. None were as destructive as the Oak Fire, which charred 127 homes, 66 other structures, and nearly 20,000 acres near Yosemite National Park during late July and early August.
Writer and rock climber Chris Van Leuven chronicled the fire's furious early days in a personal essay for Outside after he narrowly escaped the roaring flames with his 100-pound Boxer, Fenster. The fire torched Van Leuven's house and those of his neighbors, leaving him just a few minutes to pack up his belongings and flee. "I was absolutely in love with that region, which climbs into Jerseydale and the Sierra National Forest," Van Leuven wrote. "Now, everything is gone."
A recent development in the investigation added a new chapter to the fire's bitter history. On Tuesday, county District Attorney Walter Wall held a short press conference and stated that law enforcement agents had arrested longtime Mariposa Count resident Edward Frederick Wackerman for intentionally setting the Oak fire. Wackerman, 71, was arrested on Friday, June 16 for multiple felonies, including aggravated arson and arson that caused great bodily injury. Nobody was killed in the Oak Fire, however authorities said the blaze caused several injuries.
"We can't take back the devastation that occurred, but we are confident in the investigation, and confident that the individual arrested is responsible for it," Wall told reporters.
Early reports said the fire began just after 2 P.M. on July 22 near Midpines, a collection of homes and business on Highway 140 about 25 miles west of the national park. Officials initially did not know what sparked the blaze, and media reports from the fire's first week cited the bone-dry conditions for allowing it to spread so quickly.
Wall and county sheriff Jeremy Briese were otherwise tight-lipped in the press conference, which lasted about 15 minutes and was streamed live on Facebook. They declined to discuss specifics of the 11-month-long investigation that ultimately led to Wackerman's arrest. They did not reveal details of how Wackerman allegedly ignited the blaze, or whether he had a motive for sparking a fire during a historically dry and hot stretch—instead they asked the public to allow prosecutors to attempt to convict Wackerman. One reporter asked Briese if Wackerman had previously worked as a firefighter.
"I believe the answer is yes," Briese said, before declining to give further details.
Briese did say that the investigation that ultimately nabbed Wackerman included nearly half a dozen government agencies, including the Federal Bureau of Investigation, the National Park Service law enforcement division, and California Fire Department. Wackerman is being housed in the Mariposa County jail, and he will be arraigned later this week.
News of Wackerman's arrest generated national headlines, and none were as eye-popping as that of the New York Post, which stated "Man, 71, charged with setting massive Yosemite park fire initially blamed on climate change." Researchers have published ample material on the historically hot and dry conditions that the parts of the Western United States encountered in 2022. The year began with California's driest January, February, and March on record, and later the state saw highest-ever temperatures recorded in multiple cities. Temperatures reached 108 Degrees Fahrenheit that day. Easterly winds whipped flames across meadows and forests. Officials evacuated more than 6,000 residents.
At the fire's peak, Cal Fire had more than 2,000 firefighters working to contain it. The blaze was finally contained on August 5.
California governor Gavin Newsome declared a state of emergency for Mariposa County, which allowed officials to secure financial assistance from the Federal Emergency Management Agency.
Lead Photo: Bloomberg Creative/Getty Images
Trending on Outside Online