One Photographer's Mission to Capture America's Tumbleweed Invasion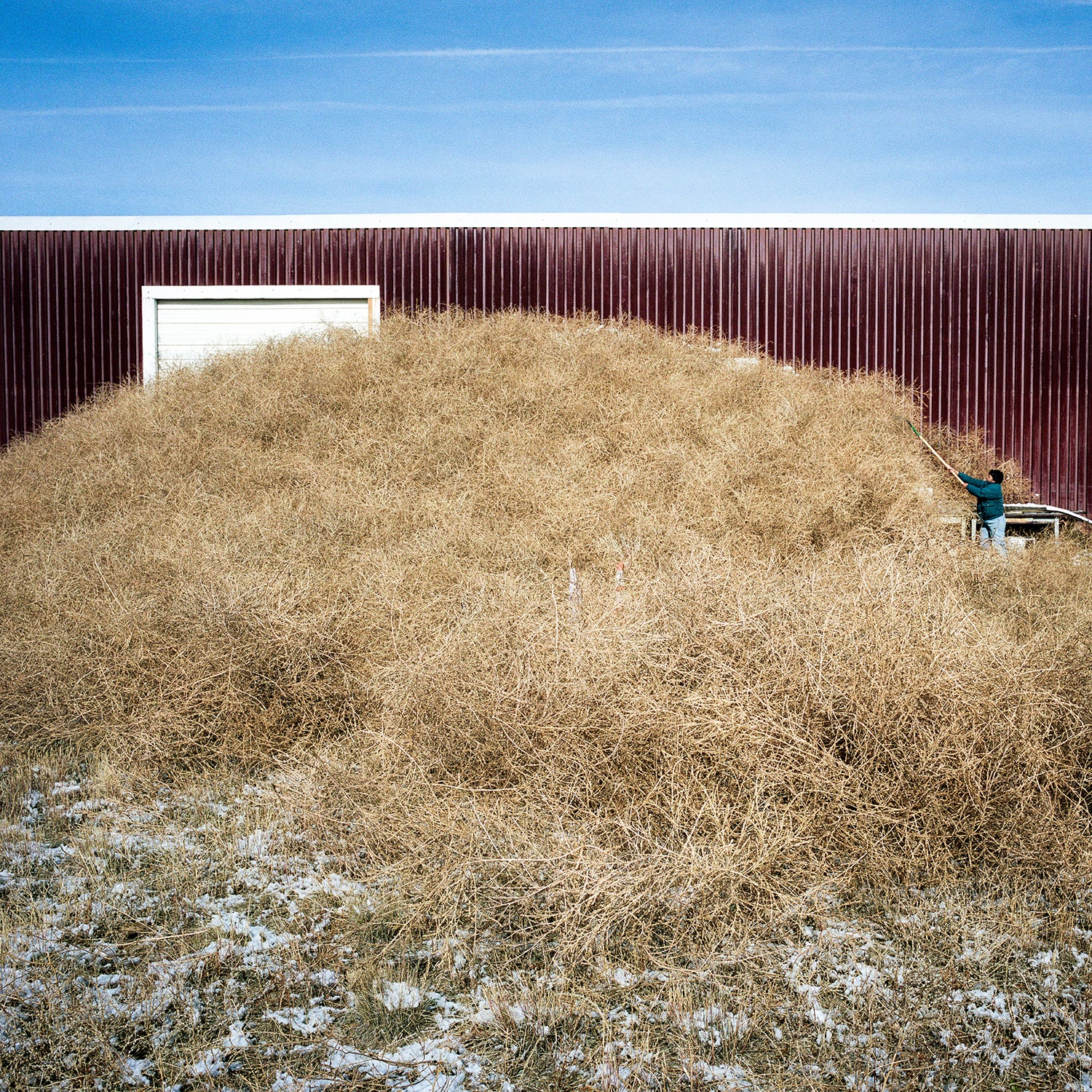 Heading out the door? Read this article on the new Outside+ app available now on iOS devices for members! Download the app.
The tumbleweed, or Russian thistle, is famous in popular culture as a solitary nomad rolling across the open road. Its history in America dates back to 1880 when the Department of Agriculture began getting reports of a weed rapidly growing in South Dakota. It has since spread to every state in the country except Florida and Alaska, thriving in dry, disturbed land—particularly the kind found along the highways, rivers, and drainages of the American West.
In recent years, millions of them have buried roads, buildings, and even entire towns as climate change and longer drought periods make the situation worse. However, the tumbleweed has become more than just a nuisance, the plant has gained a measure of cultural acceptance as it puts down roots in communities across the West.
Denver-based photographer Theo Stroomer is in the middle of his third winter photographing tumbleweeds. Here, he shares some of his favorites images of the invasion from the last three years.
Photo: This was one of the first images I made for the project. Hanover, Colorado, got hit with a tumbleweed storm a few years ago and I drove down to see it for myself. As I drove east, I started seeing more and more tumbleweeds along the road. I found Bertha Medina clearing off her barn and knew I had to stop. She said it was OK to take her photo, as long as I helped her afterwards, so I got some hands-on experience. They are prickly, ornery things, not hard to move, but very time consuming.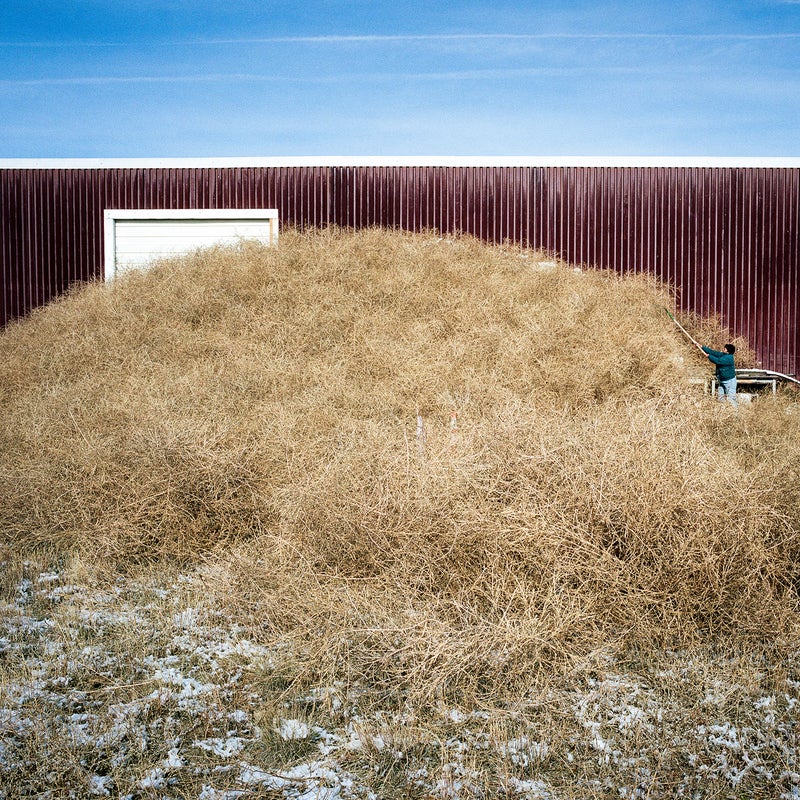 ---
Patty Neher removing tumbleweeds from her yard and jeep. Hanover, Colorado.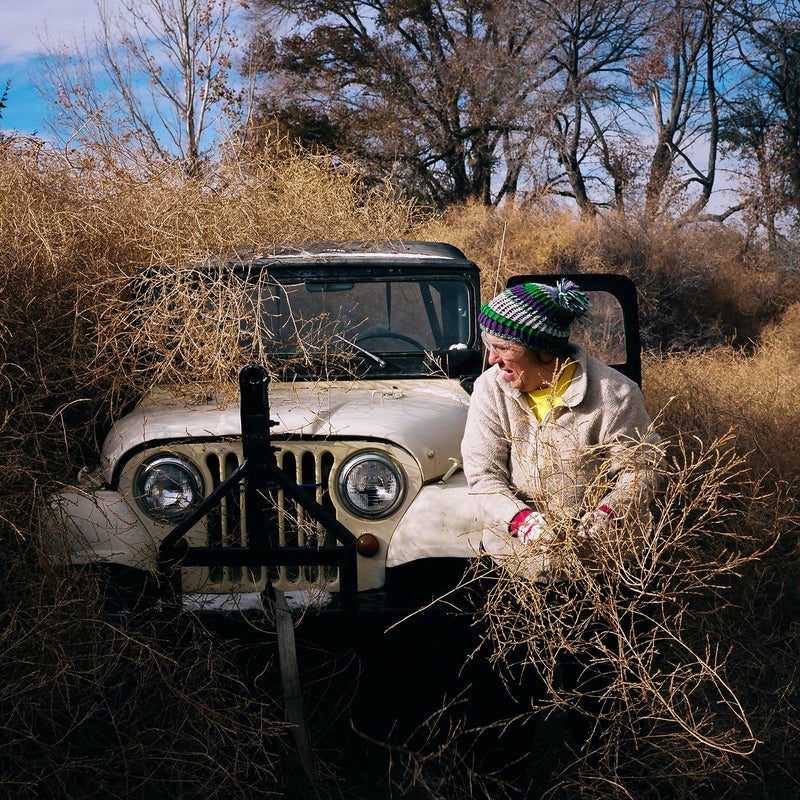 ---
Pastor Ragan Simpich posing for a portrait with his dog at Hanover Community Church. Hanover, Colorado.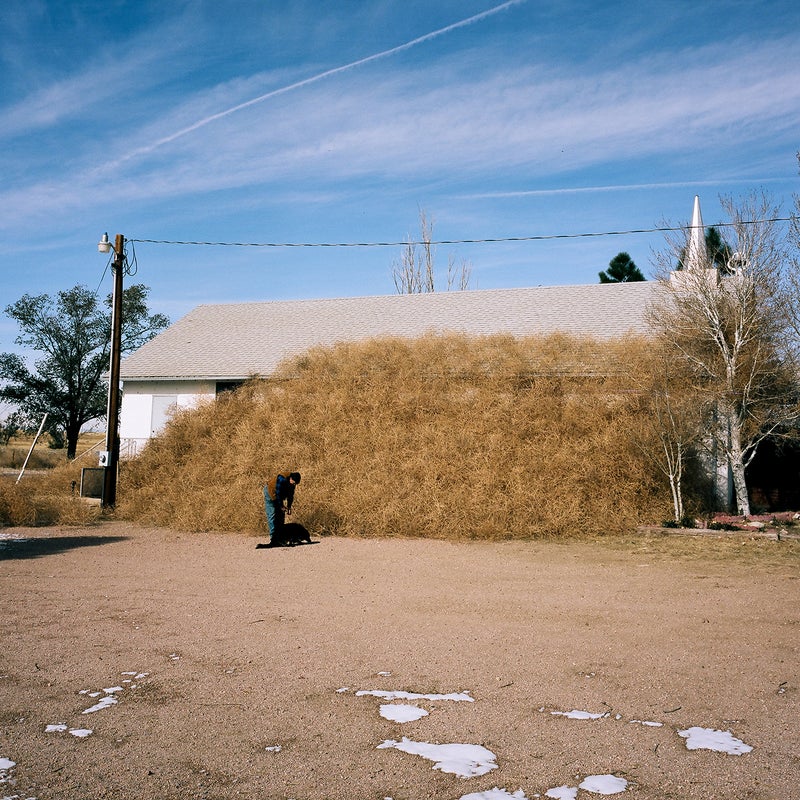 ---
Pueblo, Colorado is big, flat, and open—making it the perfect place to have tumbleweed problems. One afternoon after photographing a Hillary Clinton rally, I drove by some guys working. This is Patrick Pulis. He and his father were cleaning up an abandoned building and lot; it had once been the electric company, now it was being converted into a marijuana grow operation.
---
Every year, the tiny town of Haigler, Nebraska holds a tumbleweed festival. It was inspired by a tumbleweed storm roughly a decade ago. One of their events is a tumbleweed decorating contest, where local kids and their families go out, find a tumbleweed, and pretty it up. This is Max Franco and his pumpkin entry.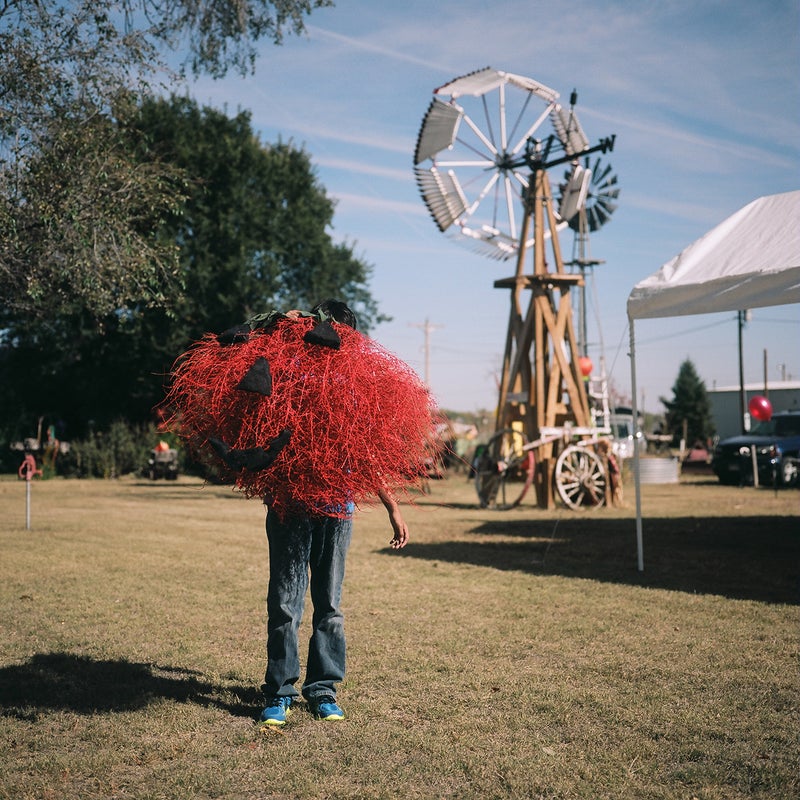 ---
There are several holiday tumbleweed-inspired events in the southwest. The city of Chandler, Arizona, has built a giant Christmas tree made of tumbleweeds for more than 50 years. This photo shows workers constructing the tree, using a rope to check for a nice even smashing of tumbleweeds around the frame.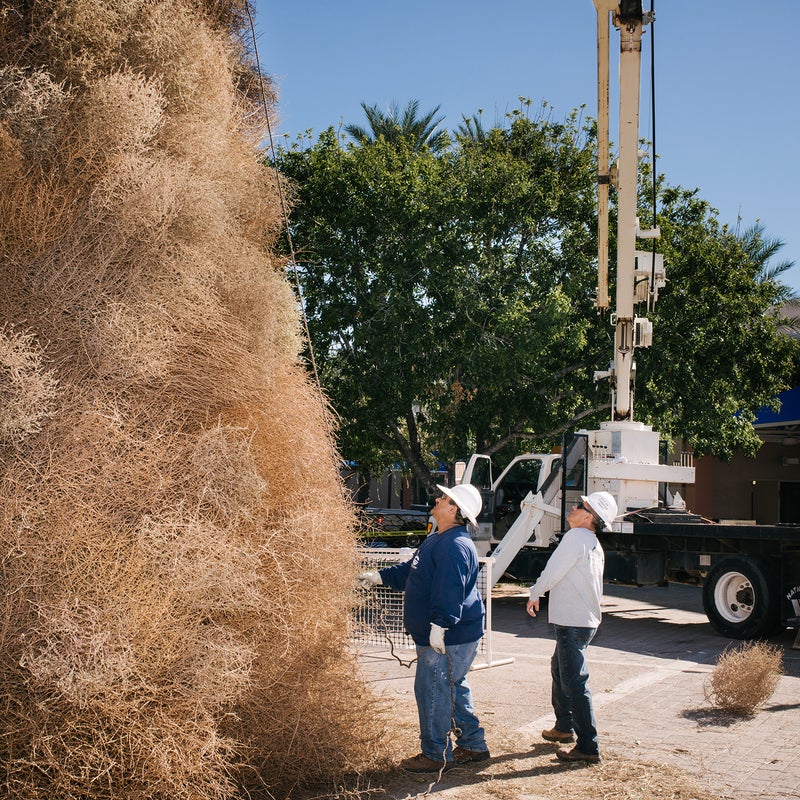 ---
Another holiday tumbleweed tradition: the Albuquerque Metropolitan Arroyo Flood Control (AMAFCA) tumbleweed snowman in Albuquerque. AMAFCA is an organization that encounters big tumbleweeds growing every year in and around Albuquerque's waterways. They collect three of the largest tumbleweeds they can find each November, build a giant snowman, and stick him out next to the highway.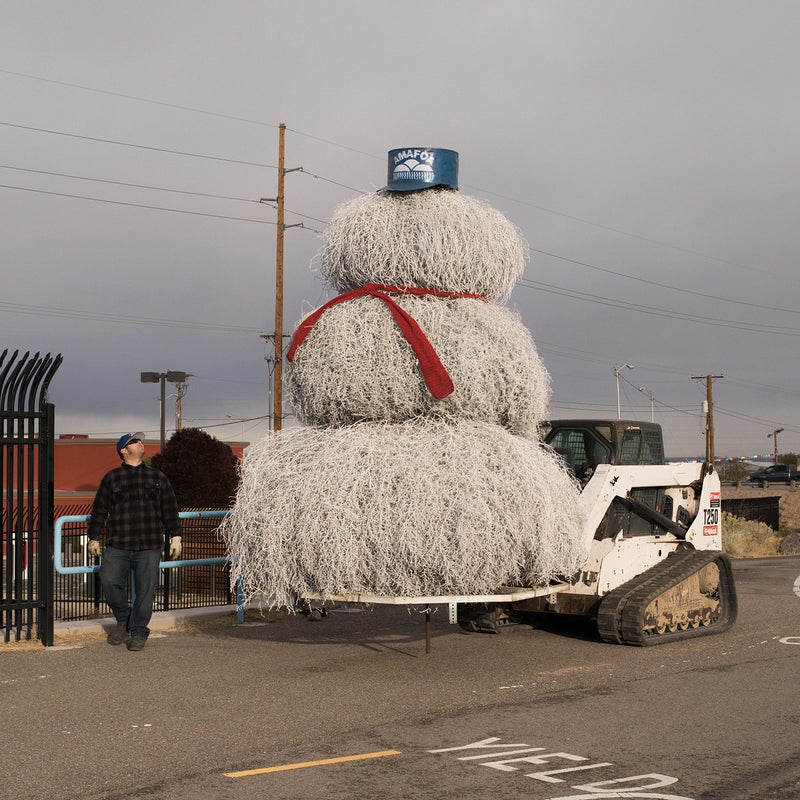 ---
Eads, Colorado, was another town that got hit by a big storm recently. I couldn't make it until a few days after the storm, but when I did, this batting cage was one of the things I found. It must have been open, and when the tumbleweeds blew through they just filled up the netting.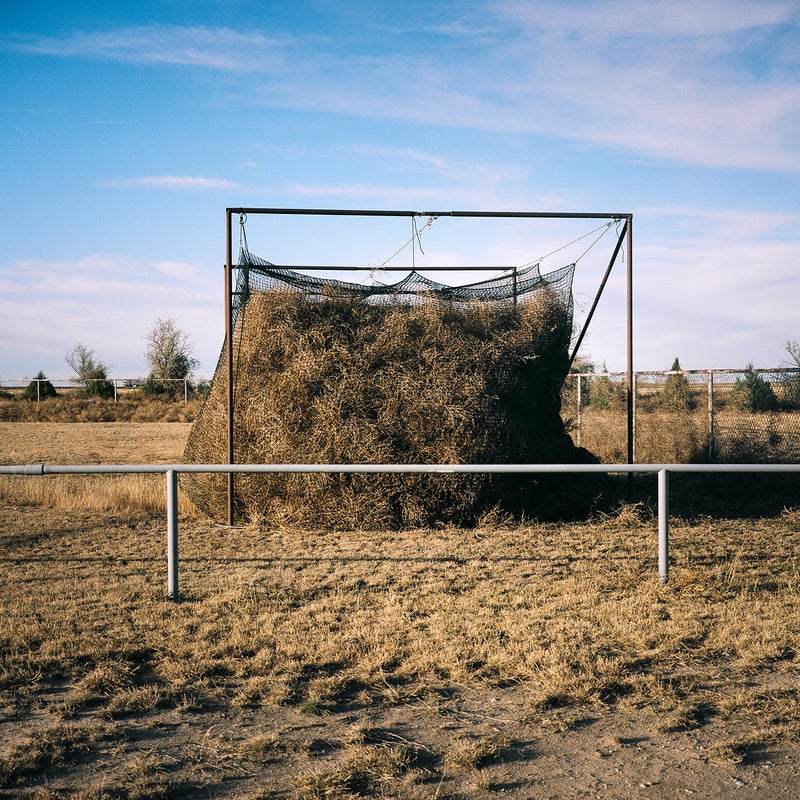 ---
These power lines were in Boone, Colorado. Much of eastern Colorado is rural plains land, and I would drive through it on my way to take other pictures. I found this scene one day and imagined what it must have taken for the tumbleweeds to climb as high as they did.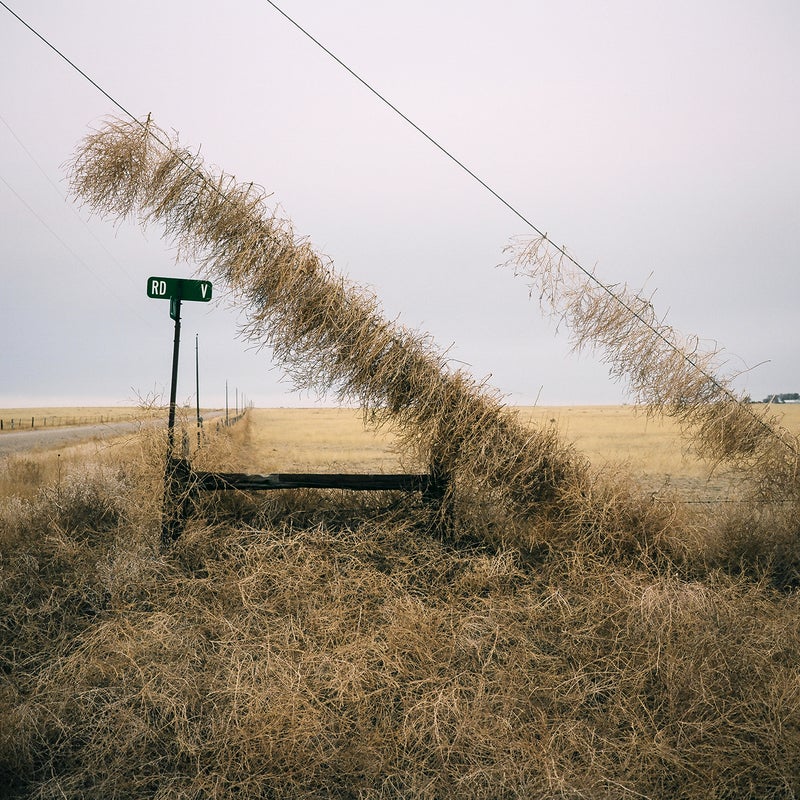 ---
From left: Maribeth Gallion, Madeline Jorden, and Julia Corlett during a cleanup at Chico Basin Ranch near Colorado Springs, Colorado. Chico Basin Ranch is a well-known birding site, home to more than 300 species, and the tumbleweeds had entirely filled the corridors they usually fly though. These three were helping clear and burn the tumbleweeds when they posed for a photo.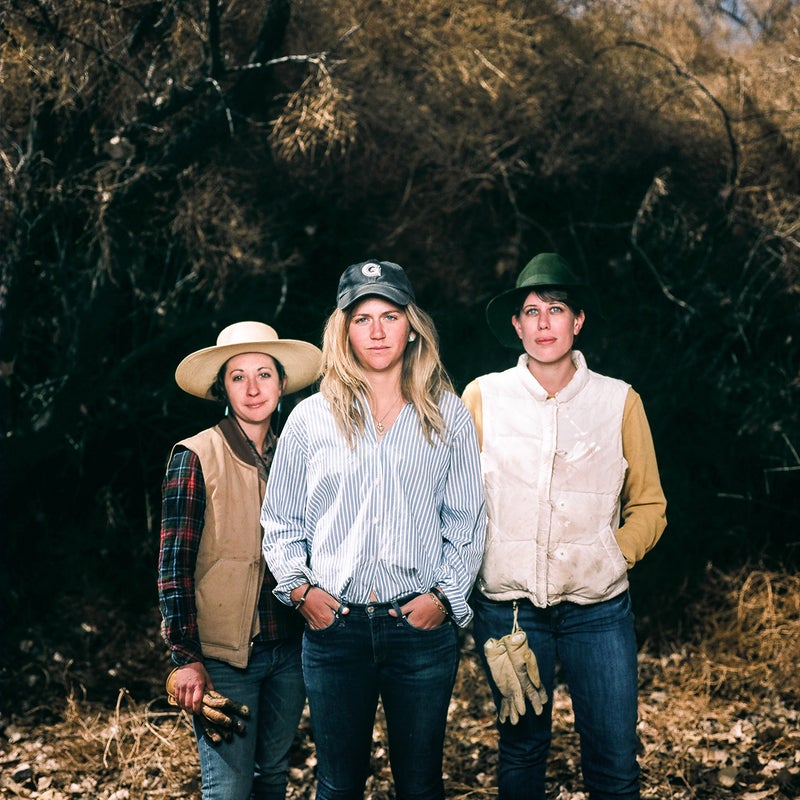 ---
From what I've seen, burning tumbleweeds may be the best way to get rid of them. Though it's less effective if they've piled up next to your house.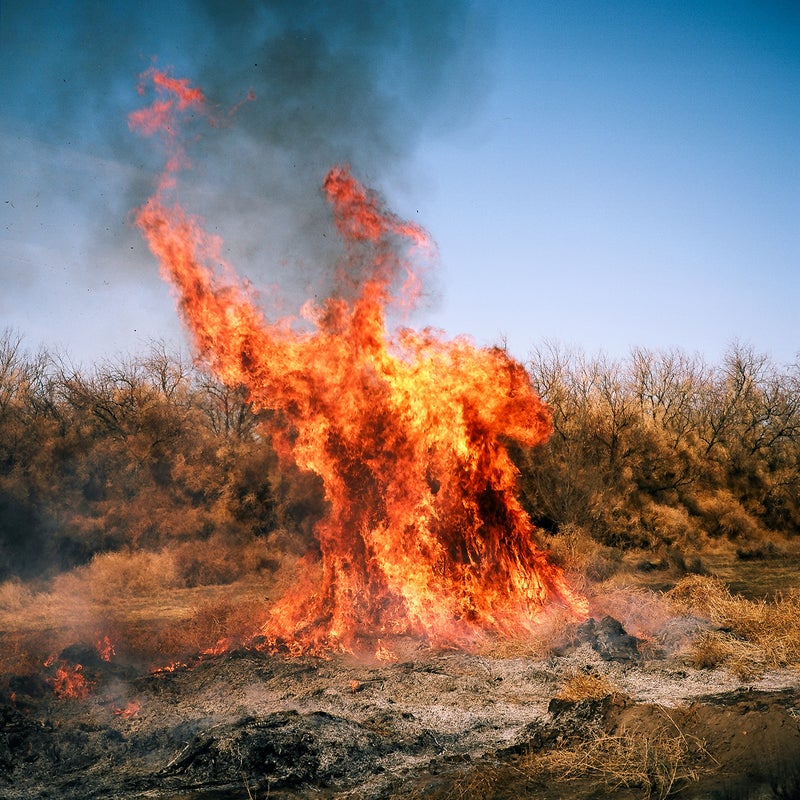 ---
When I arrived in Springfield, Colorado, the folks at City Hall graciously sent me to the local stadium and asked the groundskeeper to open it up for me in order to take this picture. I like it because it feels like a physical expression of the idea of tumbleweeds in the stands.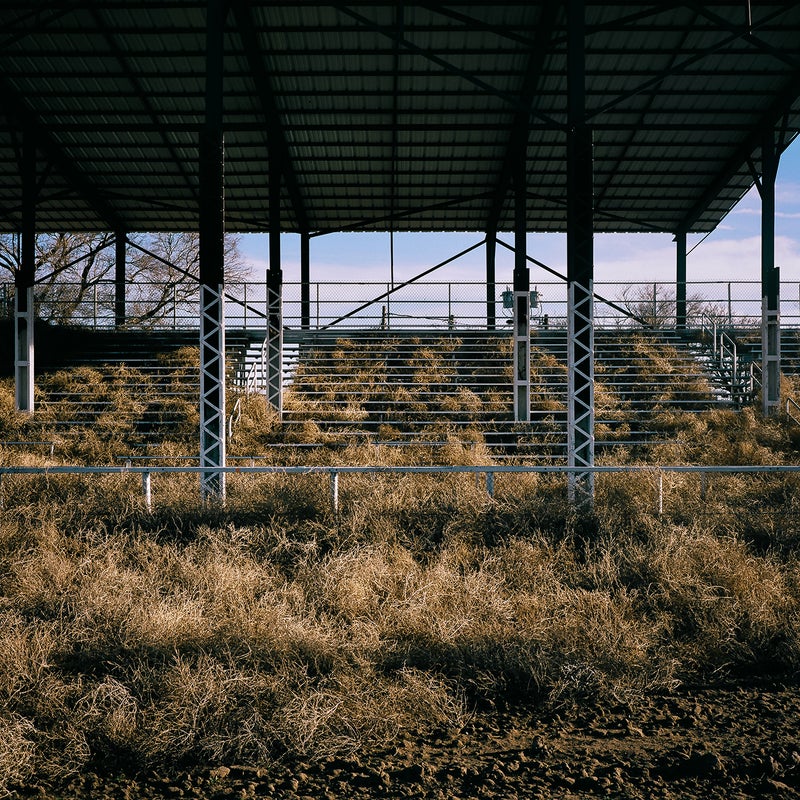 ---
Quite a bit of my research and sourcing on this project comes from local TV news, which does a couple stories every winter about tumbleweed attacks. I caught a segment on Jim Ver Meer, who branded himself the "Tumbleweed Wrangler," and I knew I wanted to tell his story. Ver Meer constructed a machine—and a business—built on mowing down tumbleweeds at a rapid and affordable rate. Here, one his tractor mowers chews up tumbleweeds near La Junta, Colorado.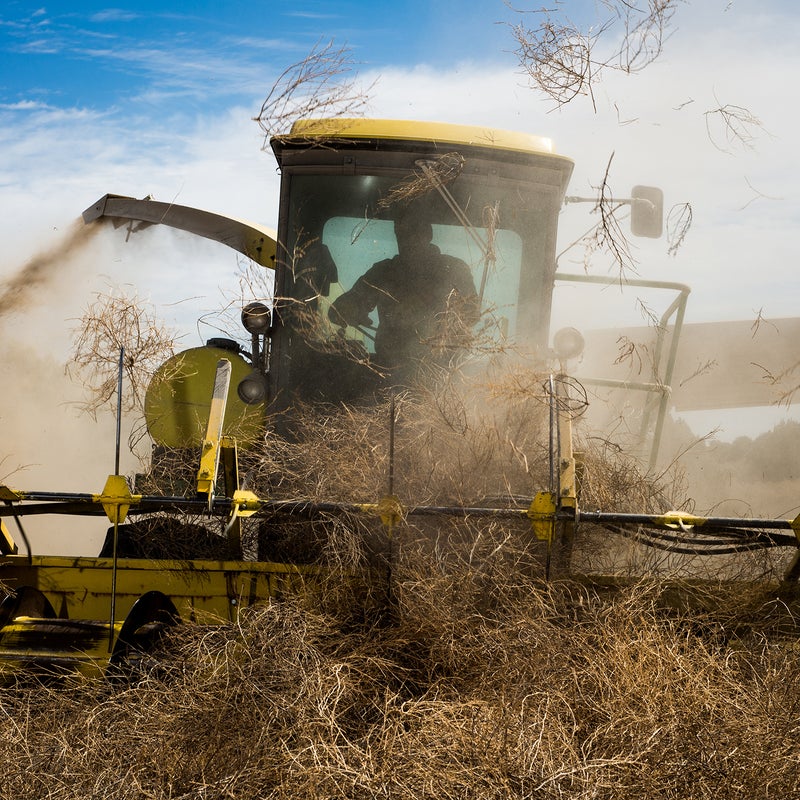 ---
Controlled burns are a common method of disposal and prevention for tumbleweeds. I attended one at Rocky Mountain Arsenal, just north of Denver. I was struck by the fact that even after a fire, the cacti seemed to be ok.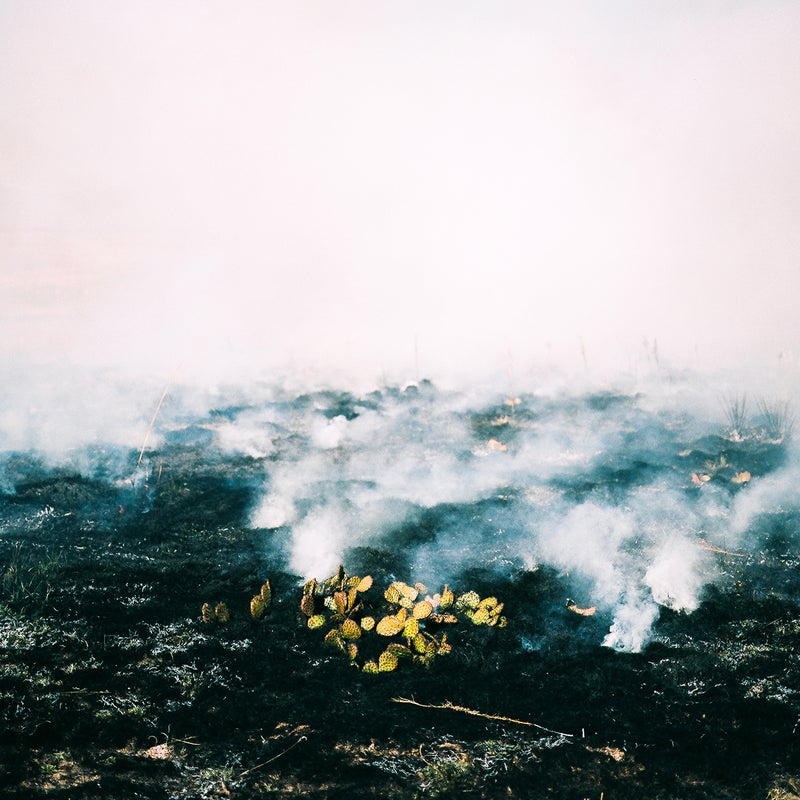 ---
This is Josh Reiswig, a firefighter and assistant engine captain, who was doing tumbleweed mitigation in Vogel Canyon in La Junta, Colorado.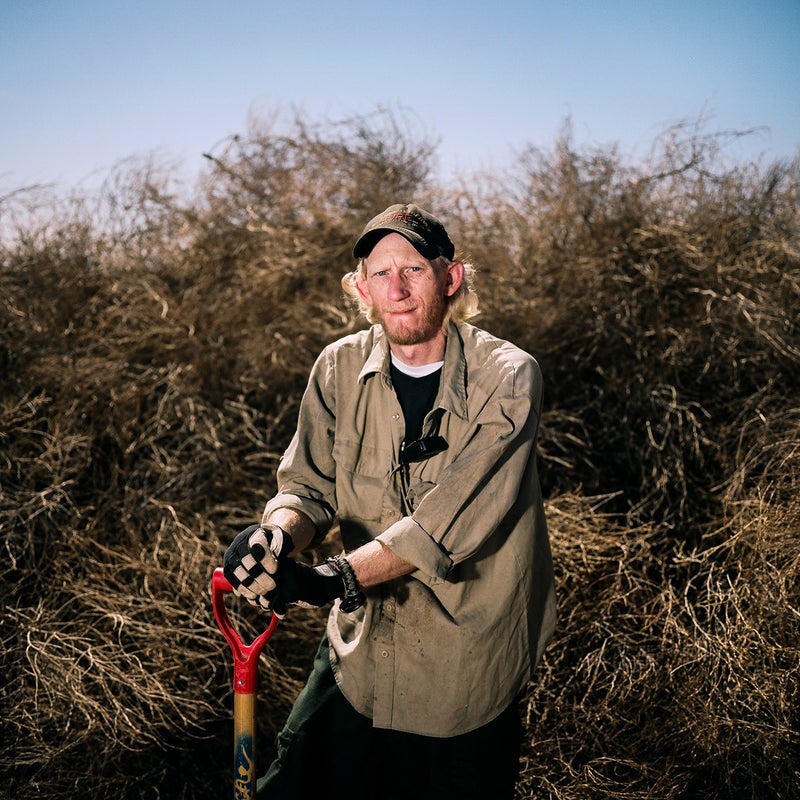 ---
A house buried in Eads, Colorado. I encountered several stories of elderly people getting trapped in their homes by the tumbleweeds; while I don't know if this place was inhabited or abandoned, it seemed like it would've been tough to even use the door.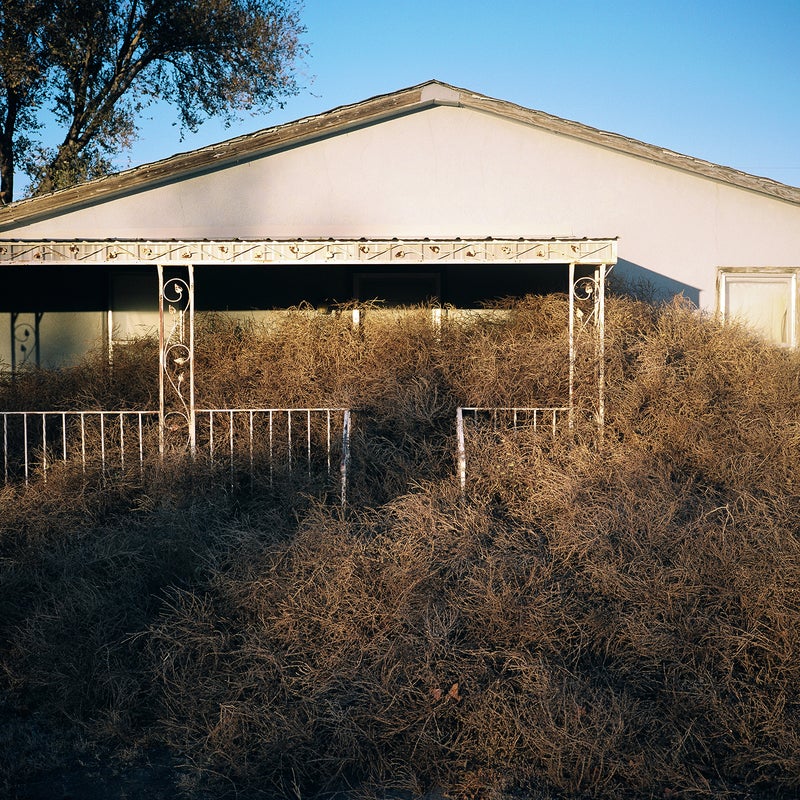 Lead Photo: Theo Stroomer