Chasing California's Largest Forest Fires
As the Thomas Fire scorched hundreds of thousands of acres and forced communities to evacuate, Stuart Palley and other fire photographers rushed to the front lines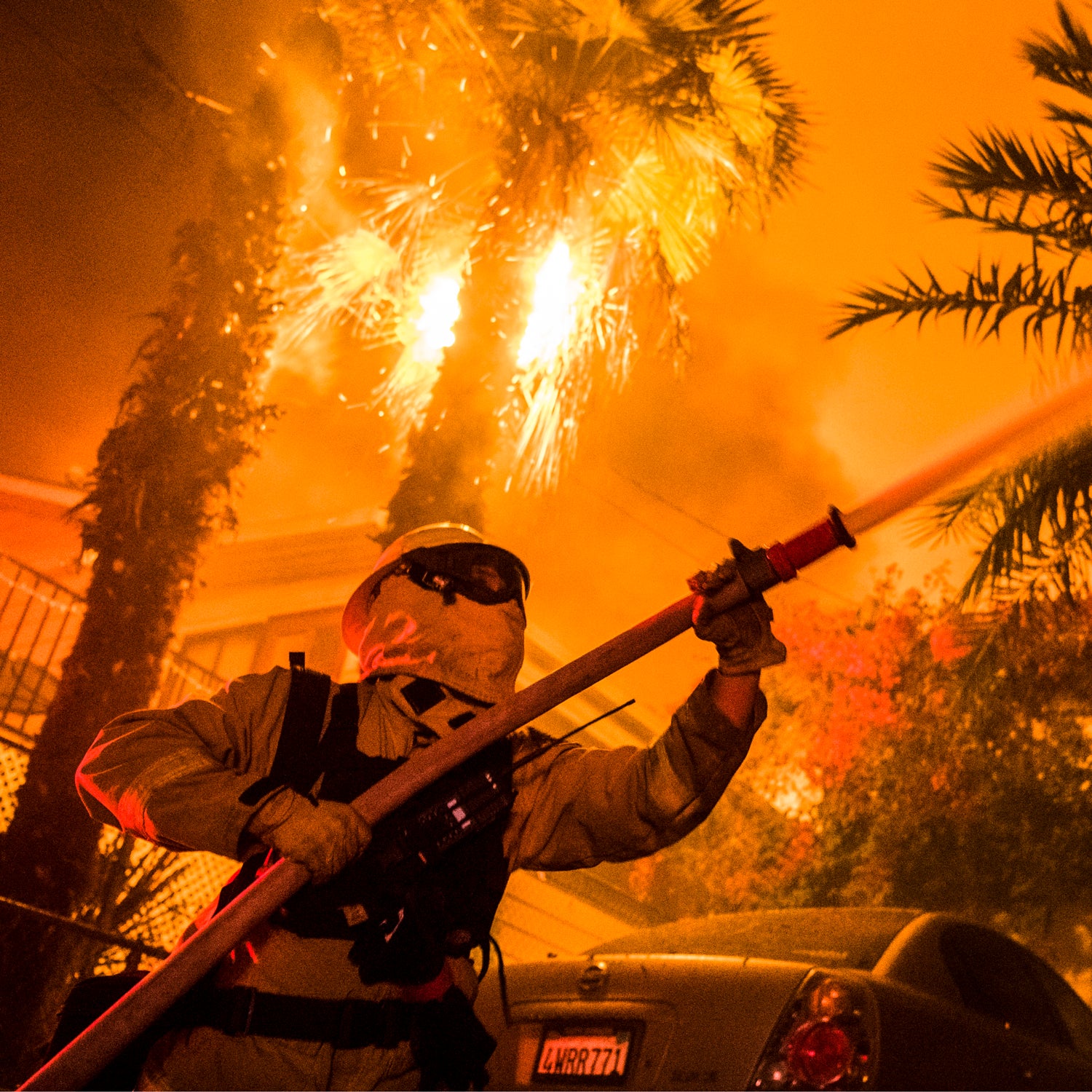 Stuart Palley(Photo)
Heading out the door? Read this article on the new Outside+ app available now on iOS devices for members! Download the app.
On December 8, the trees of the Los Padres National Forest were scorched black and stripped of bark. The Thomas Fire, just north of Ventura, California, torched the hillsides and sent embers twinkling into the night sky. Flames 100 feet high burned and desiccated the forest.
Over it all, a pack of photographers watched. Tented in yellow fire-retardant gear, close enough to feel the heat, shutters snapping, they are part of a cottage industry of shooters who work the front lines alongside firefighters and taking many of the same risks so that newspapers and magazines can show the worsening reality of wildfires. 
Stuart Palley was one of the photographers on the line. The Thomas Fire had been burning for four days, and Palley had barely slept in 96 hours. The 29-year-old had been in Hong Kong earlier that week for vacation, certain that fire season was over. "But shit hit the fan," Palley says, "so when I got there I had to turn around and come right back."
From Los Angeles International Airport, he sped an hour north to Ventura, fire gear and camera equipment already in his Subaru Outback. It's the fifth year that Palley has covered fires. By his best guess, Thomas is the 75th he has photographed. The blaze would claim one firefighter's life, and even as Palley drove north from Los Angeles toward the mountains, it was quickly becoming one of the worst in California's history. (Ultimately it burned 272,800 acres and destroyed some 800 homes.) As communities evacuated, Palley, who has become one of the preeminent wildfire photographers in California, searched the map on his phone, listened to firefighters talk over radio, and reached out to the community of fire photographers already snapping away. Palley rushed to join them, trying to find a picture that conveyed what it felt like to stand at the edge of disaster.
---
Palley's entry into fire coverage was one of opportunity. While working at the Orange County Register in 2012, he borrowed protective firewear and became the paper's unofficial wildfire photographer. California's local papers have long deployed teams to cover the fires, but with the state's drought blazes have dominated headlines as representations of a warmer future. The New Yorker recently described a photo, taken by Los Angeles Times photographer Marcus Yam, that pictured burning palm trees as a "kind of counterpoint to the classic SoCal image." It's hard to look at these pictures, Vinson Cunningham wrote, "and believe that normal life is taking place anywhere nearby."
Palley and his colleagues can't make a living off this work alone, so they supplement it with other gigs. Palley, for example, takes commercial shooting jobs. But there is an addiction that comes with the intimacy of being so near to such a destructive force. They also view their work as vital to bringing the story of wildfires to the public and—perhaps if they get the right shot—motivating needed changes in policy.
At one of the first fires Palley covered, in 2012, he went to Temecula, a wine region that sits about an hour north of San Diego. "I saw this half-million-dollar house go down in flames," he says. "It was the idyllic Southern California scene and it was besieged by fire." Firefighters pulled what they could from the garage. Family photos, a toolbox, a small electric toy car. It was all beside the pool, covered in gray-green ash. "I don't like taking pictures of destruction," Palley says. "You're looking at wreckage that used to be someone's home."
That same year, Palley left his job at the Register to freelance, giving him free rein to cover fires. He enrolled in a fire-safety training course in Arizona and purchased a fire shelter, leather-soled boots, a helmet, ski goggles, and fire-retardant pants. From there his craft expanded. Newspapers mostly tasked him with fast-paced assignments, but as he worked on more fires, he grew an affection for the flames at night. That became the subject of his upcoming book, Terra Flamma: Wildfires at Night, scheduled for release in fall 2018. 
It's a work of art, in many ways, but with fires it's impossible to separate beauty and devastation. A few years ago, Palley was driving to a neighborhood consumed by fire. A man stopped to ask him if he could check on his home. Palley didn't want to. He knew it was gone, but took the man's phone number anyway. "How do I tell this guy his home is gone?" Palley thought.
Jeff Frost, another fire photographer, agreed that the most painful part of the work—more than the melted gear and personal fear—is seeing what wildfires do to people's lives. "Sometimes you're just numb," says Frost, who was featured in the Netflix series Fire Chasers. "Sometimes you don't feel any fucking thing. And then months later you're just a mess."
As news outlets everywhere have developed bigger appetites for wildfire photos, so has the difficulty of finding the right shot. At one time, a burning house was gold. "Now it's happening all the time," Frost says, so a more nuanced eye is called for.
As Palley drove the outskirts of the Thomas Fire earlier this month, he texted and called his network of contacts. It had been three hours since he began hunting for a decent photograph, but so far he only had photos of charred houses and downed power lines. "Exceedingly mediocre," he called them. He knew he needed to get closer.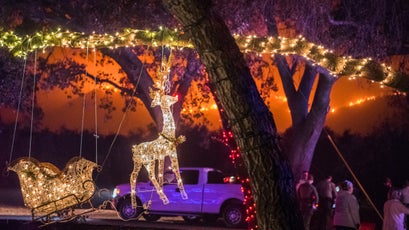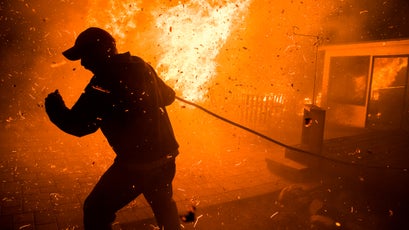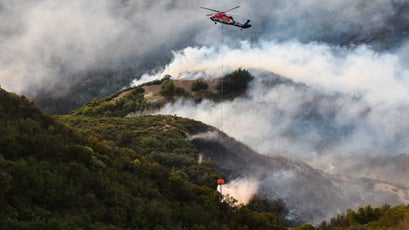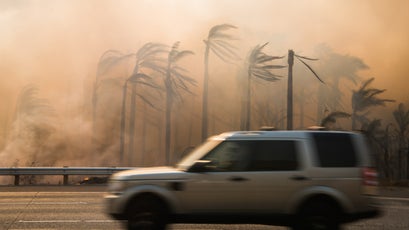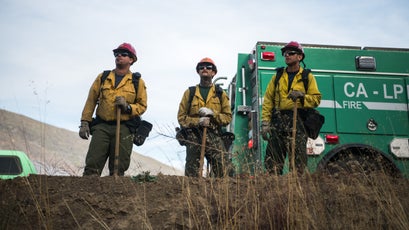 ---
Figuring out the location of a fire that spans thousands of acres isn't straightforward. You don't just drive toward smoke. It takes experience, and whatever nuggets of information can be mined from friends and social media. Palley uses Twitter feeds, his peers, and a radio that jostled in the cupholder as he drove.
"Two thousand barrels of crude on fire," a voice on the radio said.
"Yeah, right," Palley said skeptically.
An explosion of that magnitude, if true, could make for a fantastic photo. But with fires comes chaos, and being able to sniff out truth from confusion helps keep Palley safe. Sure, Palley has been burned before—most recently a few months ago when a piece of ash made a dime-size burn on his leg. One more victim, however, is one more job for firefighters, and Palley believes that being unprepared is inconsiderate.
Ahead Palley passed through a police checkpoint, where he identified himself as a member of the media. Palley's four-wheel-drive Outback climbed up a winding hill, past stands of trees stripped of leaves, and the smoke thickened. "There's going to be something up here," he said. "You can tell." Stone chimneys stood alone, the homes reduces to black rubble. The car passed sheer rock faces and boulders that had tumbled onto the road. The car's undercarriage was equipped with aluminum skid plating, in case Palley needed to drive off the road. But even so, under his breath, Palley muttered: "I don't like the landslide potential here."
After he turned around a short bend in the road, flames emerged over a hill.
"Some of these look a hundred feet high," he said. "This is the real shit."
In the distance, rocks slid down the slope. Birds, each no bigger than the palm of a hand, darted away from the burning forest. Just in front of Palley, a small gray fox scampered across the road and down a steep embankment covered in winking embers.
Farther up the mountain, hours later, Palley would find his photo. A Carson City prison crew, heavy-footed in leather-soled boots, was lighting even more of the forest on fire. It was a firing operation, designed to exhaust the fuel supply and give the approaching blaze nowhere to go. The men looked exhausted, covered in soot, desperately trying to battle one of the worst fires of California's worst wildfire season in history.
To get that shot, Palley had to get closer still. It was 6 P.M. and already pitch dark, the fire jumping into the sky. Strapped with his gear, helmet wobbling, Palley ran toward the fire and out of sight.
Lead Photo: Stuart Palley