Taking Positive Action for the Planet
Cyclists, snowboarders, and trail runners unite to discuss their journeys to climate action in this three-part series, which is playing on Outside Watch now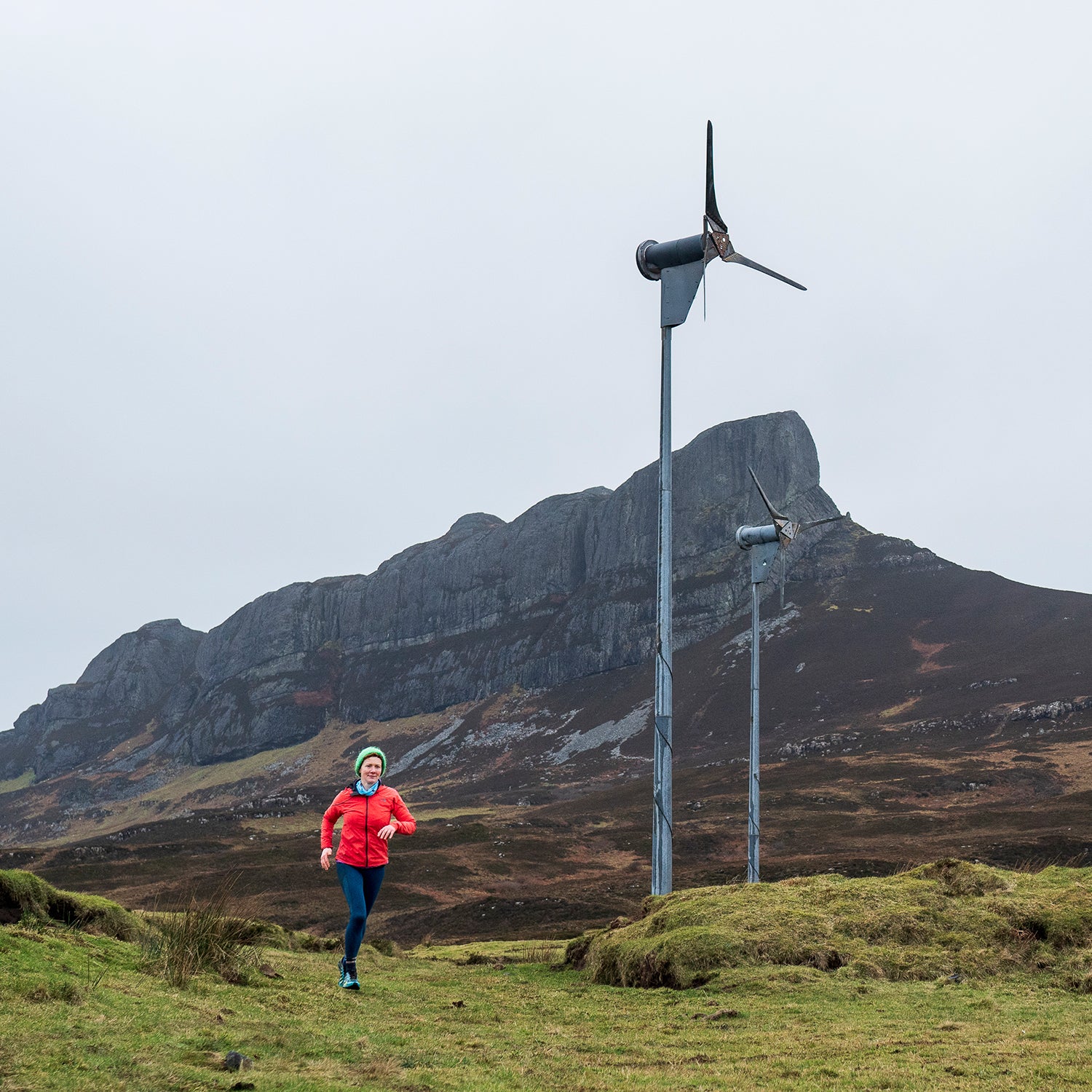 Heading out the door? Read this article on the new Outside+ app available now on iOS devices for members! Download the app.
It's no secret we're facing an environmental and biodiversity crisis, and that these impacts can feel especially alarming for those of us who love the outdoors. What is less obvious is what we can do about it.
Trapped in a negative news cycle, it's easy to feel overwhelmed and helpless, and to want to act but not know where to start, particularly if you don't have a background in activism or academia.
Yet, all over the world, regular people are joining together to stand up for the planet and the places they love, united by a shared connection to nature and passion for the outdoors. Positive Action is a three-part series launching March 31, 2023 on Outside Watch which celebrates these change makers and the transformative power of community. The series focuses on outdoor athletes in the U.K. who are making a difference. We recently spoke to three people who are featured in the series.
Cycling for Climate Action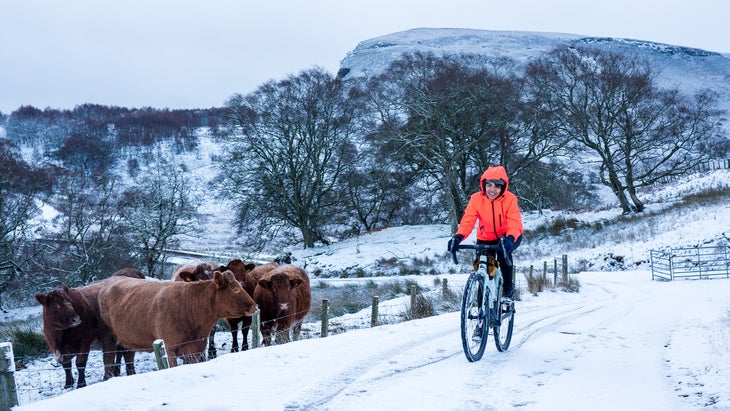 In the first episode, we meet Vedangi Kulkarni, an endurance cyclist from India, who now lives in Scottish Highlands. In 2018, she became the youngest woman to circumnavigate the globe on a bike–but she admits she's always found the climate issue overwhelming.
OUTSIDE: What gives you hope for a reversal of the climate crisis?
Kulkarni: The sheer scale of the climate crisis made it easy to wonder what change I–one person–could possibly make. But then I heard about Ride the Change, a group of cyclists who organize social rides ahead of the UN's annual Conference of Parties (COP) climate talks and decided to join them.
Hundreds of us rode the 225 miles from Wales to Westminster in central London the seat of the UK government, to raise awareness for positive climate solutions, with a focus on community, connection, and sharing knowledge as opposed to smashing Strava times.
Riding next to someone for four days allows you to dig deeper into these issues, and I was inspired to meet so many cyclists from different backgrounds who were taking action to fight the climate crisis. Every person who gets involved is one more person added to this collective conversation. We are all still learning but there are so many small actions you can take that add up to a big impact.
Encouraging Environmental Activism in Snow Sports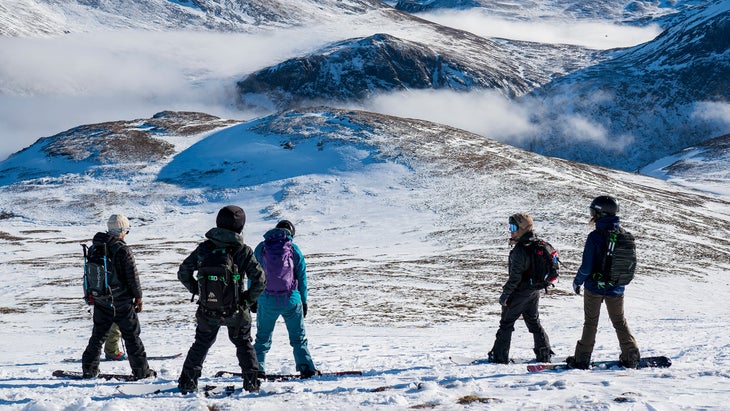 Episode two centers on Lauren MacCallum, a snowboarder from Aviemore in Scotland's Cairngorm National Park and general manager of the climate action charity Protect Our Winters UK. For Lauren, the biggest stumbling block in preventing people from being more engaged with environmental causes is apathy, but she thinks people shouldn't be afraid to step up.
OUTSIDE: Why is it important for the snow sports community to raise awareness of the impacts of the climate crisis?
MacCallum: I have lots of conversations where people say: "What's the point?" But the snow sports community can be hugely influential in relaying the climate crisis to decision makers who can make the changes the planet needs. Sometimes the climate crisis is this thing that is hard to see, but as people who spend a lot of time in the mountains we really experience those impacts. There are hundreds of mountain towns in Scotland and across the Alps that rely on healthy ecosystems to thrive. Personally, I need to get out on my splitboard to be a happy and healthy person, and my big climate anxiety is losing those touch points. That's why we need to encourage our community to act when it matters.
Scottish skiing is a state of mind. We get high winds and low temperatures, but that environment creates headstrong and resilient people. That's the mindset that will prove vital in the push for positive climate solutions.
Coming Together for Community Energy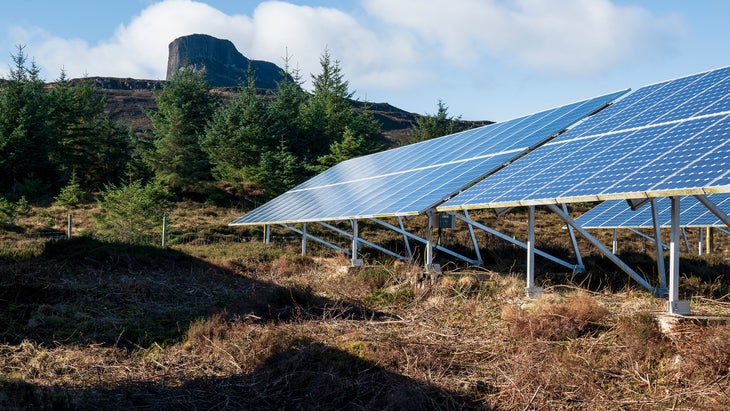 The final episode takes place on Scotland's Hebridean Isle of Eigg (population: less than 100) with Sarah Boden, a trail runner and sheep farmer. Sarah lived in Eigg as a child, left the island for several years, and then moved back 13 years ago to help her dad run the farm. Through the island's unique renewable energy system, she's seen first-hand how grassroots action can power real change for local communities.
OUTSIDE: Tell us about Eigg and how the community banded together to create a green energy grid.
Boden: There's something life-enhancing about running when it's cold, rainy, and wet, and being outside in a storm. I love experiencing the power and force of nature, which, because we're on an island, we have to live in tandem with it. All the farmers here are nature lovers and Eigg is a fantastic community with forward-thinking people. The island isn't connected to the power grid on the mainland because it was too expensive to lay a cable under the sea, so the community took it upon themselves to create their own renewable energy system. We have windmills, a hydroelectric dam, and a solar power system, all run by islanders. 
It proves that when people come together and turn their minds to a problem, they have real power to create meaningful change. Travelers come from all over the world to see our electricity system. Our hope is that they go back inspired and get together with like-minded people to make a difference where they live.
Where To Watch Positive Action
Each episode of Positive Action illustrates, when people come together and act, they don't just raise awareness for important environmental causes and help protect the natural world, they also spread hope and empower others to use their voices in positive ways.
Watch Episode 1
Watch Episode 2
Watch Episode 3
#OurFrozenPlanet is a digital initiative from BBC Studios Natural History Unit in association with The Moondance Foundation, bringing you urgent stories about the effects of climate change around the globe, and accounts of the people dedicated to championing positive change to protect the future of our planet. To find out more visit bbcearth.com/our-frozen-planet.
Lead Photo: Hannah Bailey