Indefinitely Wild
Remembering OR4: A Eulogy for a Wolf
Arguably the most influential wolf in America was killed last week. Who was he?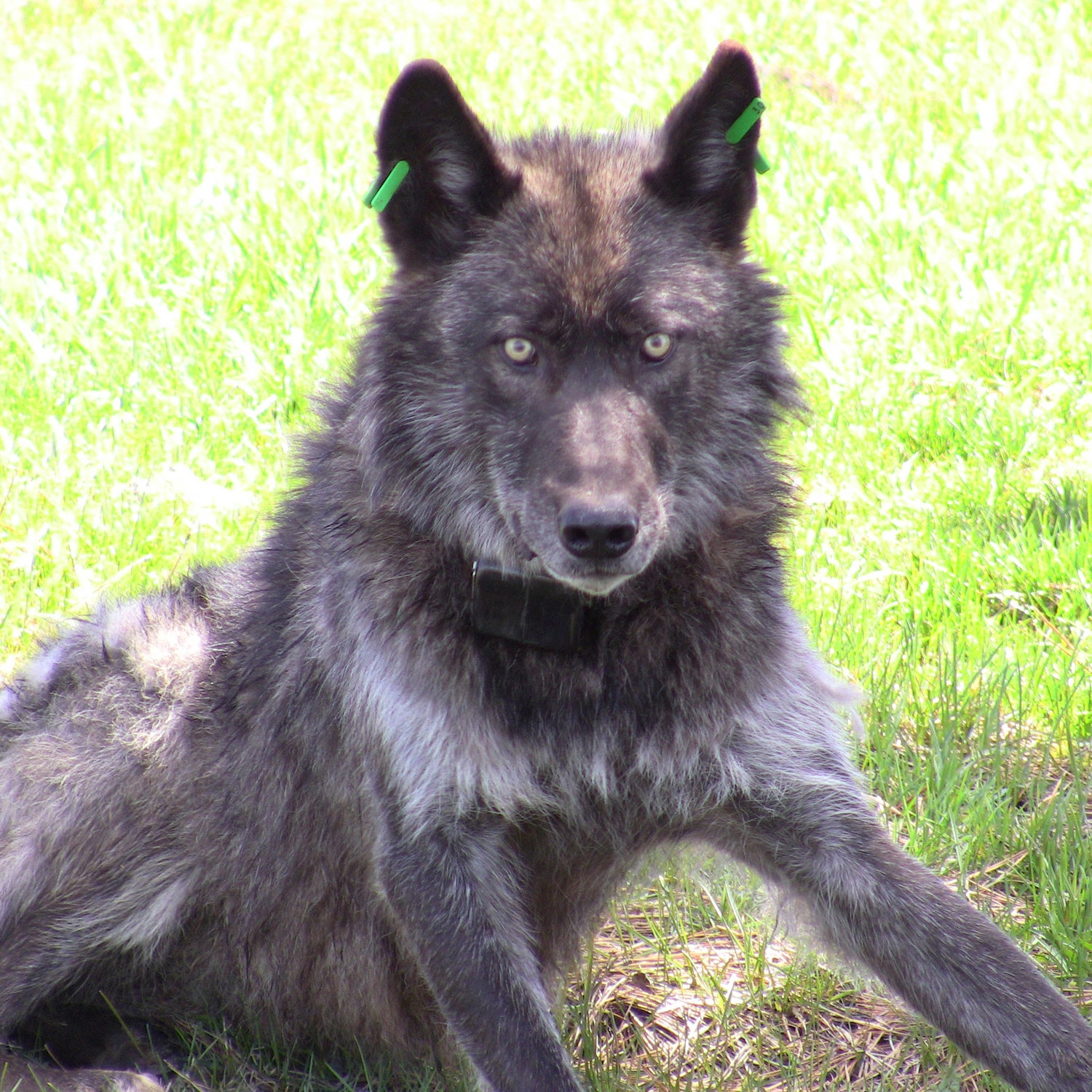 Heading out the door? Read this article on the new Outside+ app available now on iOS devices for members! Download the app.
You may not have heard of OR4, but you do know his son. In 2011, OR7 embarked on a 1,000-mile journey through western Oregon and northern California, garnering international media coverage due to both the distance covered, and the new wolf territory he was setting paw on. OR7 was the first wolf in California in more than 100 years. That journey wouldn't have been possible, nor would there be more than 100 wolves in Oregon today, if it wasn't for OR4.
Read more from Outside about the reasons why wolves sometimes kill more prey than they can eat, and the politics surrounding their re-introduction.
The largest gray wolf ever measured in the state, OR4 was first observed in eastern Oregon on motion sensor cameras possibly as early as 2008, as the young wolf dispersed from his pack in Idaho. There, he met the female wolf B-300, and the two had their first litter together in 2009, forming the Imnaha pack, the first in Oregon since the mid-20th century.
The journey the two wolves undertook to meet each other wasn't easy. Dispersing from different packs in different parts of Idaho, and traveling separately, each had to climb the 9,000-foot Seven Devils Mountains, find a way across the Snake River (it's not known if they swam its often treacherous waters, or used a manmade bridge), and navigate through Hell's Canyon, the deepest river gorge in North America at nearly 8,000 feet from rim to water, in order to reach the glacial lakes and dense forests of Wallowa County in the northeastern corner of Oregon.
The first film footage of the Imnaha pack was captured in 2009, and shows 10 members. For a previously extinct species, that's a lot of growth in just a year. And the presence of wolves in the state created quite a splash. Ranchers worried about depredation. Environmentalists rejoiced at the return of a native species. Scientists got down to the tricky business of studying large, wary predators. In early 2010, OR4 was fitted with his first radio collar by wildlife biologists working for the state. It's a tricky job involving aerial tranquilization and quite a bit of hands-on work from well-meaning researchers.
Trouble followed the wolves through Oregon, almost from the beginning. In 2009, the state killed two wolves in nearby Keating Valley after the animals killed 27 sheep, a goat, and a cow that summer. OR4 himself was the subject of a kill order in 2011, after his pack took down a handful of cattle. A lawsuit by conservation groups granted him a reprieve.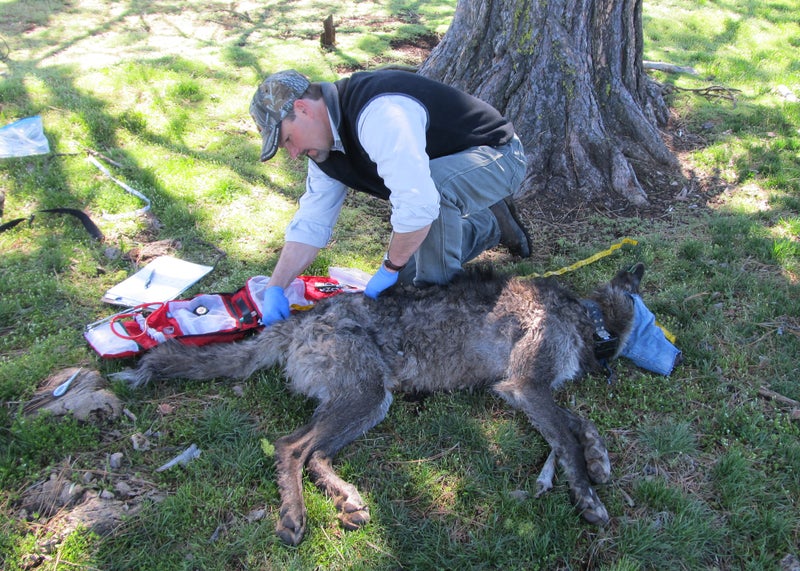 A local wolf advocate came across OR4 one night in the woods and recorded his howls. A few long-distance videos show his pack, and possibly capture him among them, but the best photos we have are from the four times he was fitted with a tracking collar. That collar actually created an interesting story itself. In an effort to enable farmers to use the required non-lethal deterrence methods necessitated by endangered species law, the state constantly monitored OR4's location for a year and issued text-message alerts about his location every day at 6 a.m. and 6 p.m. Eight hundred man hours and 5,000 text messages later, the state gave up, the program was just too man hour intensive. The collars themselves cost $3,500 a pop.
But OR4 won't be remembered as a killer. Since he first crossed the Snake River in 2008, Oregon's wolf population has grown to 110 or so members. Still tenuous, but an almost unbelievable success given that they were extinct there just 10 years ago. He's even responsible for the wolf's return to California. The Shasta pack—headed by his son, OR7—is expected to birth a second litter this spring. Thanks to OR4, wolves again call California home. [Correction: As reader Sarah points out in comments below, OR7's sister (a daughter of OR4's) founded the Shasta pack in California, while OR7's Rogue pack now lives just north of the border in Oregon.]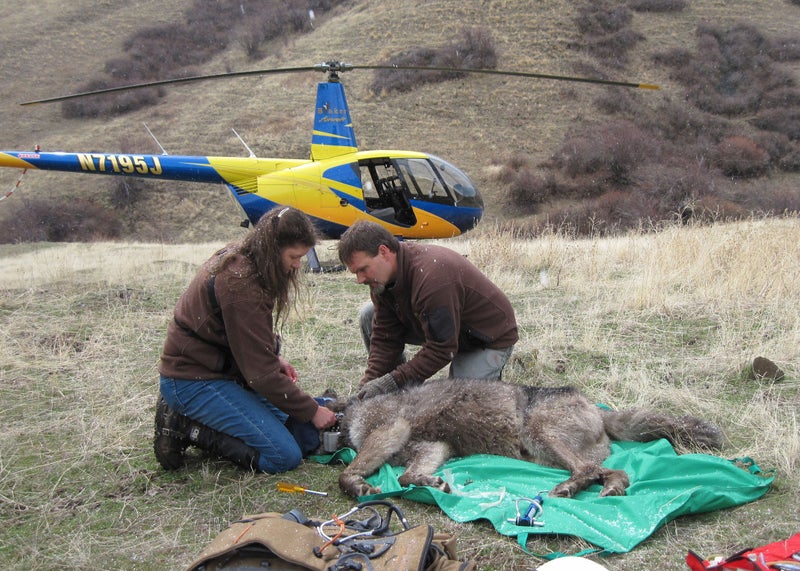 In addition to bringing wild wolves back to California and helping the species reestablish a foothold in Oregon, OR4 will be remembered for his devotion to his longtime partner, a she-wolf named O39, or "Limpy." Where most wolves in the wild live maybe six years at the most, OR4 was a relatively ancient 10, and appeared to have been driven from the Imnaha pack he once ruled last winter.
Last month, OR4, a probably pregnant Limpy, and two of their yearling offspring were traveling alone, on the fringes of the pack's territory, when they were blamed for the death of a sheep and four calves. It's believed that, now too old to hunt elk, and trying to care for an injured partner, along with two pups, OR4 resorted to killing the calves out of shear necessity.
Oregon was swift to respond, dispatching wildlife officers in a helicopter last Thursday, who quickly homed-in on OR4's tracking collar and gunned the four down from the air. The officials responsible reportedly stated they were, "not at all happy to have to have killed these wolves."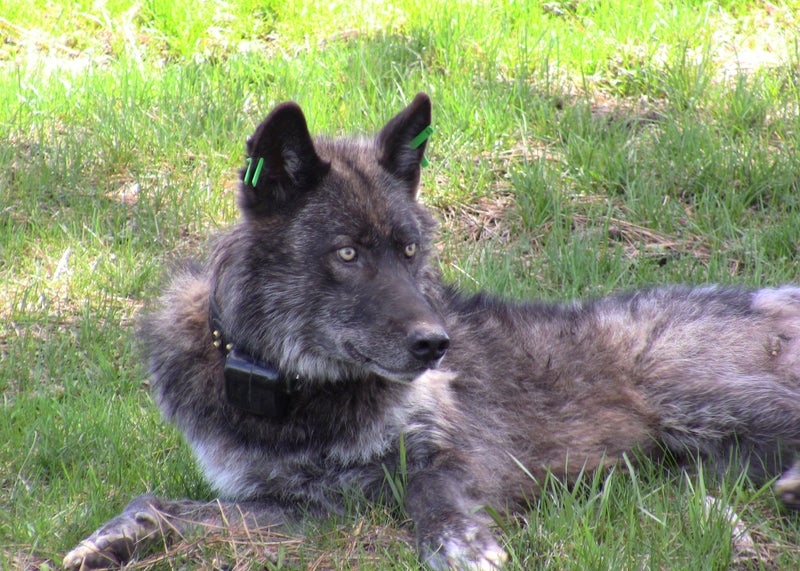 We plan further reporting on the early success of wolves in their return to Oregon, along with the ways the state and federal government are currently failing at protecting them. Stay tuned.
Trending on Outside Online