Indefinitely Wild
A Local's Look at the Californian Storm of the Century
The latest pictures, videos, and statistics from the epic winter storm, which has brought record flooding and dramatically assuaged the drought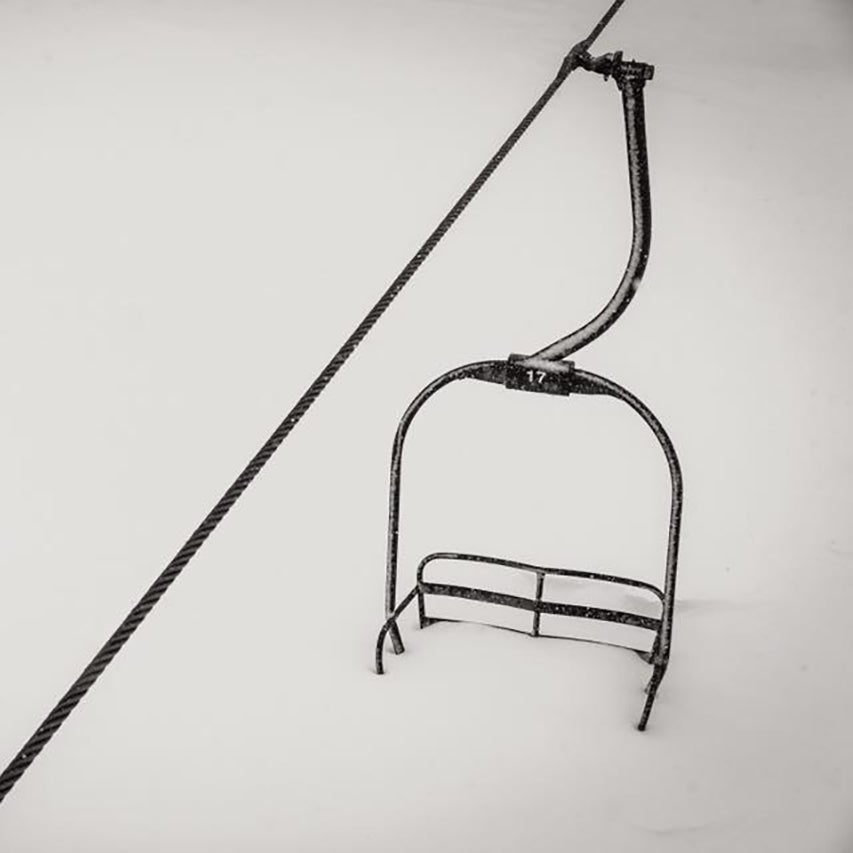 Heading out the door? Read this article on the new Outside+ app available now on iOS devices for members! Download the app.
An "atmospheric river" of winter storms has totally relieved longstanding drought conditions across much of California, while bringing 15 feet or more of fresh powder to ski resorts. Of course, all this precipitation is also causing problems. Large swaths of the state are experiencing flooding and mud slides, and in the Sierra, high winds are destroying giant sequoia. 
How Much Snow Has Fallen?
Mammoth, in the Sierra Nevada, reports latest totals from the storm at 101 to 154 inches, bringing the season total to 246 inches at the main lodge. It's mid-January, and that's already over half the snow the mountain sees in a typical year. In fact, there's so much fresh snow at Mammoth that they've rolled out their 105-millimeter Howitzer—on loan from the Army—to clear avalanche zones. 
Heavenly, in Tahoe, received 20 inches of fresh powder yesterday alone, and neighboring Squaw Valley reports 144 inches total on its summit. Despite earlier reports to the contrary, all Tahoe resorts are currently open.
And How Much Rain? 
Many parts of the state have had over a foot of rain, but as of yesterday, the award for the most rainfall goes to Three Peaks, in Monterey county. It's had 28.69 inches of rain this week alone. 
Here in Los Angeles, where I live, December was already our wettest month in six years. And we've had seven inches so far in January, over twice our average amount. So far, that's only caused minor mudslides. Traffic was horrible last night, in particular, as one mudslide blocked Laurel Canyon. 
What's the Damage?
Flooding is obviously much worse in northern California, where the rain is the heaviest. There, rivers are overflowing, flooding homes. Fifty households were evacuated in Hollister. Water lines were said to reach five feet on some homes. 
In Greenville, the Russian River crested at 38 feet, flooding many homes and leading to some dramatic rescues by the National Guard. 
In Sacramento, the famous weir was opened for the first time in 11 years. It protects the flood-prone city by diverting waters from the Sacramento and American rivers into local farmland. The 1,920-foot long weir was built in 1916 and still requires all 48 of its gates to be opened manually with a long, wooden pole. 
Then there's the loss of the Pioneer Cabin tree, a famous giant Sequoia with a hole that was cut through its base in the 1880s. Raging floodwater surrounded the tree over the weekend, undermining its relatively shallow root system. 
What Does This Mean for the Drought?
California is undergoing a severe long-term drought, but this storm system alone has brought enough precipitation to relieve it across much of the state.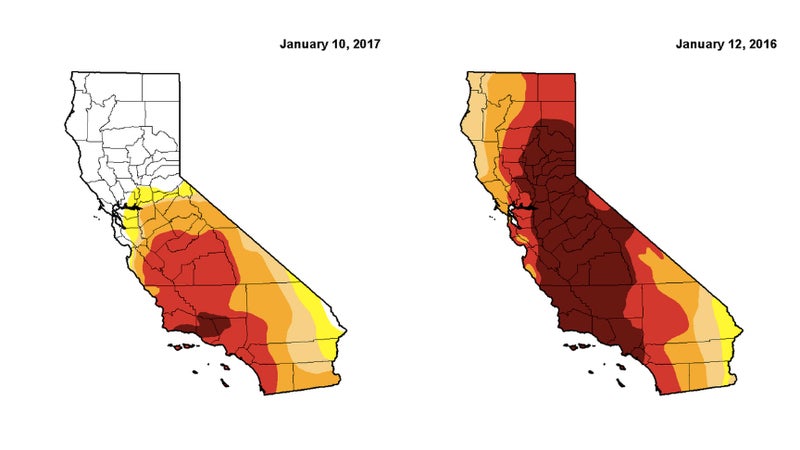 Curbed LA put together this comparison between drought conditions today versus what they were just a year ago. As you can see, much of northern California is now out of drought entirely, while extreme drought conditions (the darkest red) have shrunk to a much smaller area. 
The storm is also refilling California's reservoirs: 29 billion gallons of water have been added to Lake Tahoe alone, while most other reservoirs have returned to average levels. 
Ten feet or more has been added to the snowpack in the Sierra Nevada, promising to sustain streams and rivers into the dry season. 
"We can't say that we're no longer feeling the impacts of the drought," Deven Upadhyay, the Water Resource Manager for southern California told the Los Angeles Times. "Later this year, we may be able to say that we've really turned the tide and the drought's over, but we're not there yet. Thanks to this storm, if the rest of the winter continues to provide average rainfall, we may see surface water levels return to normal." 
What Does This Mean for Travel? 
Many roads and passes in the Sierra Nevada are currently closed and portions of Highway 395 through Owens Valley have been closed off and on throughout the week due to high winds and snow accumulation. Rural roads in northern California may also be closed due to flood conditions. 
Today is expected to be the last day of the storm, with clear weather conditions settling across much of the state for the weekend. Check with CalTrans first, but you should be able to reach popular ski resorts this weekend. With many feet of fresh powder, they'll be crowded. 
Me? I'm loading up my Land Rover to go find fresh snow in the mountains for a weekend of winter off-roading.