Is the Water Fine?
In croc country, how to look before you leap.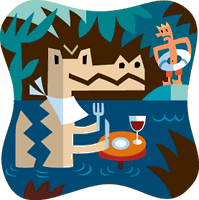 Heading out the door? Read this article on the new Outside+ app available now on iOS devices for members! Download the app.
Out in the scorched wilderness of the Kimberley, campside banter often revolves around crocodiles—among them "salties," or saltwater crocs, the region's omnivorous Alpha predator. Up to 23 feet long, salties have a distressing tendency to grab the unwary by the legs in a "death roll," snapping their victims' necks; the corpse is then stored under a log until it rots, making it easier for the monster to chew its meal.


By comparison, freshwater crocs are positively cuddly, usually less than five feet long, with skinny snouts and slothful temperaments. These harmless fish-eaters lounge along riverbanks, sunning themselves beneath spidery pandanus leaves, indifferent to the humans wondering whether to jump in waters only yards away.
Swimming with these freshwater crocs is, in fact, completely safe, and not just because the beasts will ignore you; the Kimberley's rivers also are relatively free of pollutants and rogue bacteria. But a dip can still be unnerving, because in recent years some salties have begun floating inland from their coastal haunts. And to the untrained eye, a small man-eating croc can be indistinguishable from a large freshwater version.


So how can you gauge which waters are truly safe? Don't rely on laconic Outback locals for advice. "No salties here," they'll usually tell you before pausing and considering. "Probably."


Thus the fundamental dilemma remains: You can know when a river does have a saltie in it, but you can never be certain that it doesn't.


The bottom line is that most of the rivers of the Kimberley are so inviting, and the roads to reach them so dusty, that sooner or later temptation takes over. Call it a leap of faith. If you avoid spots where crocodiles are actually swimming and not merely lying placidly in the mud, you should emerge with your toes intact. Probably.



Trending on Outside Online