What Caused the Las Conchas Forest Fire?
Heading out the door? Read this article on the new Outside+ app available now on iOS devices for members! Download the app.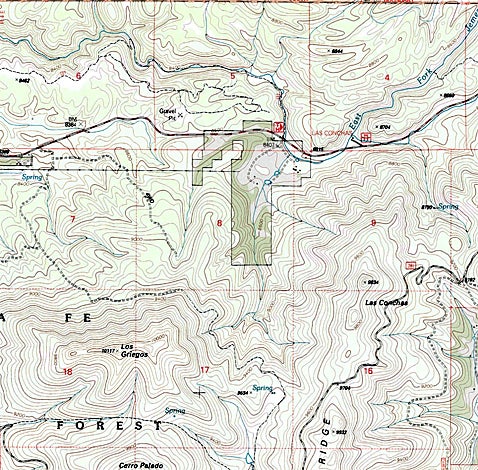 Map of Las Conchas
It's been reported a few times that the Las Conchas fire—a 60,000-acres-plus rager currently threatening Los Alamos, New Mexico, the Los Alamos National Laboratory, and Bandelier National Monument—was probably caused by a downed power line.
 
This just in: it was caused by a downed power line, which was displaced by a falling tree—or perhaps by a big tree limb that snapped in high winds. The unfortunate accident happened on private land instead of public property, but just barely. If official statements about this are correct, the tree (or limb) that did the misdeed was a mere 20 feet inside the boundary of a piece of property near New Mexico State Road 4, in the general vicinity of the Valles Caldera, the beautiful 89,000-acre national preserve that opens up on the north side of the highway.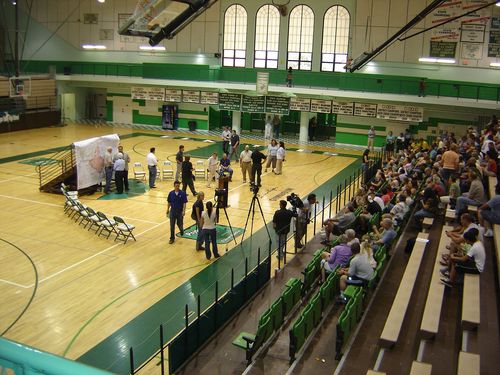 On the south side, in the vicinity of Los Griegos Peak, there's a large chunk of private property that I've passed over the years while in the area hiking, snowshoeing, or cutting Christmas trees. (The Forest Service sells permits for DIY tree-cutting and firewood-gathering up there.) On one old map I have, it's called the Triple H Ranch, but I don't know if it's still called that, if it's still a ranch or has been cut into smaller parcels for cabins and homes, or if it's still a ranch but the name has been changed to Ye Olde Ponderosa. I couldn't find a phone number and I can't drive up there and ask: road's closed for the foreseeable. A realtor from the area told me Tuesday night that she thinks it's still a ranch, but she didn't know the name, either. Whatever the place is called, it seems likely that the fire started somewhere in this parcel, which is surrounded on all sides by thick national forest.
The cause-of-burn came up Tuesday night at a public meeting held in the huge basketball gym of Pojoaque Valley High School, home of the Elks and Elkettes, and one of the bottom-of-the-hill facilities lending a hand to refugees from Los Alamos. In front of a sizeable crowd, an impressive array of officials—firefighters; Forest Service, National Park Service, and BLM bigwigs; and local, state, and national government figures, including Governor Susana Martinez and U.S. Representative Ben Ray Lujan—stood and took questions about the status of the firefighting effort. At one point, Incident Commander Joe S. Reinarz (the General Patton of this campaign) said it was his understanding that the blaze started because "a tree fell across a power line," touching off an inferno that grew to more than 40,000 acres in 24 hours.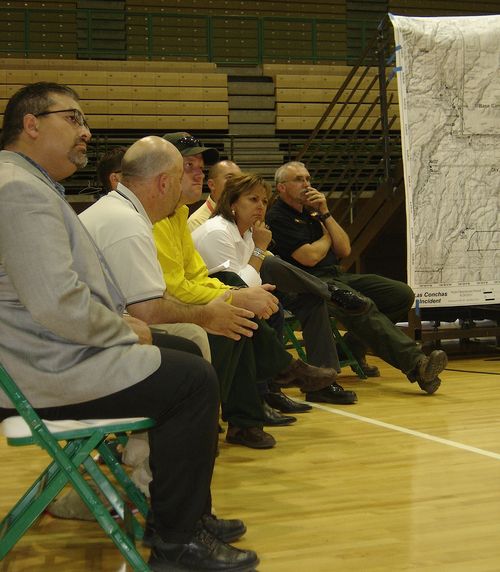 During the Q and A that followed, I asked Reinarz if the tree was on public or private land. At first he wasn't going to answer—saying the investigation is still not complete—but a federal official sitting near him spoke a few words, letting Reinarz know it was OK to say a bit more. Bottom line: the fire started on private land, in an accident whose details will probably emerge soon. I was hoping to ask if this terrible mishap was an act of God or if somebody screwed up by, say, letting a huge tree flap around too close to the lines, but I wasn't given a chance to follow-up.
Reinarz gave a lengthy and expert presentation about the current state of the fire, but I'll leave those details to Outside's Kyle Dickman, who's working on an update that we'll post soon.
—Alex Heard
@alexheard
Trending on Outside Online