Why Do Mountain Bikers Keep Running into Bears on the Trail?
Several recent bear attacks on riders have public lands managers working out solutions to prevent more of the brutal encounters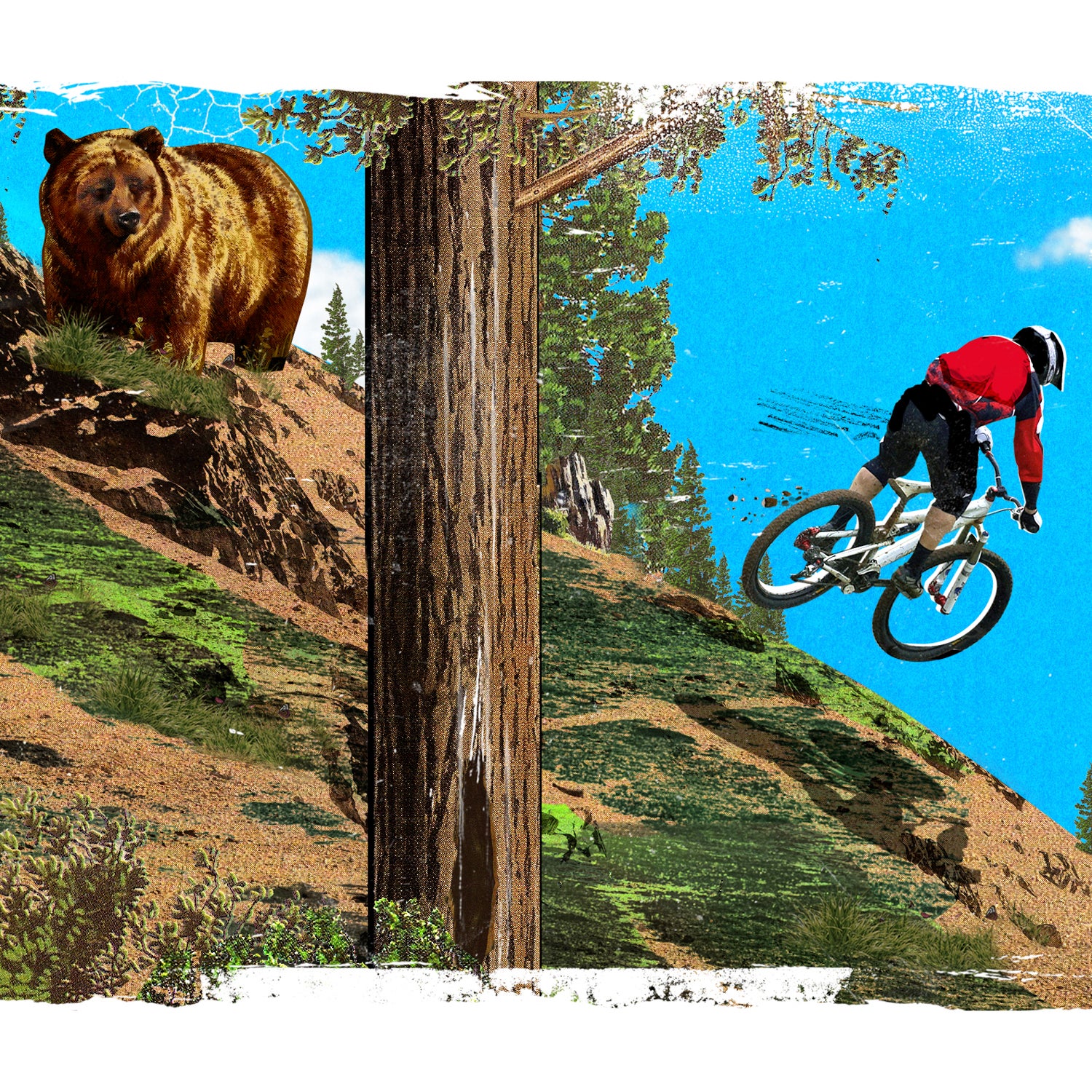 Matthew Billington(Photo)
Heading out the door? Read this article on the new Outside+ app available now on iOS devices for members! Download the app.
Brad Treat was cruising through a densely wooded trail in northwest Montana last summer when he rounded a corner and slammed into a 20-year-old grizzly bear. Traveling nearly 25 miles per hour, Treat and his bicycle were hurled airborne upon impact, flipping clear over the animal. When he hit the ground, he broke both wrists and his scapula. Treat's companion, who was riding about 25 yards behind him, heard the thud and an "Argh!" before turning the corner and seeing the grizzly standing and staring down at Treat.
Seconds later, Treat's friend retreated down the trail to fetch help. But by the time help arrived two hours later, Treat, a 38-year-old Forest Service officer and accomplished outdoorsman, was dead. The male grizzly bear had bitten through his skull several times before leaving the scene. Treat's helmet lay beside him, in pieces. "It was a rapid event. All of this happened within seconds," says Chris Servheen, who co-authored an independent report on the incident, released March 3.
News of Treat's death shook mountain bikers across the West and even made national headlines. How could this possibly happen, people wondered?
The report, authored by members of the U.S. Forest Service, Glacier National Park, and Montana Fish, Wildlife, and Parks, offers new details on the incident. Treat and his friend, who had never before ridden a mountain bike on a trail (and who the report did not identify), were less than a mile from the trailhead when Treat hit the bear. There were no skid marks at the scene, indicating Treat may not have had time to react before hitting the bear. Treat and his wife jogged the trail regularly, and Treat biked the trail several times a week. Neither Treat nor his companion carried bear spray, a firearm, or a cellphone.
"It's an emerging issue as biking becomes more popular and bears expand their distribution."
Encountering a bear on the trail is a nightmare scenario for any mountain biker. But the report suggests Treat's death was not an anomaly and raises concerns about similar encounters that have unfolded across bear territory in North America in recent years. Because mountain bikers ride fast and make little noise, "mountain biking is in many ways more likely to result in injury or death from bear attacks" than hiking, the report reads.
There are no official or centralized statistics on mountain biker-bear encounters, but there are several documented incidents from the past decade alone. Just two weeks before Treat's death, a rider in the Sierra Nevadas collided with a black bear, which sent him flying over his handlebars. The bear ran off and the man came away uninjured. In 2014, a grizzly bear charged a mountain biker in Canada's Jasper National Park, knocking him off his bike. The bear bit into the rider's bear spray canister, which sent the animal fleeing and saved the rider's life. Also in Jasper, just a few months earlier, a mother grizzly protecting her cub charged two mountain bikers. The riders ditched their bikes and sprinted away. A woman mountain biking in Calgary was killed by a black bear in 2007. Other encounters have been reported in Wyoming, Wisconsin, Alaska, and throughout Canada.
Both the number of mountain bikers and the number of bears across the West grows each year. According to a 2016 Outdoor Industry Association study, participation in mountain biking grew by roughly 20 percent—from 6.9 million people to 8.3 million—between 2007 and 2015. Meanwhile, grizzly and black bears in the West, Alaska, and Canada number in the hundreds of thousands—and their populations are increasing, according to National Geographic. Of the roughly 20,000 mountain bike trails in the U.S., about 5 percent weave through grizzly territory, and well over half of trails are in states where black bears roam, according to a MTB Project database. In that context, it's easy to imagine more encounters in the future.
"It's an emerging issue as biking becomes more popular and bears expand their distribution," says John Waller, a grizzly bear biologist in Glacier National Park who helped write the report. When asked about the possibility of another deadly encounter, Waller replied, "I think it will happen again."
But Ben Horan, executive director of the International Mountain Bicycling Association chapter in Missoula, Montana, points out that there are only two known instances in which mountain bikers were killed by bears in North America. "As tragic as these instances are, they are incredibly rare," he says. Still, Horan recognizes the risk and understands the potential danger. "When we ride in bear habitat, it's important that we remember we're visitors."
John Waller says he hopes Brad Treat's death will ultimately be a "catalyst for change," sparking more awareness and education about the dangers of mountain biking in bear country. Since the report was published, mountain bike groups have begun bolstering their efforts to educate riders. For instance, Horan says IMBA in Missoula, Montana, is working on new literature about safe riding in bear country. Chuck Bartlebaugh, founder and director of Be Bear Aware in Missoula, says he's also working on producing new safety information for mountain bikers.
One thing that hasn't changed since Treat's death is signage. Trail signs are typically directed at hikers, but the report makes a strong recommendation that bike-specific signs—warning bikers to be careful at blind corners and mindful of their speed—be placed at trailheads on public lands. "Recreation in bear country requires awareness and caution," says Chip Weber, supervisor of the Flathead National Forest, where Treat was killed. One way he tries to mitigate the risk for mountain bikers is by building trails with improved sight distances, so that riders don't come around blind corners. He also says it's important to locate trails away from areas with high bear activity, like huckleberry patches or salmon spawning areas. Horan also endorses thoughtful trail design, noting that mountain bikers typically prefer longer site distances.
But safety measures and increased awareness may only go so far. As the popularity of mountain biking grows and bear populations across North America expand, it seems likely that riders will continue to meet bears on the trail.
---
How to Avoid a Bear Encounter on a Bike
We called several experts for tips on how mountain bikers can stay safe in bear country.
Slow down
"Riding fast in bear country is a really bad idea," Servheen says. "If your intention is to ride really fast, you shouldn't do it in a place where you could hit an animal or person." Servheen also says it is irresponsible to ride fast in areas with poor sight distance (e.g. heavily wooded areas with lots of blind corners).
Carry Bear Spray
According to Bartlebaugh, bikers should carry bear spray either in a chest holster or a holster that goes over their back so it doesn't interfere with pedaling. He argues that even in a group, all riders should carry bear spray, so if one rider comes across another in trouble, they can take action. "The more riders out there carrying bear spray, the more likely someone will be able to help," Bartlebaugh says.
Matt Radlowski, an experienced mountain biker who rides throughout the west, routinely sees black bears and has had one run in with a mountain lion while on his bike. He compares bringing bear spray biking to carrying avalanche equipment when backcountry skiing. "Everyone needs to carry their own in case a partner needs it," he says.
Make Noise
One of the main dangers of riding in bear country is that mountain bikers don't generate much noise, increasing the odds of a surprise encounter with a bear. The report notes it is important to generate some kind of noise. Bartlebaugh agrees, but says, "Bear bells don't work [for bikers]. They don't make enough noise and bears don't seem to notice it." Instead, he recommends shouting periodically, making specific tonal sounds like "Hey bear! Ho bear!" from which the animals typically flee.
Look Up
"Bikers are really focused on biking," Bartlebaugh says. "They need to look ahead." The Board of Review report also recommends being vigilant—keeping an eye out for signs of bear activity (think: tracks, scat, and feeding sites) and not riding in areas with rich sources of bear food, like near huckleberry patches in late summer.
Horan also noted that mountain bikers shouldn't ride with headphones in bear country, as it makes riders less likely to hear or notice wildlife in the surrounding area.
Don't Ride Alone
If you ride in a group, you'll generate more noise and will be more capable of responding to a rider in trouble. "Parties of at least three seem to be a good number in bear country," Radlowski says. "Enough people to keep watch, make noise, and extra hands if something were to happen."
Don't Ride at Dusk or Dawn
Bears typically feed in the early morning or around dawn, and "they tend to be more active at these times," according to the Board of Review report.  If you're riding during these hours—before or after work, for instance—the likelihood you'll encounter a bear increases. "Bears work hard to avoid us," Bartlebaugh says, noting that in some cases they feed at these hours to avoid interacting with humans. He also notes that it is safer to ride later in the summer because during the early season, "if bears aren't used to bikers, they'll become more aggressive."
If You're Attacked
There are a lot of variables, including where, when, and how you might encounter a bear. But if possible, Bartlebaugh recommends placing your bike sideways between you and the animal. The bike might preoccupy the animal while you're getting your bear spray.
Paul Howard, a mountain bike instructor in Whistler, B.C., has grown accustomed to encountering black bears when he is riding. In one case, while Howard was on the phone, a black bear approached him and started sniffing Howard's rear tire. "Don't act like prey," he tells his clients about interacting with black bears. "Stay calm and ride away slowly from the bear." Howard also recommends keeping your bike between you and the bear if a situation escalates.
Lead Photo: Matthew Billington