Why The Polar Vortex is Good for Wolves
A rare ice bridge between Isle Royale National Park and the mainland offers a lifeline to the island's dwindling wolf pack.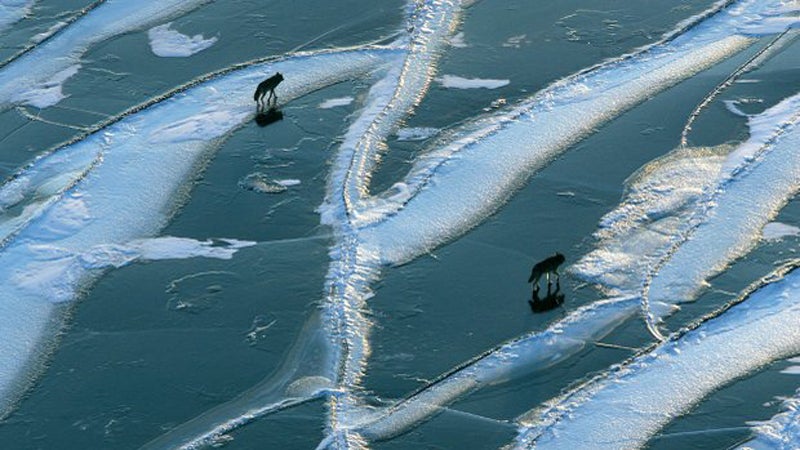 Heading out the door? Read this article on the new Outside+ app available now on iOS devices for members! Download the app.
The Park Service website for Michigan's Isle Royale National Park describes it as "a rugged, isolated island where wolves… abound." Rugged and isolated, yes. Wolves abounding? Not quite. Only 8 wolves live on the 133,000-acre island today, down from 24 in 2009, according to Lake Superior Magazine's Phil Bencomo. The pack's isolation, and resulting lack of genetic diversity, is causing its decline. 
But the deep freezes accompanying this winter have have brought more to the upper Great Lakes that ice caves, it has formed ice bridges between the island and the nearest mainland, around 20 miles away. This is a rare event, not seen since 2008. That time, no new wolves came to the island—in fact, two collared wolves are believed to have to used the bridge leave it. Prior to 2008, the water had remained open since 1997, when an alpha male came to the island via the frozen lake. All the island's wolves alive today descend from that animal.
Rolf Peterson, a Michigan Technological University researcher who has studied Isle Royale's wolves and moose for more than 40 years, told Bencomo that he predicts that, by 2040, Lake Superior simply won't have significant ice cover in the winter.
This might be one of the wolf pack's last chances to stem its decline—and if temperatures continue to rise as they have this week, the window is quickly closing.
Meanwhile, a major debate is brewing around whether biologists should intercede by introducing new wolves and deepening the genetic pool. Nearly the entire island is Wilderness with a capital W, and thereby protected by the Wilderness Act, so the short answer is "that's not legal."
But here's the thing: the reason the wolves are suffering is tied directly to the fact that cold winters are exceedingly rare. So, the only way to effectively and sustainably help the island's wolves is to, basically, reverse climate change. This makes the whole argument over the legal implications of the Wilderness Act rather inconsequential.
Writes Bencomo: "Rolf [Peterson] contends that humans have already significantly impacted Isle Royale through climate change and other influences, so wilderness preservation today requires active human assistance, not merely drawing up park boundaries and stepping away. 'The 20th century notion of 'wilderness' is not immutable.' He argues that intervention is essential to fulfilling the NPS mission of conservation."
I expect that we are going to see more and more instances where land managers are stuck between preserving ecosystems (by leaving them alone) and trying to somehow preserve them by helping them adapt to a changing climate.
As Isle Royale's superintendent Phyllis Green said: "When you get these really large effects that are more indirect, I mean, climate change is so huge, it's not like a situation where people went in and trapped out a species. You have this very insidious effect that's going to happen over time to multiple species. So trying to sort out our role in that is why this decision process is taking the time it is."
Read more about the decades-long Isle Royale wolf and moose study on this website, and sign up for email dispatches during the winter study here.
UPDATE: An Isle Royale wolf that escaped via the ice bridge has been found dead. Nicknamed "Isabelle," the collared adult female had been injuried previously in attacks by other wolves. It's not clear what ultimately killed Isabelle. She was not shot, and cause of death was not immediately apparent.
Trending on Outside Online