A Conversation with a Member of the First All-Black Team to Summit Everest
Kenyan climber KG Kagambi, 62, opens up about the historic trek up the world's tallest mountain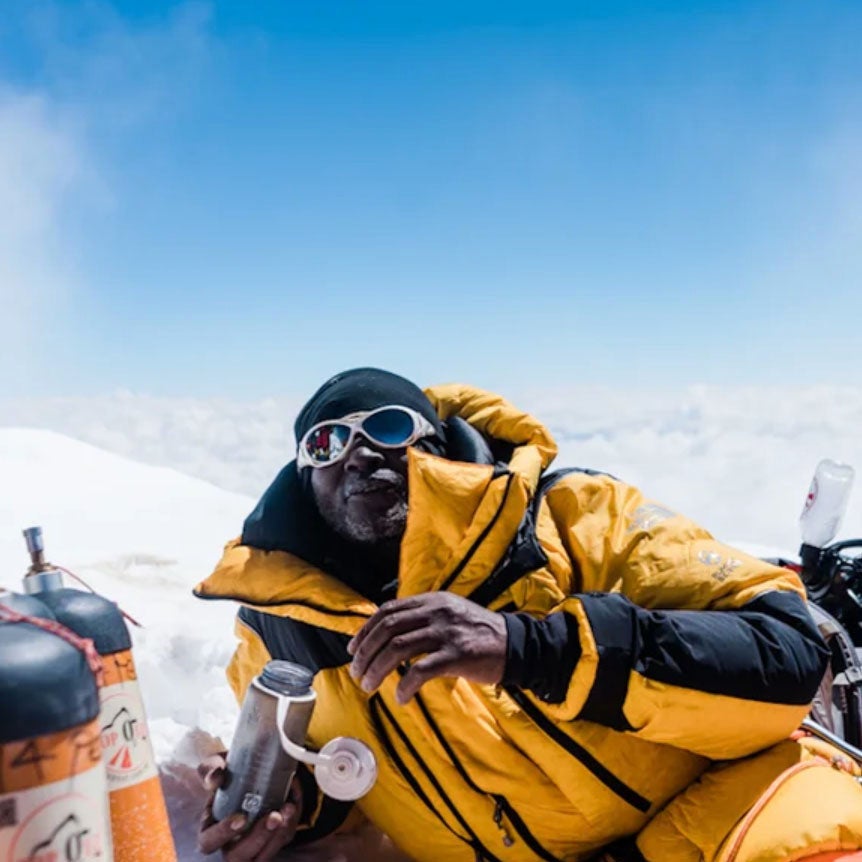 KG Kagambi
Heading out the door? Read this article on the new Outside+ app available now on iOS devices for members! Download the app.
On May 12, 2022, seven members of the 11-person Full Circle Everest expedition—the first all-Black team taking on Mount Everest—summited the world's highest peak. Spearheaded by outdoor educator Phil Henderson, this expedition has been warmly supported across the world and sets a new bar for cultural representation in mountaineering. 
James "KG" Kagambi, 62, the oldest member of the expedition and the sole Kenyan on an otherwise all-American team, was among those who made it to the top. "We nearly doubled the number of Black people who have stood on the top of Everest," he notes. "Previously there were only eight."
He sat down with me back in Kenya, his freshly shaven skin glowing after more than a month in Nepal, to chat about how the highly anticipated trip went: how he felt, what he saw, and what's next on the horizon for him.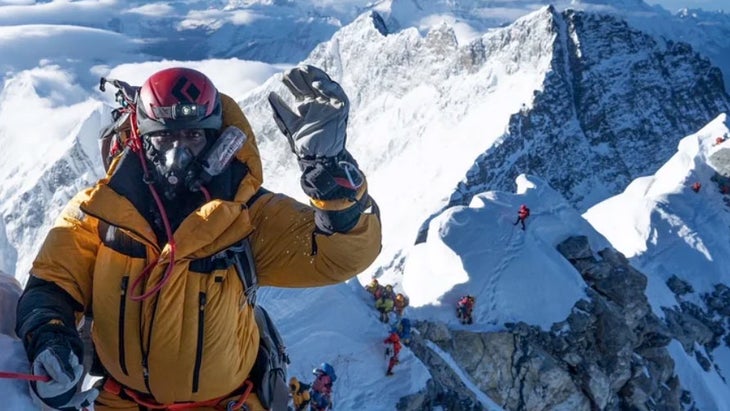 Climbing: What was surprising to you on this expedition?
Kagambi: The most surprising thing, which maybe shouldn't have been, was how crowded it was at the top. There are these things that we know about but can't fathom until we experience them ourselves. Also, Everest is about having stamina—can you walk for 18 hours, stop, and then keep going? But having a technical background does help with success on Everest, and lends a feeling of accomplishment. Otherwise, it can feel like it's just other people doing things for you.
Climbing: How did your time at the different Everest camps go?
Kagambi: The whole time, we felt extremely supported and ate well—potatoes, rice, sandwiches, fish, sometimes mutton…three-course meals. Since this was a very publicized expedition, people from all over kept coming up to us to chat, congratulate us, take photos, and wish us well. I think the most challenging thing was the cough. I couldn't talk, sing, and dance as much as I wanted to.
Climbing: What was summit day like?
Kagambi: We had two "rotations," the first one for practice, and we sent it on the second one since the weather was good. On that second rotation, we knew we might summit. We were divided into two groups. At Camp III, I started using oxygen, which felt really good.
In terms of my emotions, the closer I got to the top, the less I thought it was real. I thought I was dreaming. But at the top with the crowds, that changed. It brought me back to earth. You had to think about your safety, clipping, and how to get down. It put me back on alert mode—I had to think about how to get out of there. I don't feel that I had many other challenges when compared to other mountains. For instance, Denali was tougher in terms of weather and how wearing that was. Of course, this was also affected by how much support we had—tons!—and also temperature. We were blessed; the weather was good to us pretty much the whole time.
At the summit, I had wanted to pray—to kneel down and thank God. But things were not really possible up there with so many people. Still, I prayed for my country, which made me feel good. Looking over, and being on top of everything, that made me feel good.
Coming down, it was just me and my Sherpa, Sanaam. We were joking and laughing, and I had to be careful with my knees.
Climbing: You mention your knees: How did the expedition physically feel to you?
Kagambi: My knees have been a weak point, so I was very careful and conscious of where I was stepping. In general, it wasn't an issue, but I did fall twice on crampons and hit the same spot on my left knee twice. I felt the most pain in my knees in the past two weeks, when I stopped exercising. I was supposed to have knee replacement surgery last year, which I put off for Full Circle. But now I'm undecided about whether I'll have it next year or at all—we'll just see how things go.
I did catch a cough—the Khumbu cough, as they call it—from the cold air.
Climbing: How did it feel being an older member of the expedition?
Kagambi: It didn't bother me at all. I think my experience helped to balance out the age gap. For instance, I refused to get out of breath. All my decades of mountaineering helped me find the right pace. Nobody should worry about me. I'm unbothered with not getting references in conversations, I just jump in when I can. If anything, I felt that everyone respected me so much.
Climbing: How was the team cohesion?
Kagambi: We all got along. We had a lot of free time, which can be challenging if you're not expecting it. People may not realize that you need to take time and just hang out to give your body a chance to acclimate instead of rushing forward.
Phil was a true leader. From early, he decided not to summit, that he was only going to Camp II. There was much to do and deal with: logistics, cooks, porters…all that needed a lot of attention. It was a very intentional choice, and he still felt that he succeeded.
Phil was also really good at handling the film crew, dealing with the proximity of how they were filming. Of course, sometimes they get up in your face, but if Phil felt that a moment shouldn't be recorded, he would make that clear. The film crew is made of seven people: three from Nepal, four from the U.S. And they were with us in December, so we had a good rapport going on.
Climbing: From your time on Everest, did you gain any insights into the industry there?
Kagambi: On Everest, things are easy. You can helicopter things in, have yaks carry loads. It's definitely possible to have a luxurious camping experience on that mountain. I want to bring these ideas back to Kenya—like having heaters in tents—to bring up what we have to offer to the next level, and charge more.
Climbing: How did the situation look up there in terms of environmental degradation?
Kagambi: To be honest, it was a lot cleaner on Everest than I had imagined and from what I'd heard. Apparently, during the height of COVID, Sherpas took the opportunity to clean up the slopes of Everest. I expected to see a lot more trash. Camp IV was indeed more littered—there were noticeably more tattered tents and empty oxygen tanks lying about.
In dealing with human waste, they carry everything down from Everest Base Camp, which is something that folks on Kilimanjaro and Mount Kenya could learn from.
Something that made me happy that I wasn't expecting was the National Geographic Society camp. They were really doing a good job. We found Sherpas cleaning everything and carrying all the waste down—even yak poop. "Leave no trace" has become an expectation at every camp; you have to sweep before they let you go.
Climbing: Were you looking forward to anything upon returning home?
Kagambi: Through all my years working in this industry, I've learned to not hold onto any expectations; I've been disappointed so many times in the past about what I want when I come back. It can be something like wanting to eat a piece of meat from a certain place, but getting called into the field as a replacement and having no choice but to head back into the field.
When we were coming down the mountain, the weather was changing so quickly. Phil decided that we would helicopter out. We got to the second town just below [Everest Base Camp], just in time, where we had no network for two days. I was fine with just being there, instead of going to Kathmandu to eat some momos. It ended up being a good buffer zone—stopping in the middle of nowhere gave me time to think. I was mainly resting and taking care of myself. That quiet time let me appreciate the fact that our people from Full Circle went and did what they wanted to.
Climbing: I've read interviews where there was no mention of the Sherpas—without whom the expedition would not be possible. What do you think this indicates about the industry?
Kagambi: From the beginning, Phil placed a strong emphasis on how much support we had—not just in terms of sponsors. So we were quite aware that it's a lot more than just us going to the mountain, that there's a whole team behind us who are just as part of the expedition and helping make this happen. I could tell that not all companies set the tone this way. We definitely need to give more recognition to people behind the scenes.
I did notice the respect between Sherpas. They offered help and support to everyone they came across, not just their own clients. Instead of people competing, it felt that we were working together. They were also really good at pairing us up with Sherpas to match our different paces—one per person. At that elevation, you can't be subjected to other people's speeds.
Climbing: What was the reception like back in Kenya?
Kagambi: Overwhelming. There was a lot of media attention even before we left Nepal. I had calls from Base Camp, where data gets incredibly expensive—$200 for ten gigabytes!—and have a lot of events lined up for this whole first week back. But I am somewhat mentally prepared since it was busy like this before my departure as well. The President of Nepal had said that he wanted to meet me, although he hasn't followed up on that. And the Minister of Tourism mentioned me by name as he was coming down from Mount Kenya himself the other week.
Climbing: How do you think Full Circle might help elevate Kenyan climbing? It's a question that has been percolating in the club community here.
Kagambi: The Ministry of Tourism still hasn't recognized mountaineering or rock climbing as a sport in Kenya. In the talks I have lined up, I'll be sure to bring this up—you never know who will hear it. You don't have to look at it from a cost perspective; you can go for a hike for free. It's my hope that everyone can at least try these things and see how they feel. For sure it will benefit you. I want to encourage not only mountaineering but just going out for a hike to see how that fits into your life.
Climbing: How will this change your career?
Kagambi: People have been asking me this a lot. I haven't found an answer yet, but I still want to be myself during my time in the mountains. I'm still committed to being an outdoors educator and want to always have fun and see how kids grow up. I would be disappointed if this were taken away. I have a contract in Wyoming with NOLs, from late June to September. People ask, "Why are you going there?" They have no idea how wonderful it is.
Lead Photo: KG Kagambi