A Daring Rescue on Annapurna
Indian mountaineer Anaug Maloo was stranded in a crevasse for three days, until a team of rescuers overcame improbable odds to save him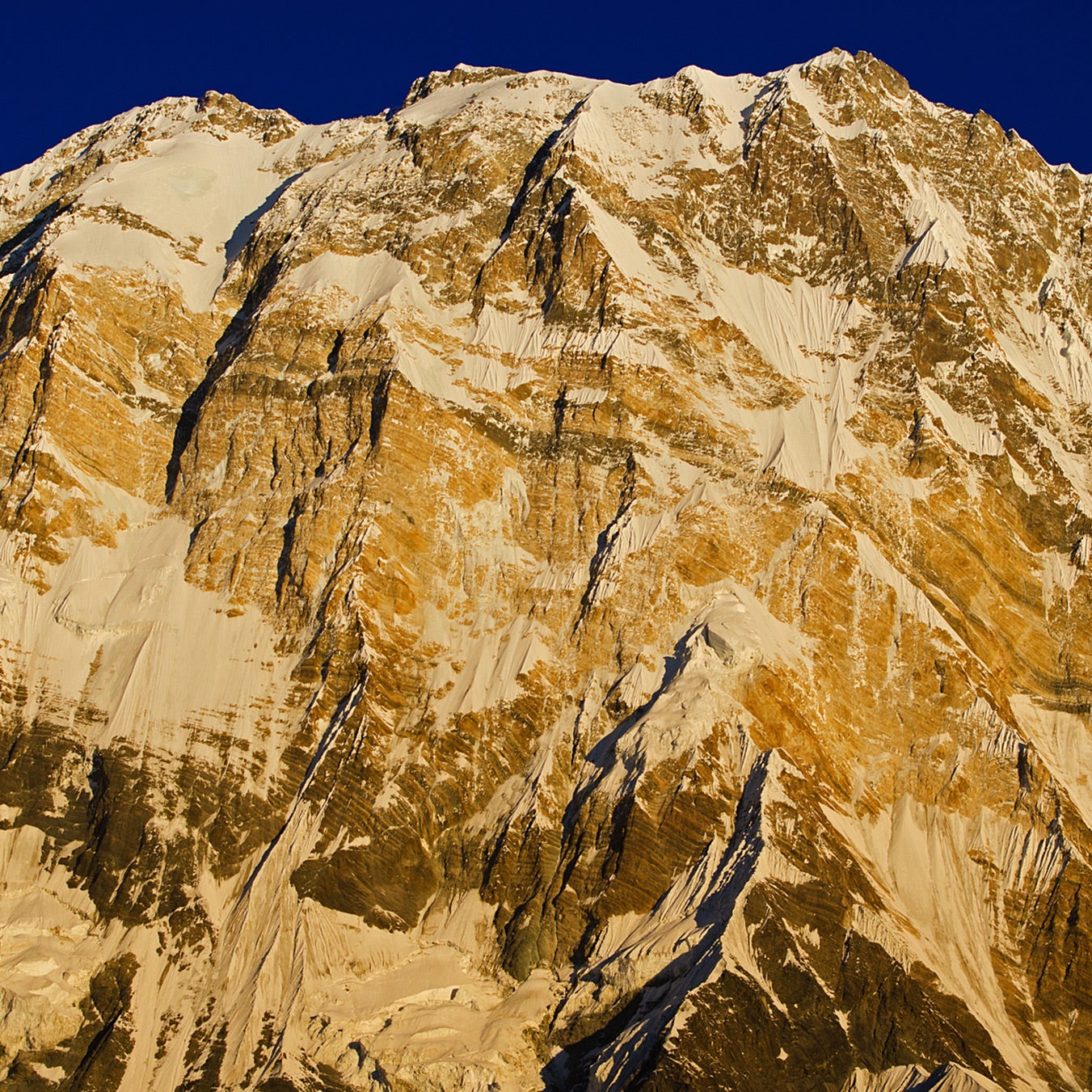 Getty Images
Heading out the door? Read this article on the new Outside+ app available now on iOS devices for members! Download the app.
A team of climbers, mountain guides, and helicopter pilots in Nepal is celebrating after pulling off one of the most improbable Himalayan rescues in recent memory. On Thursday, April 20, the group located missing Indian mountaineer Anurag Maloo at the bottom of a deep crevasse on the slopes of 26,545-foot Annapurna. Maloo, 34, had been stuck in the pit for nearly three days.
The group erected a system of ropes and pulleys and hoisted Maloo from the ice onto a slope prone to avalanches, before loading him into a helicopter bound for a nearby hospital. The latest reports on Friday say that Maloo is in critical condition at a facility in Kathmandu—but he is alive.
Video of the harrowing rescue circulated on Instagram Thursday afternoon, showing the climbers navigating the narrow pocket of ice where Maloo was found. One of the pilots who ferried rescuers and supplies back and forth from the crevasse says that the successful mission was the product of teamwork and luck.
"We were all happy and energized that everything went smoothly," Sobit Gauchan told Outside. "We celebrated after coming back to Base Camp."
Another reason for the celebration, Gauchan says, is that most people on the mountain had assumed that Maloo had perished in the icy tomb. "I think that is the reason few were willing to risk their life to go inside the crevasse," he says.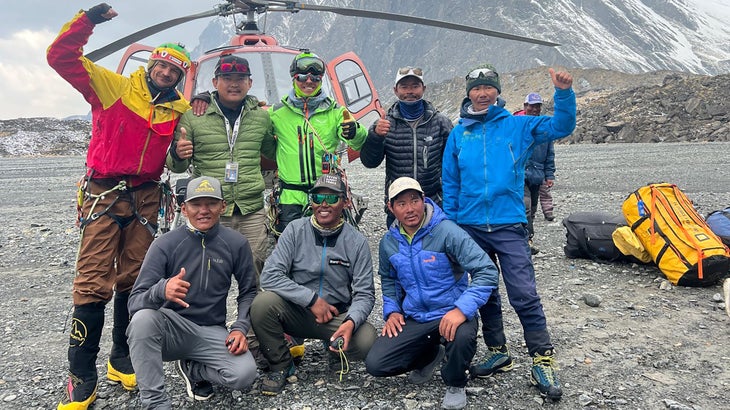 A Tragic Week On the Mountain
Maloo's disappearance on Monday, April 17, occurred amid a terrifying few days on the world's tenth-highest peak, which is also one of the most dangerous mountains above 8,000 meters.
Over the weekend, a favorable weather window opened up and approximately 40 climbers began their push for the Annapurna summit.
But the clear conditions changed quickly, and a storm trapped multiple mountaineers high on the peak, where confusion and tragedy happened. An Irish climber named Noel Hanna, 56, died Monday night in his tent at Camp 4, at 23,300 feet, after reaching the summit without supplemental oxygen. Then, Indian mountaineer Baljee Kaur spent the night stranded on the mountainside after getting lost on the descent to the camp. Others huddled in their tents at Camps 3 and 4, unable to descend.
On Tuesday, April 18, multiple rescue helicopters flew high onto the peak to rescue survivors and to search for Kaur, who was eventually discovered and saved.
Gauchan, a pilot and instructor with the charter company Prabhu Helicopter, completed two aerial pickups from Camp 3 that day, ferrying a French climber and his Sherpa down to Base Camp. The flights were just two of 185 sorties he made during a 35-hour period.
"Everyone's focus was on people stuck in higher camps," Gauchan says.
As helicopters flew up again and again to save climbers, the search for Maloo was just getting started.
Maloo's Fateful Descent
Maloo had been trying to climb the peak without supplemental oxygen, but he turned back from the summit on April 17 after feeling sick. He descended the peak alongside Brazilian climber Moeses Fiamoncini, who had also aborted his attempt just shy of the top. Fiamoncini told reporter Angela Benevides of Explorersweb that he was with Maloo at the time of his disappearance.
"Maloo was very weak, probably with some [acute mountain sickness], so I descended all the time some meters behind or in front of him, and so did his Sherpa. He was never alone," Fiamoncini told Explorersweb.
Disaster struck when the trio descended a steep and icy cliff that required rappelling. Fiamoncini said the climbers had three ropes to choose from for the rappel, and that he went first and navigated the section safely. But when he looked up, he saw that Maloo had chosen a rope that was too short to reach the bottom of the cliff.
"I shouted to him, telling him to stop, to look at the rope, but he didn't," Fiamoncini told Explorersweb."He fell when the rope ended, and he hit the hard ice one meter to the right of me and immediately slid down, rolling, for some more meters until he disappeared in the crevasse. I was horrified."
Fiamoncini and the guide climbed to the mouth of the crevasse and shouted into it. He said they stayed there for "a long time," despite the slope's exposure to avalanches. Receiving no response, the duo eventually climbed down to Base Camp. "He never made a sound, not even when falling," Fiamoncini told Explorersweb. "In such circumstances, I knew the possibility of finding Anurag alive was really very slim."
News of the disaster filtered out to the media and through the mountaineering community. Maloo's brother, Sudhir Maloo, wrote a plea to the outside world to help find the stricken climber.
"We are devastated," he wrote on Instagram. "It feels like our worst nightmares have come true, but we cannot lose hope. We know that Anurag is out there somewhere, waiting for us. Help us find him by signing and sharing this petition."
A Rescue In Thin Air
The rescue operation was launched by Seven Summits Treks founder Chhang Dawa Sherpa and his brother Mingma Sherpa. On Wednesday, April 19, Mingma phoned Gauchan asking about helicopter availability, and the pilot said he could be ready later that afternoon. "We have worked together in many other high-altitude rescues before," Gauchan says. "There were no other helicopters with pilots that could go that high."
That afternoon, Gauchan flew to the town of Dana to pick up five Sherpa rescuers, and then ferried them that evening to Base Camp. The group, which included seven rescuers, got an early start on Thursday, leaving Base Camp at around 6 A.M. to reach the site. Helicopters struggle to hover and carry loads at such high altitude, so Gauchan had to ferry just one or two climbers at a time to the crevasse. "Finding a landing spot was the challenging part for me—I'd barely touch the ground and tell the climber to jump out," Gauchan says. "The second, third, and fourth flights all had this same kind of difficulty."
The rescue party included Chhepal Sherpa, Chhang Dawa Sherpa, Dawa Nurbu Sherpa, Tashi Sherpa, Lakpa Sherpa, Lakpa Nurbu Sherpa, and Polish climber Adam Bielecki, who had been at Base Camp at the time of the rescue.
The crew built a rope system atop the crevasse, and then Bielecki and Tashi Sherpa descended into the pit. Bielecki told Explorersweb that he found Maloo nearly 200 feet below the surface in a pile of snow. He was still breathing.
"I was expecting to retrieve a dead body, so try to imagine my surprise when I saw that he was breathing, his eyes reacted to light, and his body shivered a little," Bielecki told Explorersweb. "The feeling of joy that wraps you is indescribable."
Members of the team recorded video as they hoisted Maloo through the tight chamber in the ice. It took approximately an hour to raise Maloo out of the crevasse and six hours to complete the mission. Gauchan received a call on his radio that the team had found the lost climber, and he flew from Base Camp to the rescue site, and loaded Maloo and others onto his helicopter, and returned to Base Camp.
"He was checked by some medical personnel present there, and then flown to Manipal hospital along with his younger brother and Chang Dawa onboard," Gauchan told Outside.
It took several hours for Gauchan to ferry the rescuers back from the crevasse to Base Camp, and luckily the group avoided avalanches while waiting. The weather had gotten bad, Gauchan says, raising the level of danger for the entire operation.
"We were the only people high up in that mountain and the previous trails were all buried due to fresh snow," he says. "By noon, the mountain was covered up. Had we been 30 minutes late, some of the people would be stuck in higher camps, which would have taken them at least a day to find their way back."
Recovery in Kathmandu
On Thursday, April 20, Mingma Sherpa of Seven Summit Treks posted the good news on Instagram: "After three days of being missing in a crevasse nearly 250m below, Anurag has been successfully rescued and choppered to Manipal Hospital and then Medicity Hospital in Kathmandu." Dozens of comments on the post cheered on the rescuers for saving Maloo's life amid the seemingly impossible circumstances.
The Himalayan Times reported that Maloo received a litany of lifesaving treatments after he was plucked from the ice. According to that report, Doctors performed CPR on him for over four hours. Emergency crews also treated him for hypothermia and then placed him on a ventilator. The most recent reports on Friday said that he is in the intensive care unit at MediCity Hospital in Kathmandu.
"Currently his blood pressure has increased and heart rate is okay, with scant urine output," a Mediciti Hospital representative told The Himalayan Times on Thursday evening.
Maloo's survival inside the crevasse feels straight out of a Hollywood movie, and mountaineers and high-alpine specialists speculated about how he stayed alive for three days in such an inhospitable environment. Amit Chowdhury, a board member of the International Climbing and Mountaineering Federation (UIAA), told the BBC: "A crevasse is warmer and well protected from wind. So if he was not badly injured, it's not unusual that he survived in a crevasse."
The ordeal has cast a limelight on the incredible challenge of rescuing climbers in the high peaks, and the important role that helicopter pilots like Gauchan now play in saving lives when situations go wrong. It's also vaulted Maloo onto an international stage. He is attempting to climb the world's 14 peaks above 8,000 meters to bring attention to sustainable development and environmental protection. In December, he wrote a lengthy post online explaining his mission.
"Unfortunately, mountains are under threat from climate change and overexploitation," he wrote. "With the increasing global temperatures and alarming rate of warming of planet, melting of glaciers at unprecedented rates, affecting freshwater supplies downstream, and the increasing plastic waste, the mountain people face even much greater struggles to survive. This problem affects us all. We must reduce our carbon footprint and take care of these natural treasures. "
Lead Photo: Getty Images