Why Did So Many Climbers Die on Mount Everest This Year?
Some blame the weather, while others point the finger at the economic trends that are shaping Himalayan mountaineering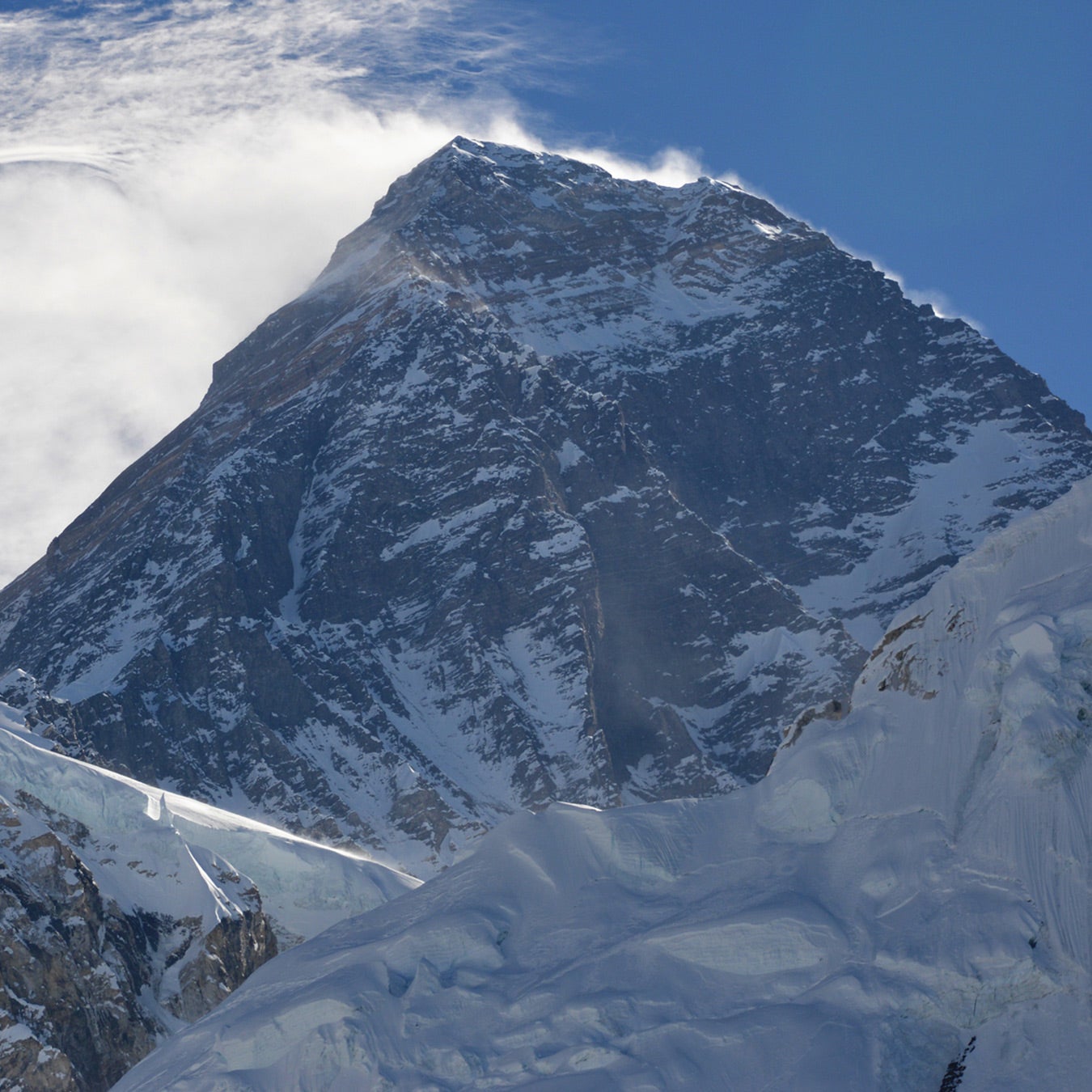 JamesBrew/Getty Images
Heading out the door? Read this article on the new Outside+ app available now on iOS devices for members! Download the app.
The 2023 spring climbing season on Mount Everest has come to an unofficial end, with monsoons and high winds returning to Khumbu Valley in recent days and closing the window of calm weather on the world's highest peak. Climbers and expedition leaders must now take stock of what is one of the most chaotic and deadly years in the mountain's history.
As of this story's publishing, 12 climbers are dead and five are still missing. The current death toll is the fourth-highest in Everest history, (only 2015, 1996, and 2014 had more, with 13, 15 and 16 deaths respectively). If the five missing people are declared dead, then 2023 will have the unhappy distinction as the deadliest year for climbers on the peak at 17. In 2015, a massive earthquake triggered an avalanche that swept through Base Camp—conflicting reports peg the final death count at anywhere from 19 to 24 people. Not all of those killed were climbers, however, as the slide killed camp workers and expedition staff as well.
Climbers over 50 years old took a heavy toll this season. On May 1, American Jonathan Sugarman, 69, climbing with American operator International Mountain Guides (IMG), died at Camp II. On May 18, Chinese climber Xuebin Chen, 52, died near the South Summit with Nepali operator 8K Expeditions. And on May 24, Canadian Dr. Pieter Swart, 63, died after turning back at the South Col with Madison Mountaineering. Garrett Madison, owner of the guiding company, told Outside that Swart died suddenly. "He died of a rapid onset lung infection/pulmonary edema," Madison wrote in a message. "We are going to make a statement soon about it. Been very focused on getting his body down and communicating everything with his family."
It appears that altitude sickness may have contributed to several other deaths this season. On May 16, Phurba Sherpa, who was part of the Nepal Army mountain clean-up campaign, died near Yellow Band above Camp III. Another Nepali climber, Ang Kami Sherpa, working as kitchen staff for outfitter Peak Promotion, died at Camp II when he collapsed near the helicopter pad.
Moldovan climber Victor Brinza died on May 17 at the South Col while climbing with Nepali operator Himalayan Traverse Adventure. On May 20, Malaysian Ag Askandar Bin Ampuan Yaacub climbed above South Summit, then became ill and died. He was with Nepali operator Pioneer Adventures. Australian Jason Bernard Kennison, 40, died on May 21 near the Balcony while climbing with Asian Trekking. Indian Suzanne Leopoldina Jesus, 59, intended to climb Everest but left Base Camp ill and died in Lukla on May 18. She became sick at camp, and according to multiple reports, refused to go lower for help for several days. Three of the 13 deaths occurred simultaneously: On April 12, a section of the Khumbu Icefall collapsed, burying Da Chhiree Sherpa, Tendi Sherpa, and Lakpa Rita Sherpa under tons of ice. They were ferrying ropes and gear to put in the safety lines from Camp II to the summit, and their bodies have not been recovered.
According to The Himalayan Times, five climbers still missing on the peak. Nepali climbers Ranjit Kumar Shah and Lakpa Nuru were ascending together when they disappeared. Hawari Bin Hashim of Malasia was attempting to become the first hearing-impaired climber from Malaysia to ascend Everest when he went missing after reaching the summit.
Hungarian climber Suhajda Szilard, who was attempting to scale Everest without supplemental oxygen, is presumed dead after climbers found him unresponsive near the summit. According to Explorersweb, an attempt to rescue him was called off on May 27 due to weather. Shrinivas Sainis Dattatraya of Singapore is also missing and presumed dead. Prior to disappearing, Dattatraya texted his wife saying that he was suffering from high-altitude cerebral edema (HACE), a deadly disorder that happens when a person travels to extreme altitudes without proper acclimatization. Dattatraya's wife believes her husband will not be found, writing a memorial to her husband on Instagram. "He was 39, and in his glorious and rich life, he lived fearlessly and to the fullest. He explored the depth of the sea and scaled the greatest heights of the Earth."
Frostbite and Rescues
In addition to deaths, mountaineers at Everest told me that climbers saw an uptick in cases of frostbite and calls for mid-mountain rescues this year. Some sources blamed this dynamic on the record number of foreign climbing permits issued by Nepal this year—478 foreign climbers received permits, and approximately 600 climbers reached the top.
Others pointed fingers at inexperienced guides and climber error. However, Nepal government officials and some other climbers say climate change created colder-than-normal conditions on the peak this year, and a tight weather window forced climbers onto the peak earlier than normal. Dr. Yuba Raj Khatiwada, the director of Nepal's tourism department, told multiple outlets that climate change and the weather were to blame.
"Altogether this year we lost 17 people on the mountain this season—the main cause is the changing in the weather," he told The Guardian. "This season the weather conditions were not favorable, it was very variable. Climate change is having a big impact in the mountains."
The reports of colder weather are anecdotal, and Nepali authorities have yet to release temperature data backing up the claims. Chris Tomer of weather forecasting outfit Tomer Weather Solutions said the average temperature on the Everest summit varies from -10 to -20 degrees Fahrenheit during climbing season. Nabin Trital, managing director of guiding company Expedition Himalaya, said that the weather did feel different this year, notably colder than usual. "Compared to the previous years, we have experienced a lot of cases of frostbite. This year snowing occurred only in late March, which is why it was colder in the mountains like winter expeditions," he said.
Guy Cotter, managing director of expedition company Adventure Consultants, echoed the sentiment. "It was a very cold season, the coldest my staff and I have ever experienced," said Cotter, who has been climbing Everest since the early 1990s. "We had two Sherpas suffer from frostbite, which is the first time in 30 years that we have ever had any of our Sherpas suffer frostbite. Luckily one case was superficial, and the other may lose the end of a finger."
Multiple sources told me that helicopter rescues were a daily occurrence on Everest this year. Cotter estimated the total number of flights to be around 200 from Base Camp to Camp II at 21,300 feet elevation. "The number of rescues was unprecedented," he said.
Cotter did note that some of the flights were used to transport gear, and in some cases, even climbers to and from Camp II—a practice the Nepali government explicitly prohibits except for medical resources. "Climbers were regularly flying out from Camp II as opposed to facing the icefall," Cotter said. "Helicopter activity over Base Camp is continuous from dawn to dusk every fine day."
Why So Many Deaths?
Just three of the 12 confirmed deaths were related—the Sherpas who died due to falling ice—and the others were the result of sickness, exhaustion, falls, or climbers getting lost. Some mountaineers and government officials believe this was due to simple numbers—more people ventured onto Everest this year than any year in history. Ang Norbu Sherpa, president of the Nepal National Mountain Guide Association, told The Guardian that 478 permits was simply too many.
"The climbing pattern has changed, it used to be hardened climbers but now it is a lot of novice climbers who want to get to the summit of Everest," he said.
Mountaineers I spoke to echoed his sentiment, telling me there was an uptick in inexperienced climbers working with low-cost expedition companies that offer bare-bones support. Garrett Madison, the founder of Madison Mountaineering, said some operators now take clients with no prior high-altitude experience onto the peak. "We require climbers to have successfully completed several big peaks before joining us for Everest, such as Aconcagua, Denali, Chimborazo, Cho Oyu, etc," he said. "I've seen a trend where companies say, 'No experience required [and that] anything is possible,' and I don't support that model."
Phil Crampton, the founder of Kathmandu-based Altitude Junkies, said he's seen some operators allow clients to push for the summit even after a guide has turned back due to sickness. Cotter says some of the deaths likely occurred when climbers encountered a problem—exhaustion or low oxygen levels—but they were working with an outfitter that did not have a backup plan. "The operators supporting those climbers still have a mindset that they are merely providing expedition services and not guiding these people and therefore feel no sense of responsibility for them," he said.
Lukas Furtenbach, owner of Furtenbach Adventures, said many of the deaths were preventable. In his opinion, the fatalities were the result of poor planning for oxygen needs, and a lowering of general safety standards. "Apart from the three sherpas in the icefall and the IMG client who probably had a heart attack or stroke, I am convinced that all the other deaths could have been avoided by following safety standards and [having] sufficient oxygen supplies at all times," he said. "[The deaths] all have a similar pattern."
Caroline Pemberton, general manager and co-owner of guiding company Climbing the Seven Summits, had 44 clients safely reach the Everest summit. Pemberton believes there's a different mindset between guiding companies—some view their operations as simply logistics operators for clients hoping to reach the summit, while other outfits are focused more on climber safety.  "There's a consumer misunderstanding of the options available on Everest," she said.
Pemberton believes some clients pay a heavy price by working with untested operators that offer a lower price. "Sadly, people lose their lives in an effort to save $10,000. It appears that they do not anticipate that people who are not climbers are incapable of looking after themselves and cannot manage their energy and oxygen levels, and regularly collapse after the [summit] has been reached," she says. "The incidents occur on the way down. People with little or no experience who book under-resourced expeditions are exposing themselves to huge risks."
Few Solutions on the Horizon
The sources I spoke to did not feel that the government of Nepal would step in to enforce any changes on the mountain in the coming years. On other popular mountains, governments and agencies restrict who can climb a peak, and they fund full-time safety crews to assist with rescues. Adopting practices from other mountains like Alaska's Denali or Argentina's Aconcagua could save lives. On Denali, rangers are stationed on the peak throughout the season to help with rescues. A crew of rangers stationed at the South Col could provide similar support.
In previous years, Nepali officials have proposed experience requirements for Everest hopefuls applying for permits. China requires any Chinese citizen to have summited an 8,000-meter peak before attempting Everest from the Tibet side, though it does not impose a similar requirement for foreigners.
One proposed safety measure would allow helicopters to ferry fixed rope supplies—but not climbers—to Camp II, reducing the number of trips through the Khumbu Icefall for Sherpas. Another option would be to require every client and Sherpa to carry a GPS tracking device that would simplify search and rescue.
Limiting the number of climbing permits would could reduce crowds and make for fewer emergency situations overall, but that would also trim the revenue for the Nepali government, making it an unlikely move. Nepal does require climbers to undergo a medical examination prior to climbing the peak, but it's unclear how effective or enforced it is.
Cotter told me that the climbers who flock to the peak each year would benefit from a shift in mindset. Rather than push for the summit at all costs, he said, mountaineers should take a conservative approach, and be prepared to turn back instead of pushing onward at all costs.  "Most of us who have been in this game for a while have seen too many people pass away to forget this tragic and unsavory aspect of our sport," he said. "It is as if people are interested only in the goal of having climbed Everest and not climbing Everest as a major achievement in their climbing career."
Lead Photo: JamesBrew/Getty Images
Trending on Outside Online