A Norwegian Climber Aims to Break Nims Purja's 8,000-Meter Record
Kristin Harila has already ascended six of the 14 peaks above 8,000 meters since April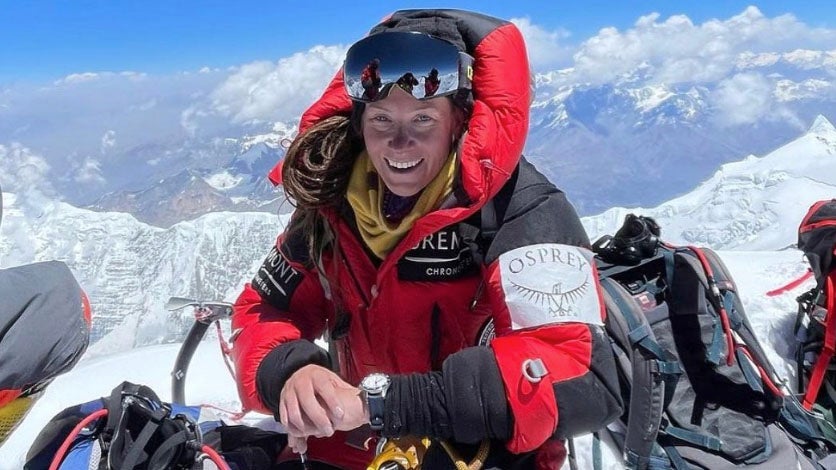 Heading out the door? Read this article on the new Outside+ app available now on iOS devices for members! Download the app.
A Norwegian climber named Kristin Harila is well on her way to breaking Nirmal "Nims" Purja's speed record for ascending the world's 14 mountains above 8,000 meters (26,000 feet). 
On Friday, Harila, 36, reached the summit of 27,766-foot Makalu, less than one week after she'd hiked Mount Everest and 27,940-foot Lhotse in one push. She has now climbed six of the world's highest peaks in just 29 days. 
"It was a struggle. The weather got worse, but [there] was no turning back," Harila said in a post on social media. "I am tired, but very happy."
According to Explorersweb.com, Harila's ascended the six peaks two days quicker than Purja did in 2019. She chose for support the guiding company 8K Expeditions, and she ascended Makalu with guides Dawa Songchu Sherpa and Pasdawa Sherpa.
Harila's expedition marks the first serious challenge to Purja's record, which the Nepali-British mountaineer set three years ago by ascending the 14 peaks in just six months and seven days. Before Purja's expedition, the record was held by South Korean climber Kim Chang-Ho, at seven years and 310 days. 
Purja's record vaulted him to international recognition, and in 2021 a documentary film chronicling his expedition aired on Netflix. Purja became a celebrity in Nepal, and he has used his fame to encourage other Nepali mountaineers to lead their own expeditions on high mountains. 
Chasing speed records on the 8,000-meter peaks requires ample planning and a sizable budget. Mountaineers board helicopters to shuttle them from base camp to base camp, thus avoiding the days or sometimes weeks of trekking between the mountains. Climbers also use supplemental oxygen to speed the ascent. 
The accomplishment also requires some luck. Purja completed his expedition before the pandemic swept across Asia, forcing some countries to shut their borders entirely. China has yet to open its borders to foreign climbers, and two of the peaks—26,864-foot Cho Oyu and 26,335-foot Shishapangma—sit in Chinese territory.
Harila is flying between the mountains via helicopter and using supplemental oxygen in her climbs. Purja used both to set his record.
Harila, a former elite cross-country skier, burst onto the international mountaineering scene in 2021 when she became the fastest woman to traverse from the Everest summit to the top of Lhotse, completing the trek in under 12 hours. She went even faster during her climb earlier this week, finishing the route in 8 hours and 35 minutes. Her full climb from Everest Camp IV to the two summits and back lasted 28 hours.
Her ascent of Makalu, Everest, and Lhotse came after successful expeditions on 26,795-foot Dhaulagiri, 26,545-foot Annapurna I, and 28,169-foot Kanchenjunga. 
According to Explorersweb.com, she will now attempt to climb Pakistani peaks K2, Gasherbrum II, Gasherbrum I, and Broad Peak over the summer, before climbing Manaslu and the two peaks in China in the fall.
"In 2019, Nims set a world record for taking all 14 mountains over 8000 meters in 6 months and 6 days. The previous record was seven years," Harila wrote on a GoFundMe page for her expedition. "Now I will show that it is possible for a girl to do the same!"
Lead Photo: 8K Expeditions