The Race to Climb 8,000-Meter Peaks Tore This Team Apart
Pasdawa Sherpa and Dawa Ongju Sherpa helped Norwegian climber Kristin Harila reach the highest summits in 2022. Their bitter breakup highlights a power disparity between Sherpas and the clients that hire them.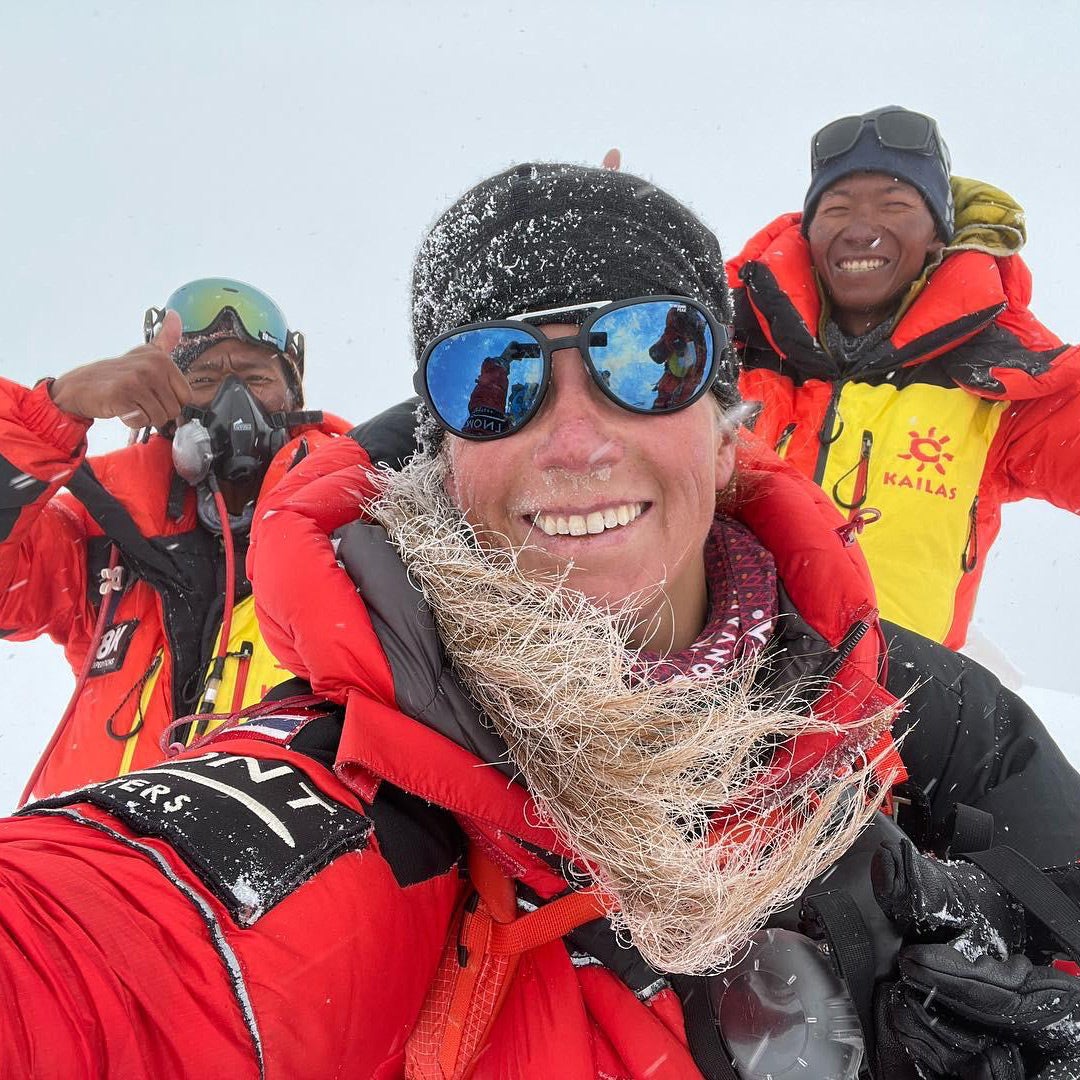 Kristin Harila
Heading out the door? Read this article on the new Outside+ app available now on iOS devices for members! Download the app.
In late July, 2022, Nepali mountaineers Pasdawa Sherpa and his uncle Dawa Ongju Sherpa were breaking trail high on the summit ridge of 26,414-foot Broad Peak in Pakistan. The two were working as guides for Norwegian climber Kristin Harila, who was attempting to set a speed record for summiting the world's 14 peaks above 8,000 meters, which is currently held by Nepali mountaineer Nirmal Purja.
In an instant, an avalanche swept two Sherpas off the ridge. Alive but shaken, they freed themselves and continued towards the summit, only to be hit by another slide.
"At that point we knew we should turn back" Dawa Ongju told Outside. "But we thought, 'If we live, we live. If we die, we die. It doesn't matter.' So we risked our lives and continued on to the summit."
"We did it all for Kristin," he said.
The trio continued, eventually reaching the top. Broad Peak was the eighth summit that Harila reached alongside the two men, and her success and unorthodox climbing strategy drew attention from international media. Other record seekers on the high peaks often use fresh teams of sherpas for each mountain, but Harila told the media that she wanted to make history alongside her two guides, both of whom work for outfitter 8K Expeditions. "Pasdawa and Uncle Dawa are amazing." Harila told me in May, 2022. "I would love to share the record with them. I don't need it to be focused on myself."
But in November 2022, the relationship between the three abruptly dissolved, despite the trio having two more mountains to ascend: 26,864-foot Cho Oyu and 26,335-foot Shishapangma. Both peaks are typically climbed from China, but the country's borders were closed due to the pandemic, and Harila couldn't secure permits to enter the country. She planned a winter ascent of Cho Oyu from the Nepal side, but Pasdawa and Dawa Ongju were conspicuously absent from her roster. Pasdawa and Dawa Ongju did not provide specifics for why they stopped working with Harila, but a representative from 8K Expeditions said in a March 2023 interview that there was a disagreement over payment.
Harila's Cho Oyu bid was unsuccessful, and a few weeks later she announced plans to pursue the speed record on the 14 peaks in 2023 alongside a different outfitter—but she invited Pasdawa and Dawa Ongju to join her on her first two climbs in April, Cho Oyu and Shishapangma, so they could complete the 14 peaks together.
Outside spoke to Pasdawa and Dawa Ongju in April, 2023, and they admitted that the situation left them with hurt feelings, but they both wished Harila well on her 2023 attempt. "We were planning to share the record, so of course this hurts." Dawa Ongju said. "We struggled together, and we put our lives on the line for her. But I give her my blessings."
Shortly afterwards, their permits to climb the peaks from the Chinese side were not approved, and Harila wound up climbing without them. When their travel plans fell apart for the second time, their feelings changed. Dawa Ongju wrote an icy message on Facebook. "We carried all the gear, backpacks, crampons, clothes, water bottles, oxygen canisters, camera, backup batteries, food and all the equipment while giving priority to Kristin. She did not have to lay a single meter of rope nor tie a single knot. After receiving our cancelled [sic] passports back we were shocked and dumbfounded," he wrote. Outside reached out to the Chinese consulate in Kathmandu about the travel problems but did not receive a response. Six days after their travel plans fell through, Harila summited Cho Oyu, and by the end of May she had climbed four additional 8,000-meter peaks.
Harila also declined to discuss specifics of why she chose to work with a different expedition operator in 2023. "I think people believe that this was our project, but the thing is like it was actually my project from the start," she told Outside in April 2023.
---
The dissolved relationship highlights a lopsided power dynamic that has existed for decades in Himalayan mountaineering. Western climbers often earn celebrity status and sponsorship cash for ascending the highest peaks. The media attention generated by these accomplishments fuels their future expeditions, and sometimes even helps them navigate the tricky diplomatic barriers that stand in the way of the mountains. But the high-altitude workers who help them rarely achieve stardom or wealth. Their climbing and survival skills in the world's harshest climate are among the best, and their job is difficult and dangerous. And when a problem arises—be it avalanches or visa issues—they are often on the losing end.
"As Sherpas, we often do not get the credit for the job we do," Pasdawa says. "We labor, but the clients get the spotlight. It's hurtful. It would have been completely different if we had a chance to climb in Tibet this year."
Dawa Ongju and Pasdawa's inability to obtain travel visas to China had consequences for their careers. Both men said that completing the 14 peaks would have boosted their value as guides, and given them credibility to branch out into other types of work, like mountaineering education.
"I've had 37 successful summits of 8,000 meter peaks in my career. But that alone isn't enough." says Dawa Ongju. "I really really want to teach and train other climbers. But people won't listen to me unless I have some sort of a record. That's what upsets me."
Many of the current generation of Nepal's strongest high altitude workers grew up in the cash-strapped remote villages of eastern Nepal, with very few opportunities for education. Dawa Ongju left school to join the workforce after the third grade, Pasdawa after the fifth. Pasdawa and Dawa Ongju cite their lack of education as the reason they must work on the high peaks. Nepal's flagging economy makes finding employment in other industries tricky, and relative to other jobs in Nepal, mountaineering pays well.
In recent years the wider world has slowly opened its eyes to the plight of Sherpa climbers on Mount Everest and other Himalayan mountains. A 2014 study done by Outside found that Sherpa climbers face a workplace fatality rate of 4,053 deaths per 100,000 people—a rate ten times greater than the U.S. military's fatality rate in the Iraq war. Earlier this spring the New York Times profiled legendary Nepali mountaineer Kami Rita Sherpa, who has climbed Everest a record 28 times. Kami Rita told the Times that he struggles to support his family of four in a rented Kathmandu apartment, and that he hopes his children pursue a profession away from the high peaks.
Both pay and recognition for Sherpas has been improving in the last few years. Nepalese climber Nirmal "Nims" Purja, who is not Sherpa, says he's seen more acknowledgement of Sherpa climbers' accomplishments within international mountaineering.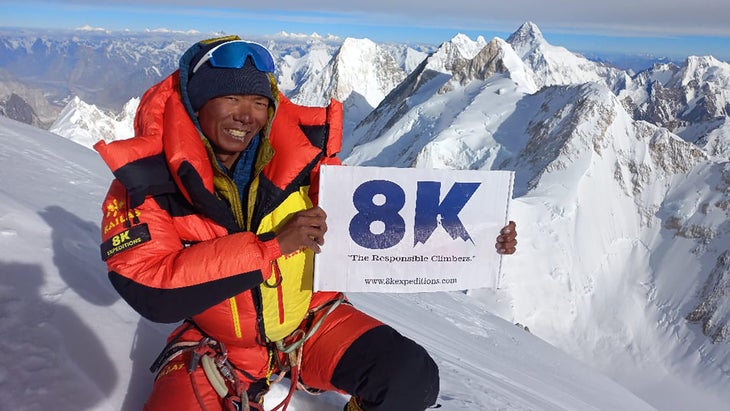 "The Nepalese community have always supported people to make their big mountain dreams a reality—from the Sherpas, guides and porters to tea house owners, base camp cooks and teams. Often their contribution has been overlooked. But I think there has been a shift recently in the way the Nepalese climbing community is being recognized for this work, which is really positive."
Harila, for her part, thinks that climbers generally respect and appreciate their sherpas.
"Yeah, of course, climbers care most about saying I reached the summit. But I also understand that is because they have put so much into that," Harila said. "And they have paid for the service that the fixing team does, the company does, and the sherpas do. So I think most of the time, I see that the climbers are really appreciating the sherpas."
There's also an uptick in Sherpa-owned expedition companies that now take paying customers to the top of the highest peaks. But among the cadre of record-chasing celebrities in the tight-knit circle of climbers, few are Sherpa.
Part of this is due to the self-promotion skills and international relationships that record-chasing climbers must cultivate in order to fund their expeditions and navigate diplomatic hurdles. Both Pasdawa and Dawa Ongju cited their lack of English and personal marketing as the main factors that have held them back on the global mountaineering scene.
Some Sherpa climbers have tried to make names for themselves by pursuing speed records. In 2022, 31-year-old climber Gelje Sherpa raised funds via the crowdfunding site GoFundMe while attempting to become the youngest to scale the 14 peaks. Like Pasdawa and Dawa Ongju, Gelje was prevented from entering China to ascend Cho Oyu, and instead mounted an unsuccessful mission to ascend it from the Nepal side.
---
On April 26, Harila summited 26,335-foot Shishapangma alongside a Norwegian filmmaker and two guides: Tenjen Sherpa and Mingma Sherpa. Six days later, she topped out on Cho Oyu. By the end of May, she had climbed three other peaks.
Pasdawa and Dawa Ongju, meanwhile, were on the slopes of Everest, establishing camps and leading new clients on acclimatization rotations through the dangerous Khumbu Icefall. If successful, this trip will mark Dawa Ongju's eighth trip to the summit and Pasdawa's 11th.
Despite his frustration, Dawa Ongju said he wishes Harila good fortune. "From my side, she was my family. I still consider her family… I'll be so happy if she succeeds," he said.
When asked if he and Pasdawa could break the speed record on the 14 peaks if given access to Harila's resources, his response, punctuated by the clamor of a noisy basecamp kitchen, came quickly:
"We'd be able to go twice as fast because we wouldn't have to wait for the clients to catch up," he said. "I'm entirely confident that we could break the record by at least a month."
Lead Photo: Kristin Harila
Trending on Outside Online