Kristin Harila and Tenjin Sherpa Set New Speed Record on the 8000ers
The duo completed the 8000-meter peaks in 92 days, breaking Nirmal (Nims) Purja's record by over three months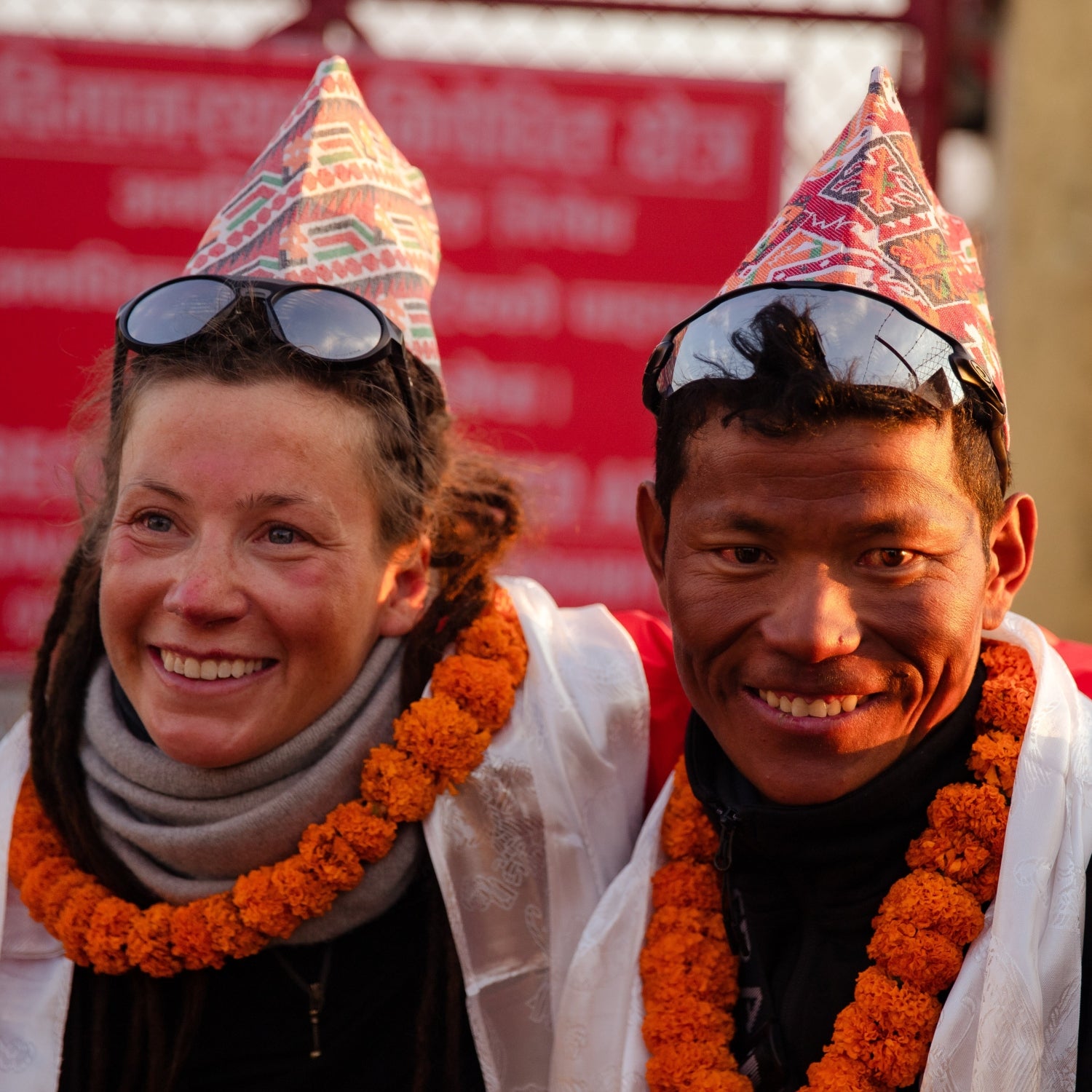 Prabin Ranabhat/Getty Images
Heading out the door? Read this article on the new Outside+ app available now on iOS devices for members! Download the app.
On July 27 at 10:45 A.M. Pakistan Standard Time, 37-year-old Norwegian mountaineer Kristin Harila and Nepalese climber Tenjin Sherpa (Lama) reached the summit of 28,251-foot K2, the world's second highest peak. Just 4 days before, on July 23rd, they summited neighboring Broad Peak (26,414 feet). By reaching those summits, the pair set a new record: climbing the world's 14 peaks above 8,000 meters (26,246 feet) faster than anyone in history.
It took them just three months and one day. Their time smashed the previous record, which was held by Nirmal (Nims) Purja, who became a celebrity mountaineer after climbing the mountains in six months and seven days.
Harila is a former professional cross-country skier who came to mountaineering somewhat recently. In 2015, Harila climbed Africa's Kilimanjaro, and despite getting severe altitude sickness, got hooked on the sport. In 2019, she quit her job as an executive at a furniture company to climb. That same year she went to the Himalaya for the first time, summiting peaks like Lobuche East (20,075') and Putha Hiunchuli (23,773'). In 2020, she sumitted Aconcagua. Then in 2021 she summited Everest and neighboring 27,940-foot Lhotse in just under 12 hours, which was a record at the time. Tenjin has been working in the mountains since he was 16, and was integral to this record, ensuring both summits and safety throughout the project. He's from Makalu, where he lives with his wife and their two teenage boys.
Harila decided to attempt the 8000ers record after seeing Purja's success in 2019. Her goal was to empower women and demonstrate that women have a place in a sport that is dominated by men.
For years, mountaineers have attempted to scale the "seven summits"–the highest peaks on each continent—but the 8000ers has been a relatively niche challenge in the world of mountaineering. The mountains have historically drawn alpinists seeking new routes, or climbers just hoping to reach the top of one. But over the last few years, the 8000er scene has become a bit frenzied. This was spurred in large part by Purja's "Project Possible," which was later chronicled in the popular Netflix documentary 14 Peaks. His attempt to climb the peaks in rapid succession was the first of its kind—a collective speed record on the 8000-meter peaks wasn't targeted by climbers before that.
The previous record—seven years and ten months—was held by South Korean climber Kim Chang-Ho, who was simply on a mission to summit all 14 peaks. He became the 43rd person in history to complete the feat. Notably, Chang-Ho didn't use supplemental oxygen, while Purja and Harila did. (Purjais currently working to climb all 14 without oxygen and recently posted that he has two peaks remaining).
When Chang-Ho summited his final 8000er in 2013, just under eight years was considered pretty dang fast. It took renowned Italian alpinist Reinhold Messner—the first person to climb all 14 peaks—16 years to do it (he also climbed without oxygen and put up new routes along the way).
The pace at which Purja and Harila ascended the 8000ers may make these mountains seem trivial, but for most mountaineers, summiting just one of these peaks is considered a lifetime achievement. On every 8,000-meter peak climbers must move through what's called the Death Zone, the area above 26,000 feet where there's not enough oxygen to sustain human life. Some seasons, these peaks record few summits—or none at all—due to dangerous conditions and bad weather. Climbing just one requires a significant investment of time and cash—usually two months and tens of thousands of dollars for travel, guiding fees, and other costs. Doing it quickly requires a climber to have access to ample support staff, guides, porters, supplemental oxygen, and helicopters. Or, put more simply: lots and lots of money.
To help fund her first attempt at the record in 2022, which is reported to have cost $500,000, Harila relied on sponsors and her own savings. Prior to sponsors joining her, Harila was forced to sell her apartment to finance the project. During Purja's attempt, he remortgaged his house.
Harila was on track to set the record during that initial 2022 attempt, but she couldn't get permits to climb in Tibet, which stymied her effort by delaying her climbs on 26,335-foot Shishapangma and 26,864-foot Cho Oyu. China had closed its borders to foreigners due to the pandemic, refusing to grant her access. In late April of 2023, her permits came through and she was able to reach both summits—she had completed all 14 peaks in just 1 year and 5 days. But, she still wasn't the fastest. So she decided to re-climb the other 12 peaks and try for the record again.
When Messner was climbing the 8000ers in the seventies and eighties, the question was simply whether a person could survive climbing them all, and without oxygen. The accomplishment was mind-blowing at the time. Climbing a peak like Everest without oxygen was considered impossible. Messner became a legend in international mountaineering. (In 2011, Gerlinde Kaltenbrunner became the first woman to repeat the feat). Once he became the first, others sought records on the 8000ers: the first woman to climb them all, the youngest, the oldest. Over time, as gear and techniques have advanced, the questions have changed too: Can these peaks be commercially guided? Can people climb them quickly? How can they be linked together on the same expedition?
Speed records are a more recent phenomenon, and in the last few years the goal of climbing fast has drawn more attention to the 8000-meter peaks. As the peaks have gotten more attention, fiery debates once confined to niche climbing circles have risen to the mainstream. Chief among these is whether or not people who claim to have summited each of the 8000-meter peaks have actually stood on top of the true summit, or the very highest geographical point. Eberhard Jurgalski, who runs the website 8000ers.com and unofficially keeps the records, says that some record holders never actually stood on the true summits. Purja is among them, he says. Jurgalski says Purja didn't reach the true summits of Manaslu and 26,795-foot Dhaulagiri during his record attempt, but rather the foresummits (Purja has since reached the true summits of both, and also still claims his record). So, if you're in Jurgalski's camp, when Harila summited all 14 of the peaks this April, her time of one year and five days was actually the fastest time because she reached each of the mountain's true summits. On Harila's website, a press release on June 7 announced that "Kristin has beaten Nimsdai's 14x 8000m True Summit Record With Oxygen."
Another point of tension, which has persisted throughout the history of Himalayan climbing, exists between Western climbers seeking summits and the local climbers and guides who support them. The former might garner fame, media attention, and celebrity, while those in support roles often gain little and risk a lot. In 2013, Outside described the industry as a dangerous anomaly: "no service industry in the world so frequently kills and maims its workers for the benefit of paying clients."
For her 2022 attempt, Harila hired Nepali guides Pasdawa Sherpa and his uncle Dawa Ongju Sherpa. While climbing Broad Peak, the two Sherpas were breaking trail through untrammeled snow when they were swept off their feet in an avalanche. Unhurt, they continued on and were hit by another slide. Despite the obvious risk, they continued to the summit anyway, telling Outside that they "did it all for Kristin."
But the two Sherpas soured on Harila after she left to climb in China in April without them. Harila said in a social media post that she'd invited Pasawa and Dawa to climb Cho Oyu and Shishapangma with her, but that who was granted visas was out of her control. The record would have changed the Sherpas' careers. Though Dawa Ongju has 37 summits of 8000-meter peaks, he knows that they're not enough: records have become currency.
For her 2023 attempt, Harila enlisted the support of Seven Summit Treks and Tenjin Sherpa, who led the way on all 14 peaks. On April 26, Harila summited her first peak of the project, Shishapangma. In an Instagram caption she wrote of the difficulty of the climb, thanking Tenjin for his help. "He carried so much rope up, and without him this summit would not have been possible," she wrote.
Harila and the team faced a number of challenges over the last three months: a long summit day on Dhaulagiri, a UTI on Makalu, getting off-route on 28,169-foot Kanchenjunga, dangerous avalanche conditions on 26,545-foot Annapurna, controversy over how she used helicopters, a trip to the hospital after Manaslu, and altitude sickness on 26,660-foot Nanga Parbat.
Speed records do not necessarily measure mountaineering skill, especially if the record-setters are guided. And they're not for the thin-skinned: neither Harila nor Purja have achieved their goals without ample controversy. For Harila to find success, many variables had to line up: funding, weather, snow conditions, logistics, and personal health. And she had to rise to the occasion with immense strength, tenacity, sustained mental fortitude, and imagination.
Lead Photo: Prabin Ranabhat/Getty Images
Trending on Outside Online