Mount Everest Is More Accessible than Ever. Is That a Good Thing?
As a safe and drama-free season on Mount Everest comes to a close, mountaineers and guides ponder the mountain's crowded future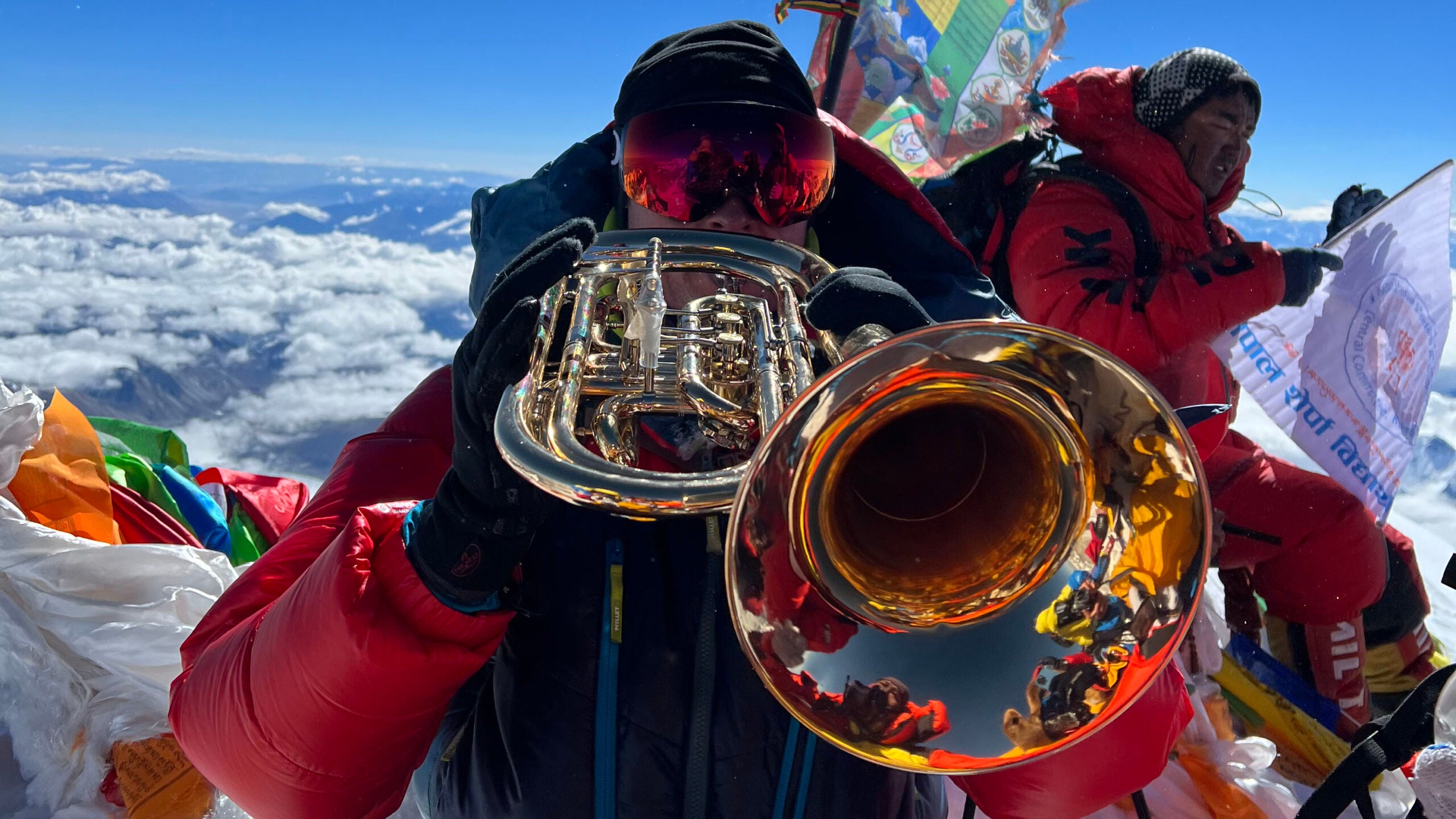 Furtenbach Adventures
Heading out the door? Read this article on the new Outside+ app available now on iOS devices for members! Download the app.
After two stressful years of pandemic-fueled climbing closures, the 2022 season on Mount Everest will go down as one of the safest and most drama-free in the history of Himalayan mountaineering.
Nepali officials are still collecting data, but they predict more than 500 successful ascents of Everest via the southern route this year. That number is down from recent years: in 2018, 802 people reached the summit, while in 2019, 876 did, according to the Himalayan Database. But with fewer permits issued this year due to pandemic precautions, a global recession, and Russia's invasion of Ukraine, the success rate for 2022 may be higher than in 2019 or 2018.
The rosy statistics were made possible by an unusually long stretch of clear skies that lasted three weeks.
"It's been an amazing year," climber and director of the Himalayan Database Billi Bierling told me. "I can't remember a year when we had so few deaths and cases of frostbite."
The climbing bonanza in the Himalayas was helped along not just by the weather but by the Nepalese government, which this year did not enforce a series of restrictions that went into place after an exceptionally crowded and deadly 2019 season. In previous years, Nepali officials required climbers to show proof that they had first climbed a mountain in Nepal above 21,300 feet before obtaining a permit for Everest. But in 2022, Everest was open to anyone who could afford the price, regardless of climbing experience.
To further the success rate, the mountaineering community has embraced a new series of preparation strategies and climbing infrastructure, specifically hypoxic tents for pre-acclimatization and helicopter shuttles to ferry expedition teams from Kathmandu to base camps. The combination of new methods and looser regulations means Mount Everest is far more accessible than at any point in history.
Not everyone believes this is a good thing.
In a recent blog post, longtime Everest chronicler Alan Arnette wrote: "People are now buying a summit, not earning it."
I phoned Arnette to discuss his views.
"Everest is not about climbing. It's about business," he told me. "And I question whether it's honoring the heritage of the sport."
Arnette says that improvements to expedition logistics and climbing technology have opened the door for less experienced climbers and Sherpa guides to venture into the Himalayas. Arnette believes this is why Everest is now prone to overcrowding, and the summit-or-bust culture places profits above safety. It's an opinion he's held for several years, as commercial expeditions on the mountain have swelled, and hardcore climbers have been replaced by paying clients.
"The truth is that you've got inexperienced climbers with unqualified guides on these mountains. And it's all driven by money," he says.
Still, even Arnette has a positive outlook on the 2022 season, with its lack of disasters and deaths.
"I was so happy this year that we only had six deaths across the 8,000-meter mountains compared to 21 deaths in 2019," he says. "We had more records on Everest than a 1950's jukebox."
Indeed, ambitious climbers from around the world set new historic marks on the world's highest peak, including a group of young mountaineers. Lucy Westlake, 18, became the youngest American woman to reach the top. Nepali pop star Raju Lama also summited, and he even performed a solo concert above Camp II that was, in his words, "probably the highest performance on land, ever." Not to be outdone, teenager Juan Diego Martinez Alvarez, 19, became the youngest Mexican to summit, and then performed the world's highest piano recital, playing a portable keyboard that had been carried to the summit by a climbing Sherpa.
Another musician made history atop the peak: Johannes Ettlinger of Austria became the first person to play a bass trumpet on the summit. Ettlinger is a professional musician with the Vienna State Opera, and he was part of a 16-person expedition led by European climbing company Furtenbach Adventures.
Women climbers recorded first female Everest ascents for Vietnam, Qatar, Uruguay, and the United Arab Emirates. Three heroes of the peak surpassed their own records for most ascents: Kami Rita Sherpa for all-time climbs (26), Lhakpa Sherpa for most by a woman (10), and Kenton Cool for most by a non-Nepali (16).
Instagram photos of concerts atop Mount Everest and news headlines celebrating records underscore a question swirling around the peak: Are alpinists—those who tackle punishing new routes—still interested in the mountain? French alpinist Marc Batard unsuccessfully attempted to chart a new route to Camp II via the base of 25,791-foot Nuptse to sidestep the infamous Khumbu Icefall. Other than Batard, all of the climbing on Everest this year occurred via the crowded standard route up the South Col.
"The whole world has become more accessible, and Everest has also become more accessible," Bierling says. "Of course, I look at it and think, 'My God, where are the good old times? Where is alpinism?' But I think alpinism will probably happen on other mountains—lower mountains."
Perhaps no experience on Mount Everest underscored the mountain's newfound accessibility than that of legendary Italian climber Simone Moro, who recently hung up his crampons and began working as a helicopter pilot. This summer Moro ferried climbers and equipment across the Himalayas, from various base camps to Kathmandu.
"This year, I saw really not so many 'ancient' or 'romantic' or 'pure' mountaineers that were not using oxygen, Sherpas, or fixed ropes. Very few," he told me in Kathmandu.
Instead, Moro flew tired clients back to the city to rest in upscale hotels. He also supplied camps with supplies—including luxury items. On one flight, Moro's cargo included a stack of freshly baked pizzas from a restaurant in the Nepali capital.
"In some of my flights I carried coffee machines—exactly the same machine you can find in any restaurant here in Kathmandu," he says. "I was delivering boxes with brand-new boots inside. I was feeling like an Amazon helicopter."
The debate over Everest's accessibility is likely to continue in the coming years, as more climbers return to the mountain after the pandemic closures of 2020 and 2021. The conversation has been further exacerbated by social media, says Pedro Querios, who was the first European to reach the summit this year. In the past, expeditions to Everest occurred with very little moment-to-moment media coverage. Now, audiences around the globe can see photos or videos from the summit as soon as the climbers post them online.
Querios wonders how the modern world would have reacted to the classic expeditions on the mountain.
"How many Sherpas were involved in the Mallory or Hillary-Tenzing expeditions? How much money did those expeditions cost? I tell you: they all had hundreds of Sherpas and cost hundreds of thousands of dollars!" Querios says. "So why are we criticizing the modern climber who is paying to get more service, more quality, and less risk?"
Moro says the events of 2022 are simply part of the evolving ecosystems of global mountaineering and Nepal's guiding industry. In the past, Nepali guiding companies offered lower prices because there were plenty of hardcore mountaineers wanting to climb the peak, and these climbers had fewer resources.
"Now, 95 percent of people who climb to 8,000 meters are clients—exactly like the ones you find in the Rocky Mountains or Alps," Moro says. Moro also believes that the Nepali operators are safer than more-expensive companies using foreign guides, due to a growing number of local mountain guides with international certification. "In Nepal there are now more than 60 IFMGA-certified mountain guides," he says. "Even the western expeditions don't always include IFMGA mountain guides. There is a high level of skill and a high level of professionalism in guiding here."
Most likely, safety and success on Everest in the future will have more to do with the fickle nature of the jet stream than any amount of regulation or experience on the mountain. For the coming months, mountaineers are shifting their attention westward toward the steep peaks in Pakistan's Karakoram Range. Operators are expecting an unusually busy season as more record seekers flock to Nanga Parbat, K2, and Broad Peak. Let's hope the weather cooperates.
Lead Photo: Furtenbach Adventures