Expeditions Cancel Everest Climb
A few teams may still carry on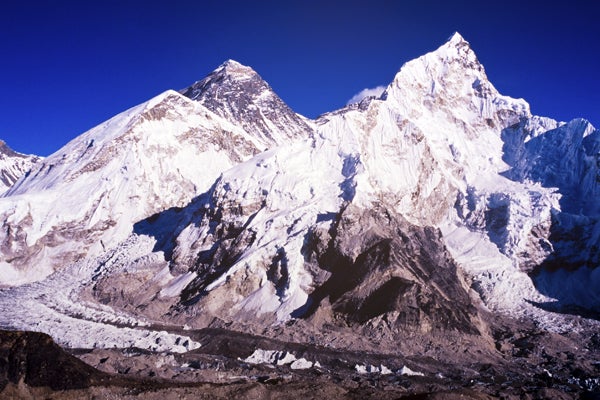 Heading out the door? Read this article on the new Outside+ app available now on iOS devices for members! Download the app.
Is Everest closed for business in 2014? It's still not certain, but at the moment everything seems to be trending in that direction—amid conflicting reports that the government of Nepal is officially shutting the door on any more south side climbing this year.
On Thursday, tweeting from base camp, Peak Freaks owner Tim Rippel wrote: "The government of Nepal made an official announcement that Everest is closed for 2014 effective immediately and that they will  honour the current climbing permits for invididuals for up to five years." But that statement remains unconfirmed.
Also this morning, climber and blogger Alan Arnette, who is in Nepal, reported the same news, then amended it on his web site. "Of note, just as I published this," he wrote, "a few people said the mountain had not been closed and we still have not seen official statements from some remaining teams including Himex, Altitude Junkies and Asian Trekking. I guess there is always a tiny chance something might change … this is how it goes on Everest."
Whatever the case, one thing is clear: The dominoes have been falling fast, with several major teams announcing over the past 24 hours that they're quitting for the year. Even if there is no blanket shutdown happening on the south side of the world's tallest peak, the situation is rapidly approaching a point of critical mass, one that may mean 2014 is over—even for expeditions that want to press on.
"It is getting late," a source at base camp told Outside in an email. "Today is April 24, and there is nobody above BC. … I think this year won't happen, as we all know this mountain. It might happen for a few teams. If they wait here and are able to open the trail and fix ropes through the Lhotse face, they might do it. But it would be a few people, especially people who don't respect Sherpa culture and their help in the last 80 years for those—clients, guides, and climbers—who have been here in the Himalaya."
Similar thoughts were expressed more pointedly by one of Wednesday's most prominent dropouts: Rippel, a veteran Himalayan guide who announced in a blog post that his company, Peak Freaks, was ceasing climbing operations for reasons of both safety and respect.
"As I give this dispatch I hear an avalanche," Rippel wrote. "Earlier today I listened to another coming from the same direction off the western shoulder that killed 16 Sherpas on April 17th. What I am seeing here is exactly why we no longer climb on adjacent Ama Dablam [and] Mount Pumori … We no longer climb those mountains due to global warming, the ice is melting, the glue that holds them together."
Rippel went on to describe a base camp atmosphere that was tense and potentially frightening. "[T]he political environment here is getting much more complex and anger is developing," he wrote. "There is talk of retaliation on Sherpas who want to continue and I'm not about to be part of this or put any of my staff or clients in danger. There seems to be two tribes forming and this makes for a dangerous situation in an already unstable mountainous environment."
Even so, the government of Nepal seemed to be holding out hope that some south side climbing can happen. Outside's Grayson Schaffer, who is en route to base camp from Kathmandu, spoke Thursday morning with Maddhu Sudan Burlakoti, Nepal's joint secretary of the ministry of cultural tourism and civil aviation. Burlakoti, who was heading for base camp by helicopter, told Schaffer that there are Sherpas and teams who still want to try for the summit, and that the government is committed to helping make that possible.
"They are ready to climb," he said, "but there are some issues, so we go there and listen to them." When asked if anybody is likely to climb this year, he emphasized: "They are going to climb."
That may be, but the dominant theme of Wednesday and Thursday was people who are not going to climb. Joining big outfitters like Alpine Ascents International and Adventure Consultants, who decided earlier this week to fold up their tents, heavyweights IMG and RMI Expeditions announced on Wednesday that they were closing the books. In a post on the RMI Everest blog, Dave Hahn, an RMI guide who has climbed Everest 15 times, sounded a note of melancholy about events that have rocked the mountain this year.
"This week has been a roller coaster of emotion for many of us, from the horror that came with the avalanche … to the confusion that followed it regarding the right course to take for balancing respects for the dead, concern for team safety and summit ambitions," he wrote. "[W]e believed it worthwhile to continue looking for some way forward. Our climbers, Sherpas, guides, and outfitters had put too much into the planning and execution of this trip to let go of the  goal with less than our best effort. We've given that now."
One smaller outfit that that's leaving base camp is Himalayan Ascent, an outfitter with roots in both Nepal and Australia that emphasizes small teams and deep camaraderie between clients and Sherpas. Himalayan Ascent lost three men to the avalanche: Ankaji Sherpa, Tenzing Sherpa, and Asman Gurung. Patrick Hollingworth, the company's Perth-based business manager, told Outside that all the men were a grievious loss, but that Ankaji Sherpa in particular represented what the company hopes will be a significant part of Everest's future: homegrown talent with world-class training.
"I think you're seeing a new generation of Sherpas realizing their importance and the power they have when they work together," he said. "You see young guys coming through the program for aspiring guides offered by the International Federation of Mountain Guides Association. Ankaji was halfway through that course."
Lead Photo: Getty Images/iStockphoto