14-Year-Old Slackliner Storms the Teva Mountain Games
Heading out the door? Read this article on the new Outside+ app available now on iOS devices for members! Download the app.
Little ripper, going big: Alex Mason at the Teva Games. Photo: Teva Mountain Games
Competitive slacklining. If that sounds like an oxymoron, you must not have been in Vail this past weekend, when the sport made its debut at the annual Teva Summer Mountain Games. No one brought his A-game more than Alex Mason, a 14-year-old wunderkind from southern California who edged out big-name rivals, including Japan's Gappai Osug; reigning world champ Michael Payton, 24; and wild man "Sketchy" Andy Lewis, 25, to win Teva's inaugural Gibbon Games event.
Slacklining, in case you've been in a cave for the past year, entails balancing on a narrow, flexible piece of webbing that's rigged a couple of feet off the ground between trees or other stable anchors. It was born in the 1970s, when bored climbers in cut-off jeans and weeks-old beards, looking for something to do on their days off, tied their climbing ropes between trees in Yosemite Valley and tried to walk them without falling off. Since then, it has evolved from a dirtbag's fringe hobby into, well, a flashy halftime show at the Super Bowl (see Andy Lewis's performance with Madonna earlier this year) and the extreme sport of choice on late-night talk shows (check out Mason on Conan O'Brien and Payton on Carson Daly). Athletes now wow crowds with freestyle jumps, acrobatic flips, and tricks, not to mention sheer vertical: High liners like Lewis and Dean Potter routinely rig their lines hundreds of feet off the deck. 
Mason first tried slacklining a year and a half ago at—where else?—a friend's birthday party at a local climbing gym near his home in El Cerrito. "He got on the line and, well, the rest is pretty much gonna be history," says Josh Beaudoin, slackline educator at Gibbon Slacklines, the Boulder–based company that now sponsors Mason. Almost right away he began practicing at the gym learning tricks and spins and quickly making a name for himself as a slackline prodigy. "He's always the one that everyone wants to watch," says Beaudoin. "He's only 14 and has progressed so much. He's learning bigger moves all the time."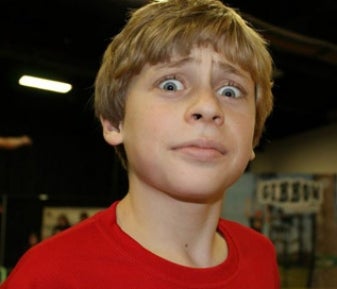 Alex "the Machine." Photo: Gibbon Slacklines
Mason arrived in Vail as one of six world-class contenders among dozens of international competitors. Says Beaudoin, "He wasn't necessarily thought of as the person who would walk way as the champion, but he's been working so hard over the years and everyone knew he was getting closer." He advanced through four rounds of head-to-head "tricklining," in which competitors are paired off and each person is given two minutes on the line; when someone falls, the clock stops and the other slackliner tries to one-up the other's tricks, including 540 spins, 720 spins, chest bounces, butt flips, and "pretty much everything you can think of," says Beaudoin. "It makes for good entertainment." In each round, athletes are judged on technical difficulty, creativity, and performance, and the ones with the most points advance to the next round.
In the finals on Sunday, in front of several thousand spectators, Mason edged out Toru Osagi, who was making his U.S. slacklining debut, with a 540 spin to win the competition and $1,250 in prize money. That a 14-year-old could dominate a field of older competitors is a huge part of slackling's appeal, and exploding popularity: "Kids just have the mental capacity to actually walk the line," says Beaudoin. "With adults, sometimes they don't think they have the balance, while kids just get on it and walk it. You can do the same tricks you can do on a snowboard, skis, or a trampoline. It's all about how well you are able to relax on the line." 
—Katie Arnold
@raisingrippers