The Daily Rally
J. Nyla McNeill Finds Connection in the Wild
The multidisciplinary artist was struggling with alcoholism when they joined a trail crew in the mountains on a whim. Out there, they found a new community—and reclaimed their life.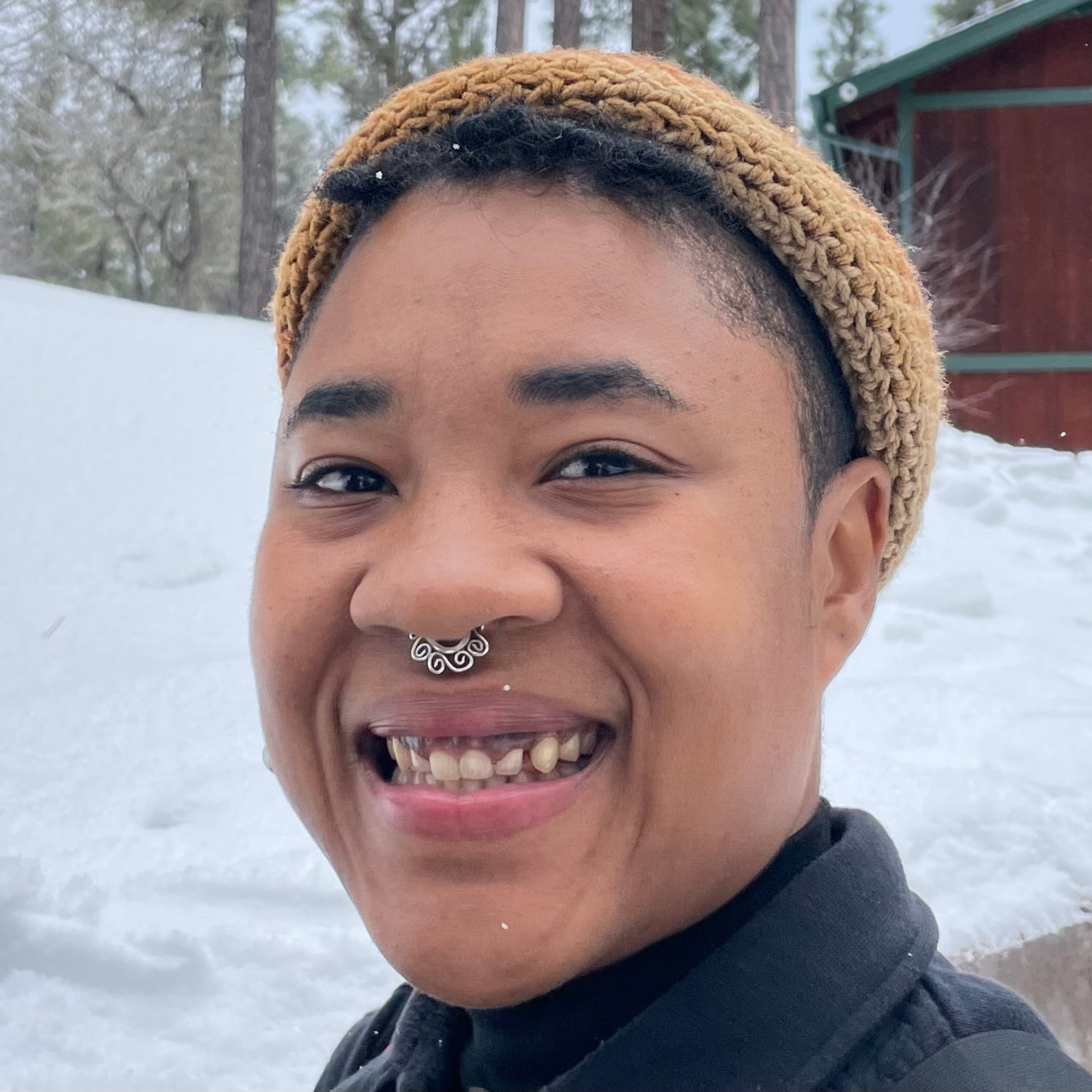 Heading out the door? Read this article on the new Outside+ app available now on iOS devices for members! Download the app.
J. Nyla McNeill shared their story with producer Stepfanie Aguilar for an episode of The Daily Rally podcast. It was edited for length and clarity.
I was with my friends out on the beach, and we were all super drunk. And I just… I saw this photo on my friend's phone, and I was like, that's not me. That can't be me.
And from that point I was just like, I gotta get rid of these friends. I gotta get out of the city. Like, I don't know what's going on, but this is not my life right now.
My name is J. Nyla McNeill, but some people call me Ink. I live in Long Beach, California—born and raised. Love it out here.
I was very involved in the punk community and very much invited to craft and to be with folks who wanted to start bands and create new scenes. And I was knee-deep in it all the time, planning and drinking.
I was freshly out of high school, going into college. College being so much pressure exacerbated my alcoholism, and I just wasn't even paying attention to it. Regardless of having straight A's, being in clubs, doing all the things, literally from every Friday night to the top of Sunday morning I'd be drinking. And balancing that felt like two different worlds, but nobody really questioned it or really had an issue and never brought it up to me. So I was just living with alcoholism.
I would just look into to the mirror and not recognize myself. Not in like a—because I'm trans—not in like a gender dysphoria way, but in a like, wow, that's not me at all sort of way. I was really skinny: far, far underweight. Just like my eyes were really sunken. Physically, you could tell I was sick.
So there was one night I was scrolling on Instagram, and I saw that there was this program called the Eastern Sierra Conservation Corps. And it said it was a sober program and absolutely no substance would be tolerated. I just signed up on a whim immediately when I saw that. I was mostly looking for community. I really just wanted to meet people who were like-spirited and really had a goal in mind to improve their lives by improving the lives of others.
I feel like, honestly, I don't meet a lot of young people like that every day. So, I thought that would really, really do good for me. My biggest question was whether or not I was gonna fit in, of course.
At the time I hadn't really camped. I never really did any trail work or had a relationship to earth stewardship. But I was very much willing to learn and very much willing to change my life and focus on something that would get me closer to my roots.
The first day of the Eastern and Sierra Conservation Corps, we landed in Bishop, California, in this abandoned headquarters house. And the environment's really rough, and a lot of people get homesick and all of these things.
So people were really trying to learn about where they were and connect to place with their different identities and their different understandings of the world. So I got exposed to a lot of different perspectives and a lot of different ways of being that I wouldn't have otherwise. I ended up making some really great friends.
The first two weeks, I was really overdoing it, to the point where I actually injured myself a bit.
The project we were assigned was to fix the grade of this really popular trail because it was far too steep and causing a lot of challenges for people. It was absolutely backbreaking work.
We were building what's called check steps in the mountainside. So I was taking boulders, and I had a sledge hammer that was huge. And I would have to—for like two hours—just make a big rock into a bunch of tiny ones. We would use that as a medium to create like a makeshift cement to place these 30-foot logs into the mountainside for these steps.
While I'm using the sledge hammer and getting my technique right and protecting my lower back, I was just like, wow, I'm a fucking badass. Like, this is so dope. This is much more hardcore than anything I've ever done in skateboarding. Anything I've ever planned in the punk community. I just felt really dope.
I was fulfilling my purpose for the first time. I had a sense of belonging. Looking at myself in those photos, seeing the big backpack, seeing the fat smile on my face. I was like, wow, yeah, outdoors, that's where I'm supposed to be. Definitely supposed to be learning more about the land and connecting back even to like my ancestry's Earth-stewardship practices.
It felt very different from looking at myself in the mirror when I was a—what are people saying now? Teenage dirtbag.
One thing I learned from being a trail worker out there was that I gave humans far too much importance and far too much emphasis in my life. Because I made friends with a few animals out there, and particularly deer that would come visit when I was meditating or when I was feeling sad about some of my injuries. And they were just curious little babies that were just bouncing around everywhere and made funny noises. And I would make funny noises back. And once the bears got acclimated to us too, I was like, OK, there's definitely a lot more about Earth that I need to understand before I start making assumptions about what it means to be human.
The motivation to become sober and to really become the best scientist I could be—I think that is why I really wanted to be out there.
I would offer to anyone who's struggling with alcoholism or substance abuse to really look within and to really reconcile with the blockages that are being placed through addiction. And to also recognize that the pressures that are here are not everywhere.
We can leave, and we can come back, and we can reorient.
J. Nyla McNeill is a researcher and multidisciplinary artist. They own a consulting and coaching business called Mx. Lifestyling, which aids individuals, organizations, and institutions through major life and systems changes. Learn more about J. Nyla at mxlifestyling.com or on Instagram at @inkcrowcall.
You can follow The Daily Rally on Spotify, Apple Podcasts, Stitcher, or wherever you like to listen, and nominate someone to be featured on the show here.
Lead Photo: Courtesy J. Nyla McNeill