Indefinitely Wild
Elon Musk Is Bringing Cell Service to the Backcountry
Behold, direct satellite-to-phone connectivity "anywhere you can see the sky"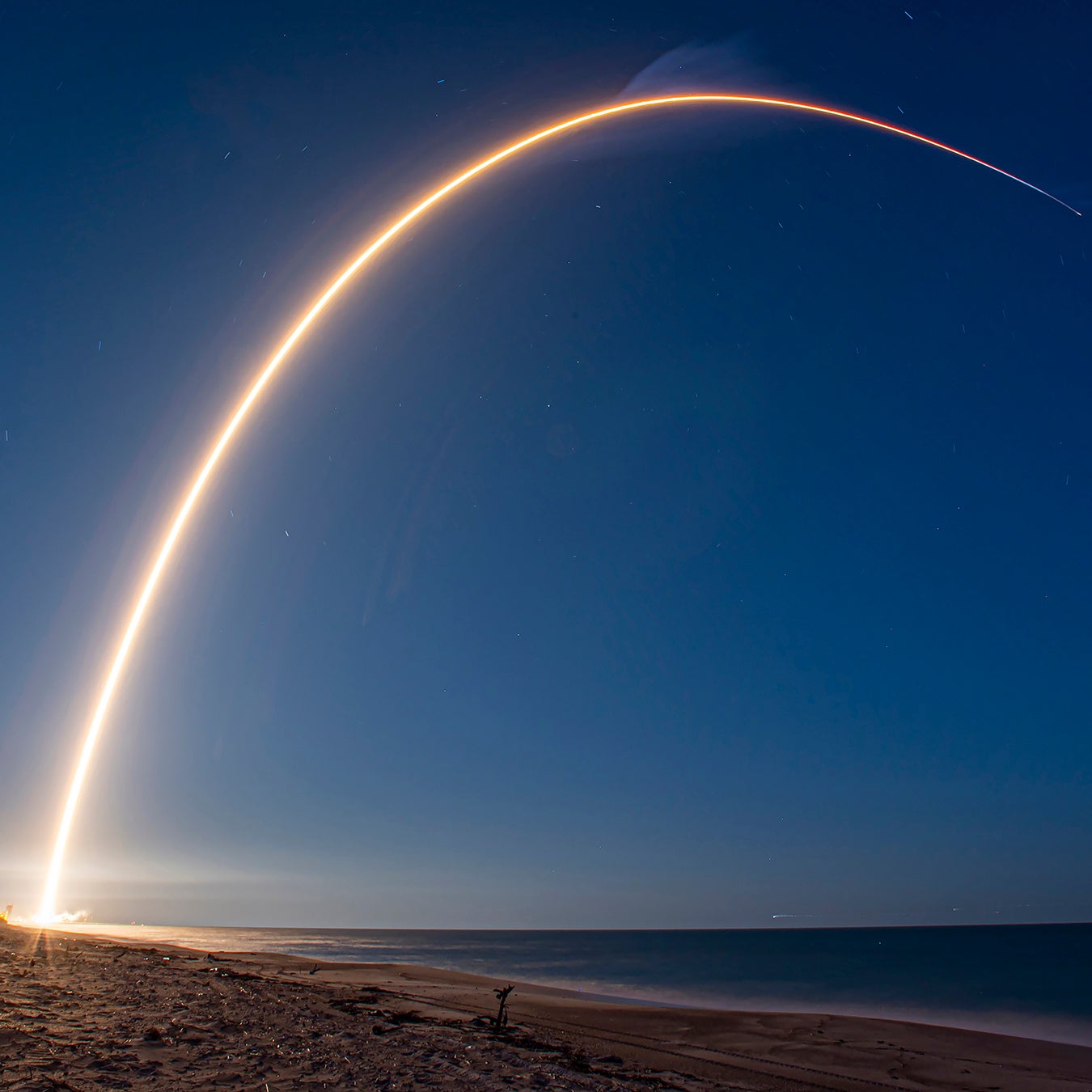 Heading out the door? Read this article on the new Outside+ app available now on iOS devices for members! Download the app.
On August 25, SpaceX and T-Mobile announced a new partnership that will bring cellphone signal to previously unserved areas. Specifically referencing use case examples like mountain climbing, river rafting, and off-shore sailing, the companies said in a press release that coverage will include the backcountry. Eventually all of it, everywhere. 
"This true satellite-to-cellular service will provide nearly complete coverage almost anywhere a customer can see the sky," reads a joint statement from SpaceX and T-Mobile. They're calling the service, "Coverage Above and Beyond."
Existing cell phone networks rely on terrestrial cell towers to communicate with your phone. Transmitting and receiving radio signals on frequencies that travel in straight lines, the real-world range at which your phone can communicate with one of those cell towers is about 22 miles. Factors like atmospheric moisture, precipitation, and terrain can all obstruct or limit that signal. Put a mountain range between your phone and a cell tower, and even if you're within that 22-mile distance, it's unlikely that your phone will be able to call or text.
The service will operate on SpaceX's rapidly expanding Starlink satellite network, but will not work on version one satellites currently in orbit. Next year, Starlink plans to launch a new, version two satellite that will be capable of communicating with normal smartphones over T-Mobile's existing spectrum of radio frequencies. As such, the service will not be available until the end of next year, at the earliest, and will expand in speed and capabilities over time. 
Transmitting signals from space, Coverage Above and Beyond should eliminate the ability for most terrain to block its signals. It's currently unclear how weather and atmospheric conditions might interfere, though. 
Initially available only in the U.S., T-Mobile hopes to strike deals with other cell providers that will allowing roaming access to the network here, and eventually similar backcountry connectivity abroad. 
During a press conference, SpaceX Chief Engineer Elon Musk described, "big, big antennas" five to six meters wide that will allow the connection with cell phones. He went on to explain that the service will support texting only, but he hopes to add capacity for voice calls, and eventually video calling. 
Starlink V2, launching next year, will transmit direct to mobile phones, eliminating dead zones worldwide

— Elon Musk (@elonmusk) August 26, 2022
At launch, the service will provide two to four megabits of data speeds, but that capacity will need to be shared by all users connected to a given satellite. Still, that's enough for millions of text messages and thousands of voice calls. 
In operation, a user's cell phone will prioritize connection with a cell tower. But when that connection is unavailable, the phone will begin looking for a satellite signal. The switch from terrestrial to satellite service should be seamless for the user. 
As the service expands, Musk says users may experience fits and starts of iteration. "If there aren't too many people in the cell zone, you may potentially even have a little bit of video," he said at the conference. "You might just have to wait half an hour, maybe, for the thing to go through, but it should still work from early on. It's not a substitute for ground cell stations, because ground cell stations especially in urban and suburban areas will definitely be superior to what we're talking about here. This is really meant to provide basic coverage to areas that are currently completely dead."
Musk claims the service is intended to "save lives," by fostering easy communication via cell phone in remote areas. T-Mobile estimates that 20 percent of the United States' landmass currently lacks cell phone reception. 
How much will Coverage Above and Beyond cost? T-Mobile CEO Mike Sievert says it will be included free of charge in, "most popular plans at T-Mobile."
Satellite-based messaging has been possible for decades, first reaching the hands of everyday consumers in the form of the DeLorme inReach in the 2010s. Today, Garmin's popular inReach Mini 2 costs $400, while unlimited messaging plans cost $50-a-month. Iridium Satellite phones cost upwards of $1,000, while calling and data plans on them start at around $135-a-month for 150 voice minutes. Coverage Above and Beyond should eventually replicate the function of both devices and services within the cost of a normal smartphone and normal monthly cell plan. 
Perhaps more importantly, it will provide backcountry messaging to casual users who haven't gone through the trouble of purchasing, carrying, or learning to use a dedicated device. And that should bring real benefits to a lot of people. 
Some initial use cases for text messaging everywhere might the ability to stay in touch with your friends throughout all areas of a ski resort or summon help should you get a flat tire on a remote road. Simply being able to easily and reliably reach people is going to be really practical on bike rides, hikes, or virtually any other form of outdoor activity. 
More importantly, Coverage Above and Beyond will expand access to communications for residents of rural and underserved communities. All without the financial cost those communities have historically had to bear to see modern infrastructure expanded to serve them. 
Lead Photo: SpaceX