The FBI's Top Secret Plan to Defend Alaska from Communists
Give a bunch of guns and gold to hearty, tattooed Alaskans, and turn them loose.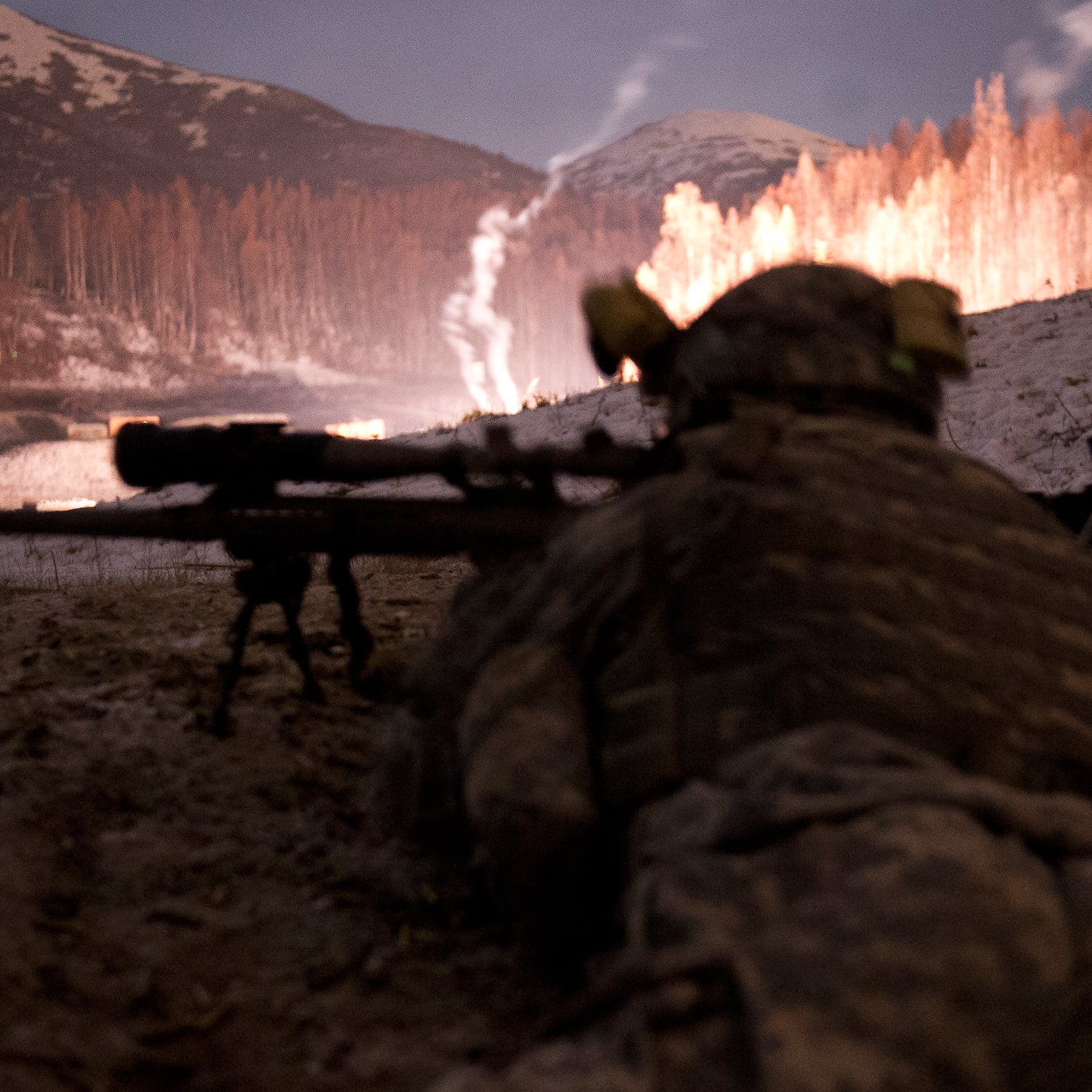 Heading out the door? Read this article on the new Outside+ app available now on iOS devices for members! Download the app.
Life in Alaska is dominated by three factors: the state's size, remoteness, and climate. During the 1950s, in the icy heart of the Cold War, that presented the FBI and military officials with a serious problem: If Soviet troops crossed the Bering Strait and invaded Alaska, who would be there to stop them? The territory (it was not yet a state) was simply too vast to fortify militarily, yet it was too strategically located to leave undefended.
For nine years, from 1951 to 1959, the answer to that quandary was something known variably as Operation Washtub or simply the Alaskan Project. The operation trained and armed regular Alaskan citizens—miners, pilots, and fishermen—to mount a counterinsurgency against an invading Soviet force, all while surviving in the merciless Alaskan bush. The project was secret until last year, when declassified documents detailed the plans—and the James-Bond-meets-Jack-London characters who were tapped to carry it out.
The fear of a Russian invasion into Alaska wasn't just a symptom of McCarthy-era paranoia. Following World War II, the U.S. and the U.S.S.R. acted toward one another like angry dogs circling the steak that was Europe. As Washington and Moscow locked eyes across the Atlantic, their tails wagged within three miles of each other in Siberia and Alaska. Fighter jets engaged in sorties over the Bering Sea and Russians in the Arctic occassionally jammed American radio frequencies. In the eyes of American military strategists, the Soviets taking over Alaska would provide the enemy with a bounty of airstrips from which to launch raids on the west coast in the Lower 48. This was before the advent of countermeasures like intercontinental missiles and long-range bombers.
[quote]"He has only one arm…," reads a surprisingly imaginative FBI report on who should be recruited into the program. "He is possessed of sufficient physical courage as is indicated by his offer to guide a party which was to have hunted Kodiak bear armed only with bow and arrow."[/quote]
Stephen Haycox, a historian at the University of Alaska-Anchorage, notes that throughout the 1950s there were B-52s "in the air over Alaska all the time, prepared to be dispatched to the Soviet Union," as well as four active ground-to-air missile sites near Anchorage. "There was always anxiety in Alaska during the Cold War," Haycox says.
The government responded by training dozens of Alaskans to wage a wilderness insurgency. Among the declassified documents was an FBI profile of the type of American citizen it would like to employ, covertly, to defend against such an invasion.
"[He is] a professional photographer in Anchorage; he has only one arm and it is felt that he would not benefit the enemy in any labor battalion…," reads a surprisingly imaginative FBI report on who should be recruited into the program. "He is a pilot of small aircraft; he is reasonably intelligent, particularly crafty, and possessed of sufficient physical courage as is indicated by his offer to guide a party which was to have hunted Kodiak bear armed only with bow and arrow."
While it's doubtful the government ever found its one-armed bear hunter, it found plenty of men who were willing to participate. In a 1977 report for the Air Force Office of Special Investigation, Captain Kurt K. Kunze claimed that 89 agents had been trained to run clandestine missions in Alaska after a Soviet invasion. The operation's planners sought out men who were accustomed to spending extended amounts of time in the harsh Alaskan wilderness. (In a startling bit of institutional racism, Native Alaskans would not be used for the operation because their loyalty to the U.S. was supposedly suspect and alcoholism was thought to be too rampant.)
Those chosen were flown to Seattle to undergo a hundred hours of further training in air drop and pickup techniques, scouting, patrolling, map reading, arctic survival training, secret ink, and surreptitious photography.
Once trained, they needed equipment. While working at Elmendorf Air Force Base in Anchorage in the 1980s, John Cloe, a retired military historian, says that he saw a 16mm film showing the caches being stocked for the operation. The caches were often remote. The Air Force knew it couldn't defend the vast spaces in Alaska, so it decided that the military would only protect bases. "So they established caches of whatever they needed for a guerrilla type operation," says Cloe.
Initial plans called for 100 supply outposts to be built, but those designs were scaled back greatly due to the difficulty of building equipment stores in the Alaskan wilderness. What caches were built—the exact number is unknown—closely followed the railroad line between Seward, Anchorage and Fairbanks, with others located near Nome and Galena. In places where there were trees, the military typically built them on stilts as high as 14 feet so the equipment could be accessed in the snowy winter. In the tundra, six-foot-deep pits were dug into the permafrost.
Inside each supply were survival goods like a 150-foot length of climbing rope, crampons, a parka, "eskimo type trousers," mukluks, gloves, a fur cap, snowshoes, skies, boots, poles and wax, a portable stove, a sleeping bag, a Mae West life jacket, 1,000 gallons of gasoline, maps, compasses, flashlights and signaling mirrors, and a canvas canoe with a paddle. Dog-sled equipment or outboard motors were included in special circumstances.
Then there was the stuff for the insurgency: a 30-06 rifle with 4x telescopic sight, a small calibre pistol fitted with a silencer, a sniper scope, a garroting wire (the steel cables thugs use to strangle people in mob movies), and explosives that could be used to demolish the cache if it was at risk of falling into enemy hands. There was also $500 in gold, or $5,000 in today's dollars.
The agents were then divided into cells of six or seven, headed up by a civilian "principal," according to documents. In the case of an invasion, the principal would go to the cache and begin work, sending his fellow agents on missions as the group deemed necessary. Some documents suggest that a major responsibility of the principals would be to facilitate mass escapes of American civilians from occupied areas; others say they would be on the lookout for American pilots shot down in combat and needing rescue. They were expected to stay in the wilderness for a long while: the caches could sustain a man for an entire year.
While the declassified documents make clear the contents of the caches and how they should be used, it's less clear who was recruited into the operation. The names of agents are redacted in the declassified documents and all of the recruits—who would have been in their 40s and 50s when in the early 1950s—are likely deceased.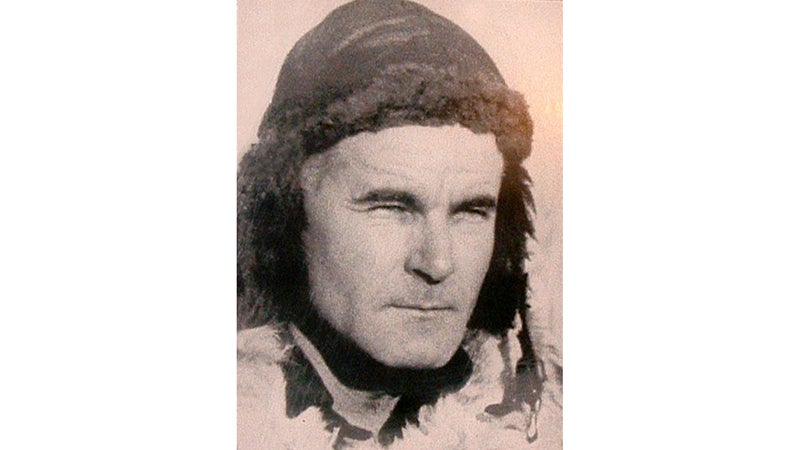 But background-check requests submitted to the FBI on a few of the recruits give glimpses of the kind of men who were recruited. There was Ira Weisner, a man of unknown occupation who was living in Rampart, Alaska, a gold mining town along the Yukon River. There was Guy Raymond, a heavy-set tin miner in Lost River, who was born in 1900 in Hardy, Nebraska. He had a tattoo on each arm—a dagger on the left and an eagle on the right.
Yet another background check redacts a name, but not the individual's job: general manager of Reeve Aleutian Airways. The only person to hold that job was the founder of the airline, Bob Reeve, better known as "the glacier pilot."
Reeve was born in 1902 in Wisconsin, and as a young man seemed determined to not die there. He enlisted in the army at age 15 to fight in World War I, then worked on merchant ships in China and the U.S.S.R. After returning stateside, he first learned to fly a Curtiss JN-4, a biplane also known as a Curtiss Jenny, and then took a job flying mail between Lima, Peru, and Santiago, Chile. That's where he began flying a Fairchild 51, the plane he would fly for the rest of his career. His wanderlust unsated, Reeve stowed away on a steamer headed to Alaska, arriving there in 1932.
Over the next four decades, Reeve would become one of the most famous bush pilots in Alaskan history. He was given his sobriquet for his propensity for daring ice-field landings. He first made headlines when he got caught in a fog bank while flying a family across Alaska with an infant baby in tow. Reeve landed his plane on a frozen river and kept everyone alive overnight as temperatures plunged so low that a hot cup of tea left a few feet from the fire froze solid within a few minutes.
When Reeve's daring exploits began making the newspapers, people began sending him fan mail. One of the letters came from a woman named Janice who grew up in a Wisconsin town just a few miles from where Reeve grew up. After some correspondence, Janice flew up to Alaska in 1935 to meet Reeve. By 1936, they were married. They would go on to have five children. In 1946, immediately after World War II, Reeve founded Reeve Aleutian Airways, serving as its president and general manager until his death in 1980.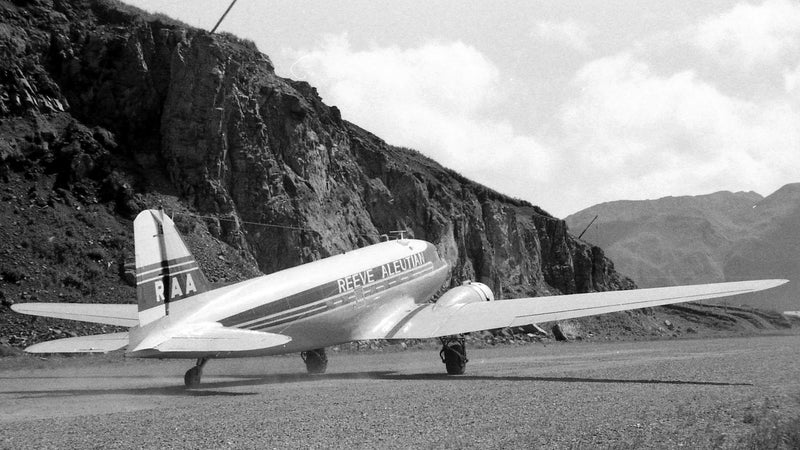 Over his heavily documented career, he never let on that he may have been recruited as part of a secret anti-Soviet force in Alaska, his son, Richard Reeve, says. But it was definitely within the realm of possibility, he adds. His father was always very friendly with the security at Elmendorf Airforce Base. "I wouldn't be a bit surprised," says Richard.
Operation Washtub was finally disbanded in 1959 due to the costs of retaining the agents (each one received between $2,500 and $3,000 a year—the equivalent of $30,000 in today's dollars) and maintaining the caches, which took a pounding from the deep freezes and thaws of Alaska.
Deborah Kidwell, OSI's current official historian, wrote last year that the caches "served peacetime purposes for many years to come." The caches were turned into survival stores for downed aircrafts, presumably denuded of its sniper rifles and silenced pistols, not to mention the gold. By 1961 they were abandoned completely. An account published in another military history journal in 1988 claims many were "looted by trappers and others." An attempt by the Army Corps of Engineers in 1989 to find them proved unsuccessful.
As for Bob Reeve, if he were involved in the project, he may have given a cryptic nod to Operation Washtub in the 1950s, when someone asked him whether Alaskans were afraid of the Russians, given that they could wave to each other just over the Bering Strait.
"Hell no," he replied, according to his biographer Beth Day. "If we don't knock 'em down like pigeons before they get across the Alaskan Range, we Alaskans, each with a half-dozen guns and ammunition, will just kick their teeth out."
Or strangle them with a garroting wire.
Lead Photo: U.S. Army Alaska/Flickr