How I Nearly Killed My Father
The sign read, "Tenaya Canyon is extremely dangerous. Many have lost their lives in the attempt." Thus warned, my 78-year-old dad was set to hike and rappel through it. And I had agreed to join him.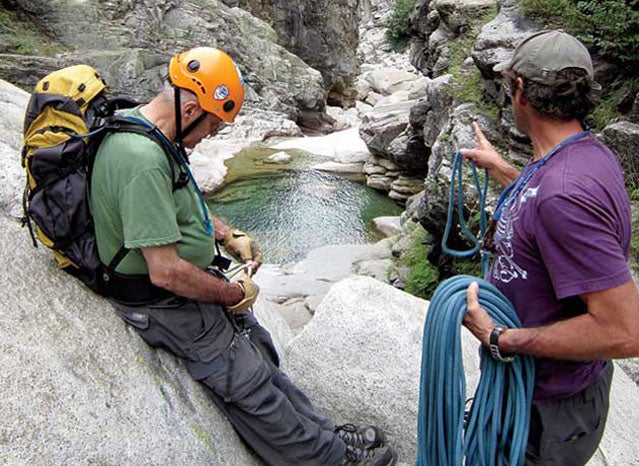 Jon Martin
Heading out the door? Read this article on the new Outside+ app available now on iOS devices for members! Download the app.
THE DESCENT OF Tenaya Canyon has trap written all over it. Some who've through-hiked it refer to the place as the Bermuda Triangle of Yosemite, and apparently rangers rescue and recover folks from it all too often.
Ronald Hahn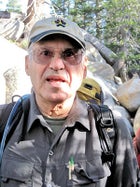 Ronald Hahn near Tenaya Lake.
When you arrive at Tenaya Lake, which sits at 8,150 feet, nothing looks difficult or desperate about the route's start, but a short distance in the granite steepens and the plot thickens. The descent covers ten rugged miles and drops 4,200 feet. There's no trail, and during the scramble down there are plenty of places to break legs, crack skulls, and get swept away in high water. It takes capable teams a full day to complete, with time allotted for the odd picnic and a short nap in the California sunshine.
Not surprisingly, those who survive the journey recall the incredible views of Half Dome, Mount Watkins, and Cloud's Rest. They tell of strolling through the wondrously vast and polished granite bowls that once hosted Yosemite's hardworking and long-gone glaciers. Where those bowls funnel into a vertically walled rock gorge, climbers speak of frolicking in Tenaya Creek's emerald pools and only casually mention the route-finding and rappelling skills they employed to get there. Once they've hopped down the creeks' boulders and emerged into the wide-open valley below Half Dome, they seem barely fazed by the finale, an exit through several miles of thick forest that transitions to campgrounds, lodges, and shuttle buses.
Of course, such breezy descriptions don't say anything about going down there with your 78-year-old dad. Our proposed mission had been percolating for a few years. I'm not sure I ever did embrace it as a good idea, but eventually I told Dad, "I'm fully committed." Commitment is unavoidable with this particular Yosemite rite of passage. As far as I could tell, there's no bail-out option that doesn't involve a helicopter flight plan and a great deal of explaining shortcomings and overreachings. 
Over the past 60 years, at least 17 people have died and many more have been rescued in Tenaya Canyon, most of them because of high water or falls. In 1872, John Muir received no outside aid whatsoever when he solo-climbed out of Tenaya. Having barely begun, he slipped, smacked his head on a rock, was knocked unconscious, and tumbled downhill. A shrub stopped him just before a steep drop-off. He came to, dusted himself off, and climbed his way out with a concussion. If Muir could do it, why couldn't we?
But seriously, why did I think we had any right to try the darn thing? For one, I liked the focus that Tenaya Canyon gave Dad, who lives in Manhattan. He's a fit guy and finished a section hike of the Appalachian Trail two summers back. Having another strenuous goal motivated him to watch what he ate, take every opportunity to go for a hike, and practice rappelling at the climbing gym. 
Plus, Dad has a long history in Yosemite. He grew up in San Francisco and spent big chunks of time during summer vacations living in the Valley. He climbed in Yosemite in the forties and fifties. In the sixties, family and career took precedence, and he let technical climbing go in favor of hiking and backpacking. In the mid-eighties, when his pesky children were out of the way, he got back into a different kind of climbing, with trips to the glaciers of Mount McKinley and Mount Rainier. When I saw his pictures of those places, I began to understand how mere mortals might break into the world of mountaineering. Around that time, he told me he'd go to McKinley with me if I first went to Rainier to learn the ropes. I went, discovered the guide service there, and knew immediately what I wanted to do with my life.
I climbed McKinley twice with Dad, two of 28 expeditions I've now managed up that way. Twenty-five years as a professional climbing guide have also resulted in a few hundred Rainier summits, 20 expeditions to 8,000-meter peaks, 15 seasons in Antarctica, and a decent reputation for common sense in uncommon places. My dad had given me the mountains. I believed I owed him Tenaya.
IN LATE SEPTEMBER, we drove out Yosemite's Tioga Road with Jon Martin, the son of one of Dad's old Army buddies. "My wife was a little nervous about letting me go do this with a stranger, so she Googled you," Jon told me. "She says that you might be an OK partner to be with if the going gets tough." We both laughed.
My dad had suggested we get a predawn start, with an eye toward completing the voyage in a day, but my reasoning won out in the end. "Let's plan on it taking two days and do it in one if we're progressing better than expected," I'd said. "Normal morning, normal breakfast, normal start, so that we're well rested and can enjoy ourselves a little." We carried food and gear for a night out, and I registered with the Park Service for that eventuality. I even carried a bear-proof canister for our provisions.
We set out from Tenaya Lake at 9 A.M., under perfectly blue skies, and found our way past the sternly worded warning sign: THIS IS NOT A TRAIL. TRAVEL BEYOND THIS POINT IS DANGEROUS. Before long we came into the immense granite basins. At first these weren't very difficult, and the scenery was incredible. I said "wow" a lot, as did Jon and Dad. Dropping a couple thousand feet on bare and tilted granite can be tough on the quadriceps, and as we went along the angle and exposure increased. I had the huge advantage that I was coming off a guiding season on Rainier, so I'd done plenty of 9,000-foot descents in a day with a heavy pack on, but my eyes and attention were focused on Dad's steps. In awkward places, I got directly under him so that, if he fell, I'd have a chance at stopping him—or at least of joining in and dying with him. That way I could avoid facing questions about what the heck we thought we were doing taking on Tenaya Canyon.
We got down the slabs just fine, and we reached a kind of magical and isolated forest of big oak and pine trees, appropriately named the Lost Valley. But it was now 3:20 p.m., and we hadn't encountered the technical sections yet.
From the Lost Valley the gorge begins and the commitment builds. We rappelled 40 feet down into the tight waterway. I watched Dad come down, worried about all that could go wrong. But he did great.
It was 4:50 when we made our way down the rough riverbed. We were burning daylight. At 6:15, we came to the LeConte Boulder, a 25-foot drop-off with a deep pool at its base. Under different circumstances, I might have stood there transfixed by the beautiful waterfall cascading into the pool amid the clean granite, vertical walls, and deepening shadows, with the million-dollar view of Half Dome in the distance. But I was concerned about Dad's tired legs and our chances of having an accident. I rigged a rappel and dropped over the edge to scout the descent. As I hauled myself back up, I devised a plan.
I would lower Dad first, and then Jon, down the cliff face. This would be easier than a rappel because the descent speed would be safely controlled by me, and the climber would only have to worry about finding the correct way to go from the base of the wall. Once in the pool, we could wade along on a few submerged boulders for 25 or 30 feet and then clamber up onto dry rocks to resume the down-gorge scramble. Dad seemed fine with this plan, so I asked Jon to stand where he could see my father a little better than I'd be able to as I tended the anchor and friction device. My dad went over the edge and out of view. I paid out rope. I paid out more rope and chatted with Jon about his mountain adventures with his own parents. Then I got a little worried, since it seemed like I was paying out more rope than there was cliff face to descend. I asked Jon if he could still see Dad. He stretched to a point where my father could be seen and said, "He's struggling."
Since I was belaying, I couldn't unclip and jump down to see what needed to be done. It occurred to both of us then that Dad had taken a wrong turn at the bottom of the waterfall. Instead of wading from boulder to boulder, he'd tried to set off across the deepest part of the pool, in his climbing gear, with his pack weighing him down. Jon cupped his hands and yelled for Dad to head downstream instead, but the waterfall was loud. Miraculously, Dad heard him, and within a few minutes I could see him working across the underwater line of boulders. I lowered Jon and rigged myself up for a rappel, then quickly scrambled to the boulders where Jon and Dad were waiting.
"So you decided to go for a swim back there?" I joked, trying to break the tension.
"That is about as close as I've come to dying," he said softly. "The water was over my head, and I very nearly lost my glasses. It was all I could do to get back to the rocks."
I was horrified. My father had almost drowned, and I was the one who'd almost drowned him. I thought back to how I'd continued to pay out rope and what might have happened. I imagined him swallowing water and going down, while I obliviously held on to the rope until he floated into view. In my 25 years guiding, caution, skill, and good luck have kept any client of mine from serious harm. The thought that I'd break that streak with my own father shook me to the core. 
My dad was horrified, too. After all his years in the mountains, to realize that he'd been tired enough to make exactly the wrong decision at the bottom of that cliff was sobering.
DARKNESS CAME quickly, and we set up camp. We put on dry clothes, ate, and tried to rest, but I couldn't sleep. What if Dad was just as tired in the morning? We'd never be able to get out of the gorge without help. We hadn't seen any other people in the canyon. I'd brought a satellite phone and a cell phone, but I didn't want to use them. That would be an admission that we'd done a poor job of planning, and it would endanger whoever had to helicopter in. My pride would take a severe beating, but pride couldn't be a legitimate reason for not calling.
At first light, around 6:15, a thin covering of cloud crept in. As we got back into helmets and harnesses, I became impatient when Dad owned up to being a little stiff. "If you can't walk, we'll be calling for a helicopter," I said. 
"I know that, David," he said. "But I can only do my best."
Which is, of course, what I knew he'd give, but I was scared and it showed. I asked Jon how the night had gone for him. "Not so badly," he said. "I got a little sleep here and there."
When we resumed our boulder-hopping down the gorge, Dad seemed to get some of his balance and strength back. I scouted a way through a much anticipated spot called the keyhole—which, as the name implies, requires a wiggle through giant granite blocks. We each came through smiling and laughing, because it was just plain fun. It was 8:30. I rigged a belay down the moderately steep path beyond the keyhole.
"What the hell is all that for?" Dad asked.
"Seeing as how I'm carrying this rope, we might as well use it every chance we get," I joked, trying to take the edge off my concern about the consequences of a misstep on nontechnical terrain.
By noon, the walls opened and the forest began. We'd reached Yosemite Valley, though we still had a few miles of bushwhacking to do before hitting the part with trails and tourists and lodges. Dad gained strength as the afternoon went on. It became a hike, and his legs were still strong from the Appalachian Trail. I stopped keeping time.
OUR ESCAPE FROM Tenaya took us under the giant Northwest Face of Half Dome, where our chief difficulty was walking one way while looking back at the dramatic scenery the other way. It was mesmerizing. We also had a good view of the Devil's Diving Board, a prominence halfway up the mountain, which Ansel Adams had reached to take iconic shots of the face. My dad's bucket list includes a run up to this vantage point. We were hoping to do Devil's Diving Board next.
But despite getting out safely, Dad was still shaken by Tenaya. "Maybe I should just give up on the Diving Board," he said. "It's probably too much, and I don't want to be a burden to you. What should I go for instead?"
I registered his serious and thoughtful tone, but I was beginning to feel upbeat and optimistic about our next adventure together. I'd seen just how tough it could get, but here he was with his pack still on and a couple of miles until the finish, and he was already trying to figure out the next journey. I was proud of him. As I understand it, a bucket list is a bunch of things to do before dying rather than things to do that cause dying. And despite knowing that such trips will get more difficult for both of us as the years pile up, neither of us want them to end.
Trending on Outside Online