How to Split Wood
Five-time STIHL Timbersports World Champion Arden Cogar Jr. explains how to swing an axe like a pro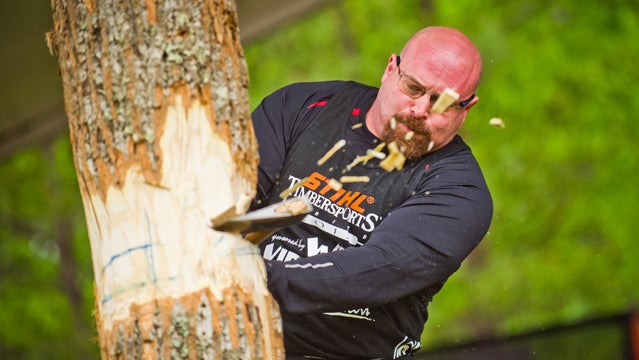 Courtesy of STIHL Timbersports(Photo)
Heading out the door? Read this article on the new Outside+ app available now on iOS devices for members! Download the app.
Five-time STIHL Timbersports World Champion Arden Cogar Jr. would be a fifth-generation logger had he not decided to become a Civil Defense Attorney. The West Virginia native manually split firewood for his father's timber business from the age of six until he went to college—and loved it. "Law is my profession but wood chopping is my passion," says the 52-time individual event Lumberjack Sport World Champion. Cogar finds the electric heating in his house cumbersome because of the chords of practice wood he chops to maintain his competitive edge. He manages the overflow by supplying his neighbors with all of their firewood.
Cogar's first fundamental tip is to maintain a safe distance. "Whether you are using an axe or a maul, make certain that your feet are handle length away from the log," says Cogar. This protects you from putting an axe blade through your foot if you bounce off of your swing. After setting your body position, he suggests taking a moment to look at the piece of wood you are about to chop. "Try to split the log along the grain and make sure you don't split into visible knots," says Cogar. After you've scouted your cut and set your distance, raise and lower your axe just like you would practice your back swing in golf for the first few chops. 
When you get swinging Cogar suggests focusing on the principle of straight lines to monitor your form. "Have the center of your pelvis lined up with your nose, lined up with the axe, lined up with what you are hitting—on the same plane," Cogar says. It is important to think about maintaining this plane while bringing your axe up and swinging it back down. Cogar also stresses the importance of  focusing your breath while splitting wood. Just like throwing a punch, Cogar suggests you exhale with the swing and breathe through it when you connect.
For his final tip, Cogar reminds us to have fun. Splitting wood is an excellent upper body exercise, rage reducer, and over all stress reliever. "I am a Civil Defense Trial Attorney. After a 13 to 14 hour work day there is nothing more exciting than hitting something that isn't going to hit me back," Cogar says.
Lead Photo: Courtesy of STIHL Timbersports