How to Plan Your First Car Camping Trip
Where should you go, and how do you make it fun? Our resident dog camping expert is here to help.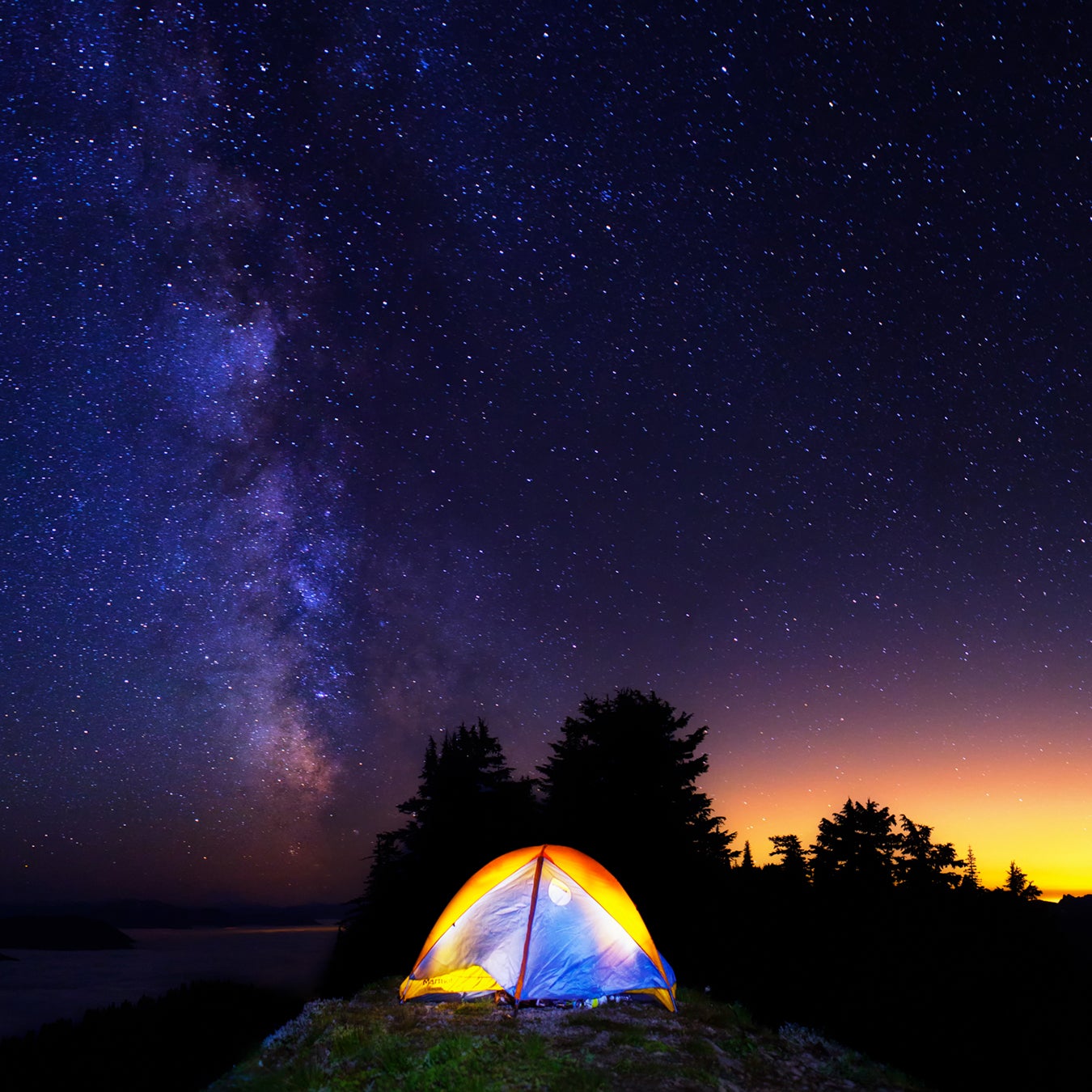 Heading out the door? Read this article on the new Outside+ app available now on iOS devices for members! Download the app.
As states open back up and summer approaches, camping is probably looking like an unprecedentedly attractive way to enjoy some time outdoors. If you've never been camping before, or just not in a long time, here's a comprehensive guide to getting that first trip right.
Why Camping? 
It's affordable, it's fun, and thanks to our country's entirely unique system of public lands—lands you own as a citizen—there are plenty of places to do it close to you, no matter what part of the country you live in.
Because this is your first camping trip, or your first in a while, I'm going to suggest that you go car camping. Compared to a human-powered adventure, bringing your car along will enable you to be more comfortable more easily, and at a lower gear cost. You can up your level of challenge by choosing a more remote site and planning fun day trips away from camp. It feels really good to get back from a challenging hike or ride and enjoy a good, easy dinner, a cold beer, and a comfortable night's sleep outdoors.
If you do want to go deeper into the backcountry, I put together a video about taking a buddy on his first-ever backcountry trip here. If you're looking for a more turnkey experience, Camp Crate curates a variety of self-guided trips and rents you the equipment necessary for each, along with the navigation tools and permits you'll need to make them successful.
Where Should You Go? 
Ask yourself what level of amenities you require. Do you need picnic tables and bathrooms? You're going to want to visit a developed campground. Typically, you need to book those ahead of time.
Reserve America handles bookings for most campgrounds on federal and state lands. The big exception there is most national parks, which you'll need to book directly through the National Park Service. Recently, HipCamp has built an impressive catalog of camping opportunities on private lands, albeit mostly out west. If you want to go glamping in California, that's a great place to start.
Using one of the above tools is as easy as reserving a hotel room. And you can typically just enter the name of the campground into Google Maps and navigate there the same way you'd find your hotel. They're great ways to enjoy a fun, easy weekend under the stars, but in a developed campground, you are going to find yourself around other people. Plus, in a campground, you can't really have your dog off-leash.
Want to leave the crowds behind? Then you're going to want to go dispersed camping, where you find your own remote campsite in a national forest, on BLM land, or in some state parks. I detailed the various different types of public land in this article, and explained the ins and outs of dispersed camping in this piece. But, the gist is that you head out in the woods, mountains, or desert, and find your very own spot, a long way from anyone else. There are some basic rules involved to ensure that we all leave these places pristine for the next visitor, but this remains the camping ideal—a true outdoors experience. In some national forests and on a lot of BLM land, your dog is welcome to go leash-free.
What Do You Need to Bring? 
Let's work through the basics, and identify both the cheapest possible way to get out there, along with reasonable upgrade options that might help make the experience a little more comfortable.
Sleep System
You're going to want a tent, a sleeping pad, and a sleeping bag.
Budget tents, like those made from Coleman, or Walmart's in-house brand Ozark Trail, work great at keeping bugs out and rain off. But they also tend to be very heavy and don't really pack down into compact dimensions.
To upgrade to a higher quality brand, you don't need to spend a lot more. Where a basic four-person Ozark Trail tent costs $35, a similar product from a higher quality brand starts around $150. I'm a big fan of Kelty gear. A tent like the Tallboy 4 is going to last through years of use, while packing into a small duffel bag and offering more reliability in the field. Your odds of breaking a pole or a clasp or a zipper on a rainy night are just much lower with Kelty.
We can't talk about tents without talking about tent sizes. You'll notice I listed two four-person (or 4P) tents above; that's a good size for two people to take car camping. Tent sizes are kind of like casket sizes. A four-person tent can fit precisely four average-sized people lying next to each other while touching. If you want extra room to roll around, change clothes, or hang out, you need a larger tent than the number of people you plan to put in it.
The obvious job of a sleeping pad is to provide cushion. The less obvious job is to provide insulation. Because your bodyweight compresses the lofted insulation on the underside of a sleeping bag, a pad prevents convective heat loss from the ground you're sleeping on top of. For that reason, and because they tend to fail after just one or two uses, I do not recommend that you use an inflatable air bed. You'll actually sleep much more comfortably on a slimmer, foam and air sleeping pad. Again, spending more will net you increased longevity.
Sleeping bags can also prove misleading. It's common to see very cheap ones at big box retailers listed with extremely unrealistic temperature ratings. This metric is self-reported and based on a European standard that's not strongly regulated in the U.S. My advice? Buy a sleeping bag from a reputable brand, or plan on taking a cheap bag rated for vastly colder conditions than you plan to experience. Anything a low-end company sells that claims comfort in zero-degree temperatures should be good down to around the mid-thirties. But bring along an extra blanket from home just in case it's not.
Down does not provide more warmth than synthetic insulation, it just packs smaller and lighter. For car camping, save money by buying a synthetic sleeping bag.
Cooking
Even if you plan to have a fire, you're still going to want a stove. If nothing else, it'll mean you can get coffee going in the morning quickly and easily. This one-burner option from Coleman sits atop a propane canister, and gets the job done. If you want something larger, go for something from Camp Chef. The brand's burners are among the most powerful available, and also offer the best simmer control.
Disposable plates, bowls, and utensils are fine. Just make sure you bring enough trash bags to pack everything out. If you want to be less wasteful, investing in a set of reusable, easy-to-clean stainless steel camp dishes is the way to go. Bring some tongs, a wooden spoon, a cast iron pan, and an old pot from home.
A lot of marketing dollars have been spent promoting fancy coolers in recent years. You don't need one. Freeze anything that can be frozen before you go, pack your cooler tightly, and try and minimize how often and for how long it's opened. For that last reason, it can be a good idea to pack a dedicated cooler just for drinks. Ice packs won't soak your food with water as they melt.
Camp Comfort
Grab some bug spray with DEET in it. The chemical is the most widely proven-safe and one of only a few proven ways to actually repel mosquitoes. You don't need a higher concentration than about 40 percent.
A Thermacell is a proven-effective area repellant. If you want skeeters to stay further away than you can achieve with bug spray, put one on your picnic table.
I like these ultra-cheap plastic lightbulbs more than traditional lanterns. Hang a few around camp and you'll achieve a nice spread of dispersed light.
You're going to want some sort of table, and something to sit on. Big box stores sell all you need.
If you're going somewhere rainy, like the eastern half of the United States, you're also going to want some sort of hang-out shelter sized appropriately for your group. Avoid cheap instant canopies that'll tear the first time you use them. A big blue tarp and some rope can work, but can also be difficult to set up.
Bring sunscreen.
Clothing
It's going to be colder than you expect. Temperatures that feel mild if you're taking the dog around the block can feel bitterly cold if you're just sitting around for hours on end. Dress in layers, and take more than you think you'll need. At a minimum, everyone involved is going to want a set of wool socks, some long underwear, a wool sweater, a warm jacket, a knit hat, and some sort of rain shell. Try and avoid cotton if you can, but there's not a great need to rush out and buy an entirely new wardrobe just to wear around a campfire.
How Do You Get There?
Navigating to a campground is easy. Finding your own dispersed campsite is harder.
Exploring the labyrinth of dirt roads that cross BLM land and national forests used to involve paper maps and a fair bit of trial and error. There was no way to tell if something that started off as a simple dirt road might turn into a challenging trail that could damage your vehicle a few miles later. And even if you could get through it, there was no way to know if there'd be a locked gate at the end, preventing you from reaching that sweet alpine lake you wanted to camp by.
A new app called OnX OffRoad has solved those problems, and taken the guess work out of traveling off-road through public lands. It'll tell you everything from what kind of vehicle can use which roads and trails to how difficult those roads and trails will be to drive. It also works offline, which is vital because you will likely not have cell phone service in those remote places.
Of course, you will still need to find a camping destination. Recommendations from friends, exploring on Google Earth, and searching social media and the Internet can often turn these up.
What Are the Risks?
You will probably not be attacked by bears or other wild animals, but it is a good idea to keep a clean camp, with food safely stored away in coolers or storage containers during the day, and inside a locked car at night. All sorts of critters, from crows to donkeys, love stealing human food, which will leave your campsite an enormous mess.
You will also want to be extra cautious about cross contamination between raw food, going to the bathroom, and your mouth. Use hand sanitizer often, and wash your hands any time they're visibly dirty. Here's a link to a reliable source of hand sanitizer; it can be hard to find in stores right now.
On that same theme, cooking outdoors after dark brings its own challenges. Avoid undercooked meat by bringing along a simple meat thermometer and checking everything before you serve it.
You also need to be careful to leave no trace, no matter if you're in a campground or your own dispersed campsite. Prepare to poop (do so according to LNT guidelines) and police your campsite for any trash, whether its yours or someone else's, before you leave.
How Do You Make It Enjoyable? 
Think of going camping like a fun barbecue or dinner party, just in a much prettier location, and you won't go wrong. Make sure everyone is involved and invested in the process by giving them tasks and responsibilities. Remove the obvious points of discomfort by packing warm clothes and sleeping gear, preventing mosquito bites, and keeping everything clean. Don't forget the music.
When in doubt, camp near water.
For your first camping trip, I'm also going to suggest that you camp somewhere you can enjoy a campfire. Seasonal and regional restrictions exist, and you can expect hefty penalties if you have a fire somewhere that it's not permissible. To find out if you're able to have a fire in a location, Google the name of the area you want to visit, plus campfire, then pay attention to any signs as well. There are videos here showing you how to gather firewood and how to fully extinguish a campfire. Consider bringing your own firewood, but make sure you purchase it close to your chosen campsite to avoid spreading invasive species like bark beetles.
Is Camping Safe and Responsible?
COVID-19 deaths continue to grow, even as states issue confusing, and often conflicting, guidance on restarting our economy. So, it falls on us, normal citizens, to take all possible measures to avoid spreading the disease.
Despite political rhetoric to the contrary, traveling between communities and regions will continue to spread the disease for the foreseeable future, and the small, remote communities that tend to exist near popular camping destinations remain uniquely vulnerable due to their very nature.
For those reasons, the best practice for planning a camping trip this summer is going to be to consult and abide by all state and local regulations, then plan that campout as close to home as possible. Minimize contact with potential infection vectors, like gas stations and grocery stores, don't gather in large groups, and practice appropriate social distancing measures. If you are camping with people who aren't a part of your own quarantine program, then masks may help prevent the virus from spreading within your group.
Emergency response resources are often spread thinly; avoid overtaxing them by participating in safe activities only.
Remember: it is not just your own health at stake here. It's the health of vulnerable populations, and our entire country, too. Camp responsibly.
Trending on Outside Online