Sponsor Content: Fjällräven
If You Can Layer for the Arctic, You Can Layer for Anywhere
Dial in your setup for cold-weather adventures with advice from polar explorers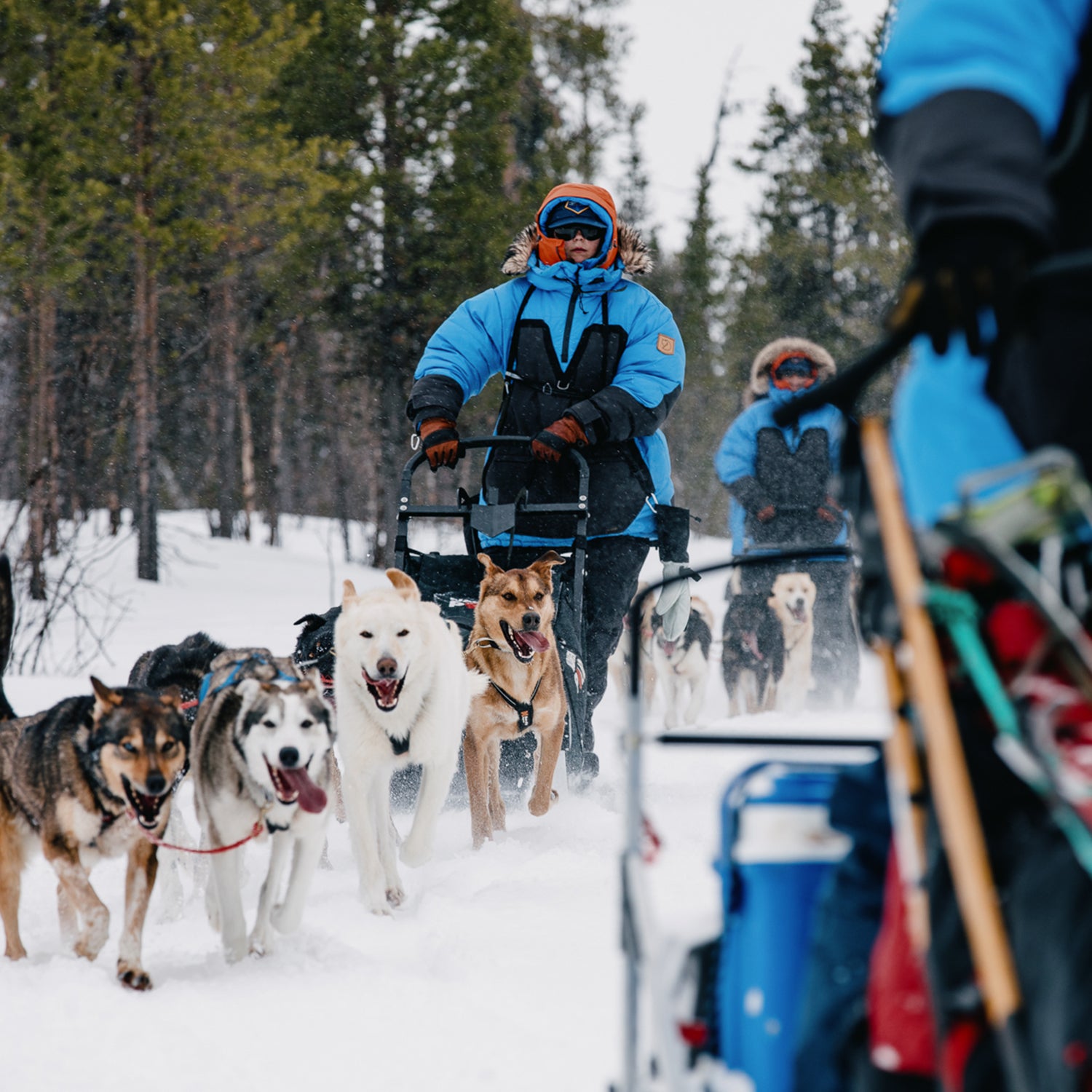 You don't need to be a meteorologist to know that the weather in the Arctic—the northernmost region on the planet—mostly alternates between cold and bitterly cold. With an average winter temperature of negative 30 degrees, the Arctic has a well-deserved reputation as a proving ground for explorers who want to test themselves against the planet's harshest conditions. If you can make it above the 66 degrees 30 minutes north latitude, you can make it anywhere. 
An untrained eye might see these areas of Greenland, Canada, Alaska, Russia, and Scandinavia as barren and empty, but to adventure lovers the Arctic is one of the last great frontiers. Fjällräven, a Swedish company established in 1960, has been outfitting Arctic explorers for decades, and it takes everyday adventurers on an annual expedition called Fjällräven Polar, an event where ordinary folks can join Fjällräven explorers on a one-of-a-kind polar expedition in northern Scandinavia.
"Expertise grows from experience," says Carl Hård af Segerstad, Fjällräven's global event manager. "Our founder, Åke Nordin, realized rather quickly that more experiences leads to better products. We've carried on this legacy to invite people to nature, both for the sake of being in nature and to continue to develop products that enable experiences in nature, even if the conditions are cold and hostile."
The Fjällräven team knows a thing or two about dressing for cold climates. Follow their advice, and you can stay warm whether you're heading to the Arctic or a wintry trail in your backyard.
Start With a Warm Foundation
When it's 20 below, you need maximum performance from your base and midlayers. And once you have those key pieces dialed, they'll provide the foundation for a versatile system.
No matter the activity, a base layer goes on first to wick sweat away. Grab the Bergtagen Long Johns and pair them with the Bergtagen Woolmesh Sweater. Both are made with a technical and soft merino-wool blend that is durable and easy to clean. Wool, the original performance fabric, is still the best: it's inherently temperature-regulating, moisture-wicking, odor-resistant, and insulative even when wet. "It's a fantastic fiber for outdoor pursuits, and it's natural and renewable," says Hård af Segerstad. "It can be developed for different layering solutions and was the natural choice before we started producing from plastic materials." With strategically placed varied knitting patterns, both garments provide warmth, flexibility, and ventilation in all the right places.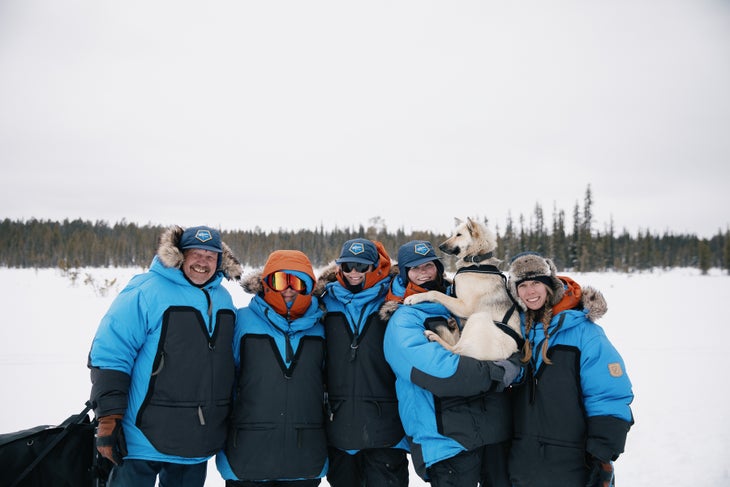 When it comes to midlayers, you want a high level of insulation combined with breathability. The Keb Fleece Hoodie is crafted from a functional synthetic-and-wool-blend fleece that balances both needs. The hoodie features two zippered hand pockets and a zippered chest pocket—perfect for storing your phone (and a power bank to keep it charged even in extreme cold). Its slim-fitting hood traps heat to keep your head warm but isn't too bulky to accommodate additional accessories.
Choose Activity-Specific Outerwear
You've got your base layer and midlayer dialed. Now, when deciding what to wear for each activity, consider the forecast and level of physical effort required.
Dog Sledding
Traveling by dogsled is an incredible way to move through a snowy landscape. It's fast and fun, but it requires careful layering. Consider this: sled dogs can run between ten and 20 miles per hour, and that extra windchill will make you feel significantly colder. For example, if it's minus 20 degrees and there's a ten-mph wind, it will actually feel more like minus 40 degrees.
That kind of cold requires an outer layer like the Expedition Down Jacket. The 90 percent goose-down, midlength jacket is a classic 1974 Fjällräven design that extends below the hips for added warmth without restricting your movement. Because the coat is also wind-resistant, thanks to the polyamide exterior fabric, it's the ideal outer layer for days when you're fighting the windchill. "We were inspired by the legendary Iditarod, the dogsled expedition through Alaska, to test Fjällräven under these conditions," says Hård af Segerstad. "At Fjällräven Polar, amateur mushers from around the world were invited to experience the Nordic Arctic tundra over a demanding route in a very remote and exposed environment."
Whether you're flying behind a pack of dogs or just out on a windy day, it's critical to protect your skin. Put on the Keb Fleece Balaclava to cover up as much as possible around your face and neck. The balaclava's wool-polyester blend keeps you warm even in wet conditions and wicks away moisture from your mouth and nose. Top it with the Polar Padded Cap, an insulated, wind- and water-resistant hat with a brim for added protection from sun and precipitation.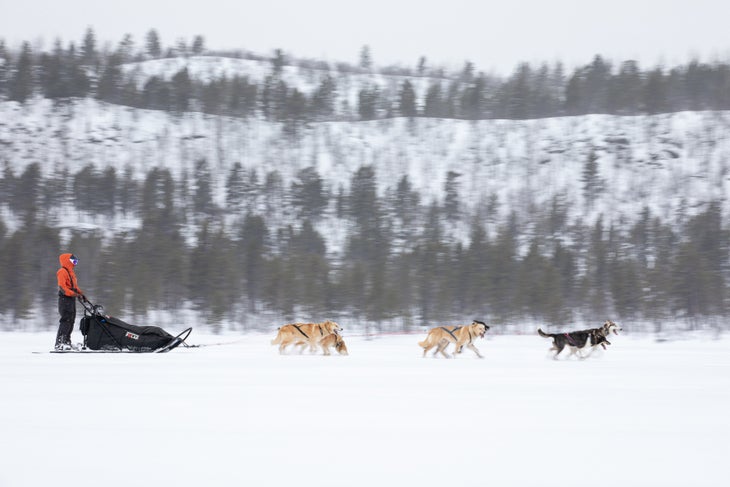 Self-Propelled Travel
Whether you're pulling a sled in the Arctic or simply out traveling on skis, snowshoeing, climbing, or trekking, you'll generate body heat, so you need to layer appropriately. In cold weather, you want to avoid sweating so the moisture doesn't soak your clothes and freeze when you stop moving. To accomplish this, swap the Woolmesh Sweater base layer for the Bergtagen Woolterry Hoodie, which is made of terry knit that helps you stay dry even when you're working hard. The smooth finish on the exterior helps reduce friction against other layers when you're active. Add the Keb Fleece Hat, made with a light wool blend that adds just-right warmth when you're on the move. On a windy or snowy day, you'll need the Bergtagen Eco Shell Trousers and Jacket. These breathable and durable layers are waterproof and made partially from recycled polyester. The stretchy material and articulated design let you move without restriction.
Unwinding at Camp
Enjoying camp comforts in the latter half of the day when temperatures drop and you're not moving much can often feel like its own kind of expedition. After a long day in the elements, swap your daytime footwear for the Expedition Down Booties. Stay warm head to toe with your favorite down jacket topped with the Singi Heater, a heavy-duty wind-resistant cap with a thick synthetic fur lining and ear flaps that can be secured with a chin buckle.
Explore the Arctic with Fjällräven
Stoked on the idea of an Arctic adventure? Who isn't? Put your layering know-how to the test on the Fjällräven Polar—an event where ordinary folks can join Fjällräven explorers on a one-of-a-kind polar expedition in northern Scandinavia. Participants will travel over 185 miles via dogsled from Signaldalen to Väkkäräjärvi, among beautiful mountains along an old Sami trade route and across Europe's largest area of permafrost. "They get to learn how to dress, how to sleep, how to cook, and how to make shelter," says Hård af Segerstad. "Each participant also learns the intricate interdependency between themselves and the sled dogs as each musher, teamed up with six dogs on their own sled, is completely dependent on the dogs to make their way through the wilderness."
These trips are just one place where Fjällräven puts its clothes and equipment to the ultimate test in extreme winter environments, so you can be ready for anything. Find out how you can go along for the ride.
---
In 1960, Åke Nordin founded Fjällräven in his basement in the town of Örnsköldsvik in northern Sweden. Today the company's timeless, functional and durable outdoor equipment that can be found in over 70 countries. Fjällräven's product range comprises outdoor clothing and accessories for men and women as well as backpacks, tents and sleeping bags. As a company, Fjällräven makes every effort to act responsibly towards people, wildlife and the environment.
Lead Photo: Fjällräven